The American Lung Association's 2016 State of the Air report found continued improvement in air quality, but more than half (52.1 percent) of the people in the U.S. live in counties that have unhealthful levels of either ozone or particle pollution. The annual, national air quality "report card" found that 166 million Americans live with unhealthful levels of air pollution, putting them at risk for premature death and other serious health effects like lung cancer, asthma attacks, cardiovascular damage, and developmental and reproductive harm.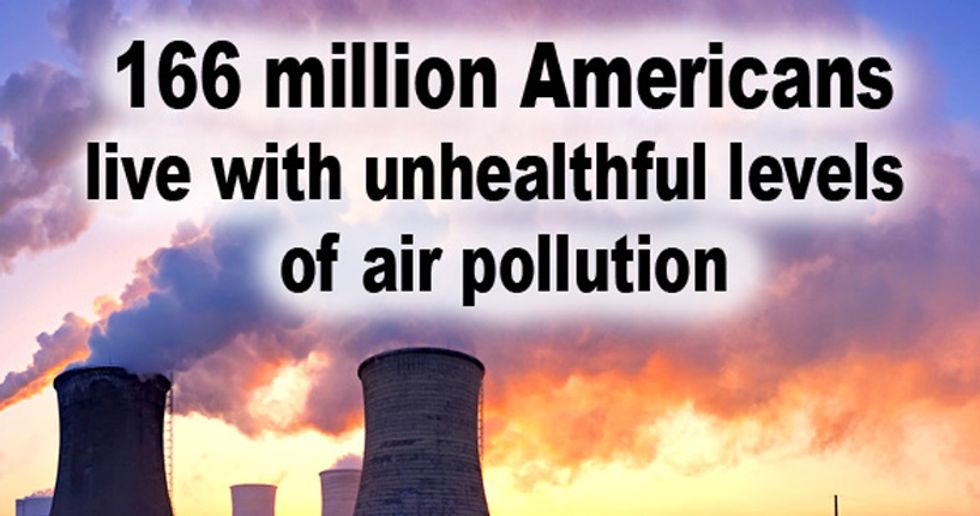 "Thanks to cleaner power plants and cleaner vehicles, we see a continued reduction of ozone and year-round particle pollution in the 2016 State of the Air report. However, climate change has increased the challenges to protecting public health," Harold P. Wimmer, national president and CEO of the American Lung Association, said. "There are still nearly 20 million people in the United States that live with unhealthful levels of all three measures of air pollution the report tracks: ozone, short-term and year-round particle pollution."
"Everyone has the right to breathe healthy air, yet only four cities—Burlington-South Burlington, Vermont.; Elmira-Corning, New York.; Honolulu, Hawaii; and Salinas, Calif0rnia—qualified for the 'cleanest cities' list in the State of the Air report," Wimmer said. "We simply must do more to protect the health of Americans."
Each year the State of the Air reports on the two most widespread outdoor air pollutants, ozone pollution and particle pollution. The report analyzes particle pollution in two ways: through average annual particle pollution levels and short-term spikes in particle pollution. Both ozone and particle pollution are dangerous to public health and can be lethal. But the trends reported in this year's report, which covers data collected in 2012-2014, are strikingly different for these pollutants.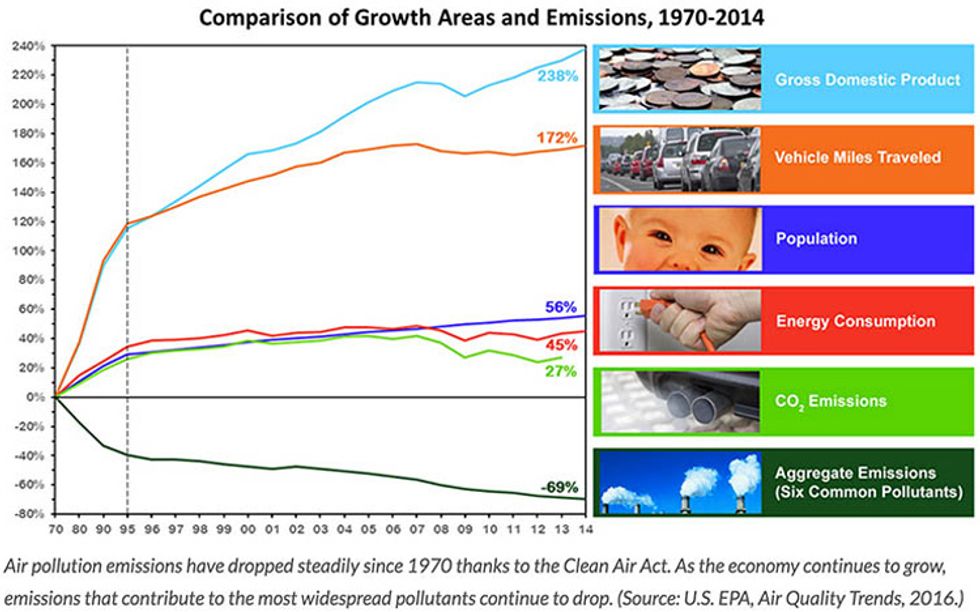 According to this year's 17th annual report, short-term spikes in particle pollution have gotten worse since the 2015 report, including in the city with the worst particle pollution problem, Bakersfield, California. For multiple cities that suffered spikes in particle pollution during this period, many of these spikes were directly linked to weather patterns like drought or to events like wildfires, which are likely to increase because of climate change.
Top 10 U.S. Cities Most Polluted by Short-Term Particle Pollution (24-hour PM2.5):
1. Bakersfield, California
2. Fresno-Madera, California
3. Visalia-Porterville-Hanford, California
4. Modesto-Merced, California
5. Fairbanks, Alaska
6. Salt lake City-Provo-Orem, Utah
7. Logan, Utah-Idaho
8. San Jose-San Francisco-Oakland, California
9. Los Angeles-Long Beach, California
10. Missoula, Montana
The rise in short-term particle pollution provides current examples of how major changes in drought and rainfall are already affecting public health. According to the 2016 report, seven of the 25 most polluted cities had their highest number of unhealthy short-term particle pollution days on average ever reported.
Increased heat, changes in climate patterns, drought and wildfires are all related to climate change, which has contributed to the extraordinarily high numbers of days with unhealthy particulate matter. The particles—emanating from wildfires, wood-burning devices, coal-fired power plants and diesel emissions—are so small that they can lodge deep in the lungs and trigger asthma attacks, heart attacks and strokes and can even be lethal.
By contrast, the best progress came in reducing year-round levels of particle pollution, with 16 cities reaching their lowest levels ever and one other improving over the period covered by the 2015 report (2011-2013). Year-round particle pollution levels have dropped thanks to the cleanup of coal-fired power plants and the retirement of old, dirty diesel engines.
Top 10 U.S. Cities Most Polluted by Year-Round Particle Pollution (Annual PM2.5):
1. Bakersfield, California
2. Visalia-Porterville-Hanford, California
3. Fresno-Madera, California
4. Los Angeles-Long Beach, California
5. El Centro, California
6. (tied) Modesto-Merced, California
7. (tied) San Jose-San Francisco-Oakland, California
8. Pittsburgh-New Castle-Weirton, Pennsylvania-Ohio-West Virginia
9. Harrisburg-York-Lebanon, Pennsylvania
10. Louisville-Jefferson, Kentucky
11. County-Elizabethtown-Madison, Kentucky-Indiana
According to the 2016 report, six cities reported their fewest unhealthy ozone days ever, including #1 Los Angeles and 15 others improved over the previous report's data. Ozone pollution has decreased because the nation has cleaned up major sources of the emissions that create ozone, especially coal-fired power plants and vehicles. However, climate change causes greater heat, which makes ozone form. When a person inhales ozone pollution, it can cause coughing, trigger asthma attacks and even shorten life.
Top 10 Most Ozone-Polluted Cities:
1. Los Angeles-Long Beach, California
2. Bakersfield, California
3. Visalia-Porterville-Hanford, California
4. Fresno-Madera, California
5. Phoenix-Mesa-Scottsdale, Arizona
6. Sacramento-Roseville, California
7. Modesto-Merced, California
8. Denver-Aurora, Colorado
9. Las Vegas-Henderson, Nevada-Arizona
10. Fort Collins, Colorado
"We can and must do more to save lives and fight climate change," Wimmer said. "The lung association calls on every state to adopt strong Clean Power Plans to reduce emissions from power plants that worsen climate change and immediately harm health. The Supreme Court has put a temporary hold on EPA's [Environmental Protection Agency] enforcement of the federal Clean Power Plan, but states should not wait to clean up carbon pollution from their power plants."
"In addition, we call on EPA to adopt strong, health protective standards to limit emissions of methane and toxic pollutants that contribute to ozone pollution and climate change from oil and gas production," he said.
YOU MIGHT ALSO LIKE
On Earth Day 150 World Leaders to Sign Paris Climate Agreement
Bill Nye vs. Sarah Palin on Climate Change: Who Do You Believe?
Glyphosate Found in Popular Breakfast Foods
EcoWatch Daily Newsletter
Chiradech / iStock / Getty Images
Portable generators allow you to power your devices and certain appliances, even away from home or when your primary power source is taken offline. These devices are also perfect for camping or outdoor adventures. A portable solar generator can give you the power you need with a smaller ecological footprint by using solar panels. In this article, we'll outline some of the top options available in 2021.

Our Picks for the Best Portable Solar Generators
Each product featured here has been independently selected by the writer. If you make a purchase using the links included, we may earn commission.
How We Reviewed Portable Solar Generators
A good portable generator will offer you backup power in a convenient and reliable way. We have reviewed some of the top models on the market today, and arrived at a few that we think stand out from the rest.
To rank the best solar generators, we considered the following criteria:
Size and weight. Smaller, more lightweight units offer much greater ease of use. We sought portable solar generators that aren't too challenging to lug around your home, or take with you when you go camping.
Battery storage capacity. While your generator absorbs light through a solar panel, that energy is ultimately stored in a battery. The battery storage capacity, measured in watt-hours (Wh) determines how long you can use the generator before it requires a recharge.
Inverter rating. Basically, inverter rating refers to the total number of watts that the solar generator can extract at any given time. Inverter rating, along with battery capacity, determine the wattage and power output of your generator.
Expandability. Some generators come with a predetermined number of solar panels, while some allow you to add more solar panels as needed. This is an important feature to consider when looking for generators.
Price point. Naturally, when looking for a new solar generator, staying on budget is always going to be a factor. We chose generators that are competitively priced.
The Best Portable Solar Generators
With these ranking factors in mind, here are our picks for the best portable solar generators available in 2021.
What Types of Batteries Do Solar Generators Use?

It's important to note that solar power generators may employ different kinds of batteries. The most common option is the lithium-ion battery. These tend to be more expensive than lead-acid batteries, at least on the front end. With that said, a lithium-ion battery will prove more durable, which usually makes it the smarter investment in the long run. Solar generators include charge controllers, which regulate the volts of energy coming from the solar panels to the battery to make sure the battery isn't overcharged and damaged.
The energy stored in the battery is converted from DC power into AC power using an inverter or adapter.
What Can You Power With a Portable Solar Generator?
There are different types of solar generators. A backup generator is primarily used to power your home, should your electricity go out. In this article, we focused on portable generators, which are mostly used for hiking and camping. With that said, a portable generator can also be really useful during power outages, potentially keeping your lights, electronic devices, and small devices or appliances on for several hours. Depending on the watts of power your solar system generator kit can support, you can use it to power things like phones, tablets, laptops, TVs, coffee makers, a mini-fridge, certain medical devices, and most anything you would plug into a car charger.
Some of the generators we've listed here can be charged by solar energy or via other sources, including vehicles and power outlets. These different charging solutions make a generator more versatile, though of course, solar energy is what you'll want to use if staying away from fossil fuels is your goal.
What are the Benefits of a Portable Solar Generator?
There are a number of reasons why you might consider a portable solar generator:
These units are ideally suited for camping and hiking. The ones on our list range in weight from under 10 pounds to over 50, but they are all fairly easy to cart around as needed, or to keep in your camper or RV.
Though they are not primarily intended to be emergency backup generators, they can certainly be used in that capacity. In particular, they can provide emergency power to important medical devices as well as phones and computers.
Unlike gas generators, portable solar generators offer power without making a lot of noise or creating a lot of fumes. This makes them much more appealing for campsites.
Portable solar generators are better for the environment, since they don't rely on gas or diesel fuel to run.
Using a solar generator is ultimately more cost-effective as you will never need to purchase fuel to recharge it.
Solar Power Can Take You Further
Solar power is one of the best options for dependable, renewable energy. Not only can it help power your house, but you can use these portable generators to carry that power with you, wherever you may go.
There are clearly lots of options on the market today. We hope our guide is helpful to you as you assess our own backup power needs, and as you determine which portable solar generator will give you the greatest value. Note that you can find many of these solar power options through third-party retailers like Amazon. Do your due diligence as you seek the perfect, portable solar solution for you and your family.
Josh Hurst is a journalist, critic, and essayist. He lives in Knoxville, TN, with his wife and three sons. He covers natural health, nutrition, supplements, and clean energy. His writing has appeared in Health, Shape, and Remedy Review.