The American Lung Association's 2016 State of the Air report found continued improvement in air quality, but more than half (52.1 percent) of the people in the U.S. live in counties that have unhealthful levels of either ozone or particle pollution. The annual, national air quality "report card" found that 166 million Americans live with unhealthful levels of air pollution, putting them at risk for premature death and other serious health effects like lung cancer, asthma attacks, cardiovascular damage, and developmental and reproductive harm.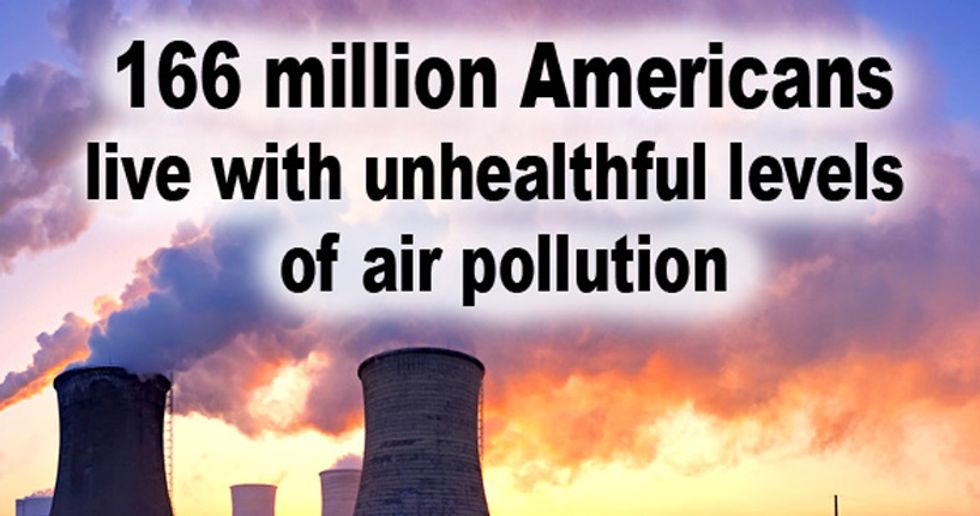 "Thanks to cleaner power plants and cleaner vehicles, we see a continued reduction of ozone and year-round particle pollution in the 2016 State of the Air report. However, climate change has increased the challenges to protecting public health," Harold P. Wimmer, national president and CEO of the American Lung Association, said. "There are still nearly 20 million people in the United States that live with unhealthful levels of all three measures of air pollution the report tracks: ozone, short-term and year-round particle pollution."
"Everyone has the right to breathe healthy air, yet only four cities—Burlington-South Burlington, Vermont.; Elmira-Corning, New York.; Honolulu, Hawaii; and Salinas, Calif0rnia—qualified for the 'cleanest cities' list in the State of the Air report," Wimmer said. "We simply must do more to protect the health of Americans."
Each year the State of the Air reports on the two most widespread outdoor air pollutants, ozone pollution and particle pollution. The report analyzes particle pollution in two ways: through average annual particle pollution levels and short-term spikes in particle pollution. Both ozone and particle pollution are dangerous to public health and can be lethal. But the trends reported in this year's report, which covers data collected in 2012-2014, are strikingly different for these pollutants.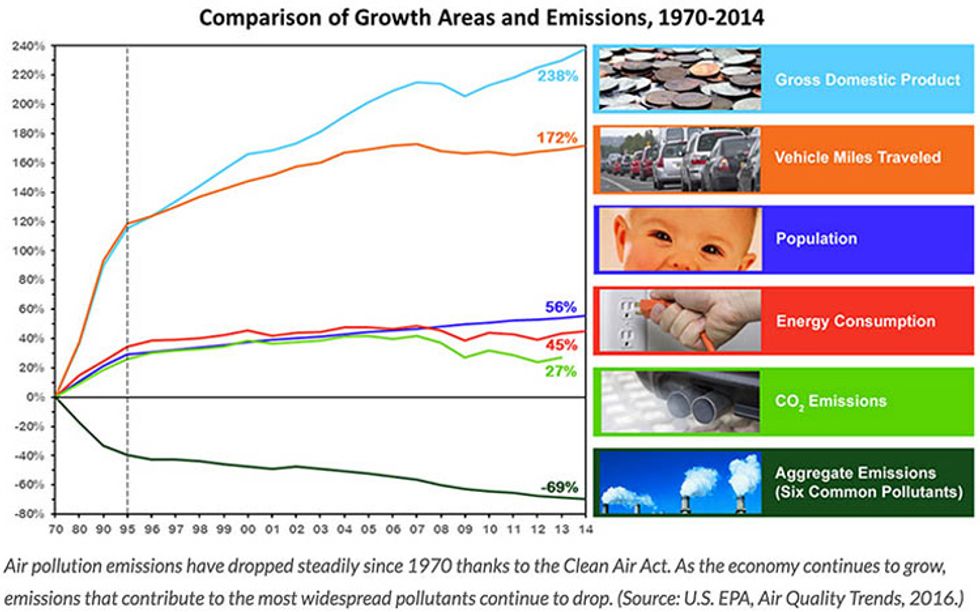 According to this year's 17th annual report, short-term spikes in particle pollution have gotten worse since the 2015 report, including in the city with the worst particle pollution problem, Bakersfield, California. For multiple cities that suffered spikes in particle pollution during this period, many of these spikes were directly linked to weather patterns like drought or to events like wildfires, which are likely to increase because of climate change.
Top 10 U.S. Cities Most Polluted by Short-Term Particle Pollution (24-hour PM2.5):
1. Bakersfield, California
2. Fresno-Madera, California
3. Visalia-Porterville-Hanford, California
4. Modesto-Merced, California
5. Fairbanks, Alaska
6. Salt lake City-Provo-Orem, Utah
7. Logan, Utah-Idaho
8. San Jose-San Francisco-Oakland, California
9. Los Angeles-Long Beach, California
10. Missoula, Montana
The rise in short-term particle pollution provides current examples of how major changes in drought and rainfall are already affecting public health. According to the 2016 report, seven of the 25 most polluted cities had their highest number of unhealthy short-term particle pollution days on average ever reported.
Increased heat, changes in climate patterns, drought and wildfires are all related to climate change, which has contributed to the extraordinarily high numbers of days with unhealthy particulate matter. The particles—emanating from wildfires, wood-burning devices, coal-fired power plants and diesel emissions—are so small that they can lodge deep in the lungs and trigger asthma attacks, heart attacks and strokes and can even be lethal.
By contrast, the best progress came in reducing year-round levels of particle pollution, with 16 cities reaching their lowest levels ever and one other improving over the period covered by the 2015 report (2011-2013). Year-round particle pollution levels have dropped thanks to the cleanup of coal-fired power plants and the retirement of old, dirty diesel engines.
Top 10 U.S. Cities Most Polluted by Year-Round Particle Pollution (Annual PM2.5):
1. Bakersfield, California
2. Visalia-Porterville-Hanford, California
3. Fresno-Madera, California
4. Los Angeles-Long Beach, California
5. El Centro, California
6. (tied) Modesto-Merced, California
7. (tied) San Jose-San Francisco-Oakland, California
8. Pittsburgh-New Castle-Weirton, Pennsylvania-Ohio-West Virginia
9. Harrisburg-York-Lebanon, Pennsylvania
10. Louisville-Jefferson, Kentucky
11. County-Elizabethtown-Madison, Kentucky-Indiana
According to the 2016 report, six cities reported their fewest unhealthy ozone days ever, including #1 Los Angeles and 15 others improved over the previous report's data. Ozone pollution has decreased because the nation has cleaned up major sources of the emissions that create ozone, especially coal-fired power plants and vehicles. However, climate change causes greater heat, which makes ozone form. When a person inhales ozone pollution, it can cause coughing, trigger asthma attacks and even shorten life.
Top 10 Most Ozone-Polluted Cities:
1. Los Angeles-Long Beach, California
2. Bakersfield, California
3. Visalia-Porterville-Hanford, California
4. Fresno-Madera, California
5. Phoenix-Mesa-Scottsdale, Arizona
6. Sacramento-Roseville, California
7. Modesto-Merced, California
8. Denver-Aurora, Colorado
9. Las Vegas-Henderson, Nevada-Arizona
10. Fort Collins, Colorado
"We can and must do more to save lives and fight climate change," Wimmer said. "The lung association calls on every state to adopt strong Clean Power Plans to reduce emissions from power plants that worsen climate change and immediately harm health. The Supreme Court has put a temporary hold on EPA's [Environmental Protection Agency] enforcement of the federal Clean Power Plan, but states should not wait to clean up carbon pollution from their power plants."
"In addition, we call on EPA to adopt strong, health protective standards to limit emissions of methane and toxic pollutants that contribute to ozone pollution and climate change from oil and gas production," he said.
YOU MIGHT ALSO LIKE
On Earth Day 150 World Leaders to Sign Paris Climate Agreement
Bill Nye vs. Sarah Palin on Climate Change: Who Do You Believe?
Glyphosate Found in Popular Breakfast Foods
EcoWatch Daily Newsletter
What are the best solar installers in the Garden State?
Reviews
nattrass / E+ / Getty Images
New Jersey may not jump off the page as a top state for solar energy, but its attractive solar-related financial incentives have prompted over $10 billion in solar investments statewide. If you're a homeowner looking to take advantage of the many benefits of solar in the Garden State, read on to see our top 10 picks for the best solar companies in New Jersey.
Our Top Picks for New Jersey Solar Installers
SunPower
Green Power Energy
New Jersey Solar Power
Solar Energy World
Impact Solar, LLC
Green Sun Energy Services
Trinity Solar
PlugPV
Cape Fear Solar Systems
Solar Me
For many residents of New Jersey, the cost of solar is the biggest factor in choosing an installer. We recommend shopping around to get multiple quotes and comparing them to find the best installer for your home. To get started with free, no-pressure quotes from pre-screened solar panel companies in your area, fill out the form below.
10 Best Solar Companies in New Jersey
In a state with such effective solar incentives, it's important to choose a solar provider that knows the ins and outs of local energy policies. This way, you can make sure you get the most value out of your investment in solar. With this in mind, here are our choices for the best solar companies in New Jersey:
Choosing the Best Solar Installer for Your Home

Now that you have an idea of some of the best solar New Jersey solar installers, you may be wondering how to narrow down which one is right for you. Here are some key considerations to keep in mind when picking a solar energy company:
Services Offered
Of course, all solar companies can install solar panels on your roof. However, beyond this, there are a number of services you may be interested in. For example, do you want home energy monitoring, backup battery services, included routine maintenance or an EV charger installed with your panels? Some companies offer these services, and others do not.
Installation Process
Ask about the solar installation process during your initial consultation with a company. Be sure to get details about things like customization, whether a company uses subcontractors or in-house technicians and whether the company will be filing permits on your behalf. The answers you receive can help you gauge how knowledgeable and helpful your installer will be throughout the process.
Service Areas
With its effective incentive programs, New Jersey has become one of the best states for solar energy. As a result, many small local companies are breaking into the industry. One easy way to find the best solar installer near you is to use a zip code-specific quote tool, which will only show you results from your area.
Solar Costs and Financing
Cost, for many homeowners, is a deciding factor in the decision to hire one solar installer over another. We recommend comparing free quotes from a few companies and looking out for any available discounts. By getting multiple quotes, you may be able to save thousands of dollars on your installation — especially if the company you really want to work with has a price-match guarantee.
Another thing to consider is whether the company has the financing options you need, such as in-house solar loans or a solar leasing or power purchase agreement (PPA) program.
Solar Industry Affiliations
When choosing the best solar installer near you, look for certifications that show trustworthiness and a reputable status within the industry. For example, employing NABCEP-certified technicians or holding membership in the Solar Energy Industries Association (SEIA) are good signs of a reliable company.
Types of Panels
In your search for the best solar company, it helps to familiarize yourself with the different types of panels and products you want. If you have a smaller roof, finding a company with high-efficiency panels may be a good idea. If you have a specific solar panel or energy storage system in mind, you'll also want to ensure you pick a company that's certified to install that brand.
Solar Incentives and Rebates
Make sure to ask your solar provider about any and all solar rebates, tax credits and incentives available in your area. Any of the best solar providers will offer assistance in applying for the federal solar tax credit and net metering, but some may have more expertise in how to take full advantage of solar rebates, tax credits or other incentives available in your area.
Warranty
Solar panels have an average lifespan of about 25, and it's important that your installer ensures your system will continue to work efficiently through the years. Many solar providers offer a 25-year technology and workmanship warranty, but some warranties can be shorter. Ask about this on the front end so you're not stuck with defective panels down the road.
Cost of Solar in New Jersey
Based on market research and data from top solar panel brands, we found the average current cost of solar in New Jersey to be around $2.77 per watt. Using this average, we can calculate that after applying the federal solar tax credit, a 5-kW solar panel system would cost around $10,249 and a 10-kW system would cost around $20,498.
Any of the best solar companies in New Jersey will be able to advise you on incentives and solar tax exemptions to reduce your overall project costs. However, it's a good idea to be familiar with these on your own, too. Here's a rundown of New Jersey solar incentives:

New Jersey Solar Incentive
New Jersey Solar Incentive Overview
Net Metering
New Jersey offers a robust net metering program that gives solar panel owners credits for the unused electricity generated by their panels. These credits can be used to pay for energy you pull from the grid at night.
Solar Sales
Tax Exemption
New Jersey residents do not have to pay the state's 6.625% sales tax on solar panels or other eligible solar equipment.
Solar Property
Tax Exemption
Installing solar panels boosts your property value in New Jersey, but the state doesn't require you to pay any additional taxes that would typically come with home add-ons.
Transition Renewable Energy Certificates (TRECs)
TRECs allow homeowners to receive cash payments or utility bill credits for all renewable energy their panels generate.
Final Thoughts
If you're a New Jersey homeowner interested in solar, you're in luck. New Jersey has served as a model for most other states in its use of effective incentives to foster the growth of clean energy. But with solar's popularity in the state, it can be tough to sift through growing lists of providers looking to capitalize on the solar industry's growth.
This is why we recommend you get quotes from several competing New Jersey solar companies. Not only can you see what costs and benefits each will offer in its proposals, but you can ensure you receive the maximum value for your purchase. Solar is a significant investment, but one of the best you can make.
To start getting free quotes from the best solar companies in New Jersey, fill out the 30-second form below.
Karsten Neumeister is a writer and renewable energy specialist with a background in writing and the humanities. Before joining EcoWatch, Karsten worked in the energy sector of New Orleans, focusing on renewable energy policy and technology. A lover of music and the outdoors, Karsten might be found rock climbing, canoeing or writing songs when away from the workplace.