Damage from Hurricane Maria. La Organización Boricuá de Agricultura Ecológica
Reporting by Saulo Araujo
Houses without roofs and trees without leaves is all the eyes could see in the week following the devastation that Hurricane Maria wrought. The Category 5 storm with 150+ miles per hour winds was the strongest to hit the island in over a century, leaving the entire population without water and power. Weeks later 3 million people are still without electricity.
Up in the mountains, small-scale farmers lost their crops, and their ability to feed their families was abruptly leveled. La Organización Boricuá de Agricultura Ecológica (Boricuá) a grassroots organization of more than 100 families made up of small-scale farmers, farmworkers and organizers across Puerto Rico and the islands of Vieques & Culebra, continues working to communicate with their members in rural areas and to assess the damages. Boricua has made great progress in the last three decades to organize and support farmers, facilitate farmer-to-farmer trainings, and build solidarity nationally and globally. They are helping to fuel agroecology on the island, bringing locally grown, nutritious food to their communities and to market.
Eighty percent of the island's crop value has been lost as a result of the hurricane. And photos and reports—directly from WhyHunger's grassroots partners in Puerto Rico and according to other mainstream news outlets—show plantations stripped bare, greenhouses lying in pieces on the ground like a fallen house of cards, chicken coops scattered and banana trees uprooted. The implications for hunger and food insecurity might seem less dire when you consider that almost 85 percent of the food consumed in Puerto Rico is imported. Can't food just be shipped and flown in for disaster relief while the regular distribution infrastructure is rebuilt—namely, grocery stores and other food purveyors? But it is not that simple. Immediate and short-term aid is sorely needed, but the long view suggests that a system that relies on corporations and mega farms to feed the island, largely controlled by and benefiting the U.S. mainland, is a system that will leave people and the land destitute again and again as predictably more frequent and powerful storms will make landfall on the island in the years ahead.
Before and AfterLa Organización Boricuá de Agricultura Ecológica
In addition to amplifying the need for food, medical help and clean water in the coming months, we also must amplify the need to advocate for climate justice and an end to political and economic policies that continue to hold the people of Puerto Rico hostage. Rebuilding systems that have failed the majority of the Puerto Rican people and its biodiversity does nothing to cultivate the resiliency needed to confront the escalating damage of climate change. Only small-scale farmers practicing agroecology can effectively and responsively feed communities and cool the planet.

The farmers of Boricuá and their work to spread agroecology are critical to the development of a food system that nourishes both people and the planet. Agroecological food production contributes to and relies on biodiversity in the local ecology—a key element in mitigating climate change while strengthening the resiliency necessary to withstand natural disasters. Rebuilding the infrastructure for local food production is essential to Boricuá's on-going struggle for food sovereignty and their ability to build a sustainable food source into the future.
The social organization necessary to spread agroecology is a key part of the methodology. Boricuá has formed and used "brigades" or groups formed by farmers and community members over the last quarter of a century to spread the practice and philosophy of agroecology. This farmer-to-farmer solidarity practice is one of the main organizing tools the organization has used to mobilize dozens of farmers and volunteers to help each other within hours after the hurricane subsided. As the U.S. government drags their feet on humanitarian support, the brigades will play an especially critical role in rebuilding Puerto Rico's food system from the ground up. WhyHunger has been working with Boricuá to make sure farmers have seeds, tools and food needed for the months ahead. Boricuá and WhyHunger are also raising funds for transportation and other expenses that the brigades will need to move between communities, carrying supplies and sharing knowledge.
Supporting Puerto Rico's efforts to forge a future for food sovereignty means acknowledging and advocating for a reversal of the unjust and antiquated policies that have led to the debt crisis. For instance, the Jones Act, passed just after World War I, stipulates that shipping between U.S. ports be conducted with American-made ships staffed by American crews. This protectionist act was preventing foreign ships to deliver much needed humanitarian aid from foreign sources in the wake of Maria, before the Trump administration finally lifted the act for a ridiculously short period of 10 days. Repealing the Jones Act coupled with debt relief, which some economists estimate has prevented the growth of the Puerto Rican economy to the tune of some 17 billion dollars, is perhaps the island's best chance at achieving food sovereignty and some level of economic wholeness.
That is why grassroots alliances and their partners and allies have come together to demand debt relief for Puerto Rico and a repeal of the Jones Act, with an ongoing petition. As the executive director of UpRose, Brooklyn's oldest Latino organization founded by Puerto Rican activists in the Civil Rights era, Elizabeth Lampierre wrote on their blog: "In working closely with the Climate Justice Alliance and our partners, we have been in communication with grassroots leadership on the ground in Puerto Rico. At this critical time, the way that we support the Puerto Rican people must be shaped by the needs articulated by this local leadership. This means following their lead and supporting their platform, including putting the island on the path toward regenerative energy, economic democracy, food sovereignty, control over land use, and community autonomy."
We know that natural disasters like Hurricane Maria are becoming more frequent as climate change proceeds unabated. And that's why we need to support and amplify post-disaster rebuilding efforts in Puerto Rico and around the world that look to transform structures, practices and policies that promotes ecological biodiversity, environmental resilience and political sovereignty.
Join us and the Climate Justice Alliance in solidarity with the people of Puerto Rico and demand Congress pass an immediate substantial federal Just Recovery and Relief Aid Package.
EcoWatch Daily Newsletter
International Women's Day is celebrated each year around the world on March 8. That inaugural date is linked to a women's anti-war protest in Russia known as "Bread and Peace" in the early 1900's. It was quickly replicated around Europe in the following year as women took to the streets, embracing the indisputable connection between hunger and war, expressing solidarity with women's peace movements around the world and advocating for their countries' governments to end armed conflict.
Early on rallies and protests by women were firmly established as a mechanism for building international solidarity around a feminist agenda. And the echoes of that mechanism are still reverberating today, as millions of people around the world took to the streets in January of this year (notably the largest protest in U.S. history) to remind world leaders, especially the newly elected U.S. president, that women's rights are still human rights.
Magha Garcia is an eco-farmer and environmental activist. She is a member of the Organización Boricuá de Agricultura Ecológica, USA.
Today, International Women's Day is recognized and celebrated in nearly every country—from villages to cities, from the Global South to the Global North—and has taken on a variety of hues and is realized in a variety of ways—protests, song and dance, conferences, shared meals and conversation and volunteer work.

This March 8, in honor of International Women's Day, women organizers from around the world are amplifying their voices in resistance to the structural forms of violence against the Earth, all forms of life and especially women, as a result of the unmitigated growth of industrial agriculture and international agribusiness.
Industrial agriculture is the dominant form of food production in the U.S and, increasingly, around the world. The impacts of industrial agriculture on our health and our living environment are well-documented: pesticide toxicity, water pollution, processed food, antibiotic resistance, worker injustice.
Women, who are arguably the most responsible for food moving from field to table, have the most at stake. Women are responsible for 60 to 80 percent of food production in the Global South. And the share of U.S. farms operated by women has tripled in the past three decades. Official reports tell us that there are nearly 1 million women farmers in the U.S.—a vast underreporting when small-scale, subsistence and urban farms are added to that pool. We also know that women represent more than 43 percent of the agricultural workforce in the Global South and that 50 percent of food chain workers in the U.S. are women. And, according to the United Nations, women and girls around the world disproportionately suffer from hunger and food insecurity. Conservative estimates indicate that 60 percent of chronically hungry people are women and girls.
The statistics are important in understanding the vast impacts of industrial agriculture on women and their families, as well as the role women play in resisting those impacts. But it's the stories that women tell—their words and images—that bring to life the ways in which industrial agriculture and international agribusiness are structural forms of violence against the Earth, all peoples and especially women. It's not only the contamination of their bodies by agrochemicals—it's also the forced displacement, the division of families and the loss of loved ones that results from migration and land conflicts. It is the denial of the right to food—food that is accessible, both economically and physically, adequate in nutrition, affordable and sustainable in both production and consumption. It is the denial of the right to healthy soil and clean water for food production. It is the denial of the right to sustain one's family with dignity.
It is imperative; therefore, that women's voices are at the center of the debate about how to dismantle the current food regime and replace it with food sovereignty and agroecology. Though not yet mainstream concepts or practices, the work of grassroots organizations is beginning to result in a scaling out of agroecology in both rural and urban areas. And the leadership of women has played a significant role in making that possible.
In honor of International Women's Day, WhyHunger launched a new publication, Through Her Eyes: The Struggle for Food Sovereignty, which offers excerpts of interviews and dialogue with women organizers and food producers from the U.S. and globally in response to the question, "What are the impacts of industrial food and farming on women and how are women organizing to build an alternative?" This publication amplifies the voices of women who are on the frontlines in the ongoing struggle for land, water, localized economies and a world free of violence and hunger. It emerges in a moment when arguably a new world order is beginning to take shape.
In the face of economic and social systems in crisis and deepening inequality the world over, the struggle for food sovereignty, agroecology and climate justice is a struggle for more than just the right to food. It is a struggle for a new world order that centers the rights of women to live freely and safely and to lead in envisioning and crafting a world void of hunger and violence. This International Women's Day, join WhyHunger by standing in solidarity with women whose lived experiences are forging the path to food sovereignty.
zstockphotos / iStock / Getty Images
With well over one million solar installations throughout the state, California has long been a leader in the U.S. solar industry. Recent legislation mandating that all new homes in the state must be built with solar panels likely leaves residents wondering about the cost of solar panels in California.
With ample sunshine, unnaturally high energy costs, ambitious climate goals and progressive leadership, California is ripe with solar potential. The preexisting availability of local solar providers in California allows solar customers the valuable opportunity to gather a large number of competing quotes, sometimes generating several thousand dollars worth of savings in the process.
You can start getting free, no-obligation quotes from top solar companies in your area by filling out the form below.
How Much Do Solar Panels Cost in California?
As of 2021, our market research and data from top brands shows the average cost of solar panels in California is around $2.73 per watt. This means a 5-kW system would cost around $10,101 after the federal solar tax credit is applied.
Here's how that price looks when applied to other system sizes:
| Size of Solar Panel System | California Solar Panel Cost | Cost After Federal Tax Credit |
| --- | --- | --- |
| 5kW | $13,650 | $10,101 |
| 6kW | $16,380 | $12,121 |
| 7kW | $19,110 | $14,141 |
| 8kW | $21,840 | $16,162 |
| 9kW | $24,570 | $18,182 |
| 10kW | $27,300 | $20,202 |
It may surprise some readers that the cost of solar in California isn't as low as in many other states, but keep in mind that the real value of solar comes relative to the price of energy in the state (and California's is the highest in the country). All in all, solar energy provides excellent value to California residents.
Knowing the average solar panel cost in California is $2.73 per watt, a savvy solar customer can compare quotes against this figure to ensure they receive the best value possible. You may find that popular national brands don't have the lowest prices.
What Determines Solar Panel Prices?
The cost of solar panel installations in California largely depends on a homeowner's location and energy needs. In most cases, areas with higher local electricity rates offer more value from solar panels. Here are other factors that influence installation costs.
Solar Equipment Costs
Similar to most modern technology, solar products and system costs vary greatly based on their quality, scale and included features. Some customers may be satisfied with a modest array of affordable solar panels and inverters, while others may prefer a system with premium panels, full-home backup power and an electric vehicle charger.
Solar Financing
The overall cost of solar depends significantly on whether a customer chooses to finance or purchase their system in cash. Paying upfront provides the best return on investment and fastest solar panel payback period, as there are no fees or interest charges associated with it.
The two most common solar financing options include taking out a loan and leasing solar panels. If paying with a solar loan, be careful of high interest rates and early repayment penalties and other fees. Homeowners who lease their panels or sign power purchase agreements (PPAs) enjoy little to no upfront costs, but solar leases provide the least amount of overall value.
Solar Installation Costs
With nearly 2,500 solar companies throughout California, prices can range significantly based on the installer. Larger solar providers like Sunrun offer the advantage of solar leases and quick installations. Local providers looking to get a leg up on their competition may offer lower prices to undercut the biggest names in the industry.
Solar Panel Cost After Incentives, Rebates and Tax Credits
California's progressive leadership has done good work in spurring investment in renewable energy. All homeowners are eligible for the federal solar tax credit, and the state offers several incentive programs and solar rebates aimed at further increasing access to reliable, affordable solar panels. However, given the state's ambitious climate targets and the energy burden on most of its population, it could probably do more.
Let's take a closer look at the solar incentives available to California residents.
Federal Solar Tax Credit
All California residents are eligible for the federal solar investment tax credit, or ITC, for installing PV solar panels and any other eligible solar equipment. Any reputable solar installer will assist in the process of claiming the ITC on your federal tax returns. Claiming the ITC deducts 26% of the total cost of your solar installation from the taxes you owe.
To be eligible for the solar tax credit, homeowners must own the solar energy system, either having paid for it in cash or by taking out a solar loan. Homeowners who lease solar panels are not eligible to claim the ITC.
California Net Metering Programs
Net energy metering (NEM), or net metering, allows customers to feed the surplus energy generated by their solar panels back to their local power grid in exchange for energy credits from their utility company. As most solar energy systems generate more energy than can be used during the day, this incentive provides homeowners additional savings on their electricity bills and lowers the demand for grid-supplied electricity in the region.
California currently offers a statewide net metering incentive for residents generating electricity with solar panels. Exact credit values will vary based on your utility company.
California Solar Tax Incentives and Rebate Programs
There are also a handful of California solar incentives to help lower the cost of solar for residents. Some of these include rebates, loans and property tax exemptions. Though any quality solar company will be knowledgeable about the local incentives in your area, it's always worth doing some independent research. We recommend using the DSIRE solar incentive database to find money-saving opportunities in your area.
FAQ: Average Cost of Solar Panels in California
Is it worth going solar in California?
One of the sunniest climates in the country makes California one of the best states in the U.S. for generating energy with solar power. The ample sunshine, generous net metering policies and pre-existing availability of solar installers provide a great deal of value for solar customers in California.
How much does it cost to install solar panels in California?
As of 2021, the average cost of solar panels in California is $2.73 per watt. This means a 5-kW system would cost around $10,100 after the solar tax credit. Heavy investment in renewable energy has lowered the cost of solar in the state significantly, and this cost offers great value relative to high local energy prices. The best way to assess how much solar would cost you is to consult local providers near you for free estimates.
Do solar panels increase home value in California?
Solar panels increase home value everywhere, but mostly in areas with generous net metering policies and solar rebates. As such, the areas in California where solar panels increase home value the most correspond with the areas that have the most solar-friendly policies. It's worth noting that even if your home's value increases, California has laws in place to ensure your property taxes don't rise as the result of a solar installation.
How much do solar panels cost for a 2,500-square-foot house?
Though knowing the size of a house is helpful in determining how many solar panels could fit on its roof, the energy use of the house is a more important factor in determining solar panel cost in California. The higher the energy costs in your home, the greater your cost of solar will be.
Karsten Neumeister is a writer and renewable energy specialist with a background in writing and the humanities. Before joining EcoWatch, Karsten worked in the energy sector of New Orleans, focusing on renewable energy policy and technology. A lover of music and the outdoors, Karsten might be found rock climbing, canoeing or writing songs when away from the workplace.
Hunger and food insecurity affect more than 1 in 7 Americans. Those facing hunger are three times more likely to have diet-related health problems like diabetes or hypertension. Yet, far too often the solutions to help these individuals typically offered, funded and advocated for by our society address the issues of hunger and health as separate afflictions.
WhyHunger is a global grassroots support organization working with community leaders and grassroots organizations across the U.S. who are working at the intersections of health and hunger to address the complex and interconnected social determinants that leave far too many Americans hungry and sick.
We're excited to share this video from WhyHunger highlighting the innovative programs at Bed-Stuy Campaign Against Hunger in Far Rockaway, New York, where VeggieRX programs, community farm stands, mobile pantries serving farm fresh produce and youth leadership programs intersect.
Sam Josephs, a youth leader in the Green Teens Program, serves as a mentor to her peers on the urban farm. She said, "Here in Rockaway, you don't have access to the things that you need … When you have a farm, you're producing your own food, you're watching out for your own health." Sam's testimony speaks to the value of programs like this and the importance of local, community-controlled food systems in fighting diet related illnesses.
Watch this inspiring video to learn more about Sam and BSCAH's programs:
Thank you Sam and Bed-Stuy Campaign Against Hunger for the work that you do and for sharing this story with us!
The Kaqchikel women—one of 23 Mayan cultures in Guatemala—are fighting to protect their collective intellectual property rights to their traditional Mayan textile designs. Led by the Women's Association for the Development of Saquatepéquez (AFEDES), an organization with a membership of more than 1,000 indigenous women and supported by an association of Mayan lawyers, hundreds of Kaqchikel women artisans of all ages took their case to the Constitutional Court in Guatemala City this past June. They are asking the court to push the Guatemalan Congress to enact new laws that would protect their intellectual property rights over the intricate woven designs that have become ubiquitous in the tourist markets and are a direct reproduction of their heritage and cultural identity.
Reproduction of the Mayan textiles has become increasingly controlled by just a handful of companies that hire Mayan women and pay them very little (around 10 quetzales or just more than one U.S. dollar) for a design that might take days, even weeks, to weave. The products are sold at a much higher cost to tourists and textile buyers around the world. But this isn't just an economic issue to the indigenous women who flooded the courts this spring. Dressed in their traditional hand-woven blouses known as huipils—each design emblematic of the life in their particular community and worn every day by these women and their children as they work, play and go to school—they argued that the real value of these iconic textiles is the preservation of a way of life and the protection of a living culture.
AFEDES Director Milivan Aspuac.
In a recent field visit to accompany and support AFEDES and their efforts on behalf of indigenous women's social, cultural and economic rights, the AFEDES' Director Milivan Aspuac explained to me and my colleagues from WhyHunger that at its core their struggle is to protect the very heartbeat of Life. According to the Mayan Cosmovision, everything is connected and human beings are charged with engendering reciprocity, solidarity and harmony in all of the elements—physical and spiritual, matter and energy—that make up Life. The story of Life and the principles of their Cosmovision are revealed in the designs of the vibrantly-colored textiles that women have been creating for thousands of years—each one unique and representative of a particular time and value-system of a particular community. Protecting and preserving the way in which these designs are reproduced and the huipils worn (from adult to child, from generation to generation, from community to community) is to protect, repair and preserve Life.
There is much Life to repair in this mountainous region of Guatemala in the department of Saquatépequez, home to one of the tourist meccas in Central America, the carefully restored colonial city of Antigua which is a designated World Heritage Site. Since 1993, the AFEDES members have been organizing indigenous women throughout this state to join them in their efforts to envision a way of life that aligns with their Mayan Cosmovision while not wholly rejecting a modern world. Decolonization and reclamation is at the heart of their strategy to confront the gender, economic and racial oppression that has left them in extreme poverty and is slowing appropriating their culture. We saw evidence of the strategic ways in which AFEDES confronts oppression that reflect the holistic, complex and at times heartbreaking circumstances of women's lives. As Milvian explained: "AFEDES can't work only with food sovereignty or economic development or violence against women—we have to work on all these fronts because that's the reality of women's lives." The struggle is arduous, the losses are many, but with each win against the oppression that the women of AFEDES describe as patriarchy, capitalism and colonialism, one more strand of colorful cotton can be woven back in to their story.
Resisting Patriarchy: Self-Worth and Power in Numbers
The struggle to end violence against Mayan women in the village of San José Pacul is at the foundation of the organizing work that AFEDES does in this village and dozens of others just like it. Angelina Aspuac, one of AFEDES' organizers, tells us, "The main issue here is machismo." Sofia's story, who Angelina introduced us to, is representative, she said, of many of the Mayan women who have now come together to pool resources, share assets and work together to collectively improve the quality of their lives. "I never thought of becoming a wealthy woman," Sofia said. "The idea at the start was to start a community bank to make small loans." She explains that the men stepped in soon after and started to dictate what the loans should be used for and yet the women were still held responsible for paying the money back. Not alone in her predicament, Sofia's husband would confiscate the loan money she had intended to use for investing in a small cottage industry to make enough money to send her kids to school. She endured regular beatings and became isolated when he forbid her to attend any more of the women's meetings. Since she couldn't pay back her loans, she couldn't bring home any more funds for him to spend or invest in his own failed ventures. Eventually Sofia made the very difficult decision to separate from her husband despite the fear of retreating further into poverty. She left their home with their seven children and no money. She was emboldened to take her life in her own hands, she said, because she had the support of other women in AFEDES.
Justiniana, long-time member and current leader in AFEDES, wearing her hand-woven belt.
The symbol that AFEDES has chosen to represent itself is a belt woven with a design in the tradition of the Mayan huipils. The belt is multi-colored—each vibrant strand of cotton beautiful on its own but complex and whole when woven together. The various strands crafted into a design represent the diversity of the Mayan people, their languages and practices, as well as the diversity and strength of the women of Saquatépequez. Each small ball formed by tying strands of the cotton at the end of the belt fringe represents a different community, a different skill and a different capacity. As Milvian said: "We grew up in this organization. Our mothers brought us here. It has been our school of life."

It is late-July. A car drops us off at the edge of a patchwork of agricultural fields on the outskirts of Mysore in a village called Bannur in the South Indian State of Karnataka. Despite the oppressive heat, the women clad in colorful saris, and the sacred cows—more plentiful than potholes—artfully dodged by cars and motorbikes every 20 yards or so along the road, I am reminded of the Midwest.
No matter that there is no corn or soybean in sight and that parcels measure 5 acres instead of 400. It's the neatly defined fields in perfect rectangles that resemble what you see when you fly over Iowa. The field adjacent to the road where the car left us boasts a weed-free plantation of banana trees, the one next to it is lined with straight rows of sugar cane and the one just across the walking path that traverses the fields is recently sown with rice.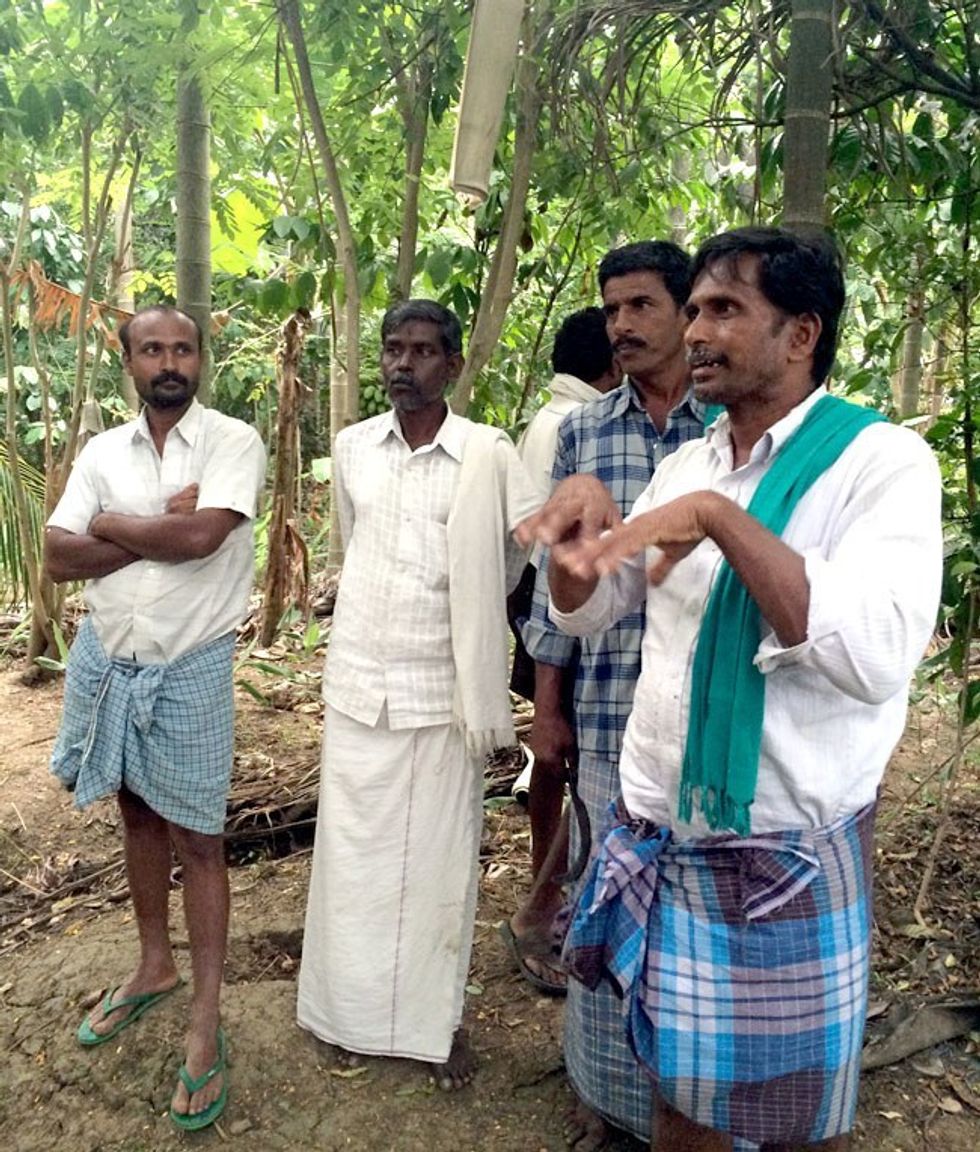 We walk a good half mile to the farm we're meant to visit. Leading the way are seven men on motor bikes ranging in age from 30 to 60, wearing flip flops and fabric the size of table cloths wrapped around their waists in typical farmer garb, at least two of them are boasting bright green scarves thrown over their shoulders, symbolic of the social movement they're connected to that promotes "natural farming."
We're headed to Krishnappa's farm, a member of this green-scarf social movement referred to as KRRS, or the Karnataka Rayja Raitha Sangha. Founded in 1980, this peasant farmers' movement is rooted in Gandhi's philosophy of swadeshi, or home economy, meaning that political and economic power can only be just when it is governed by democratic assemblies organized at the village level. KRRS believes that by relying on a localized economy (local production and consumption) for village needs, everyone has the opportunity and the resources to work and create a dignified life.
As we approach the edge of Krishnappa's 5-acre farm, the outward appearance is strikingly distinct from his neighbors' parcels. It seems to be overgrown by weeds and unruly plants of varying heights defending their access to sun and water. The parcel looks like an island of chaos floating next to the neat rows of plantings all around us, waiting stoically and well-behaved on scorched earth for the rains to come. But nothing could be farther from the truth. Within minutes of stepping onto Krishnappa's land, we become privy to an intricately designed coupling of various food-producing plants and intercroppings that bloom into a veritable food forest—the healthiest and most productive land we've seen in India during our short sojourn.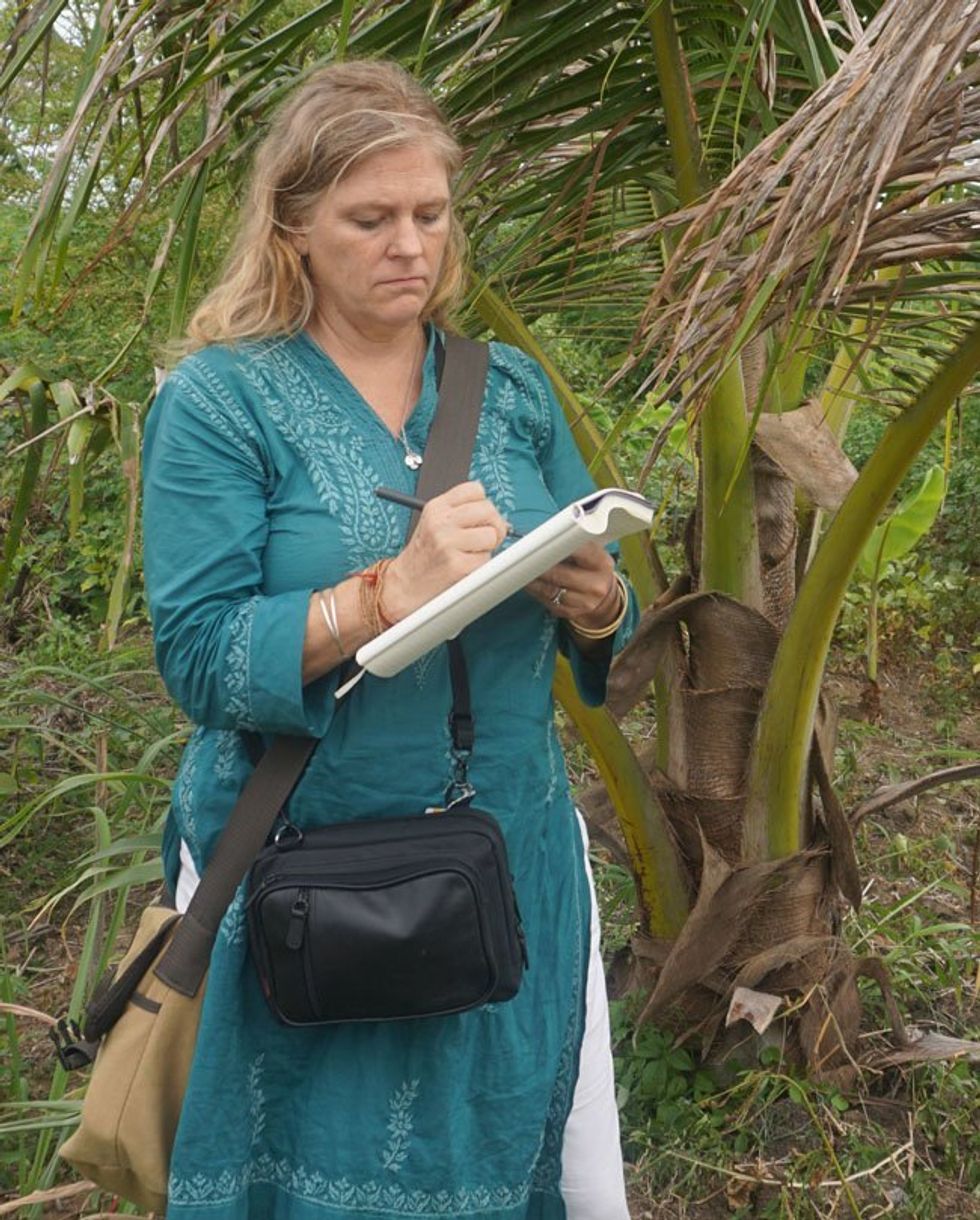 Krishnappa, the proverbial "poster child" of Zero-Budget Natural Farming (ZBNF), has been growing food according to this straightforward yet scientifically-based method for 15 years. KRRS credits Zero-Budget Natural Farming from saving Krishnappa from the fate of so many other farmers that were featured on the front page of the The India Times almost daily during the time we were in Karnataka. These farmers had tragically succumbed to suicide in the face of unrelenting debt. Farmers in India have been forced to take on high-interest rate loans to purchase seeds and chemical inputs from banks that are profiting from agribusinesses' strategy of dictating the methods necessary to produce cash crops such as rice and sugar cane. Like the more than 3,000 farmers in India who have committed suicide in the past three years (50 suicides in 15 days in July of this year in the state of Karnataka alone) Krishnappa was feeling trapped and impotent, a victim to the whims of the loan sharks and unpredictable markets that either paid nothing or too little to make a dent in debt mounting season after season, let alone feed his family.
It was about this time that Krishnappa learned of a workshop to teach farmers an alternative to the chemical-based mono-cropping techniques, a central feature of the Green Revolution that has led to a decline in the total number of small landholders, an increase in the costs associated with farming, and a decrease in the amount of land used to grow food for local consumption in favor of cash crops. The Green Revolution has proven to be a false panacea, whose promise of a reduction of hunger and poverty was short lived. What piqued Krishnappa's interest the most in this workshop was the term "zero-input." Was it possible to recover the health and productivity of his small but adequate parcel without investing in inputs that required cash or loans? The workshop was sponsored by KRRS and was an introduction to Zero-Budget Natural Farming (ZBNF), given by the pioneer of this methodology, Subhash Palekar. The two main features of ZBNF are:
Zero-Budget: Nothing has to be purchased outside of the farm; no upfront investment is required in patented seeds, chemical fertilizers or pesticides. All you need is one local breed of cow.
Jeevamrutha: Treatments for seeds and crops are made with a culture produced using your cow's dung and urine as the main compounds.
According to Krishnappa, there were more than 1,000 farmers at the start of this week-long intensive workshop he attended some 15 years ago. By the end of the week, there were only 13 farmers left standing and only one of those farmers was willing to take the risk of implementing ZBNF. That was Krishnappa, who now hosts regular learning exchanges on his land as word has spread through radio, newspaper and word-of-mouth about his ability to produce a multiplicity of food crops in soil that is dark and rich with microbes, requires zero cash investments and needs virtually no outside labor.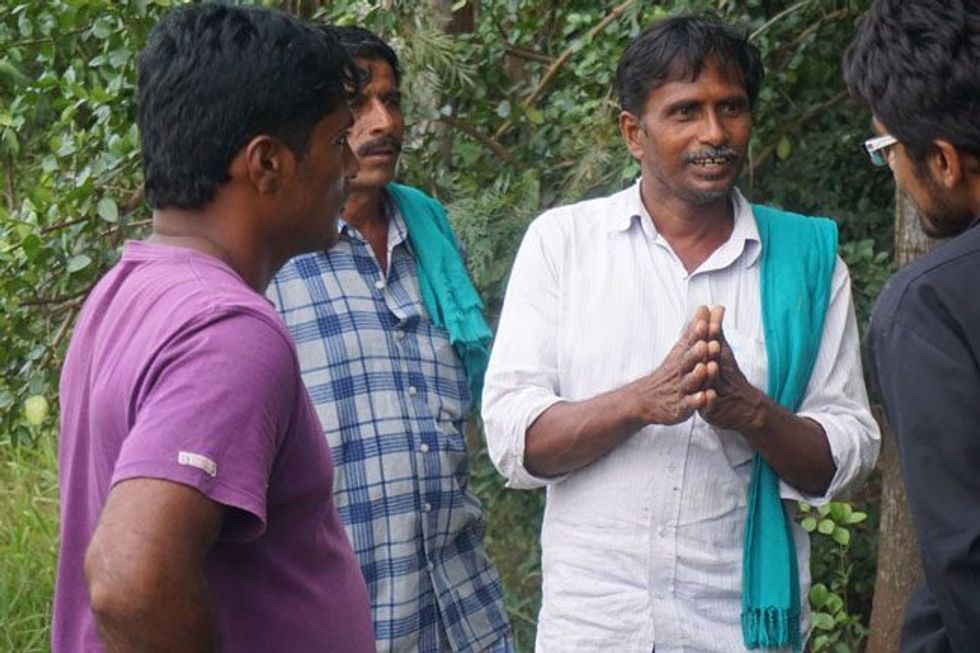 The five farmers that accompanied us on the farm tour that day, in addition to Krishnappa and a fellow ZBNF farmer, were—like us—walking his farm for the first time, too. They were fellow farmers who told us they were looking for a way out of the debts they were facing, the chemicals they and their family members were routinely exposed to, the depletion of the soils on their land and for a life that afforded them the dignity to feed their families.
There are currently close to 1,000 farmers growing with the ZBNF method in Karnataka and 100 in Krishnappa's district alone. It was easy to see why Krishnappa has become a walking-talking advertisement for Zero-Budget Natural Farming. If anyone could sell the virtues of meticulously collecting and culturing cow dung and urine into liquid gold that incites the Earth to fulfill its promise of a healthy bounty, it would be the charming and loquacious farmer we encountered that day who kept us on his farm scribbling furiously in our notebooks for hours until the sun set on the patchwork of fields around us.
"Food and income in three months, Sir!" became Krishnappa's enthusiastic mantra throughout the day. Without the proof of the bounty of fruits, vegetables and fibers we witnessed as we walked the entire length of his 5-acre farm, it would be easy to confuse him for a snake oil salesman. I don't even own one acre of land in the U.S., let alone India, and I was ready to acquire my own local breed of cow and start cultivating. I was ready to sign on the dotted line and become a ZBNF disciple that very afternoon!
The longer we walked and talked; the more times we knelt to touch, small and even taste the soil; the more birds and butterflies we encountered; the more we scanned the land from the soil to the sky—from the microbes to the earthworm to the tubers, to the beans, to the sugar cane, to the limes and finally to the coconuts ripening in the top of the trees—the less "plug-and-play" this ZBNF method became.
Productivity isn't just dependent on the jeevemrutha, it turns out. The farmer's approach to caring for the land and his or her capacity to learn is equally critical to success. And, according to Krishnappa, learning means gathering knowledge through failures and then sharing those lessons. It is important to assume ignorance in the face of the natural world, he said, so as to be able to ultimately comprehend and trust in scientific principles that dictate the designs of nature.
Krishnappa told us that he loves his plants so much that he talks to them regularly. And they answer back! They tell him to take their fruits for food for his family and community and otherwise leave them be. They tell him to take the time to observe and learn how they grow and what makes them thrive. They tell him that less is more when it comes to interaction with humans.
"It's only the farmers that are using chemical inputs that are committing suicide," Krishnappa reminds us. He proclaims on more than one occasion that all a farmer in Karnataka needs is a local breed of cow and some seeds saved by and gifted from another farmer to get started in ZBNF. He believes ZBNF is the antidote to the epidemic of farmer suicides in India. And what's more: "Farmer-to-farmer interaction and shared learning is the only way to grow the number of farmers practicing ZBNF." He went on to profess: "All the scientific knowledge I have now, I have learned through practice. I am an uneducated farmer. I didn't go to school. For me, failure is an important method of learning."
As darkness crept over the fields and we wended our way back to the road where our car was parked, the visiting farmers now climbing astride their motorbikes seemingly satisfied and sufficiently inspired by having come to see for themselves the unfathomable—that one could heal the land and grow food in abundance without incurring debt—Krishnappa, this farmer-cum-philosopher invoked us to recall something he said early on in the afternoon: "There are two kinds of truth: One that is unknowable and one that is proven through practice. Sir, food and income in three months!"
YOU MIGHT ALSO LIKE
5 GMO Myths Debunked by Vandana Shiva
Vandana Shiva: There Is No Reason Why India Should Face Hunger and Farmers Should Commit Suicide
Agriculture is often at the center of debates, research and protests when it comes to environmental activism. On those stages agriculture is often cast as the "bad guy." And for good reason. The list of offenses is egregious: pollutant run-off into streams, significant deforestation to make room for endless fields of soybeans, fossil fuels emitted into the atmosphere contributing to climate change and pesticides ingested by farmworkers and consumers. I could go on! Even under the label of organic, industrial agriculture comes under fire for the use of heavy machines, intensive irrigation and weed control, which arguably leads to soil erosion especially when monocrops are involved.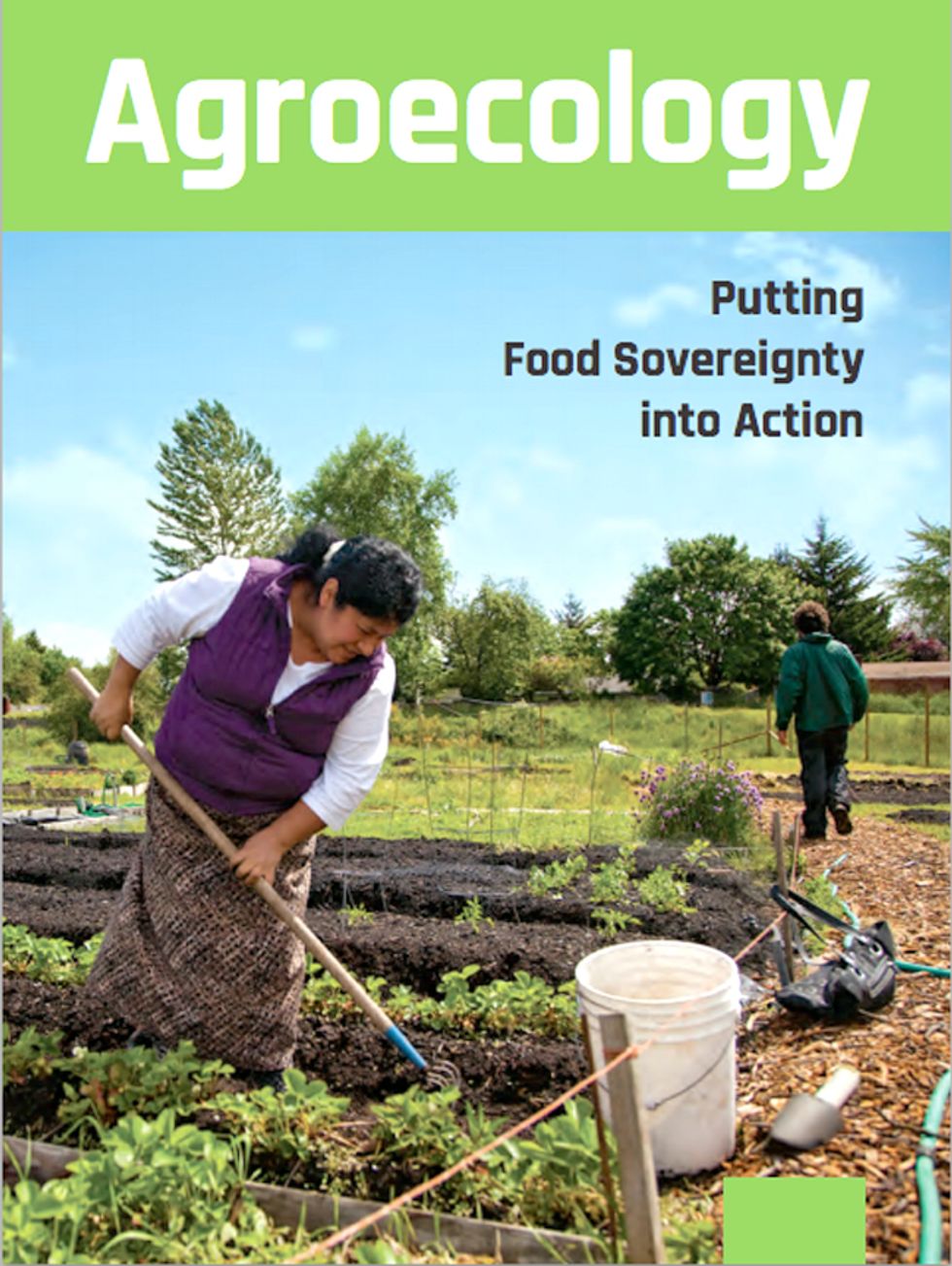 But there's a quiet revolution under way by peasants and farmers worldwide that will resonate with many of us—consumers and advocates for a more sustainable food system as well as environmental activists. It's called agroecology and it has the potential to get loud.
Agroecology is a science and practice defined in the daily lives of millions worldwide. It represents both a form of agricultural production and a process for organizing and building community self-determination. Not to be confused with sustainable agriculture, regenerative agriculture or other environmentally-friendly farming practices, agroecology is a way of life and a pathway to end hunger, protect our natural environment and transform society. It's farming, feeding, restoring, preserving, protecting and democratizing, grounded in the accumulated (and still accumulating knowledge) of those relying on nature's resources to nourish their families and communities. And it begins with an intuitive understanding that ecology is about the interdependent relationships of natural organisms—including humans—to their local environment. Key to an agroecological approach is not just the production of food, but the production of knowledge.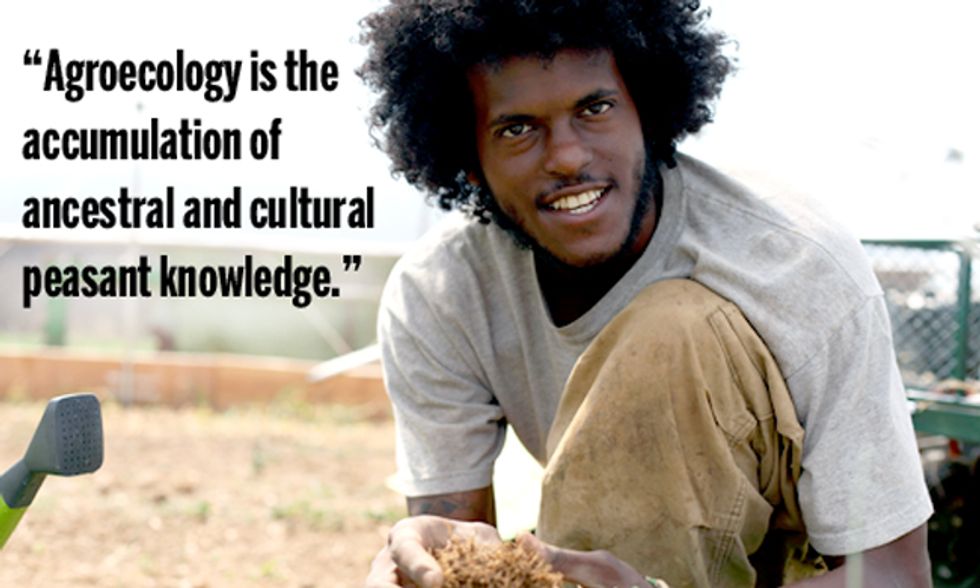 But don't take my word for it. Listen to the voices of the practitioners of agroecology—the peasants, mainly women, who are leading the way in engaging their communities, as Janaina Stronzake from Brazil, says, "Always with participatory and local decisions about what, how and when to produce. Every place in the world must build its own agroecology."
WhyHunger's new publication Agroecology: Putting Food Sovereignty into Action is not a technical guide or a "how to" manual on production practices. Rather it shares the perspectives of members of rural communities around the world that are fomenting a quiet revolution from the soil to the community on behalf of Mother Earth.
YOU MIGHT ALSO LIKE
Why You Should Buy Organic Food for You and Your Family
Monsanto Demands World Health Organization Retract Report That Says Roundup Is Linked to Cancer
Norman Borlaug, often referred to as the father of the Green Revolution, called for a World Food Prize to be established just after he was awarded the Nobel Peace Prize in 1970. His intention was to lift up, more frequently than the venerable Nobel committee could, those who have devoted their careers to alleviating global hunger and therefore contributing to a more peaceful world.
Indeed, hunger is often cited as one of the root causes of conflict and war. Calling attention to hunger—and its constant companion poverty—as inextricably linked to peace does certainly warrant a prize that continually puts these issues in the spotlight. The tragedy of the World Food Prize is that since 1987, when the prize was first awarded, the laureates—with a very few exceptions—have been primarily scientists that have advanced food as a commodity and not as a basic human right. This week the World Food Prize is once again being awarded to a plant scientist, Dr. Rajaya Sajaram, for his development of numerous prodigious wheat varieties that have been spread around the world to the benefit of "small and large-scale farmers."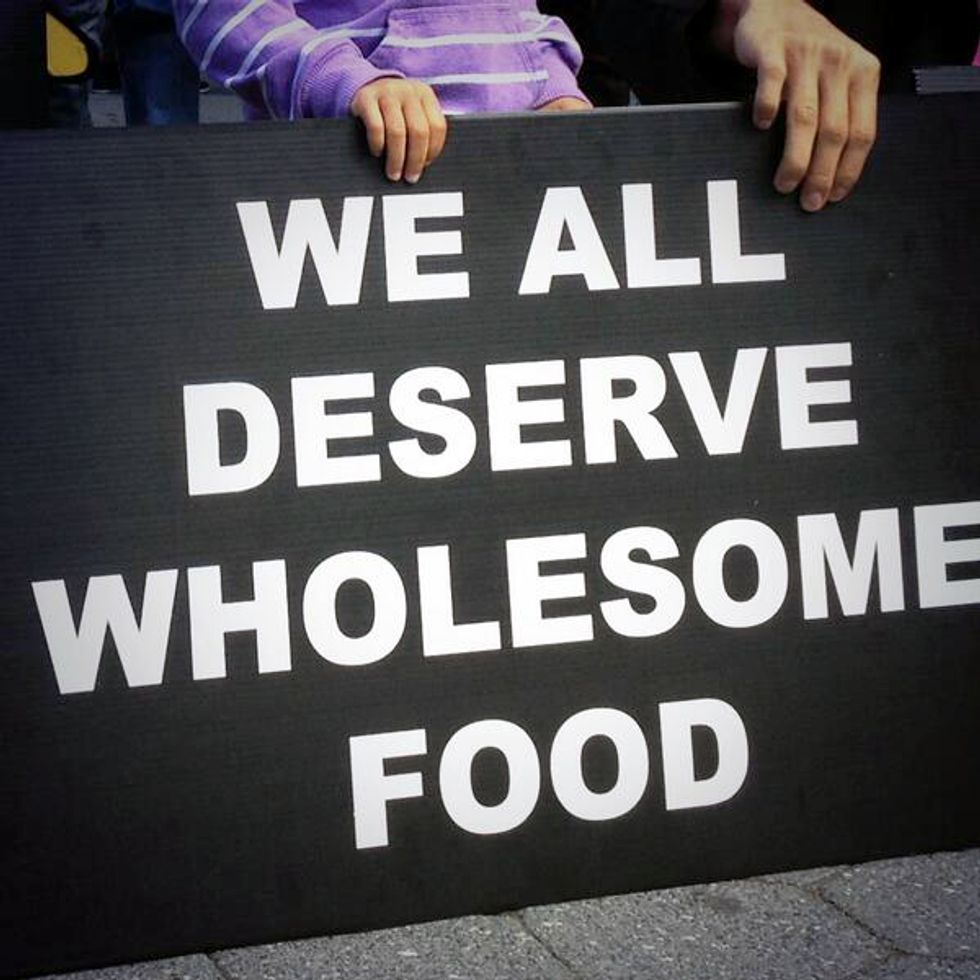 Yet, privileging food as a commodity to be bought and sold on the exchange floors of Chicago and New York has led to considerable damage to the natural environment and to our health. Not to mention that world hunger has reached the staggeringly high estimate of nearly one billion people, with more spikes than declines in the past few decades, according to the U.N. Food and Agriculture Organization.
Production agriculture is the source of at least 14 percent of green­house gas emissions, depends on unsustainable fossil fuels and is the consumer of 70 percent of the world's an­nual freshwater supply. Climate change is in part a direct result of this profit-driven recipe for efficiency and scale in agricultural production. And, like the sorcerer's apprentice, no longer able to control what he has summoned by his spells, climate change is making our Earth inhospitable to food production through an increasing prevalence of drought followed by monsoons. And what is the response historically to a dwindling access to natural resources among rural communities in particular? Hunger and conflict.
How does a prize meant to honor those who fight hunger and bring about peace reward the very science, technology and methods that are degrading our planet, our health and our ability for generations to come to feed ourselves?
Enter the Food Sovereignty Prize as a foil to the message perpetuated by the World Food Prize that industrial agriculture is necessary to feed the world. In 2009, a group of non-governmental and community-based organizations, spurred on by the world food crisis that hit headlines around the globe, banded together to form what is now called the U.S. Food Sovereignty Alliance and established an alternative prize to recognize the quiet champions producing food in a way that puts people and their basic needs and rights to be nourished first.
The Food Sovereignty Prize has for six years running been awarded to peasants and small farmers who, despite the billions of dollars pouring in to support big agri-business and food and farm policies that prop up food as a commodity and result in land grabs by multi-national companies, are growing food for their families, communities and local markets. These leaders are organizing their communities to reclaim their right to determine how their food is grown, and who benefits from it.
Why should peasants and small farmers be heralded as formidable foes against hunger? The majority of the food that people around the world eat—70 percent—is produced by peasants and small farmers on medium to small tracts of land and is consumed within 100 miles of where it was grown. The narrative put out by the World Food Prize that an industrial agribusiness model, requiring billions of dollars of investment in scientific research, is necessary to feed the world is false.
Not only are peasants and small farmers currently growing the majority of consumable food in the world, but food production worldwide already provides 1.5 times enough food to feed everyone on the planet. That's enough to feed 10 billion people, the population peak we expect by 2050. It's clearly not a question of production keeping up with population as the World Food Prize narrative suggests.
For the first time since activists, farmers and organizers came together to establish the Food Sovereignty Prize, it is being awarded in a public ceremony in Des Moines, Iowa the same week and city where the World Food Prize laureate is traditionally honored. The Food Sovereignty Prize ceremony will take place at the Iowa Historical Building at 7 p.m. on Oct. 15 and will be live streamed.
This year's prize goes to two awardees—the Union of Agricultural Work Committees (UAWC) of Palestine, and Community to Community Development/De Comunidad a Comunidad (C2C) of Bellingham, WA. Both organizations, founded and led by farmers, are being honored for their work to advance the rights and food sovereignty of communities without legal protections to the right to food and the right to land. Both organizations exemplify that people, not profits, should be at the center of the discourse on ending hunger and healing the environment.
UAWC has been engaged in humanitarian and justice work for decades in an effort to empower stateless Palestinian farmers, both men and women, who face geo-political challenges to accessing land and water in order to produce food for their families and communities. The UAWC has organized and supports 21 committees in the Gaza Strip and 26 in the West Bank. Together these committees of peasants work to protect farmers' rights to land, organize women's collectives and cooperatives that create opportunities for sustainable livelihoods, ensure access to water for food production through cisterns and grey water reuse, and to promote seed sovereignty through the development of the strongest seed bank in the region.
Community to Community Development/De Comunidad a Comunidad, a founding member of the U.S. Food Sovereignty Alliance, is led by and works with farmworker communities, including youth, in Washington State. C2C organizes farm worker cooperatives, primarily around producing value-added goods, but also works to access land for community gardens. They are a member of the Domestic Fair Trade Association. Notably, over the past year, C2C has worked with a group of farmworkers who organized themselves at Sakuma Berry Farms because they were not being paid, the housing provided to them was poor, and discipline measures were harsh. In addition, the workers (some of whom had worked at Sakuma for many years), were going to be replaced by guest workers coming on H2A visas. This is the first major farmworker struggle related to the guest worker program impacting farm workers here and is raising important issues. The farmworker union, Familias Unidas por la Justicia, has won numerous legal battles with C2C but their struggle continues.
By lifting up these organizations among the countless others around the world fighting for the right to a dignified life, the Food Sovereignty Prize is redirecting the public discourse around ending hunger from one that focuses on industrial-scale food production to one that focuses on social justice.
This year's 2014 Borlaug Dialogue international symposium, held each year in conjunction with the World Food Prize ceremony, is putting the following question front and center: The Greatest Challenge in Human History: Can We Sustainably Feed the 9 Billion People on our Planet by the Year 2050?"
We already know the answer to that. Yes, we can. With food sovereignty framing the policies and practices that map out the pathway to a just society rooted in self-determination and democratic principles, community-led responses to climate change, equitable distribution and access to land and water for fishing and farming, and—finally—science and technology in service to building resilient communities and led by the experiential knowledge of peasants, we will repair the planet and create the capacity for healthy food production and consumption for generations and generations to come. Peace begins, not when the hungry are fed, but when the people have achieved food sovereignty.
Tristan Quinn-Thibodeau contributed to the reporting and writing of this article.
YOU MIGHT ALSO LIKE
Can Organic Agriculture Reverse Climate Change?
Barriers to Sustainable Farming Put Burden on World's Poor
Reducing Meat and Dairy Consumption Important for Healthy People and Planet