EcoWatch Daily Newsletter
As we enjoy the last of summer, I find myself reflecting on the last few months with bittersweet memories. While swimming in the Pacific Ocean and sailing on Lake Champlain, Vermont, I have enjoyed the best our water resources have to offer. News reports across the U.S., however, have been a reminder that our water systems are increasingly at risk of nutrient pollution.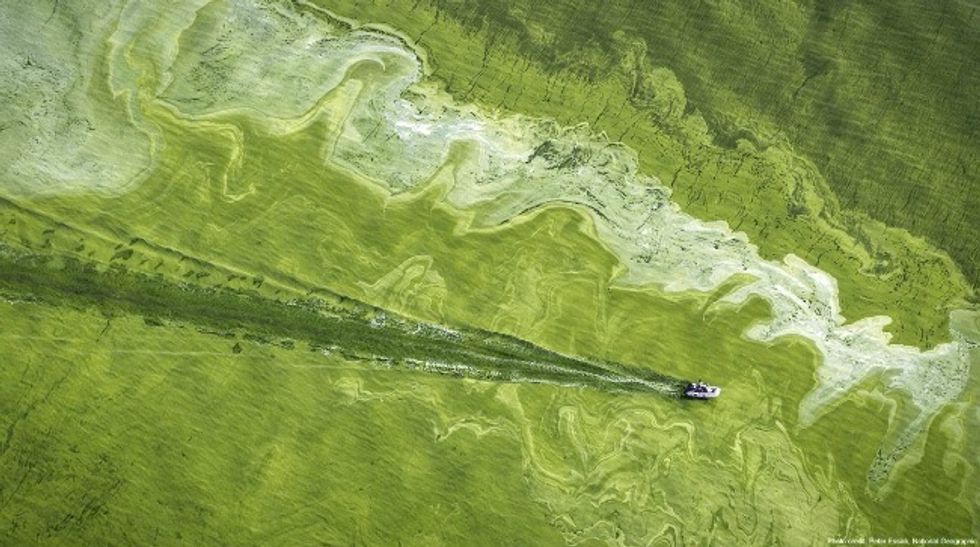 North Carolina's Chowan River, the Great Lakes and the entire Pacific coast have experienced hazardous algal blooms this year that have prevented recreational activity, threatened the health of aquatic species and even endangered the health of communities living along these waterways.
I cannot imagine, and do not want, a future where our water is too polluted to enjoy the gifts it brings our lives.
Changing the course of our water future requires a collaborative approach that informs and empowers everyone—from national leaders and scientists to community groups and individual citizens. While efforts like the U.S. Open Water Data Initiative are championing unprecedented transparency of water information, there is a need to translate the complex science behind water data into tangible and accessible opportunities to increase the general public's understanding of the state of water in the U.S.
With today's innovative technology achievements, we know its possible to bring the power of storytelling and the science of water data together to inform communities and disturb the water management status quo.
The U.S. Geological Survey, U.S. Environmental Protection Agency and Blue Legacy International hosted the 2015 Visualizing Nutrients Challenge where solvers produced creative and compelling interpretations of nutrient water data demonstrating the possibilities for communicating risks, impacts and solutions related to nutrient pollution.
The visualization created by Matthew Seibert, Benjamin Wellington and Eric Roy of Landscape Metrics won the first price in the challenge for its interactive tutorial about algal blooms on Lake Erie, a water body that the U.S. National Oceanic and Atmospheric Administration predicts will see algae growth this year that could rival the record-setting 2011 bloom.
Between government policy and engagement like the Visualizing Nutrients Challenge, momentum is building and public awareness of water issues is improving. Now is the time to come together around kitchen counters, in city halls and across conference tables to take collective action toward a more sustainable water future that is championed by each and every one of us.
YOU MIGHT ALSO LIKE
Harmful Algal Blooms Predicted for Lake Erie, Says NOAA
Fast Fashion Is the Second Dirtiest Industry in the World, Next to Big Oil
Startling Footage of California Reservoirs Shows Devastating Impact of Epic Drought
SeanPavonePhoto / iStock / Getty Images
When you think of states that have made a heavy investment in solar energy, Virginia may not be at the top of your list. Yet in recent years, Virginians have made a massive amount of progress; in 2019, the state was ranked No. 19 in the country for solar installation, and in 2020 it jumped to No. 4.
But what are the top cities for solar in Virginia? We've done some digging and come up with a comprehensive list.
Top 10 Cities for Solar in Virginia
When narrowing down the top cities for solar in Virginia, EcoWatch took into consideration solar power generation data from the Energy Information Institute, maps on solar irradiance and potential from the National Renewable Energy Laboratory, local government websites and Environment America's latest Shining Cities report.
Based on this information, the top cities for solar in Virginia are as follows:
Richmond
Virginia Beach
Alexandria
Norfolk
Roanoke
Fairfax
Charlottesville
Newport News
Danville
Blacksburg
EcoWatch
1. Richmond
Virginia's capital city ranks first in the state and 49th in the nation for total solar PV installations. According to the Shining Cities report, there are over 22 watts of solar installed per person in Richmond.
2. Virginia Beach
Although Virginia Beach is better-known for its large offshore wind energy farm, the popular tourist destination ranks second in Virginia and 61st in the nation for total solar PV installations. There are currently over five watts installed per person, per the Shining Cities report.
3. Alexandria
Alexandria earned a SolSmart Gold designation in July 2020, which is the highest designation given by the program. The city also boasts an impressive portfolio of new and promising renewable energy programs, solar feasibility studies and more.
4. Norfolk
NREL's Solar for All maps show that Norfolk boasts one of the highest potentials for solar energy generation and roof-mount capacity. Major corporations have already adopted solar in the area — the IKEA store in Norfolk even features a 180,000-square-foot solar array.
5. Roanoke
In 2012, Roanoke participated in the U.S. Department of Energy's Better Buildings Challenge with the goal of curbing energy use by 20% across 1 million square feet of building space by 2022. In 2018, Roanoke achieved that goal with a 23% energy reduction. The city remains committed to clean energy, as evidenced by its impressive Solarize Roanoke project.
6. Fairfax
Fairfax has also been designated a SolSmart Gold city and has its own Solarize Fairfax County initiative. This project, which gives residents access to free solar assessments, bulk-purchasing discounts, discounted solar batteries and more, has concluded for the 2021 season but may well return in 2022.
7. Charlottesville
In addition to a city-specific solar tax credit and a Solarize Charlottesville program, the city has started putting solar panels on government buildings. Among the solarized buildings are Charlottesville High School, the City Facilities Maintenance Building and the ecoREMOD Energy House.
8. Newport News
This coastal city receives a lot of sunshine… some 215 days a year, in fact. It's no surprise, then, that NREL maps show a high capacity for rooftop solar and an above-average number of buildings suitable for solar.
9. Danville
According to NREL data, Danville has a high potential for rooftop solar capacity and generation, and the city is doing its part to help residents make the switch to clean energy. It has developed its own net metering program for residential solar installations up to 10 kW, as well as invested in two solar farms that are producing about 10 MW of energy to be used by Danville Utilities customers.
10. Blacksburg
In March of 2014, Blacksburg became the first community in Virginia to launch a Solarize campaign, and NREL maps show it has a high potential for solar generation. This SolSmart Silver city offers many solar-focused resources for residents, including a solar panel installation checklist, information for those interested in solar jobs and guidance on solar access within the state.
Where Solar Panels Work Best
While there are many solar-smart cities in Virginia, some are better suited than others for PV installation. The best cities for solar include those that have:
Decent sun exposure: Cities that get consistent year-round sunlight tend to be good places to invest in solar, hence the coastal communities we've included on our list.
High local utility costs: Solar power tends to be more valuable in cities that have high electrical costs. More on that in a moment.
Local rebates and incentives: Some cities make solar investment more attractive by implementing local net metering programs, tax rebates or other financial incentives.
Average Virginia Electricity Costs
As mentioned, residents in places with higher electricity costs stand to benefit more from installing solar panels. In Virginia, the average monthly electrical consumption is 1,122 kWh, which is roughly on par with nearby states such as South Carolina and West Virginia, though a bit higher than in Maryland or Washington, D.C. The average monthly electric bill is $135.46, which is on the high side compared to most neighboring states.
Virginia Solar Tax Incentives
Homeowners in Virginia can take advantage of a few solar tax exemptions and incentives to help offset the cost of solar panels. For example, there is a property tax exemption, which means that although solar panels will increase the value of a home, they will not increase your property taxes. Virginia also has a state-wide net metering program, which means that any surplus energy generated by solar panels can be fed back into the electric grid in exchange for credits from your utility company.
Federal Solar Tax Credits
Homeowners in Virginia (and anywhere else in the country) can also claim a residential federal tax credit worth 26% of their total solar installation cost. This can offset the initial investment expenditure considerably, but keep in mind that this credit may be phased out by 2023 unless Congress acts swiftly to renew it.
Virginia Solar Regulations
There are a few laws that impact solar adoption in Virginia. Some notable examples include:
The Solar Rights law protects the rights of homeowners to install solar panels, without being obstructed by their homeowners association or other community association. HOAs do have some leeway to regulate the aesthetics of solar installations, however.
Virginia's Zero Carbon Bill will create more than 30,000 solar jobs by the year 2030.
The Virginia Clean Economy Act is set to create a number of new incentives for homeowners to go solar. It also creates robust clean energy standards for utility companies and fines providers unable to meet those standards.
Final Thoughts: Top Cities for Solar in Virginia
Solar energy presents a valuable opportunity for homeowners to lower electric bills, reduce their impact on the environment and become less dependent on traditional utilities. However, in Virginia, some cities are more solar-forward than others. If you didn't see your city on this list (and even if you did), there are plenty of ways individuals can push for more solar power in their areas. Here are some ideas to get you started:
Install solar panels on your home
Educate your neighbors about the benefits of solar energy
Reach out to your elected officials and urge them to set strict renewable energy goals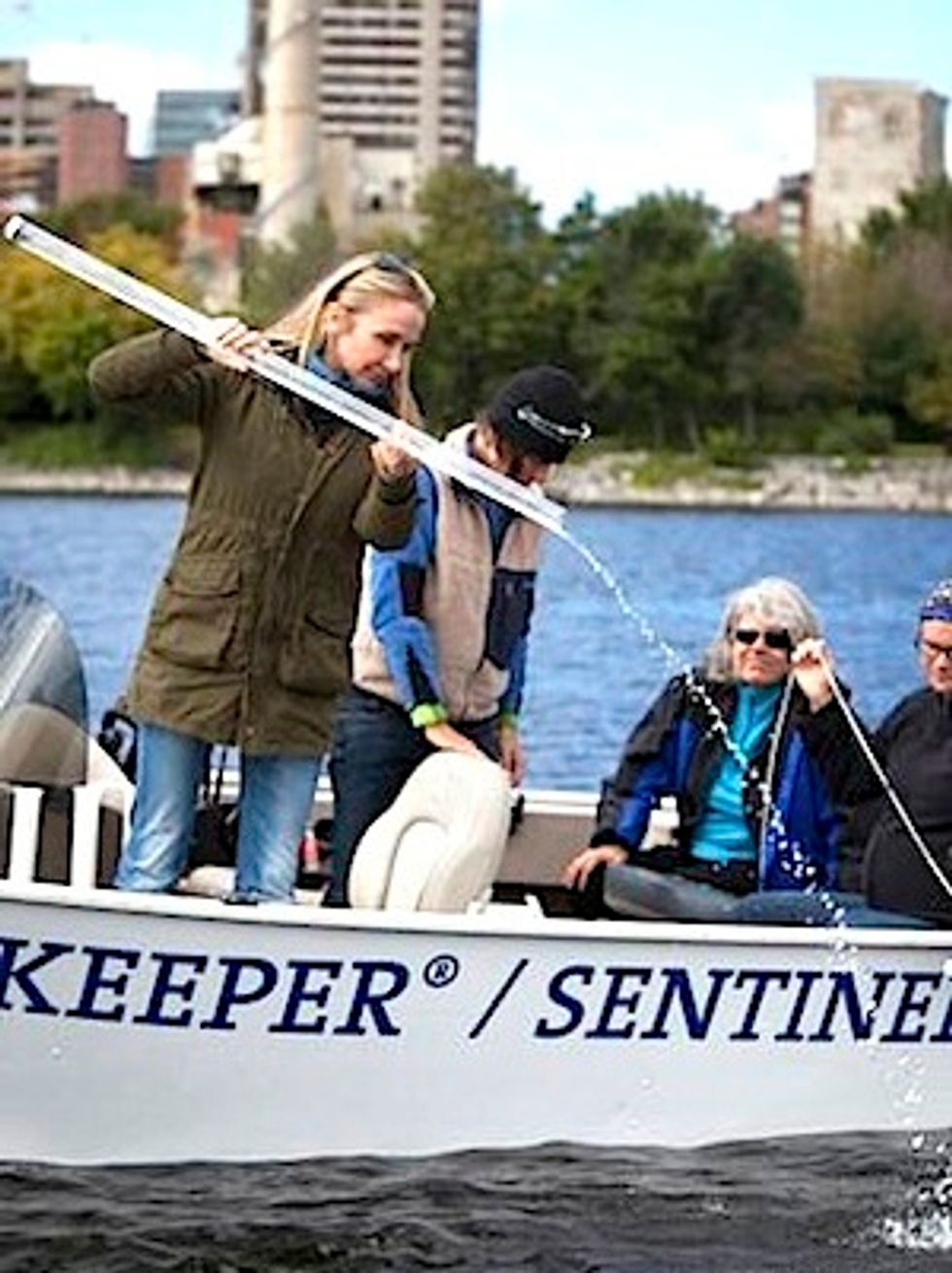 Since arriving in Canada on Sept. 11 to film three documentaries about the Ottawa river as part of River Mission, a joint initiative between Ottawa Riverkeeper, Blue Legacy International and the de Gaspe Beaubien Foundation, I have kayaked, whitewater rafted and canoed on the river. As the source of the region's tap water, I have drunk from the river and seen first hand the watershed's sewage plants as they clean and return water to the river.
As closely as I've gotten to know the Ottawa River during this expedition, I have gotten to know the people that are its champions even better—people like Ottawa Riverkeeper Meredith Brown, Ambroise Lycke, director of the Temiscamingue watershed and Algonquin elder Skip Ross, all of whom fight to give this river a voice.
While we've borne witness to stories of empowered and impassioned individuals advocating for the river, we have also discovered there is a dramatic lack of accessible information and technology tools to support public action and understanding of the state of our water.
All that I have seen and heard here truly underscores the importance of knowing the state of our water—is it safe to swim in, can we fish in it, can we drink it. Information about water quality is the most critical tool we have to empower people to reclaim and restore their water. And yet, time after time, I see how hard it is for people to obtain and make sense of that information.
Ultimately this is a river that belongs to the communities of people that enjoy and rely upon it every day. Hearing about their concerns for the river and their visions of a better future has truly reinforced my belief that we are all stewards of the quality of our own water. But to bring about the change we seek, we need the right tools, technology, innovation, access to water quality information, public accountability and openness.
Water advocacy on every level starts with one question: how well do you know the state of your water?



I was awoken today by the sound of raindrops on my windowsill. Sitting down at my desk, with the peaceful patter of water helping me to collect my thoughts and prepare for the day, I was stunned to read a report that enumerates a truth I already knew all too well.
Tuesday, American Rivers released its annual America's Most Endangered Rivers report. On the list, there are rivers under threat from natural gas development, the construction of new dams and reservoirs, mountaintop removal for coal mining and excessive water withdrawals. Looking over these threats, it is clear that what is fundamentally at risk is the quality and quantity of our freshwater—water that we can swim in, drink, and fish from—water that is there when and where we need it.
And at the top of the list this year is a river that continues to be in serious danger from pollution—a threat that is only heightened as members of Congress zealously crusade to dismantle and rollback key provisions of the Clean Water Act, the single most important piece of environmental legislation designed to protect our freshwater. The Potomac River, which flows through our nation's capital from the storied depths of our country's past, is number 1 on the list of America's Most Endangered Rivers of 2012.
In some ways, I am not surprised. In 1965 President Lyndon B. Johnson called the Potomac "a national disgrace" because the river was a cesspool of sewage and industrial chemicals. Yet, despite how disheartening this observation may have been, it served as a much-needed wake-up call for our country. In fact, his remark was a major catalyst—among other observations like it concerning rivers across the U.S.—for the passage of the Clean Water Act of 1972. And with the passage of this groundbreaking legislation, we witnessed an unprecedented resurgence of the Potomac and rivers across the country over the last few decades.
But the fight to restore our rivers clearly wasn't over. In 2010, rounding out our 17,100 mile journey across North America, I brought my Blue Legacy crew to the Potomac River to reconnect with the watershed many of us call home. Yet, the message we took back from our final expedition stop was not one of hope and optimism—but rather, a message of uncertainty and ongoing threat.
While advancements have been made to partially restore its health and preserve the integrity of its rich natural habitat, the Potomac River is still threatened on a number of fronts. In our film, Our Nation's River: A System on the Edge, we investigate the ongoing challenges the river faces, with experts including: Potomac Riverkeeper, Ed Merrifield; Sandra Postel, founder of the Global Water Policy Project and National Geographic Freshwater Fellow; Chuck Fox, from the EPA; and The Nature Conservancy's Stephanie Flack. From these interviews, it is clear that the river and its tributaries—and the people and communities that depend on them—are still in jeopardy, because, today, the Potomac River barely sits on the edge of recovery.
The worst part about the situation is that, in spite of what scientists and water conservationists are telling us about the delicate state of the Potomac, Congress is actively pursuing legislation that will reduce federal environmental oversight of our lakes, rivers, and streams. Outside magazine reported on some specific bills that are meant to undermine the Clean Water Act that has protected our waters for so long:
H.R. 2018: Clean Water Cooperative Federalism Act of 2011—This bill would amend the Federal Water Pollution Control Act to preserve the authority of each State to make determinations relating to the State's water quality standards, and for other purposes. The bill, which has already passed through the House, also calls for a number of limits to the U.S. Environmental Protection Agency (EPA), in terms of its ability to revise or introduce water quality standards for a pollutant (unless the state concurs with the EPA administrator's opinion), and also would shorten the window during which the U.S. Fish and Wildlife Service could comment on dredge and fill permits.
H.R. 872: The Reducing Regulatory Burdens Act—This bill would amend the Federal Insecticide, Fungicide, and Rodenticide Act and the Federal Water Pollution Control Act to clarify Congressional intent regarding the regulation of the use of pesticides in or near navigable waters, and for other purposes. The bill, which has also passed the House, would make it so parties are no longer required to seek a permit before using a pesticide, even if that pesticide could enter a waterway, as long as the pesticide is authorized for sale, distribution, or use under FIFRA.
H.R. 4153: Chesapeake Bay Program Reauthorization and Improvement Act—This bill, spearheaded by Congressman Bob Goodlatte, aims to support efforts to reduce pollution of the Chesapeake Bay watershed. But, in reality, the bill would limit what Congressman Goodlatte considers the EPA's overreaching authority by giving states, rather than the federal government, the ability to set acceptable levels of pollution entering the Chesapeake Bay watershed.
So, what is there left to do? Should we throw-up our hands in the air in defeat, and let the devastation to our "nation's river" continue unabated—not to mention the hundreds of lakes, rivers and tributaries across the country which are still under threat? I am writing today to emphatically say NO! We all have a voice, and together we can make a positive difference.
Help protect America's most endangered river and rivers nationwide—tell your local government official why you care about the Potomac River, and why it is so important that the Clean Water Act is protected. But why stop there? Rivers across America need our support. All of the rivers on this list—and the hundreds that did not make it this year—represent a front line in the struggle against environmental de-regulation. Make no mistake, this water belongs to the people and the communities we live in, and we will not give up our right to protect our water without a fight. We need strong federal oversight to make sure these laws are followed.
Listening to the sound of raindrops outside my window, I am reminded of a simple, yet powerful truth. Each one of those drops has begun an incredible journey. Sliding off a leaf, it lands in a puddle on the street, and flows into the storm drain. And at the end of the pipe, it will become one with the Potomac River and eventually, as it re-enters the water cycle once again, part of each one of us. The waters of our rivers course through our veins. So, for the sake of our health, and the health of our children, it's time we did something to stop the degradation of our rivers—of the Potomac—because we never want to see our nation's river—or any of the rivers that run through our communities—on the most endangered list ever again.