This website uses cookies to ensure you get the best experience while browsing it. By clicking 'Got It' you're accepting these terms.
Al Gore
Former Vice President Al Gore is co-founder and chairman of Generation Investment Management. Gore spends the majority of his time as chairman of The Climate Reality Project, a non-profit devoted to solving the climate crisis.


The best of EcoWatch, right in your inbox. Sign up for our email newsletter!
Today we face a challenging political climate, but the climate crisis shouldn't be political. It is not only the greatest existential crisis we face: it is also causing a global health emergency, where the stakes are life and death.
I stand with the Standing Rock Sioux Tribe in their opposition to the Dakota Access Pipeline. We have witnessed inspiring and brave acts by Native Americans and their allies who are defending and trying to protect their sacred sites and the safety of their sole source of water.
The fossil fuel industry—and the owners of the Dakota Access Pipeline in particular—have been proceeding with what appears to be a dangerous project in blatant disregard of obvious risks to the Missouri River and with disrespect to the Standing Rock Sioux.
Peg Hunter / Flickr
In the process, those trying to force completion of this pipeline have—according to independent news reports—been using oppressive practices against this community. In response, Standing Rock Chairman David Archambault has requested that the Justice Department deploy observers to ensure that the First Amendment rights of those peacefully opposing this pipeline are protected. I hope his request is honored.

The non-violent resistance to the Dakota Access Pipeline is also one of the frontline struggles that collectively mark a turning point in the decision by humanity to turn away from the destructive path we have been following and aim instead toward a clean energy future for all.
The courage and eloquence of the Standing Rock Sioux in calling all of us to recognize that in their words, "Water is Life," should be applauded, not silenced by those who are driven by their business model to continue spewing harmful global warming pollution into our Earth's atmosphere.

This is also an opportunity to acknowledge and learn from the traditional values being expressed by the Standing Rock Sioux to protect life on Earth.
The effort to ensure that their voices are heard and their rights are respected are not only issues of civil rights and religious freedom, but reflect the choice we must make to ensure a sustainable, just, fair and healthy future for all generations to come.
EcoWatch Daily Newsletter
Last week, I had the pleasure of participating in TED Talks 2016 where I discussed many of the challenges presented by the climate crisis. But a powerful shift has been taking place, and it is clear that we will ultimately prevail.
Here's why:
There are now only three questions we have to answer about climate change and our future.
1. MUST we change?
Each day we spew 110 million tons of heat-trapping global warming pollution into the very thin shell of atmosphere surrounding the planet, using it as an open sewer for the gaseous waste of our industrial civilization as it is presently organized. The massive buildup of all that man-made global warming pollution is trapping as much extra heat energy every day as would be released by 400,000 Hiroshima-class atomic bombs exploding every 24 hours. That, in turn, is disrupting the hydrological cycle, evaporating much more water vapor from the oceans, leading to stronger storms, more extreme floods, deeper and longer droughts, among other climate related problems. Fourteen of the 15 hottest years ever measured have been in this young century. The hottest of all was last year. So YES, we must change!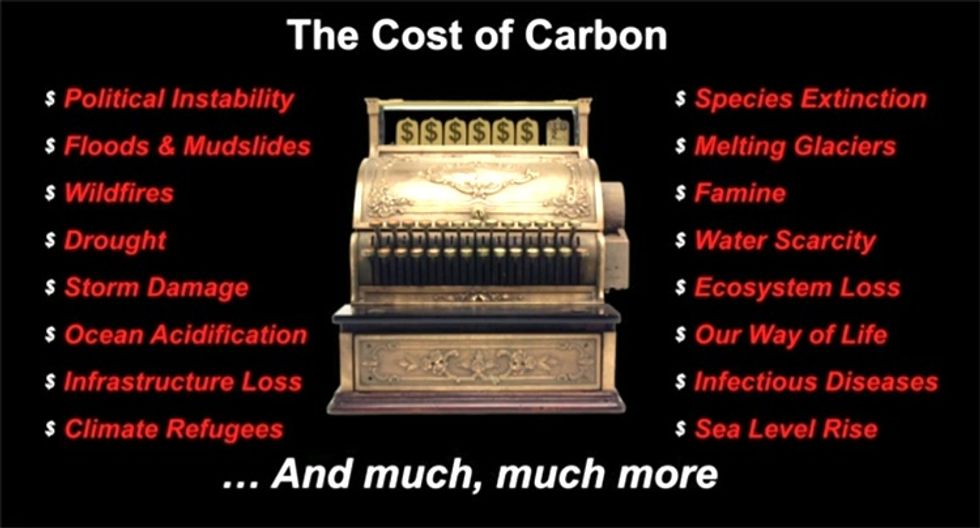 2. CAN we change? And the answer, fortunately, is now YES!
We're seeing a continuing sharp, exponential decline in the cost of renewable energy, energy efficiency, batteries and storage—and the spread of sustainable agriculture and forestry—giving nations around the world a historic opportunity to embrace a sustainable future, based on a low carbon, hyper-efficient economy. Indeed, in many parts of the world, renewable energy is already cheaper than that of fossil fuels— and in many developing regions of the world, renewable energy is leapfrogging fossil fuels altogether— the same way mobile phones leap-frogged land-line phones. And these dramatic cost reductions are continuing.
3. WILL we change?
While the answer to this question is up to all of us, the fact is that we already are beginning to change dramatically.
In December, 195 nations reached a historic agreement in Paris, which exceeded the highest end of the range of expectations. And the Paris Agreement is just the most recent example of our willingness to act. Much more change is needed, of course, but one of the binding provisions of the Paris agreement requires five-year transparent reviews of the action plans put forward by every nation, and the first will begin in less than two years, so now is the time to build the momentum for the actions needed.
Businesses and investors are already moving. And with the continuing cost-down curves for renewable energy, efficiency and energy storage, it will get easier year by year to win this historic struggle.
There are many, many more examples of powerful responses to this moral challenge. They all give me confidence that we are going to win this.
It matters a lot how quickly we win, and some still doubt that we have the will to act on climate, but please remember that the will to act is itself a renewable resource.
I hope you will take the time to watch the 20-minute video embedded above. And I hope that you will personally take action to "become the change we need to see in the world."
YOU MIGHT ALSO LIKE
Robert F. Kennedy, Jr.: Syria, Another Pipeline War
7 NASA Selfies Show Just How Much Our Climate Is Changing
Massive Starfish Die-Off Linked to Warming Oceans
For the first time in human history, concentrations of carbon dioxide (CO2), the primary global warming pollutant, hit 400 parts per million (ppm) in our planet's atmosphere. This number is a reminder that for the last 150 years—and especially over the last several decades—we have been recklessly polluting the protective sheath of atmosphere that surrounds the Earth and protects the conditions that have fostered the flourishing of our civilization. We are altering the composition of our atmosphere at an unprecedented rate. Indeed, every single day we pour an additional 90 million tons of global warming pollution into the sky as if it were an open sewer. As the distinguished climate scientist Jim Hansen has calculated, the accumulated man-made global warming pollution in the atmosphere now traps enough extra heat energy each day to equal the energy that would be released by 400,000 Hiroshima-scale atomic bombs exploding every single day. It's a big planet—but that is a lot of energy. And it is having a destructive effect.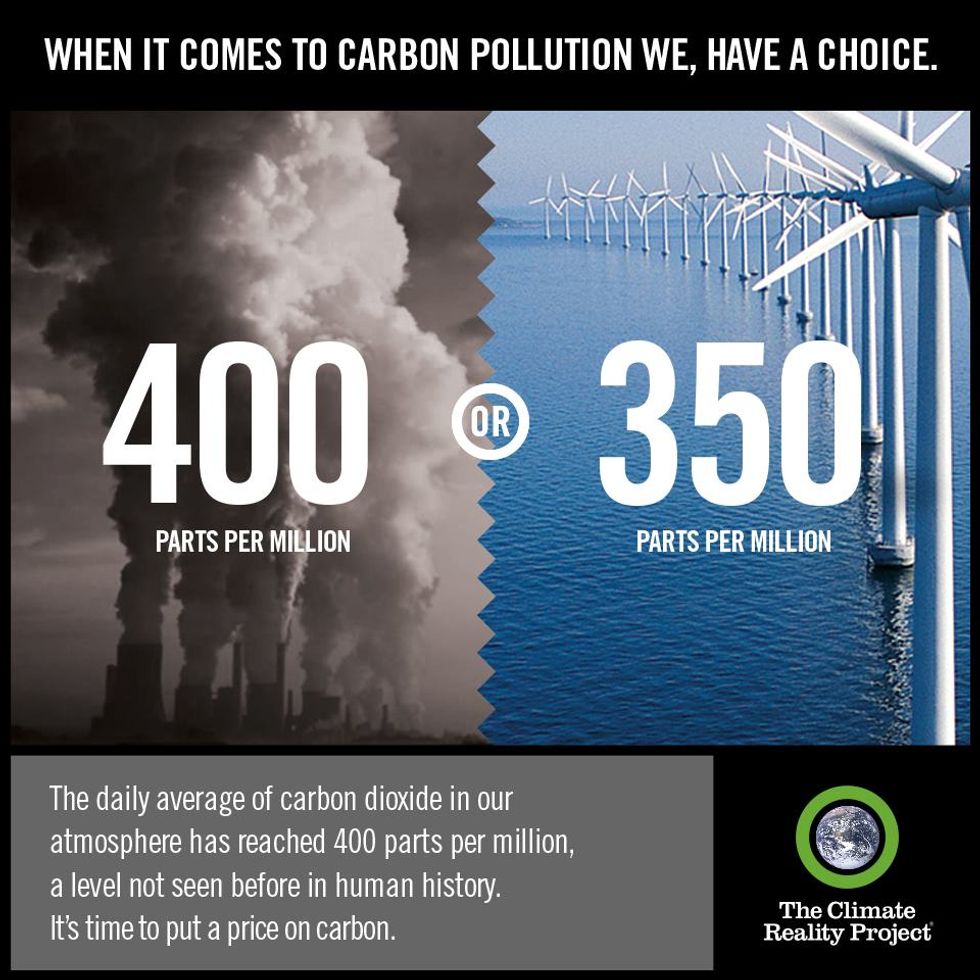 Now, more than ever before, we are reaping the consequences of our recklessness. From Superstorm Sandy which crippled New York City and large areas of New Jersey, to a drought which parched more than half of our nation, from a flood that inundated large swaths of Australia to rising seas affecting millions around the world, the reality of the climate crisis is upon us.
Our food systems, our cities, our people and our very way of life developed within a stable range of climatic conditions on Earth. Without immediate and decisive action, these favorable conditions on Earth could become a memory if we continue to make the climate crisis worse, day after day after day.
With any great challenge comes great opportunity. We have the rare privilege to rise to an occasion of global magnitude. To do so, our communities, our businesses, our universities and our governments need to work in harmony to stop the climate crisis. We must summon the very best of the human spirit and draw on our courage, our ingenuity, our intellect and our determination to confront this crisis. Make no mistake, this crisis will demand no less than our very best. I am optimistic because we have risen to meet the greatest challenges of our past.
So please, take this day and the milestone it represents to reflect on the fragility of our civilization and and the planetary ecosystem on which it depends. Rededicate yourself to the task of saving our future. Talk to your neighbors, call your legislator, let your voice be heard. We must take immediate action to solve this crisis. Not tomorrow, not next week, not next year. Now.
Visit EcoWatch's CLIMATE CHANGE page for more related news on this topic.
——–
Click here to tell Congress to Expedite Renewable Energy.