Today we face a challenging political climate, but the climate crisis shouldn't be political. It is not only the greatest existential crisis we face: it is also causing a global health emergency, where the stakes are life and death.
Because of the urgency of these threats, several partners and I are hosting a Climate & Health Meeting Thursday at the Carter Center in Atlanta, Georgia. The event will fill a void left when the Climate & Health Summit, originally to be hosted by the Centers for Disease Control and Prevention (CDC), was abruptly cancelled last month.
Experts who had been invited by the CDC felt the conference should definitely go forward because the science shows increasing direct impacts of warming temperatures and more extreme weather on public health. Increasing global temperatures are disrupting the global climate and the earth's hydrological cycle, leading not only to record high air and sea temperatures, but also to more extreme flooding, deeper and longer droughts and more frequent and severe storms. In turn, these effects jeopardize our vulnerable global food system and exacerbate fresh water scarcity and the refugee crisis.

As the planet continues to warm, vector-borne diseases and the environments in which microbes and diseases multiply are also expanding. Mosquitos, ticks and other vectors now have wider ranges as warmer weather permits them to move to higher altitudes, provides them with a longer breeding season, speeds up incubation times for the viruses they carry and increases the frequency of "blood meals."
In some parts of the world, the reemergence of malaria is directly related to increasing temperatures and disruptive rainfall; this is also true for increased instances of West Nile, Dengue and—most recently—Zika. Over the past two years we have heard from doctors and scientists something that we have never been told before: in regions of Latin America, doctors have advised women not to get pregnant for two years. And last year, the CDC advised pregnant women not to travel to Miami, marking the first time Americans have been cautioned not to travel to part of their own country to avoid infectious disease.
These particular manifestations may be new, but scientists have been warning us for many years that tropical diseases, extreme weather and risks to our global food system caused by the climate crisis are posing ever more dire threats to human health.

The need for science and health professionals to explore and discuss the impact the climate crisis is having on global health should not be a political issue. The time to act is now. Make sure to join us tomorrow, Feb. 16 at 9 EST, for live coverage of the event here.
Reposted with permission from our media association Medium.
EcoWatch Daily Newsletter
I stand with the Standing Rock Sioux Tribe in their opposition to the Dakota Access Pipeline. We have witnessed inspiring and brave acts by Native Americans and their allies who are defending and trying to protect their sacred sites and the safety of their sole source of water.
The fossil fuel industry—and the owners of the Dakota Access Pipeline in particular—have been proceeding with what appears to be a dangerous project in blatant disregard of obvious risks to the Missouri River and with disrespect to the Standing Rock Sioux.
Peg Hunter / Flickr
In the process, those trying to force completion of this pipeline have—according to independent news reports—been using oppressive practices against this community. In response, Standing Rock Chairman David Archambault has requested that the Justice Department deploy observers to ensure that the First Amendment rights of those peacefully opposing this pipeline are protected. I hope his request is honored.

The non-violent resistance to the Dakota Access Pipeline is also one of the frontline struggles that collectively mark a turning point in the decision by humanity to turn away from the destructive path we have been following and aim instead toward a clean energy future for all.
UNPRECEDENTED! Gov Uses Emergency Order to Bring Out-of-State Police to #DakotaAccessPipeline Protest https://t.co/MtQqeC0XdQ @MarkRuffalo

— EcoWatch (@EcoWatch)1477427351.0
The courage and eloquence of the Standing Rock Sioux in calling all of us to recognize that in their words, "Water is Life," should be applauded, not silenced by those who are driven by their business model to continue spewing harmful global warming pollution into our Earth's atmosphere.

This is also an opportunity to acknowledge and learn from the traditional values being expressed by the Standing Rock Sioux to protect life on Earth.
The effort to ensure that their voices are heard and their rights are respected are not only issues of civil rights and religious freedom, but reflect the choice we must make to ensure a sustainable, just, fair and healthy future for all generations to come.
seed.com
You can't discount the importance of your gut health. Research shows that the microbiome within your digestive system has a disproportionate impact on how well your whole body functions.

Unfortunately, bad diets, the overuse of antibiotics, and other stressors mean many of our digestive systems are in trouble. Probiotic supplements claim to solve this problem by replenishing your gut with the healthy bacteria it needs for optimal functioning. Here, we'll analyze the popular probiotic brand Seed to determine whether its supplements are worth taking.
How We Review Probiotics
Whenever we review a probiotic supplement, we evaluate six specific categories.
Number of active strains - How many types of bacteria are included?
AFU (Active Fluorescent Units)/ CFU (Colony Forming Units) - These units of measurement tell you how many billions of bacteria are estimated to be within each supplement dose.
Storage Requirements - Some probiotics are shelf-stable, while others require refrigeration.
Ingredient Transparency – does the company disclose where it sources its active strains and provide clinical research for their efficacy?
Value - How are the probiotics priced? Can you purchase them without an auto-ship program?
Sustainability - Does the company show ways its supplements are better for the environment through sustainable ingredient sourcing or packaging?
Let's evaluate these criteria for Seed.
About Seed Probiotics
Seed is an e-commerce supplement brand with a single product—the DS-O1 Daily Synbiotic probiotic. The company got its start in 2018 when cofounders Ara Katz and Raja Dhir determined that the current probiotic supplements available weren't hitting the mark.
Katz's experiences of pregnancy and breastfeeding as a new mom led her to develop a deeper appreciation of the body's microbiome and its role in overall health. She joined forces with Dhir, who had the scientific experience to understand what could be improved within the probiotic industry.
Together, they strove to create a supplement that "raised the bar on bacteria" by giving the body what it needed for all its systems to operate most effectively. They collaborated with a large team of entrepreneurs, artists, and scientists to develop a probiotic known as DS-01 Daily Synbiotic.
The Seed DS-01 Daily Synbiotic
seed.com
Active Strains - 24
AFU - 53.6 billion AFU
Storage Requirements - Shelf-stable for 18 months after opening
Ingredient Transparency - Clinical data available for each strain
Sustainability - First order ships in reusable glass canisters and subsequent orders arrive in compostable biofilm.
Value - $49.99/60 supplements (30-day supply subscription)
The DS-01 Daily Synbiotic is a broad-spectrum probiotic that combines 24 probiotic strains with a non-fermenting prebiotic concentrate of Indian pomegranate for better delivery. Of these strains, 23 are human-derived, and one is isolated from fruit and added to promote healthy cholesterol levels.
These strains work synergistically to support the 38 trillion bacteria that make up your microbiome. They will purportedly help the body digest food, minimize inflammation, and better synthesize nutrients.
This supplement contains four distinct probiotic blends:
Digestive Health/ Gut Immunity/ Gut Barrier Integrity: 37.0 Billion AFU
Dermatological Health: 3.3 Billion AFU
Cardiovascular Health: 5.25 Billion AFU
Micronutrient Synthesis: 8.05 Billion AFU
(See strain-specific studies here)
How It Works
With these multiple strains, the company claims to take a 'Microbe-Systems Approach' through microbes that impact specific physical functions beyond the digestive system. These include skin and heart health, better immune system functioning, and micronutrient synthesis.
In other words, DS-01 goes beyond digestive issues to support full-body health. The company claims it's even one of the first probiotic formulations able to synthesize folate and increase its production.
Seed's DS-01 Daily Synbiotic probiotic also stands out with its delivery system. The supplement utilizes "nested capsule technology" along with a patented algae delivery system. This two-in-one capsule design houses the probiotic formula within a prebiotic casing made from Indian pomegranate to ensure these fragile bacteria survive both sitting on store shelves and the perilous journey through stomach acid to your colon.
Through this method, Seed claims to average a 100% delivery rate of the probiotic's starting dose to your colon. According to internal testing, DS-01 probiotics will exceed the living cell counts listed on the label even after ten days of constant 100º F exposure.
Usage Instructions
Adults can take two Seed probiotic supplements per day, preferably at the same time. It's best you do so on an empty stomach to limit the capsule's exposure to digestive enzymes that start to break it down. However, those with sensitive stomachs may want to eat something first. While you'll get optimal results from taking the supplements daily, it's not a problem if you occasionally skip one.
If you're new to probiotics, start by taking one per day for the first three days and then increasing your dosage to two per day. You may feel its effects on your digestive system within 48 hours, though long-term improvements to the cardiovascular system take more time and might not be noticeable to you.
Seed probiotics don't need require refrigeration. They are shelf-stable for 18 months at temperatures up to 78℉ and are safe to take when expired. Just note that the company can't guarantee their potency at this point.
How to Buy
Seed DS-01 Daily Synbiotic probiotics are only available on a subscription basis. They cost $49.99 per month and ship free throughout the US (international orders include a $10 shipping fee).
You will receive a 30-day supply (60 capsules) when you order through the company website, and the first order includes a reusable glass canister and travel vial. Each subsequent order arrives in compostable biofilm so you can transfer the capsules to the reusable ones.
All first orders are covered by a 30-day risk-free trial, during which you can return the probiotics for a full refund. It's possible to cancel the subscription at any time by contacting customer service at [email protected].
Note: At publication, these probiotics were sold out. They are available for pre-order and expected to ship again in 2-4 weeks.
What We Like About Seed
As a product within the largely unregulated supplement industry, Seed broad-spectrum probiotics earn major points from us for both transparency and abundant clinical research. The company shares detailed information about every bacterial strain within the supplement and links out to the scientific studies highlighting their effectiveness.
Customer reviews on Facebook and other review sites show that Seed probiotics work as described for many users. Some shared they experienced positive improvements in their digestive system within 48 hours and noticed better-looking skin within a month.
Those with allergies or food sensitivities will also appreciate these supplements are soy-free, vegan, gluten-free, dairy-free, corn-free, and free of binders and preservatives.
From a consumer standpoint, Seed makes taking probiotics simple. The shelf-stable formula means you won't have to store them in the fridge, and each 30-day supply is guaranteed to remain viable for 18 months after opening. Likewise, the nested capsule delivery system should improve how many billions of bacteria make it into your digestive system intact.
Equally noteworthy, we love Seed's commitment to environmental sustainability. By sending each customer two reusable glass containers at the start of their subscription, the company minimizes the packaging waste for each subsequent order.
What We Don't Like
Despite these positives, Seed broad-spectrum probiotics have some downsides. To start, they are pricier than many competitors. You will pay $1.66 per day's dose, which is more than some want to pay for supplements.
It's also not possible to try them without committing to a monthly subscription. While it will take several weeks or longer to start noticing their effects, some customers might not want to be locked into an auto-ship program so early in the experimenting process.
Likewise, some customer reviews complained of unexpected side effects such as breakouts and rashes. It's not clear whether these went away for users after a few weeks of use.
Finally, it's currently only possible to pre-order these supplements. If you're dealing with digestive distress today, you may want to try a probiotic brand that's available right now for faster relief.
Seed Safety & Side Effects
Seed DS-01 Daily Synbiotics are considered safe for adults over 18. Each supplement is vegan and free of common allergens like gluten, dairy, soy, and corn. They have undergone extensive third-party testing and adhere to the highest global regulatory standards for safety.
As with all probiotics, you might notice unpleasant side effects when you start taking them. Many people experience bloating, increased gas production, constipation, and other gastrointestinal problems for the first few days.
This can be discouraging, as many users take probiotics precisely to combat these symptoms in the first place. However, your system should adjust to the new bacteria within two weeks, and this digestive distress should diminish accordingly.
The DS-01 Daily Synbiotic is classified as safe for women who are pregnant and breastfeeding, although the company recommends speaking with a medical professional before starting them. As will all probiotics, you should not take these supplements if you have a weakened immune system, recently underwent surgery, or if you have a serious illness. Speak with your doctor before starting any dietary supplement if you have concerns or questions.
Takeaway: Are Seed Probiotics Worth It?
The Seed DS-01 Daily Synbiotic is well-formulated and shows clinical evidence of improving your gut biome for far-reaching health benefits. The company solves the tricky problem of selling a live product with its innovative delivery system that keeps the bacteria within the supplement safe both on the shelf and through the digestive process.
If you are dealing with digestive problems, or are looking for a way to improve your general health, then this broad-spectrum probiotic might be one worth trying.
Just keep in mind that you might feel worse for a few days before the microbes will take full effect in your gut and that giving it a try means you are committing to a monthly subscription.
Lydia Noyes is a freelance writer specializing in health and wellness, food and farming, and environmental topics. When not working against a writing deadline, you can find Lydia outdoors where she attempts to bring order to her 33-acre hobby farm filled with fruit trees, heritage breed pigs, too many chickens to count, and an organic garden that somehow gets bigger every year.
Last week, I had the pleasure of participating in TED Talks 2016 where I discussed many of the challenges presented by the climate crisis. But a powerful shift has been taking place, and it is clear that we will ultimately prevail.
Here's why:
There are now only three questions we have to answer about climate change and our future.
1. MUST we change?
Each day we spew 110 million tons of heat-trapping global warming pollution into the very thin shell of atmosphere surrounding the planet, using it as an open sewer for the gaseous waste of our industrial civilization as it is presently organized. The massive buildup of all that man-made global warming pollution is trapping as much extra heat energy every day as would be released by 400,000 Hiroshima-class atomic bombs exploding every 24 hours. That, in turn, is disrupting the hydrological cycle, evaporating much more water vapor from the oceans, leading to stronger storms, more extreme floods, deeper and longer droughts, among other climate related problems. Fourteen of the 15 hottest years ever measured have been in this young century. The hottest of all was last year. So YES, we must change!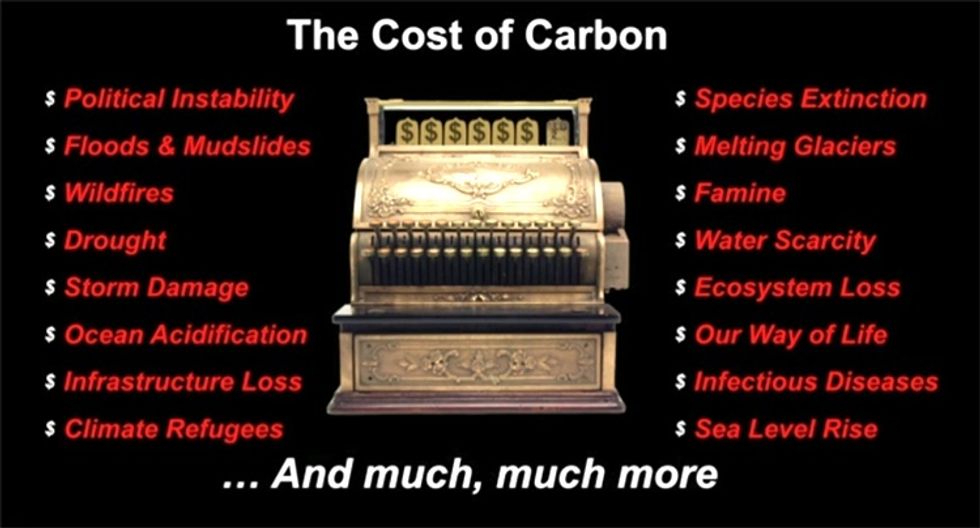 2. CAN we change? And the answer, fortunately, is now YES!
We're seeing a continuing sharp, exponential decline in the cost of renewable energy, energy efficiency, batteries and storage—and the spread of sustainable agriculture and forestry—giving nations around the world a historic opportunity to embrace a sustainable future, based on a low carbon, hyper-efficient economy. Indeed, in many parts of the world, renewable energy is already cheaper than that of fossil fuels— and in many developing regions of the world, renewable energy is leapfrogging fossil fuels altogether— the same way mobile phones leap-frogged land-line phones. And these dramatic cost reductions are continuing.
3. WILL we change?
While the answer to this question is up to all of us, the fact is that we already are beginning to change dramatically.
In December, 195 nations reached a historic agreement in Paris, which exceeded the highest end of the range of expectations. And the Paris Agreement is just the most recent example of our willingness to act. Much more change is needed, of course, but one of the binding provisions of the Paris agreement requires five-year transparent reviews of the action plans put forward by every nation, and the first will begin in less than two years, so now is the time to build the momentum for the actions needed.
Businesses and investors are already moving. And with the continuing cost-down curves for renewable energy, efficiency and energy storage, it will get easier year by year to win this historic struggle.
There are many, many more examples of powerful responses to this moral challenge. They all give me confidence that we are going to win this.
It matters a lot how quickly we win, and some still doubt that we have the will to act on climate, but please remember that the will to act is itself a renewable resource.
I hope you will take the time to watch the 20-minute video embedded above. And I hope that you will personally take action to "become the change we need to see in the world."
YOU MIGHT ALSO LIKE
Robert F. Kennedy, Jr.: Syria, Another Pipeline War
7 NASA Selfies Show Just How Much Our Climate Is Changing
Massive Starfish Die-Off Linked to Warming Oceans
Sea Levels Rising at Fastest Rate in 3,000 Years
For the first time in human history, concentrations of carbon dioxide (CO2), the primary global warming pollutant, hit 400 parts per million (ppm) in our planet's atmosphere. This number is a reminder that for the last 150 years—and especially over the last several decades—we have been recklessly polluting the protective sheath of atmosphere that surrounds the Earth and protects the conditions that have fostered the flourishing of our civilization. We are altering the composition of our atmosphere at an unprecedented rate. Indeed, every single day we pour an additional 90 million tons of global warming pollution into the sky as if it were an open sewer. As the distinguished climate scientist Jim Hansen has calculated, the accumulated man-made global warming pollution in the atmosphere now traps enough extra heat energy each day to equal the energy that would be released by 400,000 Hiroshima-scale atomic bombs exploding every single day. It's a big planet—but that is a lot of energy. And it is having a destructive effect.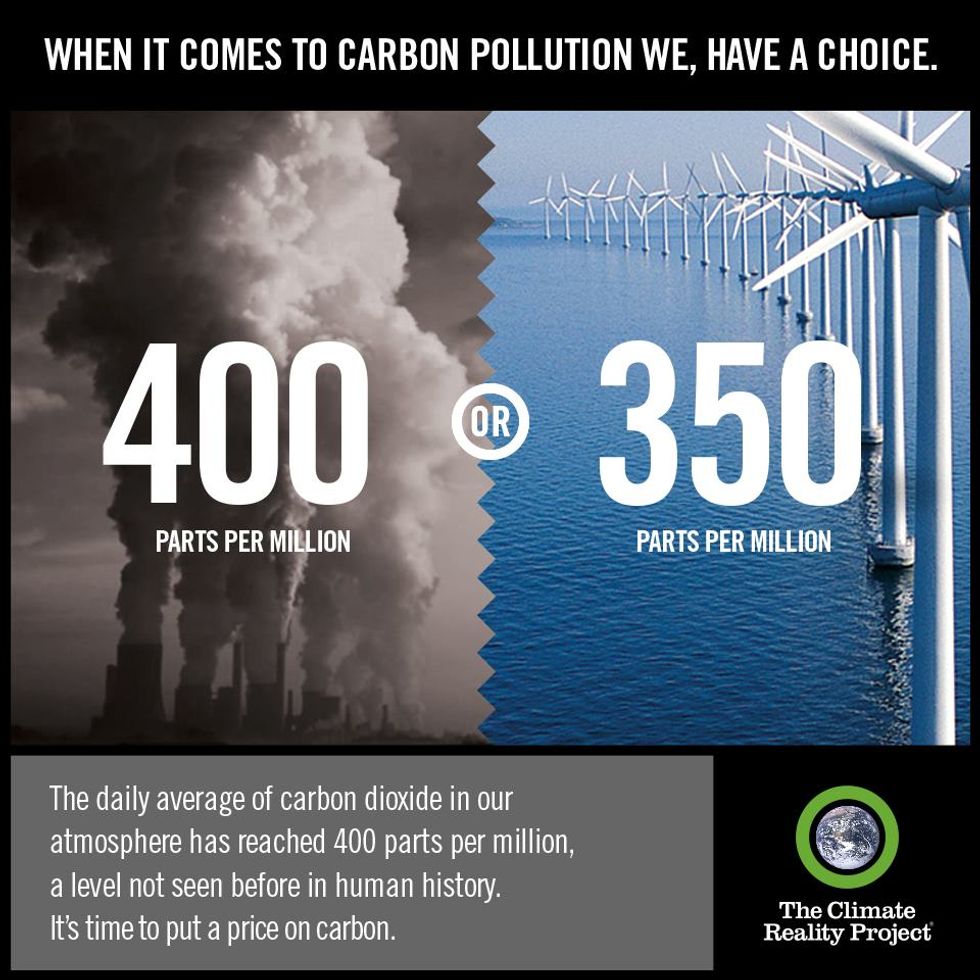 Now, more than ever before, we are reaping the consequences of our recklessness. From Superstorm Sandy which crippled New York City and large areas of New Jersey, to a drought which parched more than half of our nation, from a flood that inundated large swaths of Australia to rising seas affecting millions around the world, the reality of the climate crisis is upon us.
Our food systems, our cities, our people and our very way of life developed within a stable range of climatic conditions on Earth. Without immediate and decisive action, these favorable conditions on Earth could become a memory if we continue to make the climate crisis worse, day after day after day.
With any great challenge comes great opportunity. We have the rare privilege to rise to an occasion of global magnitude. To do so, our communities, our businesses, our universities and our governments need to work in harmony to stop the climate crisis. We must summon the very best of the human spirit and draw on our courage, our ingenuity, our intellect and our determination to confront this crisis. Make no mistake, this crisis will demand no less than our very best. I am optimistic because we have risen to meet the greatest challenges of our past.
So please, take this day and the milestone it represents to reflect on the fragility of our civilization and and the planetary ecosystem on which it depends. Rededicate yourself to the task of saving our future. Talk to your neighbors, call your legislator, let your voice be heard. We must take immediate action to solve this crisis. Not tomorrow, not next week, not next year. Now.
Visit EcoWatch's CLIMATE CHANGE page for more related news on this topic.
——–
Click here to tell Congress to Expedite Renewable Energy.