U.S. State Department Doesn't Know Exact Keystone XL Route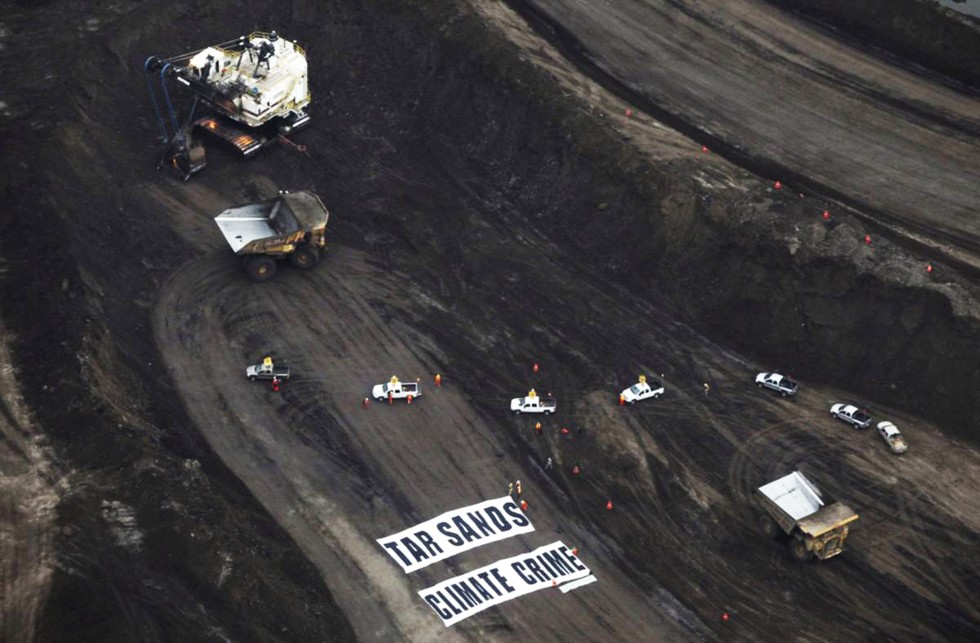 The U.S. government doesn't know exactly where TransCanada wants to lay pipe for the northern section of its Keystone XL tar sands pipeline, according to the results of a 14-month Freedom Of Information Act (FOIA) request to the U.S. State Department. In its final answer to a FOIA request by Thomas Bachand of the Keystone Mapping Project, the State Department admitted:
Neither Cardno ENTRIX nor TransCanada ever submitted GIS information to the Department of State, nor was either corporation required to do so. The information that you request, if it exists, is therefore neither physically nor constructively under the control of the Department of State and we are therefore unable to comply with your FOIA request.
Yes, you read that right. The U.S. State Department published its draft Supplemental Environmental Impact Statement (SEIS)—supposedly an official account of the potential hazards of TransCanada's proposed pipeline on U.S. waterways, wildlife and other major considerations like global climate change—without knowing exactly where TransCanada wants to dig. 
Ongoing Conflicts of Interest in State Department Environmental Assessments
The State Department is already facing legitimate criticism for contracting companies with ties to TransCanada and other oil companies for its environmental impact estimates, which the U.S. Environmental Protection Agency has slammed for being "insufficient." State looked no further than oil industry contractors to run the draft SEIS—companies like Cardno ENTRIX, which calls TransCanada a "major client," and ERM Resources, a dues paying member of the American Petroleum Institute which is being investigated by the State Department's Inspector General for trying to hide its prior consulting for fossil fuel giants like ExxonMobil, BP and Shell. In fact, TransCanada chose ERM Resources to do the Keystone XL SEIS review for the State Department, and one of ERM's people working on the review was formerly employed by TransCanada. 
TransCanada has stacked the deck, wagering American waterways and private property against the promise to profit from continued extraction of dirty tar sands petroleum.
Tar Sands Pipelines Spill
The potential is too high for Keystone XL to leak just like TransCanada's existing Keystone I pipeline has repeatedly done, or rupture like ExxonMobil's Pegasus tar sands pipeline in Mayflower, AK, earlier this year, or Enbridge's tar sands pipeline spill in the Kalamazoo River in Michigan. The southern leg of Keystone XL is already under construction, and the if the cracks, dents and other faults in the "new" pipe are any indication, pollution from oil spills looks inevitable. Beyond being a disaster waiting to happen, Keystone XL guarantees the continued disaster that is tar sands mining, a process that has already poisoned entire regions—and peoples' communities—in northern Alberta, Canada.
With President Obama's recently unveiled Climate Action Plan, it would be a limp gesture to approve the Keystone XL pipeline. You'd think with the State Department having its environmental analysis run by oil industry consultants, they'd listen to the oil industry's own guarantees that Keystone XL would increase demand for tar sands mining. That's bad news for our climate—something the State Department cannot ignore if they do a reasonable review of the "unprecedented" amount of public comments on its draft SEIS on Keystone XL.
What remains to be seen is if the State Department will be reasonable in the last leg of its review, or if it will continue letting TransCanada and Big Oil control the process to the bitter end.
Visit EcoWatch's KEYSTONE XL page for more related news on this topic.
——–
SHARE YOUR THOUGHTS BELOW: How would the U.S. State Department be able to demonstrate its transparent independence in conducting a new environmental review given this information? Or could it?
——–

www.facebook.com
Keep reading...
Show less
Keep reading...
Show less
www.elysee.fr
By Andy Rowell
There is a growing feeling within European capitals that a quiet, but deeply positive, revolution is happening under Emmanuel Macron in France.
Macron's opinion poll rating is high, especially boosted in how the young French president has reacted to Donald Trump on the international stage.
Keep reading...
Show less
Hawaii Renewable Energy Alliance
The latest issue of the U.S. Energy Information's "Electric Power Monthly" (with data through April 30) reveals that—for the first time since the beginning of the nuclear era—renewable energy sources (i.e., biomass, geothermal, hydropower, solar—inc. small-scale PV, wind) are now providing a greater share of the nation's electrical generation than nuclear power.
Keep reading...
Show less
www.youtube.com
Check out this great 360° virtual reality video by NowThis on the world's largest indoor vertical farm, AeroFarms. Located in Newark, New Jersey, AeroFarms grows more than 2 million pounds of greens a year without sunlight, soil or pesticides.
As reported by EcoWatch in July 2105, the $30 million, 70,000-square-foot AeroFarms headquarters dwarfs Japan's (already impressive) 25,000-square-foot vertical indoor farm, which had been the world's largest until now.
www.youtube.com
According to Bloomberg, "SeaWorld Entertainment Inc. received a subpoena earlier this month from regulators investigating disclosures and public statements by executives, including comments about the Blackfish documentary that caused a public backlash against the confinement of orcas.
Keep reading...
Show less
Wikipedia
By Franziska Spritzler, RD, CDE
Boosting your metabolic rate can help you lose body fat. However, most "fat-burning" supplements on the market are either unsafe, ineffective or both.
Fortunately, several natural foods and beverages have been shown to increase your metabolism and promote fat loss.
Keep reading...
Show less
Jun. 25, 2017 04:50PM EST
Monsanto, the maker of the glyphosate-based herbicide Roundup, filed a motion June 16 in U.S. District Court, Northern District of California to reconsider the chemical's addition to California's Proposition 65 list of agents known to cause cancer.
The agrochemical giant made this move based on a June 14 Reuters investigation of Dr. Aaron Blair, a lead researcher on the World Health Organization's International Agency for Research on Cancer (IARC) committee, that classified glyphosate as a "2A probable human carcinogen" in March 2015.
Keep reading...
Show less
Jun. 25, 2017 04:40PM EST
By Avery Friedman
Algae is often considered a nuisance, but for Sweden, the rapidly growing sea plant is now an asset.
As the Scandinavian country works to cut all of its greenhouse gas emissions by 2045, it's using algae to sop up the carbon emissions from cement.
Keep reading...
Show less