This website uses cookies to ensure you get the best experience while browsing it. By clicking 'Got It' you're accepting these terms.
U.S. Solar Market Grows 76 Percent in 2012
Mar. 17, 2013 05:38PM EST
Energy
GTM Research and the Solar Energy Industries Association (SEIA) released last week U.S. Solar Market Insight: Year-in-Review 2012, the definitive analysis of solar power markets in the U.S.
With another record-breaking year, solar is the fastest growing energy source in the U.S., powering homes, businesses and utility grids across the nation. The Solar Market Insight annual edition shows the U.S. installed 3,313 megawatts (MW) of solar photovoltaics (PV) in 2012, a record for the industry. Perhaps most importantly, clean, reliable, affordable solar is continuing a major growth pattern that has made it a leading source of new electricity for America that's increasingly competitive with conventional electricity across dozens of states today.

Even with the cost of solar falling for consumers, the market size of the U.S. solar industry grew 34 percent from $8.6 billion in 2011 to $11.5 billion in 2012—not counting billions of dollars in other economic benefits across states and communities. As of the end of 2012, there were 7,221 MW of PV and 546 MW of concentrating solar power (CSP) online in the U.S.—enough to power 1.2 million homes.
At the state level, 2012 was another year for breaking records. California became the first state to install more than 1,000 MW in one year, with growth across all market segments. Arizona came in as the second largest market, led by large-scale utility installations, while New Jersey experienced growth in the state's non-residential market.
U.S. PV Installations and Weighted Average Installed Price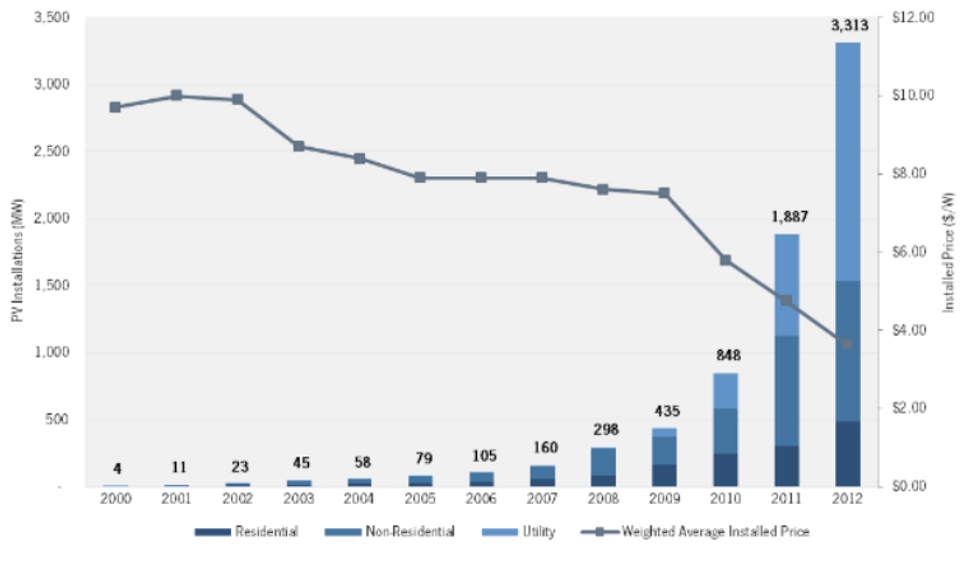 Source: U.S. Solar Market Insight: Year-in-Review 2012
In addition to record annual installations, the fourth quarter (Q4) of 2012 shattered all-time quarterly records as well, with 1,300 MW of installed PV, besting the previous high by a whopping 64 percent. The residential and utility segments had their best quarters ever, installing 144 MW and 874 MW respectively. 


"2012 was a busy year in the U.S. solar market," said Shayle Kann, vice president at GTM Research. "The market value of U.S. solar installations reached $11.5 billion in 2012, up from just $3.6 billion in 2009. Amidst this boom, the industry faced newly-imposed import tariffs on Chinese solar cells and ongoing consolidation in the manufacturing space. In 2013, we expect another strong year, driven in part by new mechanisms to increase the availability, and lower the cost, of solar project financing." 


The residential market saw meaningful growth in California, Arizona, Hawaii, Massachusetts and New York, as average residential system prices dropped nearly 20 percent in one year–from $6.16 per watt in Q4 2011 to $5.04 per watt in Q4 2012. SEIA and GTM Research expect residential solar to surge in 2013 and beyond, as third-party solar financing options spread across the country.


The non-residential segment, which includes commercial, governmental and non-profit systems, installed more than 1,000 MW in 2012. Leading non-residential markets included California, New Jersey, Arizona, Massachusetts and Hawaii. 


Meanwhile, the utility market continues to be dominated by installations in the desert southwest. There were 152 utility solar installations in 2012, and eight of the ten largest projects currently in operation were completed in 2012. These installations represented 54 percent of total installed capacity, or 1,782 MW.
"There were 16 million solar panels installed in the U.S. last year–more than two panels per second of the work day–and every one of these panels was bolted down by a member of the U.S. workforce," said Rhone Resch, president and CEO of SEIA. "We've brought more new solar online in 2012 than in the three prior years combined. This sustained growth is enabling the solar industry to create thousands of good jobs and to provide clean, affordable energy for more families, businesses, utilities and the military than ever before. This growth simply would not have occurred without consistent, long-term policies that have helped to ensure a stable business environment for this country's 5,600 solar companies–many of them small businesses."


SEIA and GTM Research expect the growth to continue into 2013 and beyond. For this year, the report forecasts 4,300 MW of new PV installations, up 29 percent over 2012, and 946 MW of concentrating solar power. Over the next four years, the residential and non-residential markets are expected to gain market share as system prices decline, the industry becomes even more efficient, and new financing channels arise. "All of these data point to solar having turned the corner," added Resch. "Solar is an affordable option for homes and businesses today, and is well on its way to becoming a substantial part of America's energy portfolio."

Key Report Findings

PV installations grew 76 pecent in 2012 to reach 3,313 MW
  
There are now more than 300,000 PV systems operating across the U.S.
   
The U.S. installed 11 percent of all global PV in 2012, the highest market share in at least fifteen years
   
Cumulative PV capacity operating in the U.S. as of the end of 2012 stood at 7,221 MW and cumulative operating concentrating solar stood at 546 MW
   
Twelve states installed over 50 MW of solar each in 2012, up from eight in 2011
   
There were over 90,000 solar installations in 2012, including 83,000 in the residential market alone
  
The non-residential segment, which includes commercial, governmental, and non-profit systems, installed more than 1,000 MW in 2012. Leading non-residential markets included California, New Jersey, Arizona, Massachusetts, and Hawaii
Weighted average PV system prices fell 27 percent in 2012, reaching $5.04/W in the residential market, $4.27/W in the non-residential market, and $2.27/W in the utility market


U.S. PV Installation Map, 2012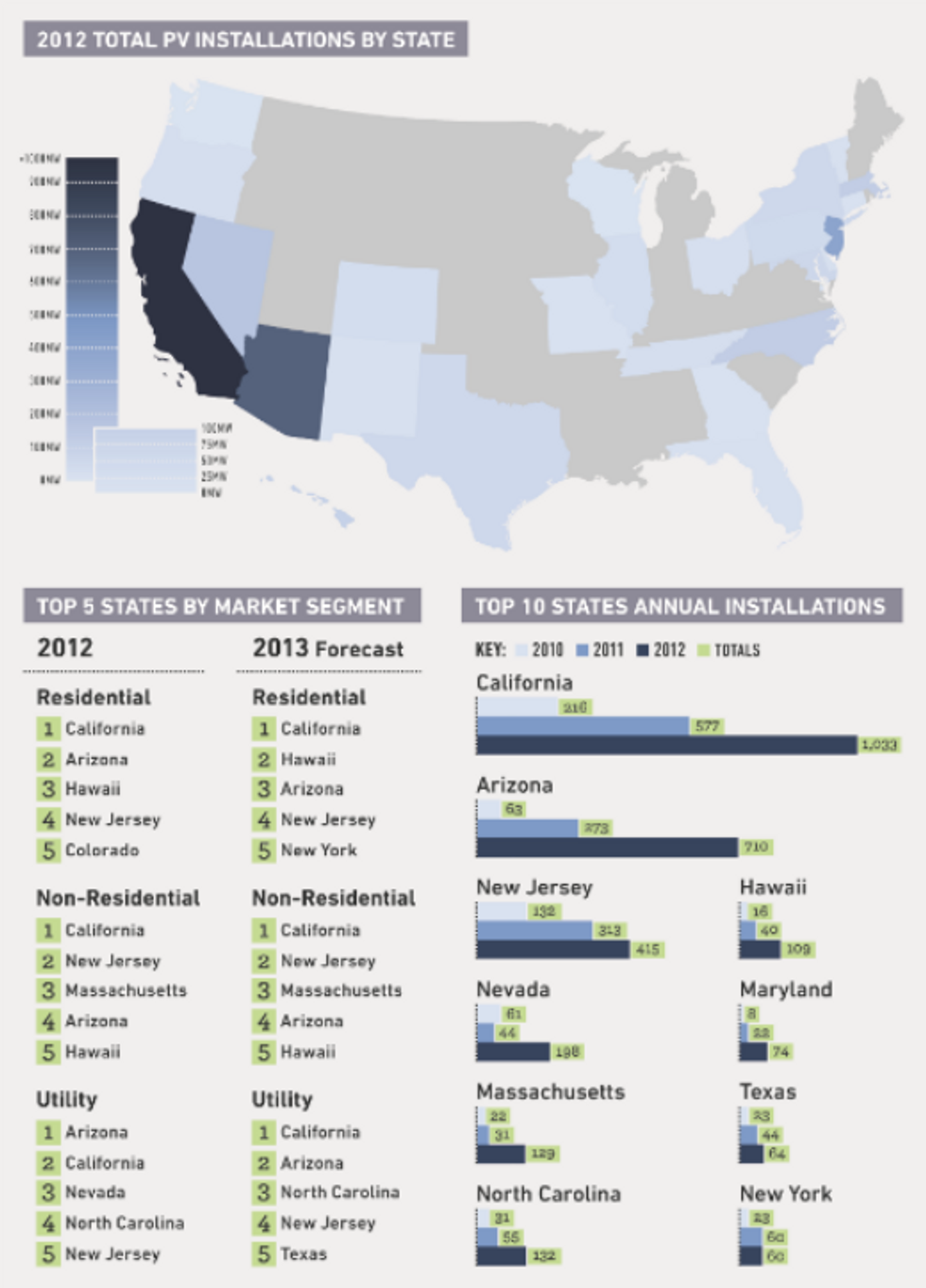 Source: U.S. Solar Market Insight: Year-in-Review 2012
Visit EcoWatch's RENEWABLES page for more related news on this topic.
——–
Click here to tell Congress to Expedite Renewable Energy.

EcoWatch Daily Newsletter
An iguana is seen on a tree branch on November 22, 2019 in Marathon Island, Florida. LUDOVIC MARIN / AFP / Getty Images
An unusual weather report made waves this week as meteorologists warned residents of Florida to be aware of "raining iguanas."
Coca-Cola says it will not phase out its plastic bottles. Roberto Machado Noa / LightRocket / Getty Images
Myakka River State Park outside of Sarasota, Florida on Dec. 30, 2016. The park is a small preserve of rare protected habitat along Florida's Gulf Coast, a region that has seen intense development and population growth. Andrew Lichtenstein / Corbis via Getty Images
Today, the Trump administration will finalize its replacement for the Obama-era Waters of the United States (WOTUS) rule in a move that will strip protections from more than half of the nation's wetlands and allow landowners to dump pesticides into waterways, or build over wetlands, for the first time in decades.
"It would be great to see all the candidates join Elizabeth Warren in taking the No Big Ag Money Pledge," said Citizens Regeneration Lobby's Alexis Baden-Mayer.
Peter Blanchard
/ Flickr / ric (CC BY 2.0)
Food system justice and environmental advocates on Wednesday urged all Democratic presidential hopefuls to follow in the footsteps of Sen. Elizabeth Warren in signing a pledge rejecting campaign cash from food and agribusiness corporations.