U.S. Solar Energy Industry Achieves Record-Shattering Year

Today's new economy is driven by industries that are characterized by cutting-edge technology and high growth. Sound familiar? Well, it should.
Remarkably, America's solar energy industry, which continues to grow at a very brisk pace, now has more employees than tech giants Apple, Google, Facebook and Twitter combined. And to top it all off, 2014 turned out to be another record-shattering year!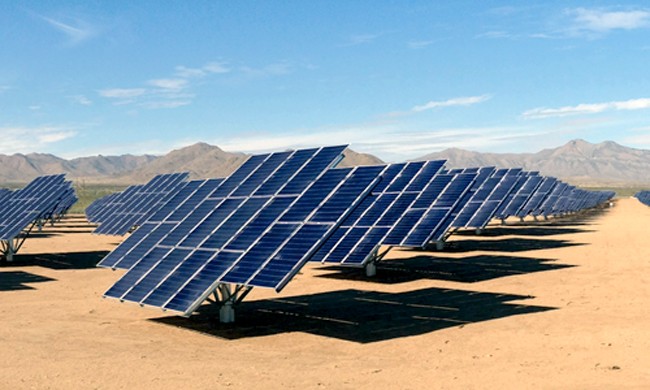 GTM Research and the Solar Energy Industries Association (SEIA) have just released the U.S. Solar Market Insight 2014 Year in Review report, the definitive source of installation data, forecasting and policy analysis for the U.S. solar market. Newly installed solar photovoltaic (PV) capacity for the year reached a record 6,201 megawatts (MW), growing 30 percent over 2013's total. An additional 767 MW of concentrating solar power (CSP) came on-line in the same period.
Solar accounted for one-third of our nation's new generating capacity in 2014, beating out both wind energy and coal for the second year in a row. Only natural gas constituted a greater share of new generating capacity.
Without question, the solar Investment Tax Credit (ITC) has helped to fuel our industry's tremendous growth. Since the ITC was passed in 2006, more than 150,000 solar jobs have been created in America, and $66 billion has been invested in solar installations nationwide. We now have 20 gigawatts (GW) of installed solar capacity—enough to power 4 million U.S. homes—and we're helping to reduce harmful carbon emissions by 20 million metric tons a year. By any measurement, the ITC has been a huge success for both our economy and environment.
In 2014, for the first time in history, each of the three major U.S. market segments—utility, commercial and residential—installed more than 1 gigawatt (GW) of PV.
The U.S. utility-scale segment broke the GW mark in 2011 and has since grown by nearly 1 GW annually. In 2014, 3.9 GW of utility-scale PV projects came on-line with another 14 GW of projects under contract.
The commercial segment in the U.S. also installed more than 1 GW in 2011 but has not shared the same success as the utility-scale segment. In 2014, the commercial segment installed just over 1 GW, down 6 percent from 2013. The report notes, "Many factors have contributed to this trend, ranging from tight economics to difficulty financing small commercial installations." But GTM Research expects 2015 to be a bounce-back year for the commercial segment, highlighted by a resurgence in California.
The U.S. residential segment's 1.2 GW in 2014 marks its first time surpassing 1 GW. Residential continues to be the fastest-growing market segment in the U.S., with 2014 marking three consecutive years of greater than 50 percent annual growth.
Here are some additional key findings:
More than one-third of all cumulative operating PV capacity in the U.S. came on line in 2014.

By the end of 2014, 20 states eclipsed the 100 MW mark for cumulative operating solar PV installations, and California alone is home to 8.7 GW.

Growth remains driven primarily by the utility solar PV market, which installed 1.5 GW in Q4 2014, the largest quarterly total ever for any market segment.

PV installations are forecast to reach 8.1 GW in 2015, up 59 percent over 2014.

2014 was the largest year ever for concentrating solar power, with 767 MW brought on line. Notable project completions include the 392 MW Ivanpah project. Genesis Solar project's second phase of 125 MW and Abengoa's Mojave Solar (250 MW), which achieved commercial operation in December 2014.

All solar projects completed in 2014 represent $17.8 billion in investment ($13.4 billion in PV and $4.4 billion in CSP).

As of the end of 2014, cumulative operating PV in the U.S. totaled 18.3 GW and cumulative operating CSP totaled 1.7 GW.
What's spurring this rapid growth? For one thing, solar energy is now more affordable than ever. According to SEIA/GTM Research, national blended average system prices have dropped 53 percent since 2010.
Simply put, when looking at America's energy future, solar can be a real game changer, providing more and more homes, businesses, schools and government entities across the U.S. with clean, reliable and affordable electricity, while also helping states to meet proposed new obligations under Section 111(d) of the Clean Air Act. That's a win-win in anyone's book!
YOU MIGHT ALSO LIKE
Oil Can't Compete With Renewables, Says National Bank of Abu Dhabi
Google Invests $300 Million in SolarCity to Make Going Solar Easier
Solar-Powered Plane Takes Off for Historic Round-the-World Trip
www.youtube.com
Volkswagen is bringing back its hippie-approved minivan but with a 21st century upgrade—the new I.D. Buzz is all-electric.
The concept car was first revealed at the Detroit Auto Show in January and now the German automaker is officially putting its reinvigorated Microbus into production.
Keep reading...
Show less
I have asked repeatedly to have my short interview clip removed from this film. The director refuses. He believes his film is fair and balanced. I do not.

I am often interviewed (see media) and hardly ever quoted incorrectly or out of context. This film is one of those rare exceptions.
Keep reading...
Show less
Top of JPMorgan Chase Tower, Dallas, Texas. Joe Mabel / Wikimedia
Keep reading...
Show less
Cupping symptoms associated with dicamba damage on a cucumber plant. University of Arkansas.
Arkansas farmers filed a class-action lawsuit last week against Monsanto and German chemical company BASF, alleging that the companies' dicamba-based herbicides caused damage to their properties.
The plaintiffs claim that Monsanto and BASF implemented and controlled the dicamba crop system, releasing seed technology without a corresponding, safe and approved herbicide.
Keep reading...
Show less
Cup and bubblegum corals found in Northeast U.S. Canyons, the Atlantic's first marine monument. NOAA
Interior Sec. Ryan Zinke, who recently recommended a reduction in the size of the 1.35 million acre Bears Ears National Monument to President Trump, is advocating for more drilling and mining on public lands and waters.
The former Montana Rep. told Reuters that the development of America's protected federal lands could help the country become a "dominant" global energy force.
Keep reading...
Show less
Gage Skidmore / Flickr (CC BY-SA 2.0)
Dozens of scientists on the U.S. Environmental Protection Agency's (EPA) Board of Scientific Counselors and board subcommittees have been informed that they will not be renewed for their roles advising the agency, the Washington Post reported.
Keep reading...
Show less
www.youtube.com
Worried about the future of the Great Barrier Reef? If so, you're not alone.
Many publications have already written obituaries for the reef, despite the fact that it is not completely dead. Thanks to this video via Vox for sounding the alarm on this critical issue, before it's too late.
Keep reading...
Show less
Mike Mozart
By Olga V. Naidenko, Ph.D.
In a landmark rule with global repercussions, California state scientists are preparing to issue the world's first health guideline for Monsanto's glyphosate herbicide based on its cancer risk. The state's proposed safe level is more than 100 times lower than the U.S. Environmental Protection Agency's (EPA) legal allowance for the average-sized American.
Keep reading...
Show less
www.youtube.com
By Bob Henson
A high risk of life-threatening flooding continues on Wednesday over parts of the central Gulf Coast as Tropical Storm Cindy lumbers toward shore. The greatest flood threat will be across low-lying areas of far southern Mississippi and Alabama, according to the NWS/NOAA Weather Prediction Center. A second area with a moderate flood risk lies across far southeast Texas and southwest Louisiana.
Keep reading...
Show less