This website uses cookies to ensure you get the best experience while browsing it. By clicking 'Got It' you're accepting these terms.
U.S. Shale Gas Production Could Sharply Decline in 2016, World Bank Says
Jan. 28, 2016 12:01PM EST
Climate
In the wake of tumbling oil prices, an onslaught on coal and a year of geopolitical tumult, the World Bank has released its 2016 report on the outlook for the world's commodity markets.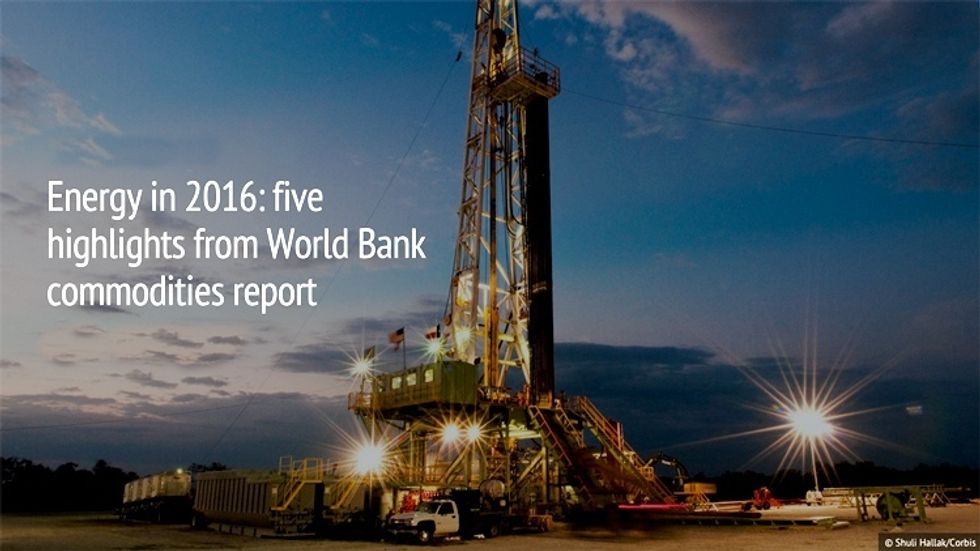 Carbon Brief looks at the five key takeaways for climate change and energy.
1. There's All-Round Bad News for Coal
The report makes grim reading for coal industry executives. Coal prices are expected to continue their tumble downwards in 2016. Having fallen by more than 60 percent since 2011, prices are expected to drop a further 13 percent in the year ahead. This is attributed to a number of factors, which have, in turn, led to weak demand and oversupply.
The U.S. and Europe, in particular, are turning away from coal, as they pursue cleaner forms of energy.
China's imports are falling, thanks to slowing industrial activity, other sources of energy coming online and government policies to limit coal use. The nation, with its smog-plagued cities, intends to reduce coal's share of energy consumption to 62.6 percent this year, down from 64.4 percent in 2015 and has suspended the approval of new coal mines for three years in order to achieve this.
This decline will only be partly offset by demand in India and other emerging markets, the report says.
Despite this decline in demand, ample coal supplies are likely to still be available, as past investments lead to a ramp-up in new capacity. Spare capacity in Australia and Indonesia could also come online.
2. Geopolitics Will Continue to Affect Energy Markets
The energy market is not immune to the slings and arrows of wider geopolitical events. Oil and gas prices are highly susceptible to external conflicts and debates.
Iraq's costly conflict with so-called Islamic State, alongside low oil prices, means that it is unlikely to continue its 2015 record crude oil production in the coming year. In 2015, the lifting of sanctions in Iran forced oil prices down further, in expectation of its oil further flooding the market—a larger-than-expected increase in exports could suppress prices in 2016, the report warns.
It also says that oil production could rise in Libya, following a UN-brokered agreement to form a new national government. After the deal was rejected by its parliament yesterday, this is an even more uncertain prospect.
The report points to the risk of supply disruptions in other key oil-producing countries, such as Nigeria and Venezuela, due to internal conflicts.
3. Warm Weather Depressed Oil Demand Growth, Which Will Continue to Shrink
2015 was the hottest year on record and consumption of oil and gas reflected this.
While overall growth in oil consumption reached a five-year high in 2015, it weakened in the fourth quarter of the year due to a mild winter in the northern hemisphere.
Mild weather was not the only pressure on oil consumption. Weakening economic growth, particularly in emerging markets, also slowed consumption growth. But it was shored up overall by the magnitude of the drop in oil prices, which encouraged consumption.
Oil consumption growth is expected to slow further in 2016, as oil prices begin to recover. Meanwhile, the UK's Met Office has forecast that the coming year will once again break previous records.
It's not just oil consumption that was impacted by the mild weather. Consumption of gas also weakened, helping to push U.S. gas prices down by 23 percent in 2015. Natural gas prices globally are projected to continue to fall in 2016, with U.S. prices specifically expected to drop by 4 percent.
4. U.S. Shale Gas Production Could Sharply Decline
Growth in global oil production slowed sharply in 2015. Most of this occurred in non-OPEC countries, bucking the trend of the last two-and-a-half years, during which U.S. production of shale oil boomed.
This is unlikely to be the case for much longer, according to the World Bank's report. U.S. shale oil production could drop sharply in 2016. The amount of oil flowing from each drilled well drops sharply over time—by some 70 percent in the first year—and the U.S. is unlikely to offset these losses with new drilling.
U.S. crude oil production is also expected to accelerate its downward trend in 2016, as non-OPEC producers attempt to sustain oil prices of below $40 per barrel. Production from OPEC countries, on the other hand, is expected to rise.
5. Oil Prices Are Expected to Gradually Recover
The world watched on as oil prices continued their inexorable slide downwards in 2015, thanks to the lifting of sanctions on Iran, deteriorating growth in major energy-importing countries and OPEC's refusal to cut oil production.
2016 promises some small relief, with the World Bank projecting that crude oil prices will average $37 per barrel. While this represents a decline by 27 percent on last year, it mean that the price would rise from recent lows of below $30 per barrel. This is because demand is expected to strengthen with a modest pickup in global economic growth, while high-cost oil producers are likely to cut production as they sustain increasing losses.
However, this recovery is likely to be less dramatic than historic rebounds after sharp drops in 2008, 1998 and 1986, says the report. This is because of large stocks, continuing ample supplies and low demand.
YOU MIGHT ALSO LIKE 
Doomsday Clock Stays at Three Minutes to Midnight: At the 'Brink' of Man-Made Apocalypse
Opposition Grows to Fracking and Fracking Infrastructure Projects
Huge Victory: U.S. Supreme Court Rules in Favor of Demand Response
NYC's Biggest Pension Fund Lost $135 Million From Oil and Gas Holdings
EcoWatch Daily Newsletter
A man wearing a protective mask sits on the lawn in front of the Australian Parliament house in Canberra, Australia on Jan. 1, 2020. The level of air pollution in Canberra is the highest in the world on some days. Daniiielc / iStock / Getty Images Plus
Researchers now say there is "no safe level" of air pollution exposure after a large-scale study found a correlation between exposure to fine particle matter, known as PM2.5, and cardiac arrests, according to the The Sydney Morning Herald.
The British Medical Journal announced a fossil fuel divestment campaign. Andrew Matthews / PA Images via Getty Images
By Andrea Germanos
Respected medical journal The BMJ drew praise online from climate activists and medical professionals for its newly-announced fossil fuel divestment campaign.

New Jersey will be the first state in the U.S. to require builders to take the climate crisis into consideration before seeking permission for a project.
Workers selectively harvest slightly under-ripe Syrah grapes to make a Blanc de Noir wine for the Israeli winery Zaza on Aug. 6, 2019 in central Israel. Israeli vintners are harvesting their grapes earlier than they did a decade ago due to shorter winters and more intense summers. David Silverman / Getty Images

An aerial view of a neighborhood destroyed by the Camp Fire on Nov. 15, 2018 in Paradise, Calif. Justin Sullivan / Getty Images
Respecting scientists has never been a priority for the Trump Administration. Now, a new investigation from The Guardian revealed that Department of the Interior political appointees sought to play up carbon emissions from California's wildfires while hiding emissions from fossil fuels as a way to encourage more logging in the national forests controlled by the Interior department.