This website uses cookies to ensure you get the best experience while browsing it. By clicking 'Got It' you're accepting these terms.
U.S. Senate Candidate Scott Brown Flip Flops on Climate Change
Sep. 02, 2014 11:35AM EST
Politics
Back in 2012, when he got trounced by Elizabeth Warren in the U.S. Senate race in Massachusetts, losing the seat he won in a special election in 2010, Republican candidate Scott Brown was clear where he stood on climate change.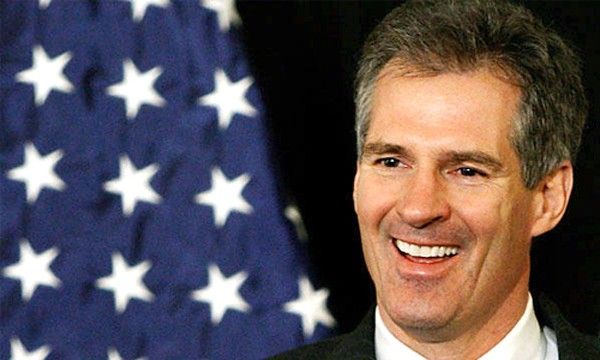 "I absolutely believe that climate change is real, and I believe there's a combination between man-made and natural," he said in a debate during that campaign. "We need to work together, finding that balance to not only address our climate change problems but also to allow people to work and create jobs."
Now he's crossed state lines to New Hampshire where he's running against Democratic incumbent Senator Jeanne Shaheen. And when he was asked in a recent debate "Do you believe that the theory of man-made climate change has been scientifically proven?," he responded "No." Watch the video:
Billionaire environmentalist Tom Steyer's group NextGen Climate has started running ads in New Hampshire, calling Brown out for his attempts to duck and weave on climate change. It's one of many areas where the slippery Brown is apparently trying to tailor his position to his audience.
NextGen's New Hampshire director Pete Kavanaugh said:
"New Hampshire voters see Scott Brown for what he is: someone more interested in his own political career than in the issues that matter to Granite State voters. From healthcare reform to immigration to a woman's right to choose and now to climate change, Scott Brown can't make up his mind about what he believes. If he couldn't make up his mind, that would be bad enough. The truth is that whatever Brown actually believes about global warming, he doesn't care enough about it to treat it as a serious subject. For him and his campaign consultants, it's just one more fuzzy bullet point to be 'adjusted' depending on the audience."
Although Brown's two years in the U.S. Senate gave him only a limited voting record, he did have the opportunity, which he took, to vote to approve the Keystone XL Pipeline. The League of Conservation voters gave him a score of 38 percent. That group's Victory Fund is also running ads in New Hampshire, highlighting Brown's heavy support from oil billionaires David and Charles Koch.
YOU ALSO MIGHT LIKE
Activist Tom Steyer Announces Big-Spending Election Plan to Take Down Climate-Denying Candidates
Koch Brothers Decline Tom Steyer's Climate Change Debate Invitation
Dark Money Documentary Exposes Koch Brothers' Spending Secrets
EcoWatch Daily Newsletter
Environmental Investigation Agency
Last week, the Peruvian Palm Oil Producers' Association (JUNPALMA) promised to enter into an agreement for sustainable and deforestation-free palm oil production. The promise was secured by the U.S. based National Wildlife Federation (NWF) in collaboration with the local government, growers and the independent conservation organization Sociedad Peruana de Ecodesarrollo.
Pixabay
Leaked documents show that Jair Bolsonaro's government intends to use the Brazilian president's hate speech to isolate minorities living in the Amazon region. The PowerPoint slides, which democraciaAbierta has seen, also reveal plans to implement predatory projects that could have a devastating environmental impact.
XL CATLIN SEAVIEW SURVEY / THE OCEAN AGENCY
Hope may be on the horizon for the world's depleted coral reefs thanks to scientists who successfully reproduced endangered corals in a laboratory setting for the first time, according to Reuters.
Last week we received positive news on the border wall's imminent construction in an Arizona wildlife refuge. The Trump administration delayed construction of the wall through about 60 miles of federal wildlife preserves.
PhotoAlto / Frederic Cirou / Getty Images
Drinking water treated with fluoride during pregnancy may lead to lower IQs in children, a controversial new study has found.
National Institude of Allergy and Infectious Disease
A Greenpeace rally calls for a presidential campaign climate debate on June 12 in Washington, DC. Sarah Silbiger / Getty Images