This website uses cookies to ensure you get the best experience while browsing it. By clicking 'Got It' you're accepting these terms.
U.S. Scientists Convert Algae to Crude Oil in Less Than an Hour
Dec. 22, 2013 01:45PM EST
Energy
By Tim Radford
U.S. scientists believe they may have cracked one of the great biofuel conundrums. They have turned a thick soup of algae into a mix of crude oil, gas, water and plant nutrients in less than an hour. That is, they have taken 60 minutes to do what Nature does—at great pressures and temperatures—over millions of years.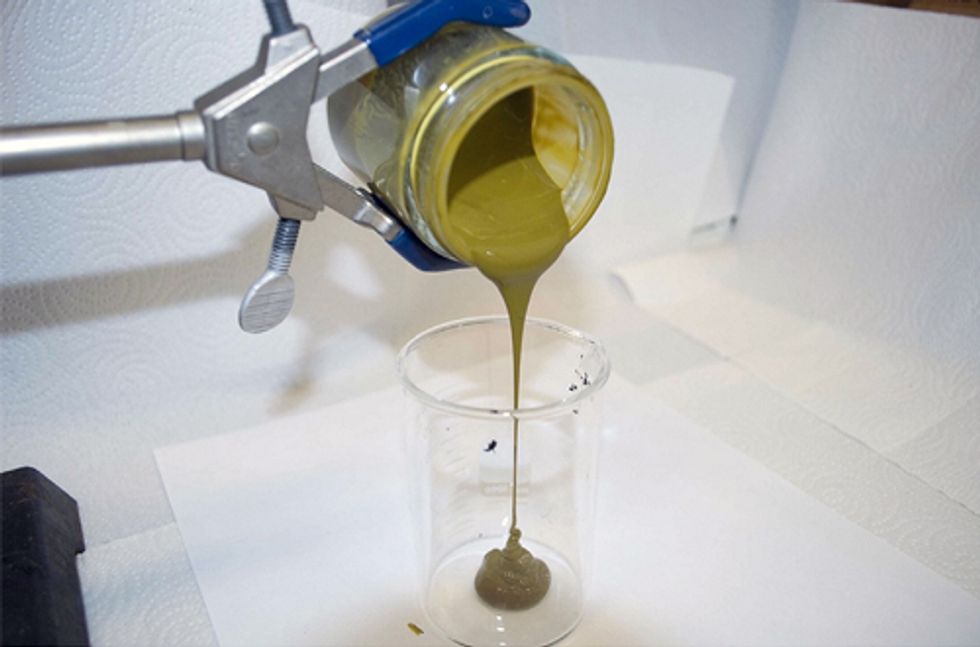 Algae Slurry. Photo credit: Pacific Northwest National Laboratory
Better still, the researchers at the U.S. Government's Pacific Northwest National Laboratory (PNNL) believe they have invented a continuous process that is not only faster than the experimental methods pioneered so far for making oil from natural growing things, but cheaper and more self-sustaining.
So far, the PNNL reactor handles only 1.5 litres of algae an hour. But, the team reports in the journal Algal Research, somewhere between 50 percent and 70 percent of the algal carbon is converted to potential energy in the form of crude oil, which in turn can be made into aviation fuel, gasoline or diesel.
The leftovers are clean water, a mix of fuel gases and nitrogen, phosphorus and potassium that can be used to nourish more algae.
Pea soup
It helps to be able to recover fuel gases, because there are still serious energy costs. The system has to run at 350°C and a pressure of 3,000 pounds per square inch.
"It's a bit like using a pressure cooker, only the processes and temperatures we use are much higher", says Douglas Elliott, who led the research. "In a sense we are duplicating the process in the Earth that converted algae into oil over the course of millions of years. We're just doing it much faster."
The experiment, part of the U.S. Department of Energy's National Alliance for Advanced Biofuels and Bio-products, eliminates two stages in the laborious laboratory process of converting algae to oil.
Researchers don't have to expend fuel to dry the algae before sticking it in the reactor. Instead, the mix goes into the reactor as a well-stirred slurry with the consistency of pea soup: as much as 90 percent water, the rest algae rich in lipids (molecules which can store energy).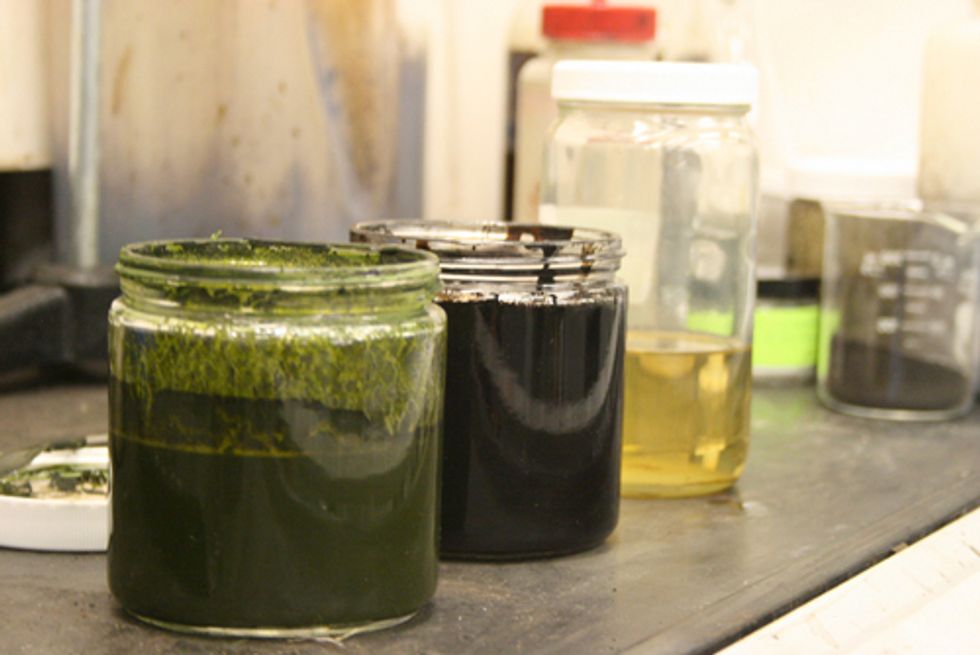 Nature's way preferred
And the scientists don't have to process the mix with solvents to get the oil out of what's left of the algae: gravity does that for them. Both steps will reduce the costs.
That the team can also recover something that could be turned into natural gas, and therefore energy, is one bonus. Another is that they can get back water and nutrients to sustain the process.
The big engineering challenge, however, will be to scale up the system to something that could ever compete commercially with the stuff that gushes from an oil well. The PNNL scientists may have accelerated a natural process, but the petroleum industry can still benefit from the huge reservoir of natural crude that has been stewing and brewing in the rocks over vast periods of geological time.
Still, says James Oyler, president of Genifuel, the research team's commercial partner: "This is a huge step in the right direction." 
Visit EcoWatch's ENERGY page for more related news on this topic.

EcoWatch Daily Newsletter
We need our government to do everything it can to stop PFAS contamination and exposure from wreaking havoc in communities across the country. LuAnn Hun /
Unsplash
By Genna Reed
The EPA announced last week that it is issuing a preliminary regulatory determination for public comment to set an enforceable drinking water standard to two of the most common and well-studied PFAS, PFOA and PFOS.
This decision is based on three criteria:
PFOA and PFOS have an adverse effect on public health
PFOA and PFOS occur in drinking water often enough and at levels of public health concern;
regulation of PFOA and PFOS is a meaningful opportunity for reducing the health risk to those served by public water systems.
Charging EVs in Stockholm: But where does a dead battery go? Ranjithsiji / Wikimedia Commons
By Kieran Cooke
Driving an electric-powered vehicle (EV) rather than one reliant on fossil fuels is a key way to tackle climate change and improve air quality — but it does leave the old batteries behind as a nasty residue.
U.S. Secretary of the Treasure Steven Mnuchin arrives for a welcome dinner at the Murabba Palace in Riyadh, Saudi Arabia on Feb. 22, 2020 during the G20 finance ministers and central bank governors meeting. FAYEZ NURELDINE / AFP via Getty Images
Finance ministers from the 20 largest economies agreed to add a scant mention of the climate crisis in its final communiqué in Riyadh, Saudi Arabia on Sunday, but they stopped short of calling it a major economic risk, as Reuters reported. It was the first time the G20 has mentioned the climate crisis in its final communiqué since Donald Trump became president in 2017.
Aerial view of Parque da Cachoeira, which suffered the January 2019 dam collapse, in Brumadinho, state of Minas Gerais, Brazil — one of the country's worst industrial accidents that left 270 people dead. Millions of tons of toxic mining waste engulfed houses, farms and waterways, devastating the mineral-rich region. DOUGLAS MAGNO / AFP / Getty Images
Participants of the climate demonstration Fridays for Future walk through Hamburg, Germany on Feb. 21, 2020. Axel Heimken / picture alliance via Getty Images