This website uses cookies to ensure you get the best experience while browsing it. By clicking 'Got It' you're accepting these terms.
U.S. Retakes Lead from China in Clean Energy Race
Apr. 12, 2012 12:40PM EST
Renewable Energy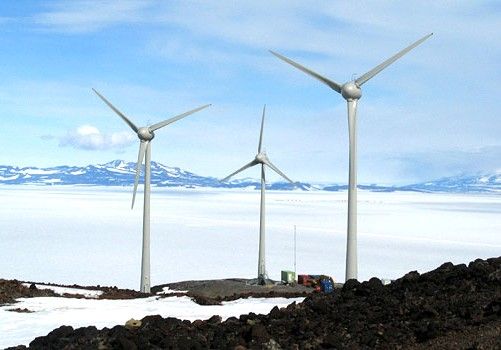 In the global race to secure private clean energy finance and investment, the U.S. reclaimed the top spot, after trailing China since 2009. Globally, investment grew to a record $263 billion in 2011, a 6.5 percent increase over the previous year, according to new research on clean energy financing in Group of Twenty (G-20) nations released by The Pew Charitable Trusts.
The U.S. attracted $48 billion in clean energy investment, a 42 percent increase over 2010. This helped propel the addition of 6.7 gigawatts (GW) of wind and, for the first time, more than 1 GW of solar energy, enough to power 800,000 homes. Total U.S. installed renewable energy capacity at the end of 2011 was 93 GW, second to China. However, America will be hard-pressed to sustain last year's success in the wake of now-expired Treasury grants and the Department of Energy's loan guarantee programs. Also, the production tax credit concludes at the end of this year.
"In 2011, the global clean energy sector grew again, the U.S. reclaimed its lead as the top destination for private investment, and consumers reaped the rewards of significantly reduced prices for clean energy technologies, such as solar panels, which are now nearly 50 percent cheaper than a year ago," said Phyllis Cuttino, director of Pew's Clean Energy Program. "And yet, the yo-yo effect of U.S. clean energy policy hurts the ability of the United States to consistently compete and turn U.S.-led innovation into manufacturing, deployment and export opportunities. Creative, stable and transparent policies remain a critical signal to private investors."
Among members of the G-20, the world's leading economies, the U.S. continued to be the top destination for venture capital and private equity investments with $6 billion. Despite an overall decline in research and development (R&D), the U.S. accounted for 30 percent of total corporate R&D and 31 percent of government R&D investments. However, the country trailed in asset finance, small-scale distributed capacity and a variety of other indicators.
The combination of falling clean energy technology prices and growing investments accelerated installation of clean energy generating capacity by a record 83.5 GW in 2011, bringing the total to 565 GW globally. This was nearly 50 percent more than installed nuclear power capacity worldwide at the end of last year. Experts increasingly agree that solar and wind will become cost-competitive with conventional electric generating capacity this decade and therefore will be preferred investments in emerging economies.
G-20 investments in solar continued to rise in 2011, increasing 44 percent to $128 billion. Solar was the leading technology for clean energy investment for a second year. The gains offset a 15 percent decline in investments for both wind and energy efficiency in 2011, compared with the previous year. The cost
of solar modules slipped by almost 50 percent in 2011. The U.S. was the leading destination for solar investments.
"The clean energy sector received its trillionth dollar of private investment just before the end of 2011, demonstrating significant growth over the past eight years," said Michael Liebreich, CEO of Bloomberg New Energy Finance, Pew's research partner. "Solar installations drove most of the activity last year as the falling price of photovoltaic modules, now 75 percent lower than three years ago, more than compensated for weakening clean energy support mechanisms in a number of parts of the world."
China attracted $45.5 billion in clean energy investment, which spurred deployment of 20 GW of wind power, the most of any nation. Germany ranked third for the second year in a row among the G-20 members, with $30.6 billion and 7.4 GW of solar power installed. Italy attracted $28 billion and deployed a world record of nearly 8 GW of solar power. India drew more than $10 billion and had the world's second-highest annual growth rate for clean energy investment.
Who's Winning the Clean Energy Race? examines how nations are faring in the increasingly stiff competition for private investment among the world's leading economies. Investments in G-20 countries accounted for more than 95 percent of the global total. Amounts are listed in U.S. dollars.
Read the entire report, including country profiles and interactive graphics by clicking here.
For more information, click here.
EcoWatch Daily Newsletter
Assorted plastic bottles. mali maeder / Pexels
People carry children on a flooded street in Almoradi, Spain on Sept. 13. JOSE JORDAN / AFP / Getty Images
Large food companies are following in the footsteps of fast-food restaurants such as Burger King and KFC by offering meat alternatives. Getty Images
By Elizabeth Pratt
Hormel, Kellogg's, and Kroger are among the large companies now planning to offer "fake meat" products at grocery stores.
Experts say the trend toward plant-based meats coincides with consumers' desires to eat less meat.
However, experts urge consumers to closely check package labels as a product isn't necessarily healthy just because it's described as plant-based.
In grocery stores and fast-food outlets around the U.S., a revolution is taking place.
Colombia rainforest. Marcel Oosterwijk / CC BY-SA 2.0
Many of us think of the Amazon as an untouched wilderness, but people have been thriving in these diverse environments for millennia. Due to this long history, the knowledge that Indigenous and forest communities pass between generations about plants, animals and forest ecology is incredibly rich and detailed and easily dwarfs that of any expert.
picture-alliance / Newscom / R. Ben Ari
By Wesley Rahn
Plastic byproducts were found in 97 percent of blood and urine samples from 2,500 children tested between 2014 and 2017, according to a study by the German Environment Ministry and the Robert Koch Institute.

Pexels
Medically reviewed by Daniel Bubnis, MS, NASM-CPT, NASE Level II-CSS
Hot yoga has become a popular exercise in recent years. It offers many of the same benefits as traditional yoga, such as stress reduction, improved strength, and flexibility.
Lara Hata / iStock / Getty Images
By SaVanna Shoemaker, MS, RDN, LD
Rice is a staple in many people's diets. It's filling, inexpensive, and a great mild-tasting addition to flavorful dishes.