U.S. Navy Invests in World's Largest Solar Farm
The U.S. Navy is investing in what will be the largest solar farm in the world in order to provide power for 14 of its bases.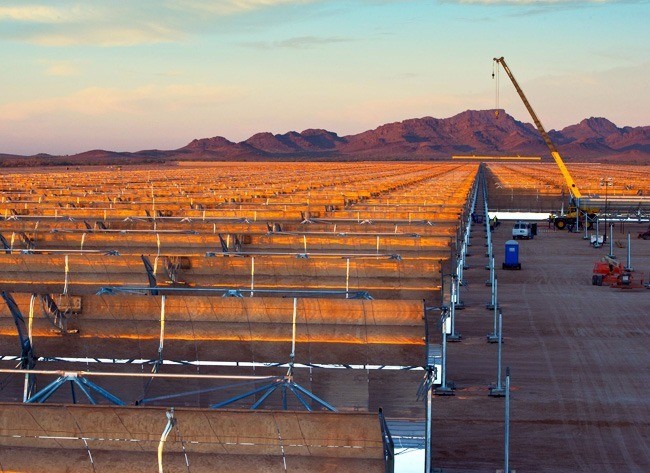 Arizona's barren landscape is ideal for the construction of solar farms. Photo credit: Energy.gov
The climate of Arizona, where the two earlier phases of the Mesquite solar farm are already up and running, provides 300 days of sunshine a year. And the Navy's deal to extend the farm is the largest purchase of renewable energy ever made by a U.S. federal government agency.
The solar farm project is one of a growing number being installed across what is known as the American Sun Belt—the southern states of America, which have expanding populations, plenty of sunshine but also large areas of arid and unproductive land.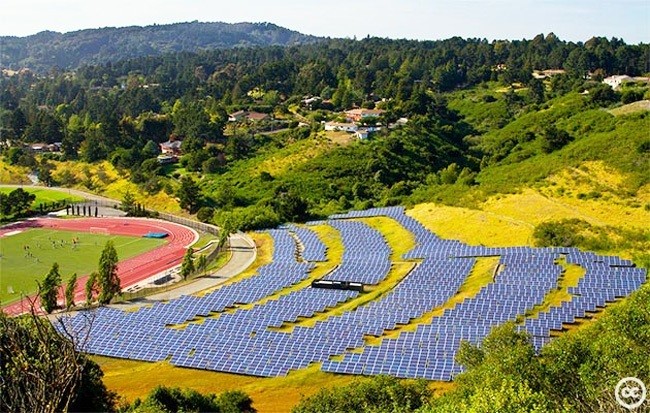 The price of solar panels has now fallen so far worldwide that, in sunny climes, they can compete on cost with any other form of energy generation. Photo credit: Michael Mees, Creative Commons
The price of solar panels has now fallen so far worldwide that, in sunny climes, they can compete on cost with any other form of energy generation. This new generation of huge solar farms produces as much power as a large coal-fired plant.
China and India are also building similarly massive installations, taking advantage of their own sun belts and desert regions. It is doubtful that Mesquite 3, huge as it is, will manage to remain the world's largest for long.
Barren Land
In the same week that the U.S. Navy disclosed its plans, the central Indian state of Madya Pradesh announced it was to construct a 750 MW plant (one megawatt is roughly enough to supply 1,000 typical British homes) on barren, government-owned land in the country's Rewa district.
It is claimed that it would be the world's largest solar plant and the state's energy minister, Rajendra Shukla, says the plan is to have the plant up and running by March 2017.
A number of other giant projects are also in the pipeline in India, as part of government plans for a dramatic expansion of the industry, although they have yet to be constructed.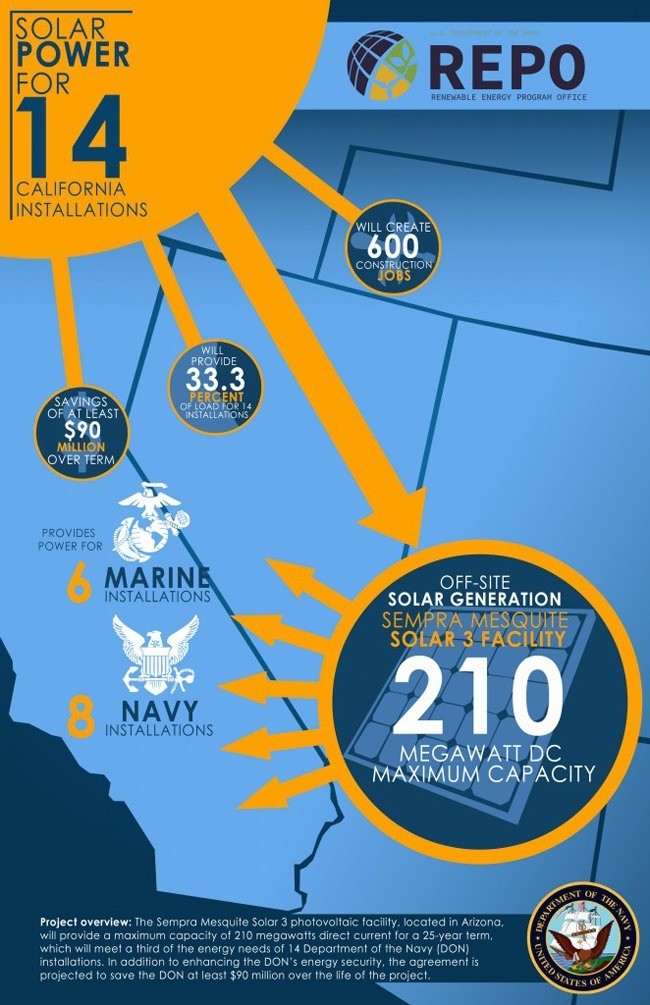 Photo credit: US Navy / Austin Rooney
Mesquite 3, which will be sited 60 miles west of Phoenix, Arizona, will provide the Navy with 210 MW of direct power. This means the installation of more than 650,000 extra solar panels, which will move to track the sun as it crosses the sky, to get the maximum value from the intense desert sunshine. The Navy says it will save $90 million in power costs over the 25-year lifetime of the contract.
Some solar power plants in India have caused controversy because they need teams of people to wash off the layer of dust and particles from air pollution to keep the panels efficient. This uses a lot of scarce water.
However, in the cleaner desert air of Arizona, this is not a problem. The Navy boasts that Mesquite 3 will require no water, so saving "this precious resource for other needs."
The building of the plant will require 300 construction workers but it will create only 12 long-term jobs. The plant also avoids controversy because it is sited on "previously disturbed land" and so is not damaging a pristine environment. It is also near existing power plants and transmission lines, so the plant will not need additional infrastructure.
Reduced Emissions
The Navy estimates that the station will reduce greenhouse gas emissions by 190,000 tons annually—the equivalent of taking 33,000 cars off the road.
Ray Mabus, the Secretary of State for the Navy, who opened the project, has been pushing hard for renewables to be used for military power generation.
In 2009, the U.S. Department of Defense was instructed by Congress to get 25 percent of its energy from renewable resources by 2025 but Mabus accelerated that goal and directed that one gigawatt (1,000 MW) should be procured by the end of 2015.
The new contract adds to a 17 MW installation at Camp Lejeune, North Carolina and another of 42 MW at Kings Bay, Georgia. The Navy says that, in total, its renewable energy procurement will be 1.2 GW by the end of 2015, which is well ahead of target.
It will use the power for Navy and Marine Corps shore installations in California and surrounding states.
Opening the project at one of the installations, the Naval Air Station North Island, in California, Mabus said the project was "a triumph of problem solving" and would help increase the Department of the Navy's energy security by diversifying the supply.
YOU MIGHT ALSO LIKE
One of the World's Largest Solar Farms to Be Built in California Desert
World's First Solar Powered Airport Has Arrived
Bill Maher is sick of billionaires' obsession with Mars, more like "Mars-a-Lago," he said.
In a new animation produced by ATTN:, the popular talk show host of Real Time, discusses the perils of our planet, including how "climate change is killing us."
Keep reading...
Show less
Dr. Benjamin D. Santer, research scientist
A group of prominent climate scientists have written a study explicitly refuting statements made by the U.S. Environmental Protection Agency Administrator Scott Pruitt on climate data. During his Senate confirmation hearing, Pruitt claimed in a written response that satellite data shows a "leveling off" of warming over the past two decades.
Keep reading...
Show less
By David Pomerantz
The Nevada Assembly passed a bill Wednesday that would dramatically increase the growth of renewable energy in the state, but Sheldon Adelson, the casino magnate and major donor to Donald Trump, is attempting to prevent the bill from becoming law.
Keep reading...
Show less
Matt Crossick
By Yosola Olorunshola
Whether it's through fashion or protest, Vivienne Westwood is not a woman afraid of making a statement.
On May 23, she rocked up to the residence of the Archbishop of Canterbury in London with a special guest—the Grim Reaper—to issue a strong statement on the Church of England's position on fracking.
Keep reading...
Show less
Military veterans from across Virginia released a letter Thursday opposing two proposed fracked-gas pipelines: Dominion Energy's Atlantic Coast Pipeline and EQT's Mountain Valley Pipeline. These pipelines would cross through pristine areas of Virginia, taking private property by use of eminent domain, removing mountain ridgetops and threatening valuable drinking water resources. The veterans view this as contrary to their service to protect and defend the freedom and security of American citizens.

Keep reading...
Show less
By Paul Brown
The food industry and big agricultural concerns are driving climate change and at the same time threatening to undermine efforts to feed the world's growing population, according to GRAIN, an organization that supports small farmers.
Particularly singled out for criticism are the large chemical fertilizer producers that have gained access to the United Nations talks on climate change. GRAIN accuses them of behaving like the fossil fuel companies did in the 1990s, pushing false information in the hope of delaying real action on climate change.
Keep reading...
Show less
May. 24, 2017 06:55PM EST
By Sydney Robinson
President Trump has no doubt been given a long list of extravagant, elaborate gifts in his lifetime, but the gift given to him today by Pope Francis may not make it on his most favorite list.
Keep reading...
Show less
May. 24, 2017 07:17PM EST
By John Rogers
Maybe it's because I first started working on clean energy while serving in the Peace Corps he founded, or maybe it's my years of working on these issues from his home state. But I can't help thinking about the 100th anniversary of John F. Kennedy's birth, and connecting his stirring rhetoric to the energy challenges of our times.
Here's what our 35th president might have said about the challenges of energy transition and the opportunities in clean energy:
"Change is the law of life. And those who look only to the past or present are certain to miss the future."
Keep reading...
Show less


Get EcoWatch in your inbox