U.S. Military Nearly Doubles Renewable Energy Projects
U.S. Armed Forces have been relying expertise from the private sector and third-party financing to deploy renewable energy, and a new report shows that it's been paying off tremendously.
Renewable projects on Department of Defense and military properties grew from 454 to 700 from 2010 to 2012, according to Power Surge, a report released today by the Pew Charitable Trusts.
The amount of energy saving and efficiency projects more than doubled—from 630 to 1,339—during the same period.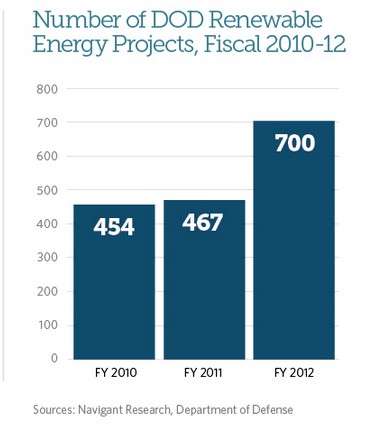 "The military's clean energy installation initiatives are gathering momentum, enhancing base energy security," said Phyllis Cuttino, director of Pew's project on national security, energy, and climate. "These improvements are possible even as the Pentagon's budget is shrinking because the armed services are harnessing private-sector expertise and resources.
"This is a win-win-win proposition: The military gets better energy infrastructure, taxpayer dollars are saved, and the clean energy industry is finding new market opportunities."
The military receives a hefty $4 billion bill to power all of its bases and facilities each year, but the report says the Armed Forces have saved "hundreds of millions of dollars in energy costs by deploying efficient and renewable technologies" over the past decade. For example, the Marine Corps Logistics Base in Albany, GA uses a combined heat and power system to reduce carbon pollution. The system saves the base about $1.3 million each year and resulted in an Energy Star award from the U.S. Environmental Protection Agency in November.
The military has been using energy saving performance contracts and utility service contracts that involve little or no upfront cost. The private partner typically guarantees that the improivements will generate enough savings to pay for a project over the contract's term. One example in the study is the $3.2 million savings from a 1.5-megawatt solar array at the Marine Corps Air Ground Combat Center in Twentynine Palms, CA.
The power purchase agreements already in place are expected to finance about 80 percent of future renewable projects. The agreements call for developers to find financing and maintain the projects.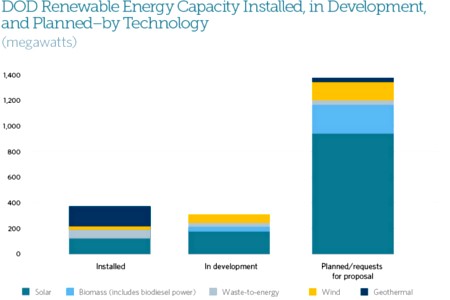 The study also discusses the Master Energy Performance Plan developed by the Pentagon. One of its primary goals is to increase on-site electricity generation with renewable energy, and deploy 3 gigawatts of renewable energy—enough to power 750,000 homes—by 2025. 
"The Department of Defense has a long history of embracing energy challenges and has been at the forefront of innovation," said John Warner, a former U.S. senator and secretary of the Navy and senior adviser to the Pew study. "And so it is today that we find America's armed forces in the midst of the transition to renewable power and efficiency technologies that help ensure a stable, diversified, and continuous supply of electricity. I commend the men and women of the armed forces who are making these changes possible with their spirit of ingenuity and commitment."
Visit EcoWatch's RENEWABLES page for more related news on this topic.

www.facebook.com
Keep reading...
Show less
Scott Pruitt testifies during his Senate confirmation hearing for EPA administrator, January 2017.
The U.S. Environmental Protection Agency's (EPA) chief of staff pressured the leader of its Board of Scientific Counselors to change her congressional testimony to downplay the impact of the agency's mass dismissal of scientists from the board, the New York Times reports.
Keep reading...
Show less
By Jason Mark
Sequoiadendron giganteum. That's the scientific name for the giant sequoia: the mammoth trees found in California's Sierra Nevada that are the largest organisms on Earth, and among the longest-lived. Biologists estimate that about half of all sequoias live in Giant Sequoia National Monument, a 328,000-acre preserve in the Southern Sierra Nevada established by President Clinton in 2000.
Now that national monument is in jeopardy.
Keep reading...
Show less
By Andy Rowell
Donald Trump this week is launching an "energy week," pushing the argument that the U.S. will become a net exporter of oil and gas.
The president and his cronies are talking about a new era of "U.S. energy dominance," which could stretch for decades to come. However, no one believes the president anymore.
Keep reading...
Show less
UN
By Colleen Curry
The United Nations has designated 23 new sites around the world to its World Network of Biosphere reserves—stunning natural landscapes that balance environmental and human concerns and strive for sustainability.
The forests, beaches and waterways were added to the list this year at the International Coordinating Council of the Man and the Biosphere Programme meeting in Paris earlier this month.
Keep reading...
Show less
Jun. 26, 2017 01:48PM EST
www.elysee.fr
By Andy Rowell
There is a growing feeling within European capitals that a quiet, but deeply positive, revolution is happening under Emmanuel Macron in France.
Macron's opinion poll rating is high, especially boosted in how the young French president has reacted to Donald Trump on the international stage.
Keep reading...
Show less
Jun. 26, 2017 12:32PM EST
www.facebook.com
Keep reading...
Show less
Jun. 26, 2017 02:46PM EST
Keep reading...
Show less
Jun. 26, 2017 03:34PM EST
www.youtube.com
According to Bloomberg, "SeaWorld Entertainment Inc. received a subpoena earlier this month from regulators investigating disclosures and public statements by executives, including comments about the Blackfish documentary that caused a public backlash against the confinement of orcas.
Keep reading...
Show less


Get EcoWatch in your inbox