This website uses cookies to ensure you get the best experience while browsing it. By clicking 'Got It' you're accepting these terms.
U.S. Methane Emissions 50 Percent Higher Than EPA Estimates
Nov. 26, 2013 10:10AM EST
Climate
Emissions of methane from fossil fuel extraction and refining activities in the South Central U.S. are nearly five times higher than previous estimates, according to researchers at Harvard University and seven other institutions. Their study, published this week in Proceedings of the National Academy of Sciences (PNAS), also suggests that the contribution from livestock operations may be twice as high as previously thought.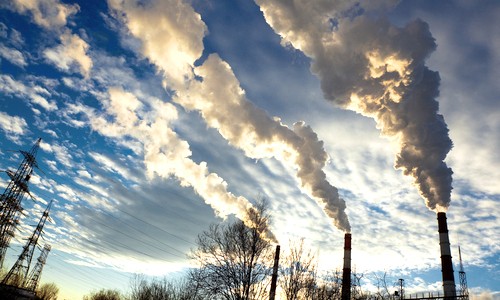 Photo courtesy of Shutterstock
Methane, a potent greenhouse gas, is produced through natural gas production and distribution, cattle farming, landfills, coal mining, manure management and many other anthropogenic and natural sources, though human activities are thought to contribute approximately 60 percent of the total.
Overall, according to the new study, total methane emissions in the U.S. appear to be 1.5 times and 1.7 times higher than the amounts previously estimated by the U.S. Environmental Protection Agency (EPA) and the international Emissions Database for Global Atmospheric Research (EDGAR), respectively.
The difference lies in the methodology. The EPA and EDGAR use a bottom-up approach, calculating total emissions based on "emissions factors"—the amount of methane typically released per cow or per unit of coal or natural gas sold, for example. The new study takes a top-down approach, measuring what is actually present in the atmosphere and then using meteorological data and statistical analysis to trace it back to regional sources.
Generated by a large, multi-institutional team of researchers, the latest findings offer a robust and comprehensive baseline for assessing policies designed to reduce greenhouse gases. They also point to a few areas where the assumptions built into recent emissions factors and estimated totals may be flawed.
"The bottom-up and top-down approaches give us very different answers about the level of methane gas emissions," notes lead author Scot M. Miller, a doctoral student in Earth and Planetary Sciences through the Harvard Graduate School of Arts and Sciences. "Most strikingly, our results are higher by a factor of 2.7 over the South Central U.S., which we know is a key region for fossil-fuel extraction and refining. It will be important to resolve that discrepancy in order to fully understand the impact of these industries on methane emissions."
Miller is a 2007 graduate of Harvard College and earned a master's degree in engineering sciences at the Harvard School of Engineering and Applied Sciences (SEAS) in 2013. He studies in the lab of Steven C. Wofsy, Abbott Lawrence Rotch Professor of Atmospheric and Environmental Science at SEAS.
"When we measure methane gas at the atmospheric level, we're seeing the cumulative effect of emissions that are happening at the surface across a very large region," says Wofsy, a coauthor of the PNAS study. "That includes the sources that were part of the bottom-up inventories, but maybe also things they didn't think to measure."
Miller and Wofsy, along with colleagues at the Carnegie Institution for Science, the National Oceanic and Atmospheric Administration (NOAA), and five other institutions, used a combination of observation and modeling to conduct their analysis.
NOAA and the U.S. Department of Energy collect observations of methane and other gases from the tops of telecommunications towers, typically about as tall as the Empire State Building, and during research flights. The team combined this data with meteorological models of the temperatures, winds and movement of air masses from the same time period, and then used a statistical method known as geostatistical inverse modeling to essentially run the model backward and determine the methane's origin.
The team also compared these results with regional economic and demographic data, as well as other information that provided clues to the sources—for example, data on human populations, livestock populations, electricity production from power plants, oil and natural gas production, production from oil refineries, rice production and coal production. In addition, they drew correlations between methane levels and other gases that were observed at the time. For example, a high correlation between levels of methane and propane in the South Central region suggests a significant role for fossil fuels there.
"This paper provides the most solid and the most detailed estimate to date of total U.S. methane emissions," says coauthor Anna M. Michalak, a faculty member in the Department of Global Ecology at the Carnegie Institution for Science. Michalak is also an associate professor of environmental Earth system science at Stanford University. "This was really, from beginning to end, just a very clean analysis."
Along with carbon dioxide, methane is one of the most important greenhouse gases in terms of its potential to raise global temperatures. It also encourages the formation of surface ozone in cities and affects other aspects of atmospheric chemistry.
Seeking to establish a baseline against which to measure future change in methane emissions, the researchers compared observational data collected in 2007–2008 against EDGAR and EPA data for the same year (using the revised EPA data for 2007–2008 that was published in April 2013). Future studies will apply the same analysis to present-day data.
"The beauty of the approach we're using is that, because we're taking measurements in the atmosphere, which carry with them a signature of everything that happened upwind, we get a very strong number on what that total should be," says Michalak. "Now that we know the total does not equal the sum of the parts, that means that either some of those parts are not what we thought they were, or there are some parts that are simply missing from the inventories. It really offers an opportunity for governments to reexamine the inventories in light of what we now know."
In addition to Miller, Wofsy and Michalak, coauthors included Eric A. Kort, S.M., Ph.D., the University of Michigan, Ann Arbor; Arlyn E. Andrews, Ph.D., Edward J. Dlugokencky and Stephen A. Montzka at NOAA's Earth System Research Laboratory; Sebastien C. Biraud and Marc L. Fischer at Lawrence Berkeley National Laboratory; Janusz Eluszkiewicz and Thomas Nehrkorn at Atmospheric and Environmental Research in Lexington, MA; Greet Janssens-Maenhout at the European Commission Joint Research Centre in Italy; and Ben R. Miller, John B. Miller and Colm Sweeney at the University of Colorado Boulder.
Visit EcoWatch's ENERGY and CLIMATE CHANGE pages for more related news on this topic.

EcoWatch Daily Newsletter
Two Sherpa descending from Everest Base Camp, Himalayas, Khumbu, Nepal. Joel Addams / Aurora Photos / Getty Images
Climate change is having a grizzly effect on Mount Everest as melting snow and glaciers reveal some of the bodies of climbers who died trying to scale the world's highest peak.
Navajo Generating Station, Arizona. Wolfgang Moroder / Wikimedia / CC BY-SA 3.0
The Navajo Nation have decided to stop pursuing the acquisition of a beleaguered coal-fired power plant in Arizona, locking in the plant to be taken offline and its associated coal mine to close later this year.
A Navajo Nation Council committee voted 11-9 last week to stop pursuing the purchase of the 2,250-megawatt Navajo Generating Station, which with the Kayenta coal mine provides more than 800 jobs to primarily Navajo and Hopi workers as well as tribal royalties.
A coalition of utilities that own the plant said in 2017 it would cease operations due to increased economic pressure, and the plant's future has proved a flash point for national and regional energy policy and raised larger questions on how Native communities will handle ties to fossil fuel industries as the economy changes.
For a deeper dive:
Arizona Republic, Indian Country Today, AP, WOKV, Farmington Daily Times
For more climate change and clean energy news, you can follow Climate Nexus on Twitter and Facebook, and sign up for daily Hot News.
Related Articles Around the Web
Sir David Attenborough opens Woodberry Wetlands on April 30, 2016 in London, United Kingdom. Danny Martindale / WireImage
An extended version of the Fuxing bullet train at the China National Railway Test Center on Oct. 15, 2018 in Beijing, China. VCG / VCG via Getty Images
By Jeff Turrentine
Is it just us?
Other countries don't seem to have a problem getting their high-speed rail systems on track. This superfast, fuel-efficient form of mass transit is wildly popular throughout Asia and the European Union. Japan's sleek Shinkansen line, the busiest high-speed rail system in the world, carries an estimated 420,000 riders every weekday. In China, the new Fuxing Hao bullet train now hurries more than 100 million passengers a year between Beijing and Shanghai at a top speed of 218 miles an hour, allowing its riders to make the trip of 775 miles — roughly the distance from New York City to Chicago — in about four and a half hours. Spain, Germany and France together have more than 4,500 miles of track dedicated to high-speed rail, over which more than 150 million passengers travel annually.
Ocean Heroes Bootcamp
By Coda Christopherson (11) and Lea Eiders (15)
Growing up in a plastic-free home, I was sheltered from the plastic waste crisis. I (Coda) went to a very progressive school that had vegan lunch items, farm animals and ran on solar power. My mom produces zero-waste events and my dad is a sailor, so we're very passionate about the ocean. When I was nine years old, we moved back to Manhattan Beach, California and I started 3rd grade in a public school. This was the first time I really understood that plastic-free living is not the norm; single-use plastics were everywhere, especially in the cafeteria. Once I recognized this problem, I knew I had to make a difference.
A major California avocado producer issued a voluntary recall of the popular fruit over concerns they could be contaminated with Listeria monocytogenes, USA Today reported.
Henry Avocado issued the recall Saturday after a routine government inspection at its California packing facility turned up positive test results for the bacteria on "environmental samples," the company said in a statement. No illnesses have been reported.
Acting Secretary David Bernhardt visited Watson Hopper Inc., a manufacturer of rigs and oil drilling equipment in Hobbs, New Mexico on Feb. 6, 2019.
Tami A. Heilemann / DOI
Oil executives gathered for a conference laughed about their "unprecedented" access to Trump administration officials, according to a recording obtained by Reveal from the Center for Investigative Reporting.
In the recording, taken at a June 2017 meeting of the Independent Petroleum Association of America (IPAA) at a Ritz-Carlton in Southern California, members expressed excitement about one official in particular: David Bernhardt, who had been nominated that April to be deputy secretary at the Department of Interior (DOI). Bernhardt would be confirmed the following month.
"We know him very well, and we have direct access to him, have conversations with him about issues ranging from federal land access to endangered species, to a lot of issues," IPAA political director Dan Naatz said in the recording.