This website uses cookies to ensure you get the best experience while browsing it. By clicking 'Got It' you're accepting these terms.
U.S. Honeybee Population Plummets by More Than 40%, USDA Finds
May. 14, 2015 08:01AM EST
To the horror of beekeepers around the country, it appears that the worrisome decline in honeybees is getting even worse. According to the latest annual government study, U.S. beekeepers reported losing 42.1 percent of the total number of colonies managed from April 2014 through April 2015, much higher than the 34.2 percent from the year prior.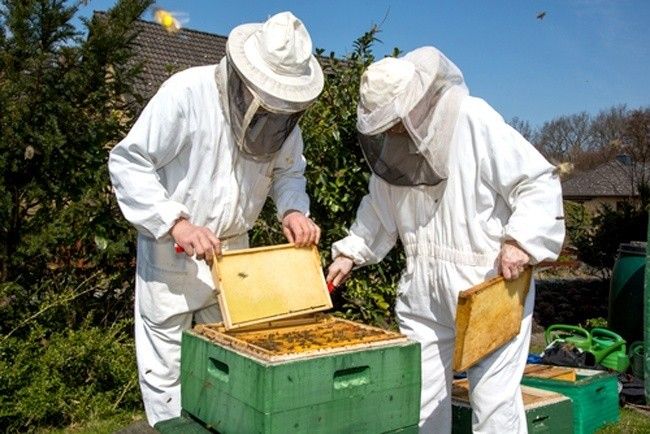 Photo Credit: Shutterstock
The study was conducted by the Bee Informed Partnership in collaboration with the Apiary Inspectors of America and the United States Department of Agriculture (USDA). Preliminary results indicate that U.S. beekeepers were hardest-hit in the summer of 2014, with an average loss of 27.4 percent of their hives compared to the 19.8 percent the previous summer.
While winter numbers improved about 0.6 percentage points less than the previous winter, the honeybee death rate is still too high for long-term survival. Colony losses were 23.1 percent for the 2014-15 winter months, which is normally the higher loss period.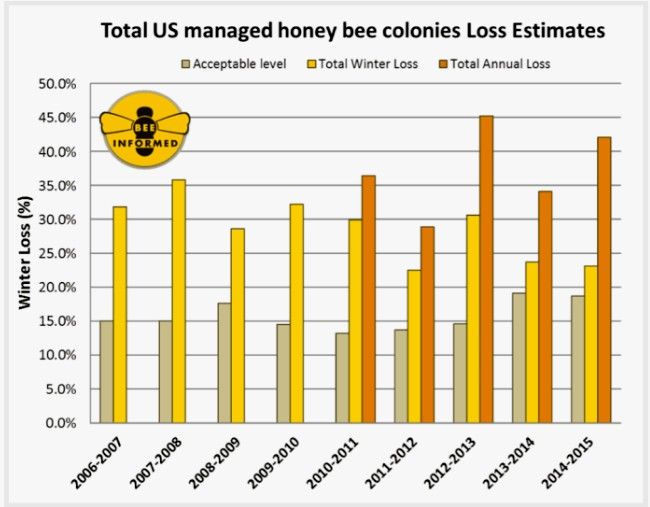 The Associated Press reported that the study's entomologists were "shocked" when they noticed bees were dying more in the summer than the winter for the first time. Study co-author Dennis vanEngelsdorp of the University of Maryland told the news organization that seeing massive colony losses in summer is like seeing "a higher rate of flu deaths in the summer than winter. You just don't expect colonies to die at this rate in the summer."
A growing body of evidence has pointed to one class of pesticides in particular, neonicotinoids, as the culprit to the massive bee die-offs. In fact, the European Union banned the three most widely used neonicotinoids in 2o13, but they are still used widely in the U.S.
Environmental advocacy organization Friends of the Earth noted that the extreme bee losses highlight the urgent need to restrict pesticides to protect pollinators. "Bayer, Syngenta and Monsanto make billions from bee-killing pesticide products while masquerading as champions of bee health," said Tiffany Finck-Haynes, food futures campaigner with Friends of the Earth. "Are their profits more important than our food supply? Are they more important than the livelihoods of America's farmers? The Obama administration must act now to restrict neonicotinoid pesticides that threaten America's bees, farmers and food security."
There's been a growing movement to save the honeybees, which perform about 80 percent of all pollination worldwide, according to Greenpeace. Just two months ago, the White House received four million petition signatures calling on the Obama administration to put forth strong protections for honey bees and pollinators. This past April, the U.S. Environmental Protection Agency announced a moratorium on new or expanded uses of neonicotinoids while it evaluates the risks posed to pollinators. And last June, the Obama administration also established the Pollinator Health Task Force charged with improving pollinator health and assessing the impacts of pesticides, including neonicotinoids, on pollinators.
Friends of the Earth and their allies have also successfully campaigned for more than twenty garden stores, nurseries and landscaping companies, including Lowe's and Home Depot to eliminate neonicotinoids from their stores. BJ's Wholesale Club and Whole Foods have also taken steps to restrict these pesticides.
"The solution to the bee crisis is to shift to sustainable agriculture systems that are not dependent on monoculture crops saturated in pesticides," Finck-Haynes continued. "It's time to reimagine the way we farm in the United States and incentivize organic agriculture practices that are better for bees and for all of us."
YOU MIGHT ALSO LIKE
14 Heartbreaking Photos That Will Inspire You to Recycle
David Suzuki: How to Save the Monarch Butterfly
Lowe's to Stop Selling Bee-Killing Pesticides to Protect Pollinators
EcoWatch Daily Newsletter
Artist's conception of solar islands in the open ocean. PNAS
Millions of solar panels clustered together to form an island could convert carbon dioxide in seawater into methanol, which can fuel airplanes and trucks, according to new research from Norway and Switzerland and published in the Proceedings of the National Academy of Sciences journal, PNAS, as NBC News reported. The floating islands could drastically reduce greenhouse gas emissions and dependence on fossil fuels.
Marcos Alves / Moment Open / Getty Images
More than 40 percent of insects could go extinct globally in the next few decades. So why did the U.S. Environmental Protection Agency (EPA) last week OK the 'emergency' use of the bee-killing pesticide sulfoxaflor on 13.9 million acres?
EcoWatch teamed up with Center for Biological Diversity via EcoWatch Live on Facebook to find out why. Environmental Health Director and Senior Attorney Lori Ann Burd explained how there is a loophole in the The Federal Insecticide, Fungicide, and Rodenticide Act under section 18, "that allows for entities and states to request emergency exemptions to spraying pesticides where they otherwise wouldn't be allowed to spray."
Simple swaps that cut down on kitchen trash.
Sponsored
By Kayla Robbins
Along with the bathroom, the kitchen is one of the most daunting areas to try and make zero waste.
View of downtown Miami, Florida from Hobie Island on Feb. 2, 2019.
Michael Muraz / Flickr
The Democratic candidates for president descended upon Miami for a two-night debate on Wednesday and Thursday. Any candidate hoping to carry the state will have to make the climate crisis central to their campaign, as The New York Times reported.
By Sharon Kelly
On Monday, the Wall Street Journal featured a profile of Scott Sheffield, CEO of Pioneer Natural Resources, whose company is known among investors for its emphasis on drawing oil and gas from the Permian basin in Texas using horizontal drilling and hydraulic fracturing, or fracking.
Pexels
By Craig K. Chandler
The federal government has available to it, should it choose to use them, a wide range of potential climate change management tools, going well beyond the traditional pollution control regulatory options. And, in some cases (not all), without new legislative authorization.
Denis Poroy / Getty Images
By Dan Gray
Processed foods, in their many delicious forms, are an American favorite.
But new research shows that despite increasing evidence on just how unhealthy processed foods are, Americans have continued to eat the products at the same rate.
By Sarah Steffen
With a profound understanding of their environmental surroundings, indigenous communities around the world are often cited as being pivotal to tackling climate change.