U.S. Honeybee Population Plummets by More Than 40%, USDA Finds
To the horror of beekeepers around the country, it appears that the worrisome decline in honeybees is getting even worse. According to the latest annual government study, U.S. beekeepers reported losing 42.1 percent of the total number of colonies managed from April 2014 through April 2015, much higher than the 34.2 percent from the year prior.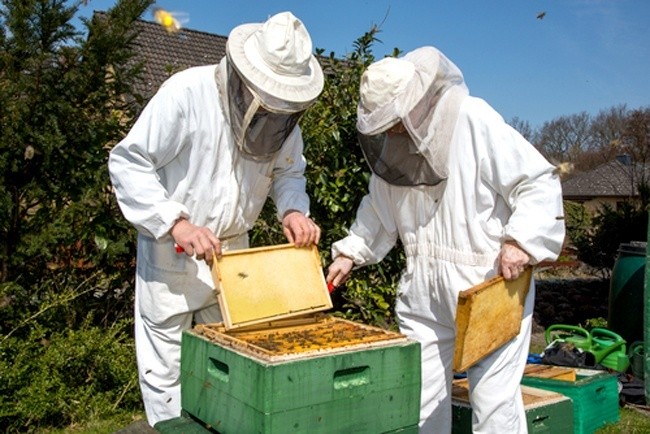 Photo Credit: Shutterstock
The study was conducted by the Bee Informed Partnership in collaboration with the Apiary Inspectors of America and the United States Department of Agriculture (USDA). Preliminary results indicate that U.S. beekeepers were hardest-hit in the summer of 2014, with an average loss of 27.4 percent of their hives compared to the 19.8 percent the previous summer.
While winter numbers improved about 0.6 percentage points less than the previous winter, the honeybee death rate is still too high for long-term survival. Colony losses were 23.1 percent for the 2014-15 winter months, which is normally the higher loss period.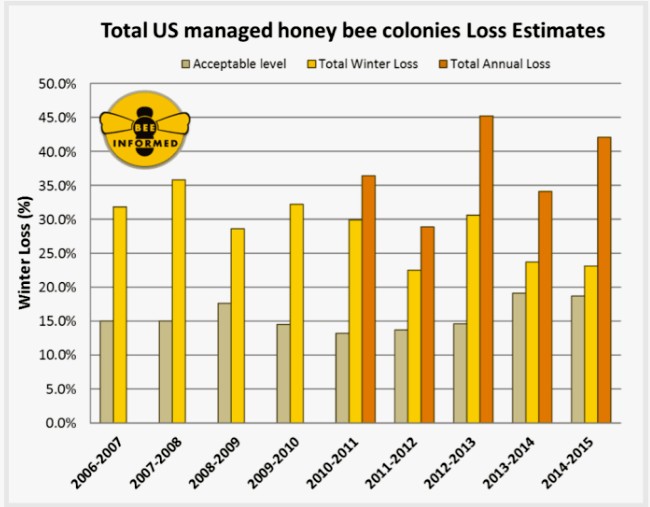 The Associated Press reported that the study's entomologists were "shocked" when they noticed bees were dying more in the summer than the winter for the first time. Study co-author Dennis vanEngelsdorp of the University of Maryland told the news organization that seeing massive colony losses in summer is like seeing "a higher rate of flu deaths in the summer than winter. You just don't expect colonies to die at this rate in the summer."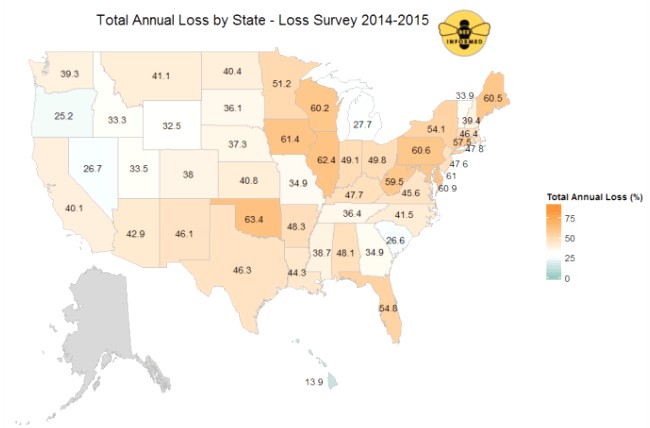 A growing body of evidence has pointed to one class of pesticides in particular, neonicotinoids, as the culprit to the massive bee die-offs. In fact, the European Union banned the three most widely used neonicotinoids in 2o13, but they are still used widely in the U.S.
Environmental advocacy organization Friends of the Earth noted that the extreme bee losses highlight the urgent need to restrict pesticides to protect pollinators. "Bayer, Syngenta and Monsanto make billions from bee-killing pesticide products while masquerading as champions of bee health," said Tiffany Finck-Haynes, food futures campaigner with Friends of the Earth. "Are their profits more important than our food supply? Are they more important than the livelihoods of America's farmers? The Obama administration must act now to restrict neonicotinoid pesticides that threaten America's bees, farmers and food security."
There's been a growing movement to save the honeybees, which perform about 80 percent of all pollination worldwide, according to Greenpeace. Just two months ago, the White House received four million petition signatures calling on the Obama administration to put forth strong protections for honey bees and pollinators. This past April, the U.S. Environmental Protection Agency announced a moratorium on new or expanded uses of neonicotinoids while it evaluates the risks posed to pollinators. And last June, the Obama administration also established the Pollinator Health Task Force charged with improving pollinator health and assessing the impacts of pesticides, including neonicotinoids, on pollinators.
Friends of the Earth and their allies have also successfully campaigned for more than twenty garden stores, nurseries and landscaping companies, including Lowe's and Home Depot to eliminate neonicotinoids from their stores. BJ's Wholesale Club and Whole Foods have also taken steps to restrict these pesticides.
"The solution to the bee crisis is to shift to sustainable agriculture systems that are not dependent on monoculture crops saturated in pesticides," Finck-Haynes continued. "It's time to reimagine the way we farm in the United States and incentivize organic agriculture practices that are better for bees and for all of us."
YOU MIGHT ALSO LIKE
14 Heartbreaking Photos That Will Inspire You to Recycle
David Suzuki: How to Save the Monarch Butterfly
Lowe's to Stop Selling Bee-Killing Pesticides to Protect Pollinators
The U.S. Fish and Wildlife Service removed grizzly bears in the Greater Yellowstone region on Thursday from the Endangered Species List. The decision comes despite serious concerns in the scientific community about a declining, isolated population with diminishing food resources and record-high mortalities, as well as strong opposition from an unprecedented number of Tribal Nations.
Keep reading...
Show less
ArborGen pine tree field test site in South Carolina. BJ McManama
By BJ McManama
ArborGen Corporation, a multinational conglomerate and leading supplier of seedlings for commercial forestry applications, has submitted an approval request to the U.S. Department of Agriculture, Animal and Plant Health Inspection Service to deregulate and widely distribute a eucalyptus tree genetically engineered (GE) to be freeze tolerant. This modification will allow this GE variety to be grown in the U.S. Southeast. The reason this non-native and highly invasive tree has been artificially created to grow outside of its tropical environment is to greatly expand production capacity for the highly controversial woody biomass industry.
Keep reading...
Show less
By Kari Hamerschlag
Many health conscious consumers are reducing their consumption of red meat in favor of chicken—especially products labeled and promoted as "100% natural"—believing they are a healthier option produced without routine antibiotics, artificial substances or other drugs.
Keep reading...
Show less
Stephen Hawking repeated his warning that humanity needs to leave Earth and colonize the moon, Mars or other planets in order for our species to survive the impending doom of climate change.
"We have given our planet the disastrous gift of climate change ... When we we have reached similar crises there has usually been somewhere else to colonize ... But there is no new world, no utopia around the corner," he said. "We are running out of space, and the only places to go to are other worlds."
Keep reading...
Show less
www.youtube.com
Keep reading...
Show less
It's so hot in the American Southwest that meteorologists are using unusual colors for their temperature maps.
As reported by MLive's Mark Torregrossa, with temperatures forecast to hit 120 degrees Fahrenheit in the Phoenix area, the folks at weatherbell.com had to use green for its Wednesday map because the other shades were already used.
Keep reading...
Show less
www.facebook.com
Former California Gov. Arnold Schwarzenegger has let the world know that Donald Trump does not represent America in his choice to drop out of the Paris climate agreement.
Despite the president's lack of support for the environment, the rest of America will continue to work towards a brighter and greener future, as Schwarzenegger makes clear in the video above.
An oil and gas drilling platform in Australian waters. CSIRO / Wikimedia Commons
By Paul Brown
Natural gas will have to be phased out along with coal if the world is to be kept safe from dangerous climate change. And that seems likely to have to happen far sooner than most official forecasts, according to a new report.
If countries want to reach their Paris climate agreement goals of limiting the long-term world temperature rise to 1.5°C, then many of the proposals to increase gas production and distribution will be unnecessary. New terminals and pipelines will never be fully used and will become stranded assets.
Keep reading...
Show less
The Dakota Access Pipeline being installed between farms in New Salem, North Dakota. Tony Webster /
Flickr
Keep reading...
Show less


Get EcoWatch in your inbox