This website uses cookies to ensure you get the best experience while browsing it. By clicking 'Got It' you're accepting these terms.
U.S. Honeybee Population Plummets by More Than 40%, USDA Finds
May. 14, 2015 08:01AM EST
To the horror of beekeepers around the country, it appears that the worrisome decline in honeybees is getting even worse. According to the latest annual government study, U.S. beekeepers reported losing 42.1 percent of the total number of colonies managed from April 2014 through April 2015, much higher than the 34.2 percent from the year prior.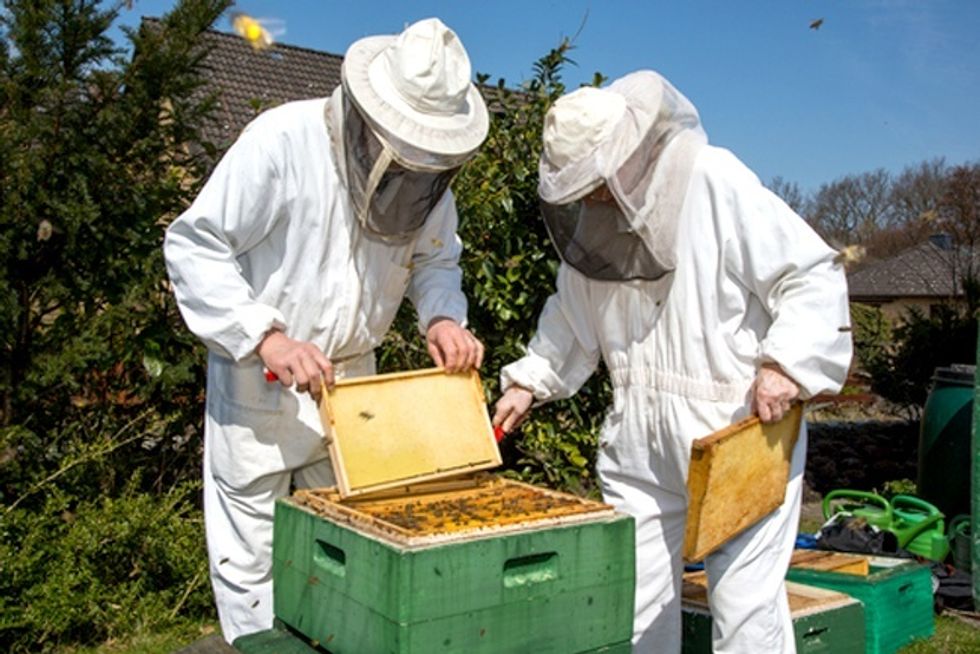 Photo Credit: Shutterstock
The study was conducted by the Bee Informed Partnership in collaboration with the Apiary Inspectors of America and the United States Department of Agriculture (USDA). Preliminary results indicate that U.S. beekeepers were hardest-hit in the summer of 2014, with an average loss of 27.4 percent of their hives compared to the 19.8 percent the previous summer.
While winter numbers improved about 0.6 percentage points less than the previous winter, the honeybee death rate is still too high for long-term survival. Colony losses were 23.1 percent for the 2014-15 winter months, which is normally the higher loss period.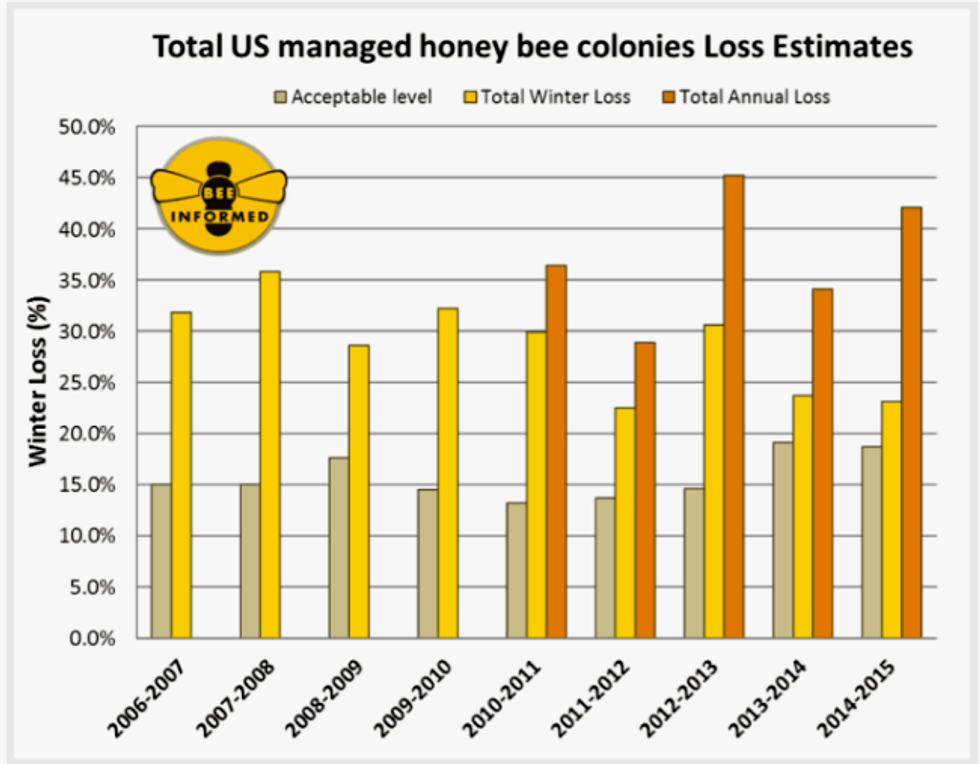 The Associated Press reported that the study's entomologists were "shocked" when they noticed bees were dying more in the summer than the winter for the first time. Study co-author Dennis vanEngelsdorp of the University of Maryland told the news organization that seeing massive colony losses in summer is like seeing "a higher rate of flu deaths in the summer than winter. You just don't expect colonies to die at this rate in the summer."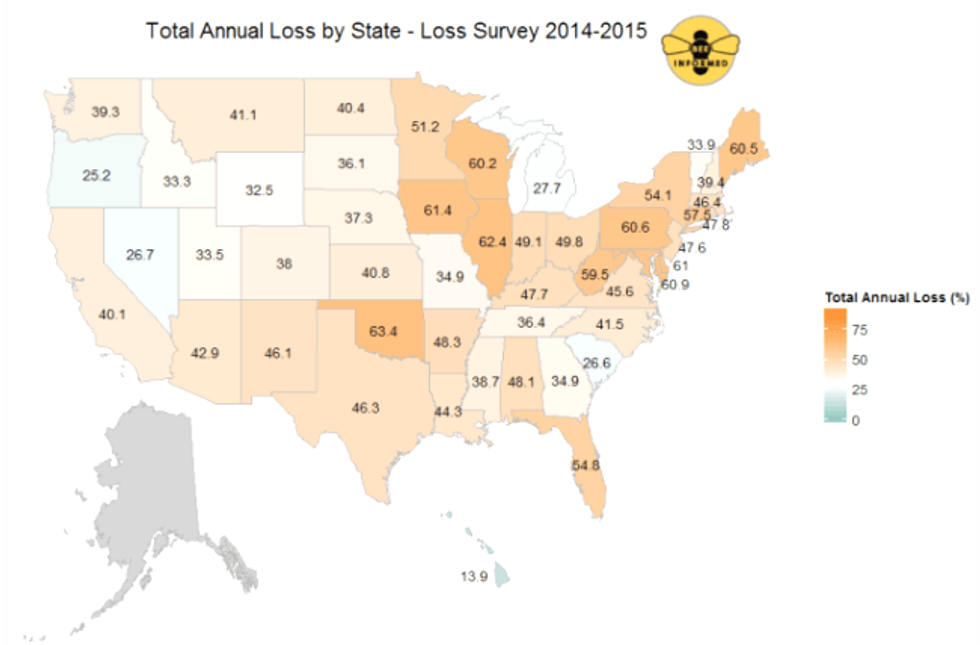 A growing body of evidence has pointed to one class of pesticides in particular, neonicotinoids, as the culprit to the massive bee die-offs. In fact, the European Union banned the three most widely used neonicotinoids in 2o13, but they are still used widely in the U.S.
Environmental advocacy organization Friends of the Earth noted that the extreme bee losses highlight the urgent need to restrict pesticides to protect pollinators. "Bayer, Syngenta and Monsanto make billions from bee-killing pesticide products while masquerading as champions of bee health," said Tiffany Finck-Haynes, food futures campaigner with Friends of the Earth. "Are their profits more important than our food supply? Are they more important than the livelihoods of America's farmers? The Obama administration must act now to restrict neonicotinoid pesticides that threaten America's bees, farmers and food security."
There's been a growing movement to save the honeybees, which perform about 80 percent of all pollination worldwide, according to Greenpeace. Just two months ago, the White House received four million petition signatures calling on the Obama administration to put forth strong protections for honey bees and pollinators. This past April, the U.S. Environmental Protection Agency announced a moratorium on new or expanded uses of neonicotinoids while it evaluates the risks posed to pollinators. And last June, the Obama administration also established the Pollinator Health Task Force charged with improving pollinator health and assessing the impacts of pesticides, including neonicotinoids, on pollinators.
Friends of the Earth and their allies have also successfully campaigned for more than twenty garden stores, nurseries and landscaping companies, including Lowe's and Home Depot to eliminate neonicotinoids from their stores. BJ's Wholesale Club and Whole Foods have also taken steps to restrict these pesticides.
"The solution to the bee crisis is to shift to sustainable agriculture systems that are not dependent on monoculture crops saturated in pesticides," Finck-Haynes continued. "It's time to reimagine the way we farm in the United States and incentivize organic agriculture practices that are better for bees and for all of us."
YOU MIGHT ALSO LIKE
14 Heartbreaking Photos That Will Inspire You to Recycle
David Suzuki: How to Save the Monarch Butterfly
Lowe's to Stop Selling Bee-Killing Pesticides to Protect Pollinators
EcoWatch Daily Newsletter
A Starbucks barista prepares a drink at a Starbucks Coffee Shop location in New York. Ramin Talaie / Corbis via Getty Images
By Cathy Cassata
Are you getting your fill of Starbucks' new Almondmilk Honey Flat White, Oatmilk Honey Latte, and Coconutmilk Latte, but wondering just how healthy they are?
By Sharon Kelly
Back in April last year, the Trump administration's Environmental Protection Agency decided it was "not necessary" to update the rules for toxic waste from oil and gas wells. Torrents of wastewater flow daily from the nation's 1.5 million active oil and gas wells and the agency's own research has warned it may pose risks to the country's drinking water supplies.
Swedish climate activist Greta Thunberg takes part in a "Friday for Future" youth demonstration in a street of Davos on Jan. 24, 2020 on the sideline of the World Economic Forum annual meeting. FABRICE COFFRINI / AFP via Getty Images
Treasury Secretary Steven Mnuchin pretended not to know who Greta Thunberg is, and then he told her to get a degree in economics before giving world leaders advice, as The Guardian reported.
The Visible Infrared Imaging Radiometer Suite on the Suomi NPP satellite acquired this image of forest fire smoke hovering over North America on Aug. 15, 2018. NASA Earth Observatory
New York City isn't known for having the cleanest air, but researchers traced recent air pollution spikes there to two surprising sources — fires hundreds of miles away in Canada and the southeastern U.S.
If temperatures continue to rise, the world is at risk from global
sea-level rise
, which will flood many coastal cities as seen above in Bangladesh. NurPhoto / Contributor / Getty Images
The mounting climate emergency may spur the next global financial crisis and the world's central banks are woefully ill equipped to handle the consequences, according to a new book-length report by the Bank for International Settlements (BIS), as S&P Global reported. Located in Basel, Switzerland, the BIS is an umbrella organization for the world's central banks.