This website uses cookies to ensure you get the best experience while browsing it. By clicking 'Got It' you're accepting these terms.
U.S. Honeybee Population Plummets by More Than 40%, USDA Finds
May. 14, 2015 08:01AM EST
To the horror of beekeepers around the country, it appears that the worrisome decline in honeybees is getting even worse. According to the latest annual government study, U.S. beekeepers reported losing 42.1 percent of the total number of colonies managed from April 2014 through April 2015, much higher than the 34.2 percent from the year prior.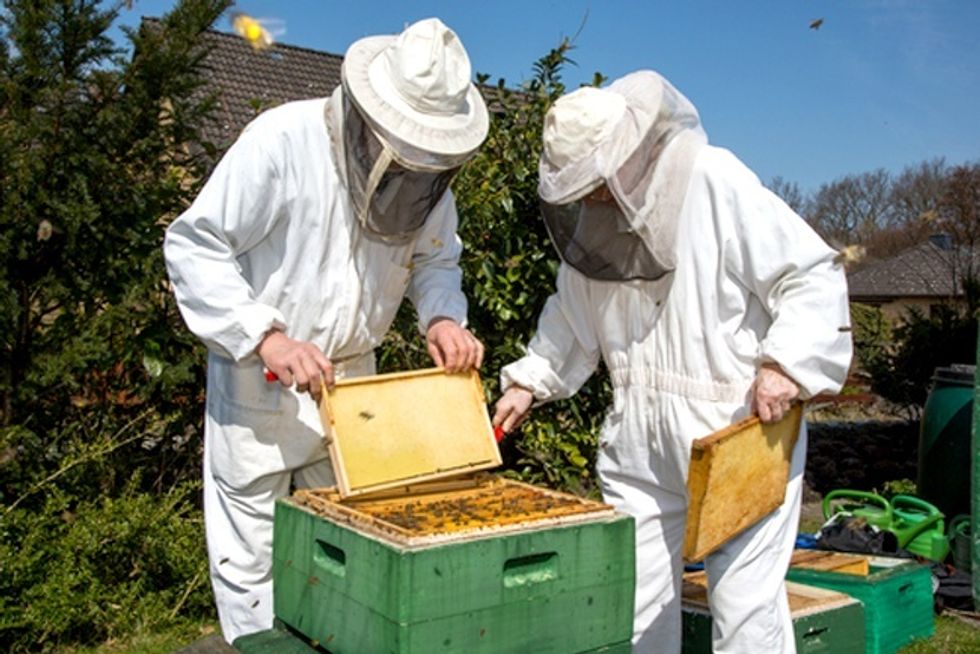 Photo Credit: Shutterstock
The study was conducted by the Bee Informed Partnership in collaboration with the Apiary Inspectors of America and the United States Department of Agriculture (USDA). Preliminary results indicate that U.S. beekeepers were hardest-hit in the summer of 2014, with an average loss of 27.4 percent of their hives compared to the 19.8 percent the previous summer.
While winter numbers improved about 0.6 percentage points less than the previous winter, the honeybee death rate is still too high for long-term survival. Colony losses were 23.1 percent for the 2014-15 winter months, which is normally the higher loss period.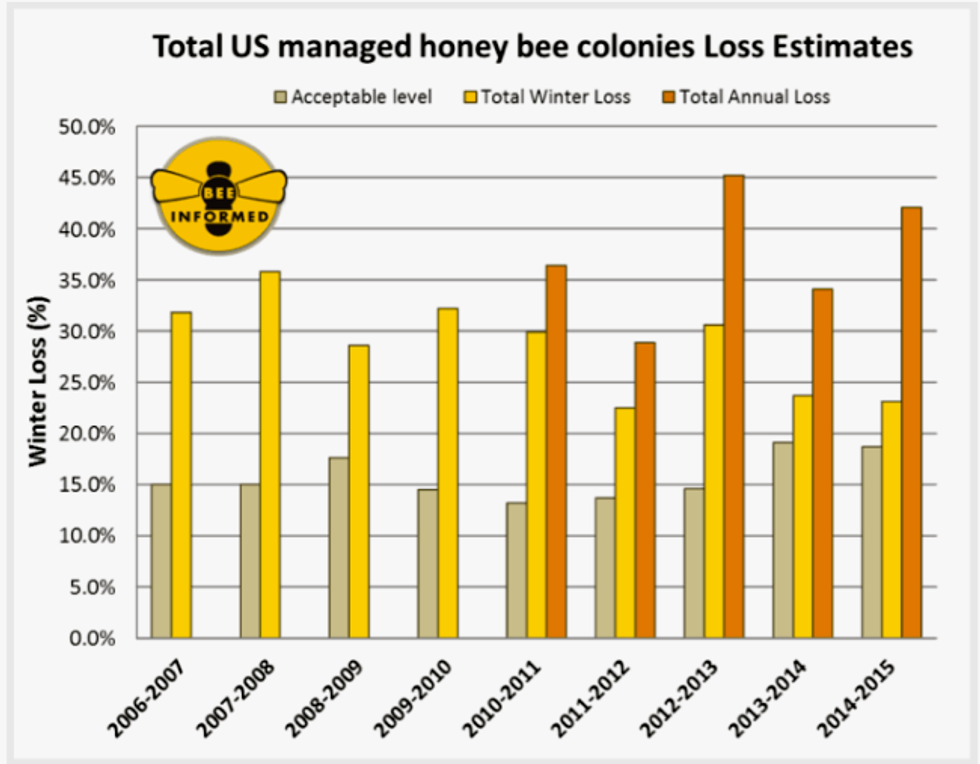 The Associated Press reported that the study's entomologists were "shocked" when they noticed bees were dying more in the summer than the winter for the first time. Study co-author Dennis vanEngelsdorp of the University of Maryland told the news organization that seeing massive colony losses in summer is like seeing "a higher rate of flu deaths in the summer than winter. You just don't expect colonies to die at this rate in the summer."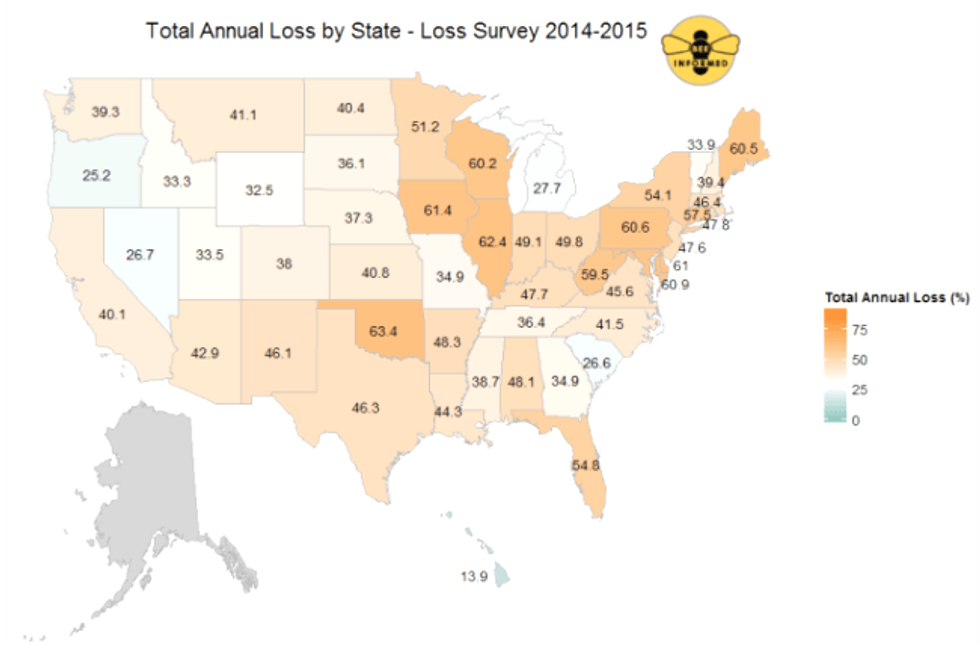 A growing body of evidence has pointed to one class of pesticides in particular, neonicotinoids, as the culprit to the massive bee die-offs. In fact, the European Union banned the three most widely used neonicotinoids in 2o13, but they are still used widely in the U.S.
Environmental advocacy organization Friends of the Earth noted that the extreme bee losses highlight the urgent need to restrict pesticides to protect pollinators. "Bayer, Syngenta and Monsanto make billions from bee-killing pesticide products while masquerading as champions of bee health," said Tiffany Finck-Haynes, food futures campaigner with Friends of the Earth. "Are their profits more important than our food supply? Are they more important than the livelihoods of America's farmers? The Obama administration must act now to restrict neonicotinoid pesticides that threaten America's bees, farmers and food security."
There's been a growing movement to save the honeybees, which perform about 80 percent of all pollination worldwide, according to Greenpeace. Just two months ago, the White House received four million petition signatures calling on the Obama administration to put forth strong protections for honey bees and pollinators. This past April, the U.S. Environmental Protection Agency announced a moratorium on new or expanded uses of neonicotinoids while it evaluates the risks posed to pollinators. And last June, the Obama administration also established the Pollinator Health Task Force charged with improving pollinator health and assessing the impacts of pesticides, including neonicotinoids, on pollinators.
Friends of the Earth and their allies have also successfully campaigned for more than twenty garden stores, nurseries and landscaping companies, including Lowe's and Home Depot to eliminate neonicotinoids from their stores. BJ's Wholesale Club and Whole Foods have also taken steps to restrict these pesticides.
"The solution to the bee crisis is to shift to sustainable agriculture systems that are not dependent on monoculture crops saturated in pesticides," Finck-Haynes continued. "It's time to reimagine the way we farm in the United States and incentivize organic agriculture practices that are better for bees and for all of us."
YOU MIGHT ALSO LIKE
14 Heartbreaking Photos That Will Inspire You to Recycle
David Suzuki: How to Save the Monarch Butterfly
Lowe's to Stop Selling Bee-Killing Pesticides to Protect Pollinators
EcoWatch Daily Newsletter
California Gov. Gavin Newsom speaking with attendees at the 2019 California Democratic Party State Convention at the George R. Moscone Convention Center in San Francisco.
Gage Skidmore
/ Flickr /
CC BY-SA 2.0
California Gov. Gavin Newsom imposed new restrictions on oil exploration in his state yesterday by putting a moratorium on hundreds hydraulic fracturing permits until the projects are reviewed by independent scientists, as the AP reported.
The endangered Houston toad. Courtesy of U.S. Fish and Wildlife Service
While the planet continues to heat up, almost every single one of the 459 species listed as endangered in the U.S. will struggle as the climate crisis intensifies, according to new research published in the journal Nature Climate Change.
"This singular scientific achievement was accomplished at Heliogen's commercial facility in Lancaster, California."
Heliogen
A startup backed by Bill Gates unveiled a breakthrough solar technology Tuesday that could free heavy industry from fossil fuels.
Rhodiola rosea is an adaptogenic herb that can help with chronic fatigue and stress-related burnout. Tero Laakso / Flickr
By Gavin Van De Walle, MS, RD
While everyone has specific life stressors, factors related to job pressure, money, health, and relationships tend to be the most common.
Stress can be acute or chronic and lead to fatigue, headaches, upset stomach, nervousness, and irritability or anger.
A video shows a woman rescuing a koala from Australia's wildfires.
VOA News / YouTube screenshot
More than 350 koalas may have died in the wildfires raging near the Australian town of Port Macquarie in New South Wales, but one got a chance at survival after a woman risked her life to carry him to safety.