This website uses cookies to ensure you get the best experience while browsing it. By clicking 'Got It' you're accepting these terms.
U.S. Fracking Industry Reacts to Water Scarcity Issues
Jun. 17, 2013 01:57PM EST
Hydraulic fracturing (a.k.a. fracking) has recast the U.S.'s energy future, but it's also shining a light on fragile water supplies, which could crimp the industry's growth.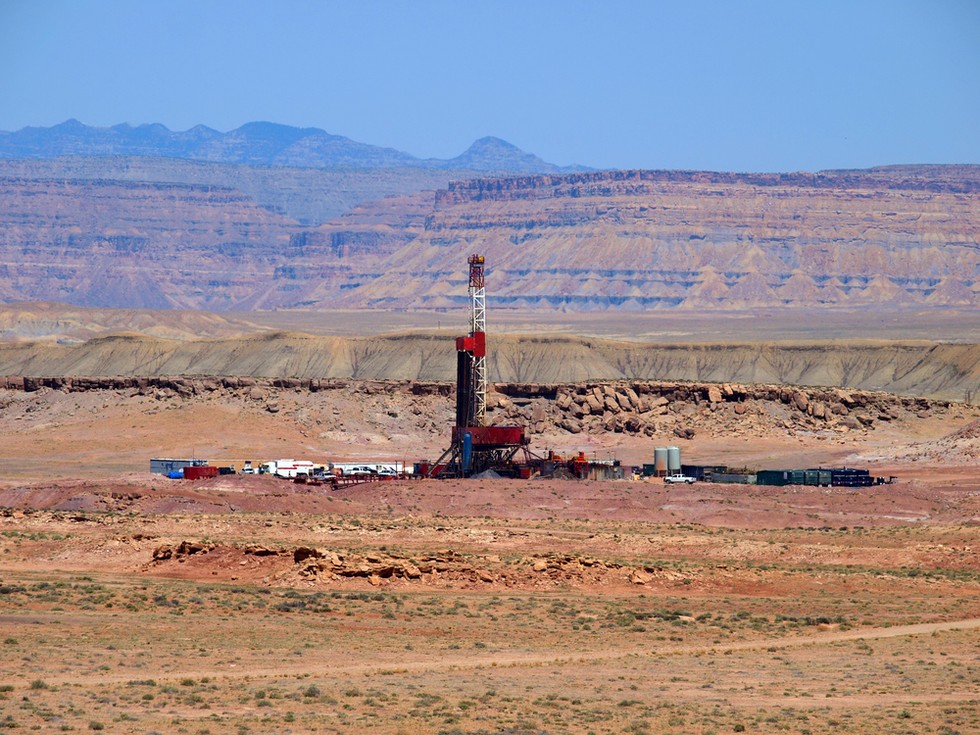 Photo courtesy of Shutterstock
The pinch is especially strong on shale energy producers and state regulators who are scrambling to find ways to keep the water flowing to this thirsty industry while not shortchanging farmers, municipalities and growing populations. Anywhere from two to 10 million gallons of water (along with sand and chemicals) are injected into each fracturing well. Multiply that times tens of thousands of wells and you're talking lots of water—and wastewater, too.
Given a fast-changing regulatory landscape and the diverse geologic conditions of key shale energy basins around the country, it's a challenge with no easy solutions.
"We've got to plan and plan and plan," engineering executive Ken Burris told a crowd of 75 industry players and regulators last week at a Water Management for Shale Plays 2013 conference in Denver.
The urgency is palpable. In less than a decade, hydraulic fracturing has grown from a largely unregulated wildcat industry to an energy juggernaut that is rejuvenating rural economies in North Dakota, Texas and Pennsylvania and putting America back on track to become the world's largest oil producer again.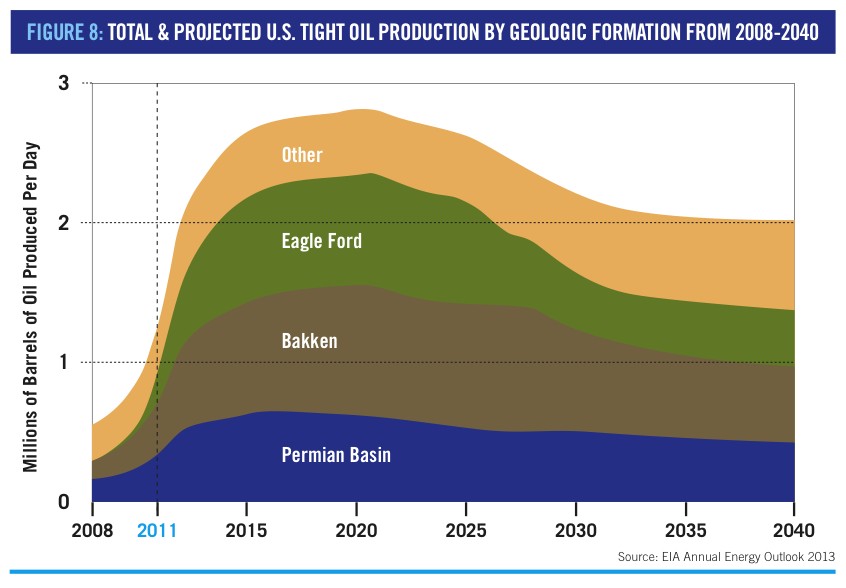 But achieving such meteoric growth doesn't come without growing pains—especially those around meeting the red-hot demand for water that shale producers need to inject into their wells.
Ground zero, in many ways, is Texas.
The U.S.'s second-largest state is in the midst of a historic drought, has little surface water to speak of and many of its groundwater aquifers are drying up. The most noteworthy of these sources under stress is the Ogallala Aquifer, which overlaps with the Permian Basin in west Texas. But that hasn't stopped oil and gas shale production from booming, leading to a doubling in water use the past three years with even bigger jumps expected as more wells are drilled in the rich Eagle Ford formation in south Texas.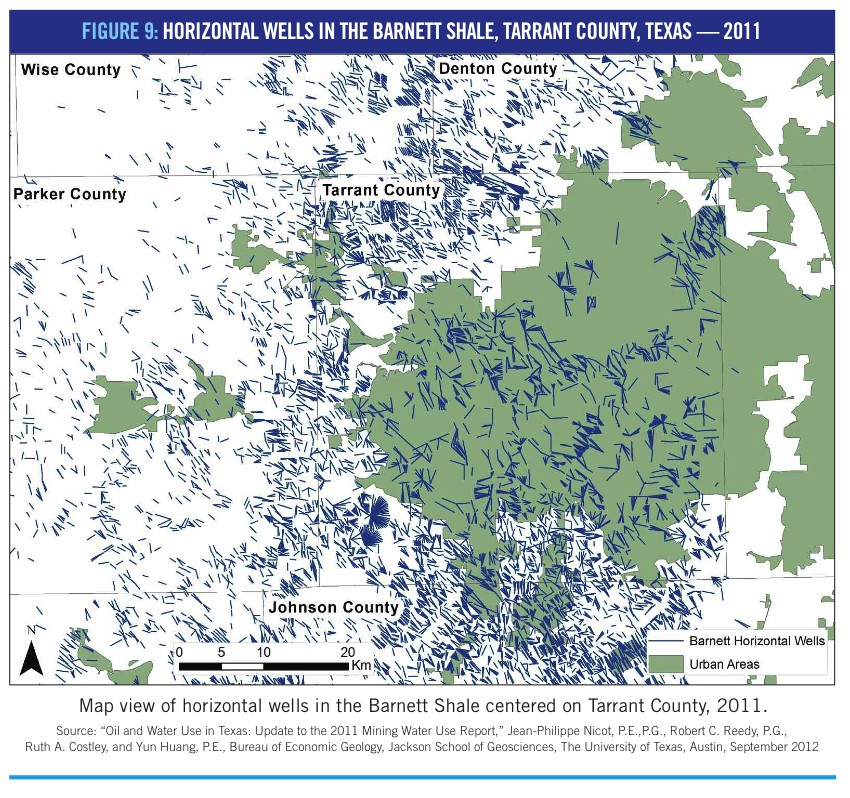 Industry players concede there isn't enough freshwater to meet their needs. "There are areas, like out in west Texas, where water could be a limiting factor," for shale production, said Ken Nichols, civil engineer at CH2M Hill, at the Denver conference.
And that means turning to alternatives, such as recycled water or brackish water, which are already seeing more use.
The state's vast reserves of brackish groundwater seems to be getting the most attention, with one study saying it's already providing some 20 percent of water being used in the Permian and Eagle Ford Shale Basins. "It's a very promising resource for the state," said Larry French, director of the Texas Groundwater Resources Division.
But it is expensive and energy intensive to make the slightly salty water usable for each drilling site. More scrutiny is also needed to understand how escalating withdrawals of brackish waters may compromise freshwater aquifers. Growing interest by water-starved cities and towns to desalinate brackish water is another complicating factor.
Colorado faces a similar challenge of more people, escalating shale production and growing competitive pressures for surface water, especially by agriculture, which has strong legal water rights and uses about 85 percent of the state's water. "Anything [frackers] produce from these wells has the potential to affect senior water rights," said Dick Wolfe, state engineer for the Colorado Division of Water Resources.
For this reason, shale producers noted during the conference that they are relying as much as possible on deeper groundwater resources. These "non-tributary" waters are typically thousands of feet underground and are largely isolated from rivers, streams and other surface waters. Wolfe says the vast majority of the state's 50,000 oil and gas wells—many of them fracking wells in the Niobrara Basin in northeast Colorado—are in non-tributary formations.
While Wolfe is confident that shale production will not compromise the state's water supplies and water quality, others are leery and are calling for much more stringent recycling of fracking wastewater.
"Most frack water is so laden with toxics or salts that it is unsuitable for other uses, and must be disposed of in shallow pits or far below groundwater reservoirs," wrote Bart Miller, water program director at Western Resources Advocates, in the Denver Post. "We can only hope it will never migrate and contaminate drinking water reservoirs."
Unlike Texas and Colorado, North Dakota is relying on both aquifers and surface waters for hydraulic fracturing, much of it coming from the Missouri River, Lake Sakakawea and over-allocated groundwater supplies. With wells popping up like dandelions—North Dakota now produces 10 percent of the country's energy—tensions and lawsuits are escalating between frackers, farmers and other water users.
"When all of us had nothing [before the oil boom], there was nothing to fight about," Dan Kalil, a county commissioner in western North Dakota's Williams County, home to many oil and natural gas wells, told Reuters. "Now, so many friendships have been destroyed because of water and oil."
Visit EcoWatch's FRACKING page for more related news on this topic.
——–
Sign the petition today, telling President Obama to enact an immediate fracking moratorium:

EcoWatch Daily Newsletter
Offutt Air Force Base after flooding on March 17. U.S. Air Force / TSgt. Rachelle Blake
A regenerating stand of rainforest in northern Costa Rica. Matthew Fagan / CC BY-ND
By Matthew Fagan, Leighton Reid and Margaret Buck Holland
Tropical forests globally are being lost at a rate of 61,000 square miles a year. And despite conservation efforts, the global rate of loss is accelerating. In 2016 it reached a 15-year high, with 114,000 square miles cleared.
At the same time, many countries are pledging to restore large swaths of forests. The Bonn Challenge, a global initiative launched in 2011, calls for national commitments to restore 580,000 square miles of the world's deforested and degraded land by 2020. In 2014 the New York Declaration on Forests increased this goal to 1.35 million square miles, an area about twice the size of Alaska, by 2030.
Compassion Over Killing
By Cheryl Leahy
Do you think almond milk comes from a cow named Almond? Or that almonds lactate? The dairy industry thinks you do, and that's what it's telling the Food and Drug Administration (FDA).
For years, the dairy industry has been flexing its lobbying muscle, pressuring states and the federal government to restrict plant-based companies from using terms like "milk" on their labels, citing consumer confusion.
By Jeremy Deaton
A driver planning to make the trek from Denver to Salt Lake City can look forward to an eight-hour trip across some of the most beautiful parts of the country, long stretches with nary a town in sight. The fastest route would take her along I-80 through southern Wyoming. For 300 miles between Laramie and Evanston, she would see, according to a rough estimate, no fewer than 40 gas stations where she could fuel up her car. But if she were driving an electric vehicle, she would see just four charging stations where she could recharge her battery.
d3sign / Moment / Getty Images
Common sense should not be taken for granted when people are discussing nutrition.
A fire erupted Sunday at a petrochemical plant in Deer Park, Texas.
NowThis News / YouTube screenshot
By Andrea Germanos
A petrochemical plant near Houston continued to burn for a second day on Monday, raising questions about the quality and safety of the air.

The Deer Park facility is owned by Intercontinental Terminals Company (ITC), which said the fire broke out at roughly 10:30 a.m. Sunday. Seven tanks are involved, the company said, and they contain naptha, xylene, "gas blend stocks" and "base oil."
"It's going to have to burn out at the tank," Ray Russell, communications officer for Channel Industries Mutual Aid, which is aiding the response effort, said at a news conference. It could take "probably two days" for that to happen, he added.
The hillsides dyed orange with poppies may look like something out of a dream, but for the Southern California town of Lake Elsinore, that dream quickly turned into a nightmare.
The town of 66,000 people was inundated with around 50,000 tourists coming to snap pictures of the golden poppies growing in Walker Canyon as part of a superbloom of wildfires caused by an unusually wet winter, BBC News reported. The visitors trampled flowers and caused hours of traffic, The Guardian reported.
The Humane Society of the United States uncovered a one-year pesticide test on 36 beagles contracted by Dow AgroSciences at a Michigan lab.
The Humane Society of the United States / YouTube screenshot
A controversial pesticide test that would have resulted in the deaths of 36 beagles has been stopped, the Humane Society of the United States (HSUS) and the company behind the test announced Monday. The announcement comes less than a week after HSUS made the test public when it released the results of an investigation into animal testing at Charles River Laboratories in Michigan.
"We have immediately ended the study that was the subject of attention last week and will make every effort to rehome the animals that were part of the study," Corteva Agriscience, the agriculture division of DowDupont, said in a statement announcing its decision.