This website uses cookies to ensure you get the best experience while browsing it. By clicking 'Got It' you're accepting these terms.
U.S. Fracking Industry Reacts to Water Scarcity Issues
Jun. 17, 2013 01:57PM EST
Hydraulic fracturing (a.k.a. fracking) has recast the U.S.'s energy future, but it's also shining a light on fragile water supplies, which could crimp the industry's growth.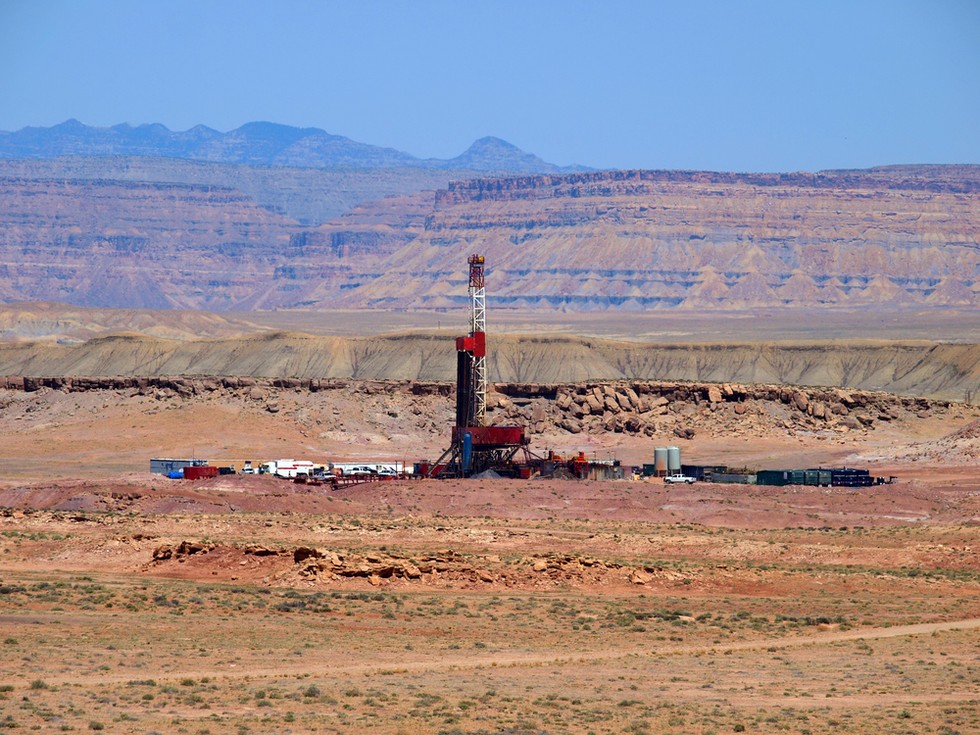 Photo courtesy of Shutterstock
The pinch is especially strong on shale energy producers and state regulators who are scrambling to find ways to keep the water flowing to this thirsty industry while not shortchanging farmers, municipalities and growing populations. Anywhere from two to 10 million gallons of water (along with sand and chemicals) are injected into each fracturing well. Multiply that times tens of thousands of wells and you're talking lots of water—and wastewater, too.
Given a fast-changing regulatory landscape and the diverse geologic conditions of key shale energy basins around the country, it's a challenge with no easy solutions.
"We've got to plan and plan and plan," engineering executive Ken Burris told a crowd of 75 industry players and regulators last week at a Water Management for Shale Plays 2013 conference in Denver.
The urgency is palpable. In less than a decade, hydraulic fracturing has grown from a largely unregulated wildcat industry to an energy juggernaut that is rejuvenating rural economies in North Dakota, Texas and Pennsylvania and putting America back on track to become the world's largest oil producer again.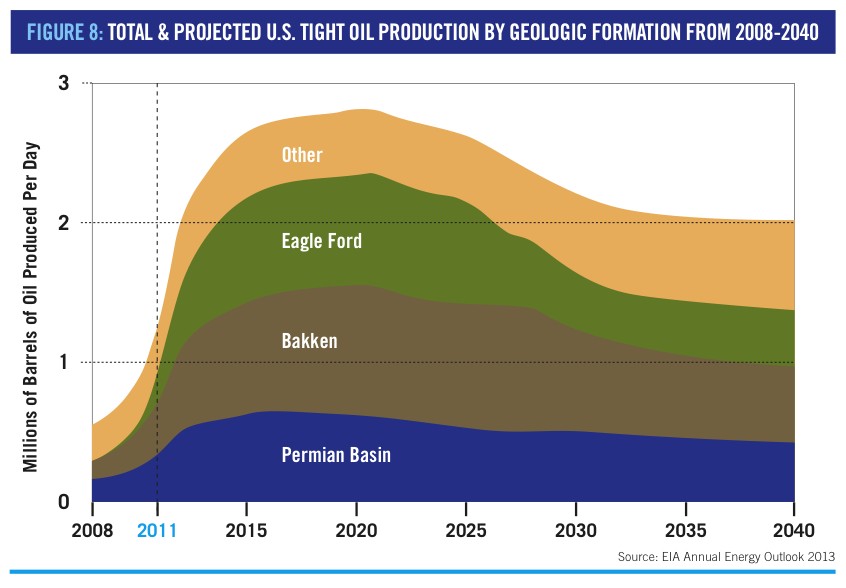 But achieving such meteoric growth doesn't come without growing pains—especially those around meeting the red-hot demand for water that shale producers need to inject into their wells.
Ground zero, in many ways, is Texas.
The U.S.'s second-largest state is in the midst of a historic drought, has little surface water to speak of and many of its groundwater aquifers are drying up. The most noteworthy of these sources under stress is the Ogallala Aquifer, which overlaps with the Permian Basin in west Texas. But that hasn't stopped oil and gas shale production from booming, leading to a doubling in water use the past three years with even bigger jumps expected as more wells are drilled in the rich Eagle Ford formation in south Texas.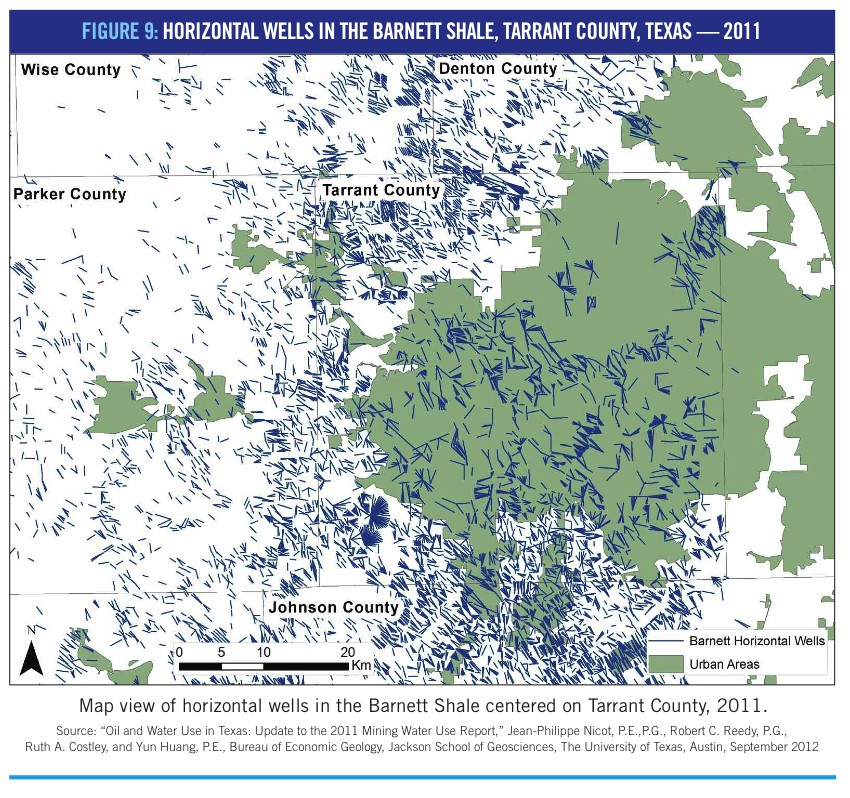 Industry players concede there isn't enough freshwater to meet their needs. "There are areas, like out in west Texas, where water could be a limiting factor," for shale production, said Ken Nichols, civil engineer at CH2M Hill, at the Denver conference.
And that means turning to alternatives, such as recycled water or brackish water, which are already seeing more use.
The state's vast reserves of brackish groundwater seems to be getting the most attention, with one study saying it's already providing some 20 percent of water being used in the Permian and Eagle Ford Shale Basins. "It's a very promising resource for the state," said Larry French, director of the Texas Groundwater Resources Division.
But it is expensive and energy intensive to make the slightly salty water usable for each drilling site. More scrutiny is also needed to understand how escalating withdrawals of brackish waters may compromise freshwater aquifers. Growing interest by water-starved cities and towns to desalinate brackish water is another complicating factor.
Colorado faces a similar challenge of more people, escalating shale production and growing competitive pressures for surface water, especially by agriculture, which has strong legal water rights and uses about 85 percent of the state's water. "Anything [frackers] produce from these wells has the potential to affect senior water rights," said Dick Wolfe, state engineer for the Colorado Division of Water Resources.
For this reason, shale producers noted during the conference that they are relying as much as possible on deeper groundwater resources. These "non-tributary" waters are typically thousands of feet underground and are largely isolated from rivers, streams and other surface waters. Wolfe says the vast majority of the state's 50,000 oil and gas wells—many of them fracking wells in the Niobrara Basin in northeast Colorado—are in non-tributary formations.
While Wolfe is confident that shale production will not compromise the state's water supplies and water quality, others are leery and are calling for much more stringent recycling of fracking wastewater.
"Most frack water is so laden with toxics or salts that it is unsuitable for other uses, and must be disposed of in shallow pits or far below groundwater reservoirs," wrote Bart Miller, water program director at Western Resources Advocates, in the Denver Post. "We can only hope it will never migrate and contaminate drinking water reservoirs."
Unlike Texas and Colorado, North Dakota is relying on both aquifers and surface waters for hydraulic fracturing, much of it coming from the Missouri River, Lake Sakakawea and over-allocated groundwater supplies. With wells popping up like dandelions—North Dakota now produces 10 percent of the country's energy—tensions and lawsuits are escalating between frackers, farmers and other water users.
"When all of us had nothing [before the oil boom], there was nothing to fight about," Dan Kalil, a county commissioner in western North Dakota's Williams County, home to many oil and natural gas wells, told Reuters. "Now, so many friendships have been destroyed because of water and oil."
Visit EcoWatch's FRACKING page for more related news on this topic.
——–
Sign the petition today, telling President Obama to enact an immediate fracking moratorium:

Prince William and British naturalist David Attenborough attend converse during the World Economic Forum annual meeting, on January 22 in Davos, Switzerland. Fabrice Cofferini /AFP / Getty Images
Britain's Prince William interviewed famed broadcaster David Attenborough on Tuesday at the World Economic Forum's annual meeting in Switzerland.
During the sit-down, the 92-year-old naturalist advised the world leaders and business elite gathered in Davos this week that we must respect and protect the natural world, adding that the future of its survival—as well as humanity's survival—is in our hands.
Electric vehicle sales took off in 2018, with a record two million units sold around the world, according to a new Deloitte analysis.
What's more, the accounting firm predicts that another 21 million electric cars will be on the road globally over the next decade due to growing market demand for clean transportation, government subsidies, as well as bans on fossil fuel cars.
Teenager Alex Weber and friends collected nearly 40,000 golf balls hit into the ocean from a handful of California golf courses.
Alex Weber /
CC BY-ND
Southwest Greenland had the most consistent ice loss from 2003 to 2012. Eqalugaarsuit, Ostgronland, Greenland on Aug. 1, 2018.
Rob Oo / CC BY 2.0
Greenland is melting about four times faster than it was in 2003, a new study published Monday in the Proceedings of the National Academy of Sciences found, a discovery with frightening implications for the pace and extent of future sea level rise.
"We're going to see faster and faster sea level rise for the foreseeable future," study lead author and Ohio State University geodynamics professor Dr. Michael Bevis said in a press release. "Once you hit that tipping point, the only question is: How severe does it get?"
Finally, some good news about the otherwise terrible partial government shutdown. A federal judge ruled that the Trump administration cannot issue permits to conduct seismic testing during the government impasse.
The Justice Department sought to delay—or stay—a motion filed by a range of coastal cities, businesses and conservation organizations that are suing the Trump administration over offshore oil drilling, Reuters reported. The department argued that it did not have the resources it needed to work on the case due to the shutdown.
Most people have heard of the Amazon, South America's famed rainforest and hub of biological diversity. Less well known, though no less critical, is the Pantanal, the world's largest tropical wetland.
Like the Amazon, the Pantanal is ecologically important and imperiled. Located primarily in Brazil, it also stretches into neighboring Bolivia and Paraguay. Covering an area larger than England at more than 70,000 square miles, the massive wetland provides irreplaceable ecosystem services that include the regulation of floodwaters, nutrient renewal, river flow for navigability, groundwater recharge and carbon sequestration. The wetland also supports the economies of the four South American states it covers.
Demonstrators participate in a protest march over agricultural policy on Jan. 19 in Berlin, Germany. Carsten Koall / Getty Images Europe
By Andrea Germanos
Organizers said 35,000 people marched through the streets of the German capital on Saturday to say they're "fed up" with industrial agriculture and call for a transformation to a system that instead supports the welfare of the environment, animals and rural farmers.

The fire that erupted after a pipeline explosion in Mexico Friday. FRANCISCO VILLEDA / AFP / Getty Images
By Patrick Rogers
If you have ever considered making the switch to an environmentally friendly electric vehicle, don't drag your feet. Though EV prices are falling, and states are unveiling more and more public charging stations and plug-in-ready parking spots, the federal government is doing everything it can to slam the brakes on our progress away from gas-burning internal combustion engines. President Trump, likely pressured by his allies in the fossil fuel industry, has threatened to end the federal tax credits that have already helped put hundreds of thousands of EVs on the road—a move bound to harm not only our environment but our economy, too. After all, the manufacturing and sale of EVs, hybrids, and plug-in hybrids supported 197,000 jobs in 2017, according to the most recent U.S. Energy and Employment Report.