This website uses cookies to ensure you get the best experience while browsing it. By clicking 'Got It' you're accepting these terms.
U.S. Farmers Increase Planting of GMO Corn Banned From China Markets
Mar. 26, 2014 03:34PM EST
Food
Archer-Daniels-Midland Co. (ADM) and Bunge Ltd., two of the world's largest grain traders, are intent on increasing corn exports to China, however, U.S. farmers have plans of their own.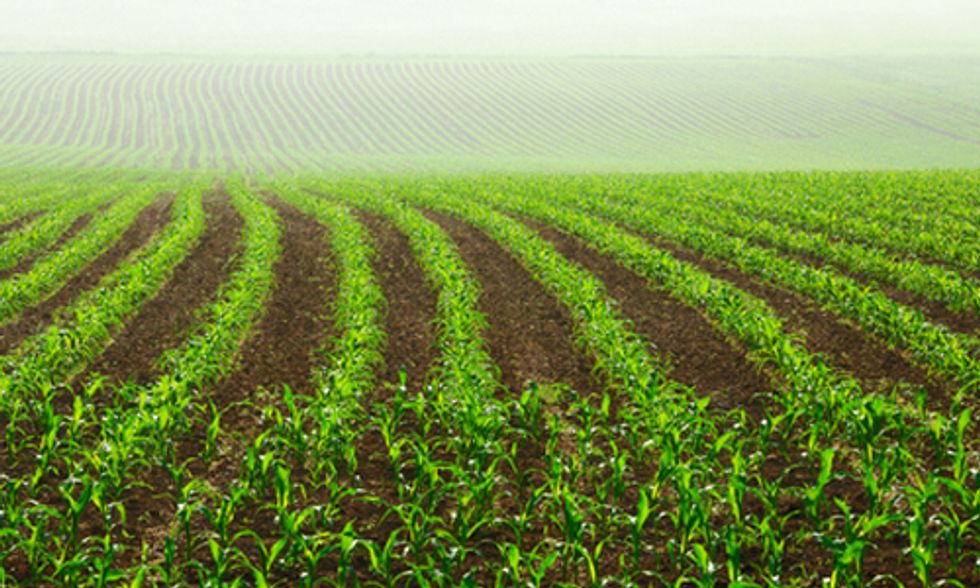 Photo courtesy of Shutterstock
Six months after China started rejecting shipments of corn made with genetically modified organisms (GMOs), Bunge stated it wouldn't accept deliveries of the variety developed by Switzerland's Syngenta AG, reports Bloomberg.
ADM plans on testing the GMO corn, and may end up rejecting it as well. Regardless, farmers will soon begin planting the crop this spring due to its high yield for the U.S. market. 
Bloomberg reports:
Exporters and farmers going in two different directions on GMO corn underscores a new set of challenges faced by international agricultural commodity traders. Even as demand continues to grow in line with the global population, China and other countries have been slower than the U.S. to approve new types of crops amid concerns about food safety and threats to biodiversity from [GMOs]. China's curbs on some modified corn threaten to block millions of tons of imports and in so doing cut into the profits of international trading houses.
"It's a significant issue for major North American traders," said Andrew Russell, a New York-based analyst for Macquarie Group who recommends buying ADM and Bunge shares. "Anything that puts Chinese growth potential at risk is a significant issue."
Traders rerouting shipments originally destined for China to other markets may lose $30 to $50 a ton, said Tim Burrack, an Iowa corn and soybean farmer who's also the former chairman of the U.S. Grains Council's trade committee.
Bunge isn't buying the Syngenta GMO corn, an insect-repelling variety known as Agrisure Viptera, or another modified variety from the Swiss company called Agrisure Duracade. On Feb. 21, ADM executives said they wouldn't accept Duracade until the GMO is approved by China and other major importers. The company also hasn't committed to Viptera.
The wide-scale planting of GMOs that aren't approved by key importing countries will chip away at the competitiveness of U.S. grain and feed exports. 
Corn containing Duracade will be planted on 250,000 to 300,000 acres this spring, which will be harvested in the autumn, according to Reuters. 
ADM shares have dropped 1.9 percent this year in New York while Bunge has fallen by 4.2 percent. Syngenta has seen a 4.6 percent decline in Zurich.
As China cuts back on GMO imports, U.S. growers are seeking to boost yields to counter a 34 percent plunge in corn prices over the last year. The U.S. Department of Agriculture has projected farm income will fall 27 percent over the course of 2014—a four-year low.
Since January, Syngenta has sold out of its Duracade variety, part of a broader trend toward modified crops.
However, that brings up another problem for farmers and traders. If different types of grain are not separated, then traders risk cross-contamination of non-GMO crops with crops containing modified organisms.
Even if farmers carefully separate their grain, such contamination can still occur in several ways, including inadvertent mixing and cross-pollination by bees or wind.
Ultimately, that's a risk many farmers have come to accept as they plant Viptera and other strains in hopes of increasing their yield for the U.S. market. 
"While American farmers search for imaginary yield gains from GMOs, they need to be mindful of the fact that contamination of their neighbor's organic and non-GMO fields will not be tolerated by our nation's trading partners or the American public," said Dave Murphy, founder and executive director of Food Democracy Now!.
--------
Related Content:
EcoWatch Daily Newsletter
Pexels
By Tim Lydon
Climate-related disasters are on the rise, and carbon emissions are soaring. Parents today face the unprecedented challenge of raising children somehow prepared for a planetary emergency that may last their lifetimes. Few guidebooks are on the shelves for this one, yet, but experts do have advice. And in a bit of happy news, it includes strategies already widely recognized as good for kids.
Pexels
Be it Nina Simone and James Brown for civil rights, Joni Mitchell and Marvin Gaye for the environment, or Jackson Browne and Buffalo Springfield for nuclear disarmament, musicians have long helped push social movements into the limelight.
Yulia Lisitsa / iStock / Getty Images Plus
Collagen is the most abundant protein in your body.
It is the major component of connective tissues that make up several body parts, including tendons, ligaments, skin, and muscles.
Greenpeace activists unfurl banners after building a wood and card 'oil pipeline' outside the Canadian High Commission, Canada House, to protest against the Trudeau government's plans to build an oil pipeline in British Colombia on April 18, 2018 in London. Chris J Ratcliffe / Getty Images
By Jessica Corbett
In an open letter to Canadian Prime Minister Justin Trudeau and Deputy Prime Minister Chrystia Freeland, 42 Nobel laureates implored the federal government to "act with the moral clarity required" to tackle the global climate crisis and stop Teck Resources' proposed Frontier tar sands mine.
Mapping Urban Heat through Portland State University /
video
Concrete and asphalt absorb the sun's energy. So when a heat wave strikes, city neighborhoods with few trees and lots of black pavement can get hotter than other areas — a lot hotter.