This website uses cookies to ensure you get the best experience while browsing it. By clicking 'Got It' you're accepting these terms.
U.S. EPA Releases New Tool with Localized Information about Water Pollution
Jan. 25, 2012 01:00PM EST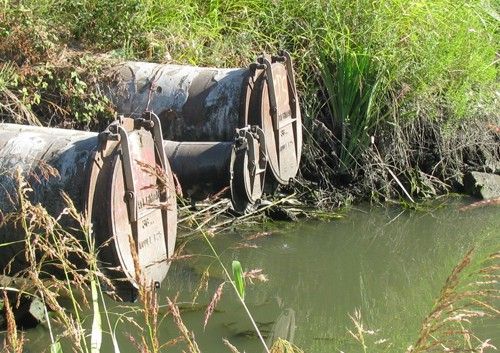 The U.S. Environmental Protection Agency (EPA) announced the release of a new tool that provides the public with important information about pollutants that are released into local waterways. Developed under President Obama's transparency initiative, the Discharge Monitoring Report (DMR) Pollutant Loading Tool brings together millions of records and allows for easy searching and mapping of water pollution by local area, watershed, company, industry sector, and pollutant. Americans can use this new tool to protect their health and the health of their communities.
"Transparency leads to greater accountability and better information about pollution in our nation's communities," said Cynthia Giles, assistant administrator for EPA's Office of Enforcement and Compliance Assurance. "By making the data we collect available in easy to use tools, we are keeping Americans informed about the health of the environment in their neighborhoods."
Searches using the DMR Pollutant Loading Tool result in "top ten" lists to help users easily identify facilities and industries that are discharging the most pollution and impacted waterbodies. When discharges are above permitted levels, users can view the violations and link to details about enforcement actions that EPA and states have taken to address these violations.
Facilities releasing water pollution directly into our nation's waterways, such as wastewater treatment plants or industrial manufacturers, must receive a permit to discharge under the Clean Water Act. Each permit sets specific limits for how much can be discharged. It also requires the permittee to frequently sample their wastewater discharges and report the data to their state or EPA permitting authority.
A link to the new tool can be found on EPA's Enforcement and Compliance History Online (ECHO) website, which provides information about inspections, facility compliance, and state and federal enforcement actions. EPA has also released several new ECHO features, including a search for criminal enforcement cases and web developer tools that make it easy to tap into ECHO reports and maps.
Information about the webinar:
What: A webinar to demonstrate how to use the new Discharge Monitoring Report (DMR) Pollutant Loading Tool.
Who: Members of the media, non-profit organizations, industry, business, and citizens interested in learning how to use the tool are encouraged to participate.
When: Thursday, Jan. 26, 2012, 10 a.m., Eastern Time
How: To participate, please use the following dial-in numbers.
Audio Contact Instruction:
(1) Dial the toll-free dial-in number: (866) 358 1366
(2) At the recorded prompt, enter the Conference Code (2025661014) and the "#" sign, using the telephone keypad.
(3) Wait for the Leader to join and the conference to begin.
(4) To disconnect, hang up the telephone.
To access the Webinar use the GoToWebinar link by clicking here.
*** You Must Register in Advance to Access the Webinar***
Access the DMR Pollutant Loading Tool by clicking here.
Visit ECHO by clicking here.
For more information, click here.
EcoWatch Daily Newsletter
Smog over Los Angeles. Westend61 / Getty Images
After four decades of improving air quality, the U.S. has started to take a step backwards, as the number of polluted days has ticked upwards over the last two years, the Associated Press reported.
Photobos / iStock / Getty Images
Governors in Vermont and Maine signed bills on Monday that will ban plastic bags in their states next year, The Hill reported.
The Maine ban will go into effect next Earth Day, April 22, 2020. The Vermont ban, which extends beyond plastic bags and is the most comprehensive plastics ban so far, will go into effect in July 2020. The wait time is designed to give businesses time to adjust to the ban.
picture-alliance / AP Images / D. Goldman
By Daniel Moattar
Eastern Kentucky's hills are interrupted by jarring flats of bare rock: the aftermath of mountaintop removal mining, which uses explosives to destroy and harvest coal-rich peaks.
By Molly Taft
Lisa Marshall isn't your typical activist. For one thing, she's not into crowds. "I don't really like rallies," Marshall, a mom of three from upstate New York, said. "They're a little stressful — not my favorite thing."

An oil drilling site in a residential area of Los Angeles, California on July 16, 2014.
Faces of Fracking / Flickr
By Jake Johnson
A comprehensive analysis of nearly 1,500 scientific studies, government reports, and media stories on the consequences of fracking released Wednesday found that the evidence overwhelmingly shows the drilling method poses a profound threat to public health and the climate.

sonsam / iStock / Getty Images
By Grace Francese
A new Environmental Working Group (EWG) study published in Environmental Research found that nitrate, one of the most common contaminants of drinking water, may cause up to 12,594 cases of cancer per year, but that's not its only danger: It can pose unique health risks to children.
Melt water from Everest's Khumbu glacier. Ed Giles / Getty Images
EPA Administrator Andrew Wheeler signs his replacement for the Clean Power Plan. Win McNamee / Getty Images