This website uses cookies to ensure you get the best experience while browsing it. By clicking 'Got It' you're accepting these terms.
U.S. EPA Releases New Tool with Localized Information about Water Pollution
Jan. 25, 2012 01:00PM EST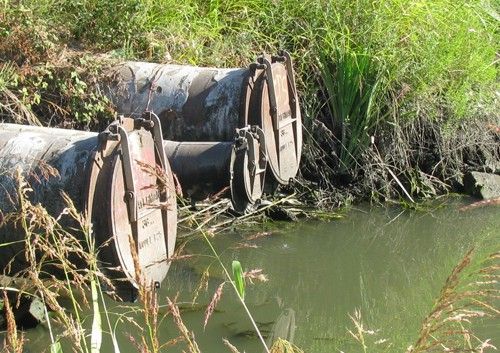 The U.S. Environmental Protection Agency (EPA) announced the release of a new tool that provides the public with important information about pollutants that are released into local waterways. Developed under President Obama's transparency initiative, the Discharge Monitoring Report (DMR) Pollutant Loading Tool brings together millions of records and allows for easy searching and mapping of water pollution by local area, watershed, company, industry sector, and pollutant. Americans can use this new tool to protect their health and the health of their communities.
"Transparency leads to greater accountability and better information about pollution in our nation's communities," said Cynthia Giles, assistant administrator for EPA's Office of Enforcement and Compliance Assurance. "By making the data we collect available in easy to use tools, we are keeping Americans informed about the health of the environment in their neighborhoods."
Searches using the DMR Pollutant Loading Tool result in "top ten" lists to help users easily identify facilities and industries that are discharging the most pollution and impacted waterbodies. When discharges are above permitted levels, users can view the violations and link to details about enforcement actions that EPA and states have taken to address these violations.
Facilities releasing water pollution directly into our nation's waterways, such as wastewater treatment plants or industrial manufacturers, must receive a permit to discharge under the Clean Water Act. Each permit sets specific limits for how much can be discharged. It also requires the permittee to frequently sample their wastewater discharges and report the data to their state or EPA permitting authority.
A link to the new tool can be found on EPA's Enforcement and Compliance History Online (ECHO) website, which provides information about inspections, facility compliance, and state and federal enforcement actions. EPA has also released several new ECHO features, including a search for criminal enforcement cases and web developer tools that make it easy to tap into ECHO reports and maps.
Information about the webinar:
What: A webinar to demonstrate how to use the new Discharge Monitoring Report (DMR) Pollutant Loading Tool.
Who: Members of the media, non-profit organizations, industry, business, and citizens interested in learning how to use the tool are encouraged to participate.
When: Thursday, Jan. 26, 2012, 10 a.m., Eastern Time
How: To participate, please use the following dial-in numbers.
Audio Contact Instruction:
(1) Dial the toll-free dial-in number: (866) 358 1366
(2) At the recorded prompt, enter the Conference Code (2025661014) and the "#" sign, using the telephone keypad.
(3) Wait for the Leader to join and the conference to begin.
(4) To disconnect, hang up the telephone.
To access the Webinar use the GoToWebinar link by clicking here.
*** You Must Register in Advance to Access the Webinar***
Access the DMR Pollutant Loading Tool by clicking here.
Visit ECHO by clicking here.
For more information, click here.
EcoWatch Daily Newsletter
A. Battenburg / Technical University of Munich
By Sarah Kennedy
Algae in a pond may look flimsy. But scientists are using algae to develop industrial-strength material that's as hard as steel but only a fraction of the weight.
Variety of fermented food korean traditional kimchi cabbage and radish salad. white and red sauerkraut in ceramic plates over grey spotted background. Natasha Breen / REDA&CO / Universal Images Group / Getty Image
Even if you've never taken probiotics, you've probably heard of them.
These supplements provide numerous benefits because they contain live microorganisms, such as bacteria or yeast, which support the healthy bacteria in your gut (1, 2, 3, 4).
Pexels
Singapore will become the first country in the world to place a ban on advertisements for carbonated drinks and juices with high sugar contents, its health ministry announced last week. The law is intended to curb sugar consumption since the country has some of the world's highest diabetes rates per capita, as Reuters reported.
A typical adult takes around 20,000 breaths per day. If you live in a megacity like Beijing, with many of those lungfuls you're likely to inhale a noxious mixture of chemicals and pollutants.
Fred Stone holds his brown swiss cow Lida Rose at his Arundel dairy farm on March 18 after a press conference where he spoke about PFAS chemical contamination in his fields. Gregory Rec / Portland Portland Press Herald via Getty Images
By Susan Cosier
First there was Fred Stone, the third-generation dairy farmer in Maine who discovered that the milk from his cows contained harmful chemicals. Then came Art Schaap, a second-generation dairy farmer in New Mexico, who had to dump 15,000 gallons of contaminated milk a day.
Protesters attend the 32nd annual Fur-Free Friday demonstration on Nov. 23, 2018 in Beverly Hills, California. Ella DeGea / Getty Images
California Governor Gavin Newsom signed into law a bill that that bans the sale and manufacture of fur products in the state. The fur ban, which he signed into law on Saturday, prohibits Californians from selling or making clothing, shoes or handbags with fur starting in 2023, according to the AP.
By Simon Evans
During the three months of July, August and September, renewables generated an estimated total of 29.5 terawatt hours (TWh), compared with just 29.1TWh from fossil fuels, the analysis shows.
A demonstrator waves an Ecuadorian flag during protests against the end of subsidies to gasoline and diesel on Oct. 9 in Quito, Ecuador. Jorge Ivan Castaneira Jaramillo / Getty Images