This website uses cookies to ensure you get the best experience while browsing it. By clicking 'Got It' you're accepting these terms.
U.S. Coal Exports Fuel Global Climate Change and Undermine Obama's Climate Plan
Jul. 29, 2014 09:32AM EST
Energy
Greenpeace USA has released a major new report on an under-discussed part of President Obama's Climate Action Plan and his U.S. Environmental Protection Agency (EPA) carbon rule: it serves as a major endorsement of continued coal production and export to overseas markets.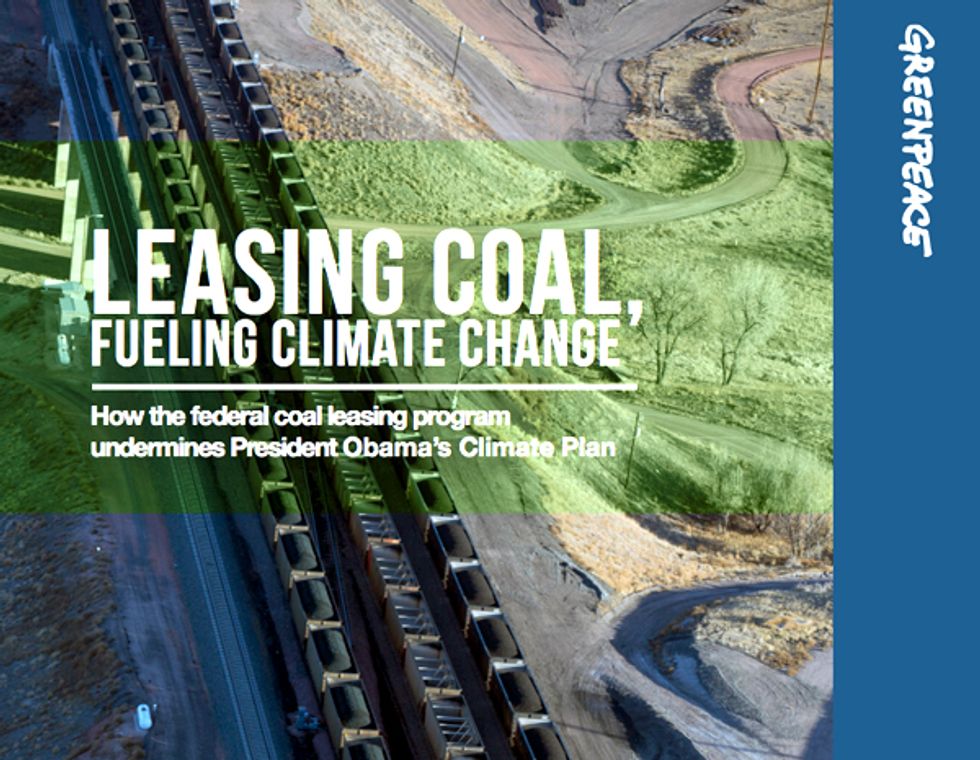 Leasing Coal, Fueling Climate Change: How the federal coal leasing program undermines President Obama's Climate Plan tackles the dark underbelly of a rule that only polices coal downstream at the power plant level and largely ignores the upstream and global impacts of coal production at-large. 
The Greenpeace report was released on the same day as a major story published by the Associated Press covering the same topic and comes a week after the release of another major report on coal exports by the Sightline Institute that sings a similar tune. 
The hits keep coming: Rolling Stone's Tim Dickinson framed what is taking place similarly in a recent piece, as did Luiza Ch. Savage of Maclean's Magazine and Bloomberg BNA. 
But back to Greenpeace. As their report points out, the main culprit for rampant coal production is the U.S. Bureau of Land Management (BLM), which leases out huge swaths of land to the coal industry. Greenpeace says this is occurring in defiance of Obama's Climate Action Plan and have called for a moratorium on leasing public land for coal extraction.
"[S]o far, the Bureau of Land Management and Interior Department have continued to ignore the carbon pollution from leasing publicly owned coal, and have failed to pursue meaningful reform of the program," says the report.
"Interior Secretary Sally Jewell and others in the Obama administration should take the President's call to climate action seriously, beginning with a moratorium and comprehensive review of the federal coal leasing program, including its role in fueling the climate crisis."
Dirty Details
Some of the numbers crunched by Greenpeace USA make the jaw drop.
For example, one chart shows the amount of coal leased by the BLM during Obama's time in the White House. During that time, the BLM has leased off billions of tons of coal from Colorado, Montana and North Dakota, New Mexico, Utah and Wyoming alone.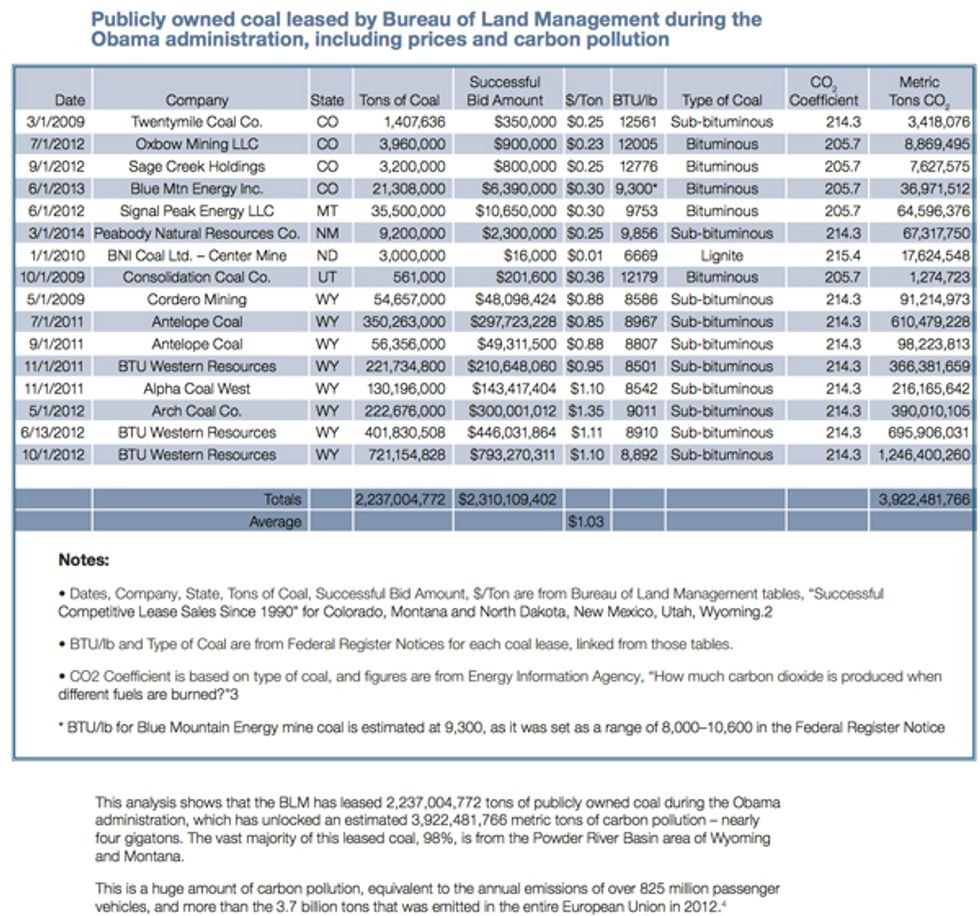 As Greenpeace points out, "This is equivalent to the annual emissions of over 825 million passenger vehicles, and more than the 3.7 billion tons that was emitted in the entire European Union in 2012."
Further, in crunching the numbers on the social cost of carbon metrics, Greenpeace estimates producing all of this BLM-leased coal will cause between $52-$530 billion in damages.
A recent major, precedent-setting federal court decision chided BLM for not taking the social cost of carbon into account in leasing out a plot of land for coal production. It remains unclear whether or not this will impact BLM's future coal leasing activities, however.
Germany's "Clean Break" or Greenwashing?
Interestingly and perhaps shockingly to many, much of this coal is being exported to Germany, home of what some have hailed the epicenter of the global green energy revolution. Though German coal mining is going by the wayside, imports are rising.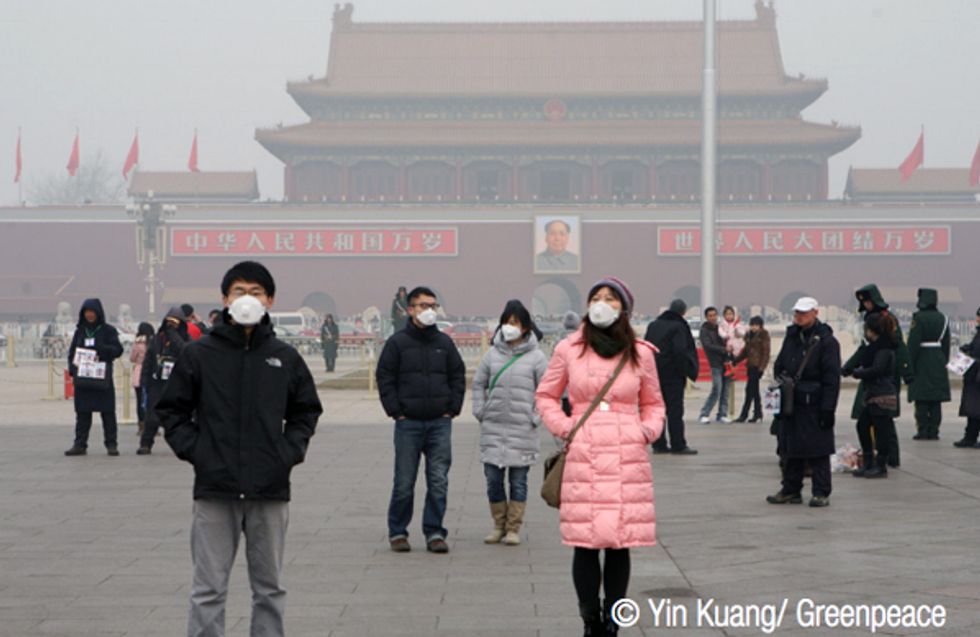 "German coal mining has been a dying tradition. The government will end subsidies in 2018, effectively killing it," explained the Associated Press story.
"However, Germany is experiencing a resurgence in coal-fired power. Five German coal plants have been built since 2008, and more are coming … The result: In 2013, Germany's emissions of carbon dioxide grew by 1.2 percent."
Dirk Jansen, spokesman for Friends of the Earth-Germany, called the situation at-large tantamount to "greenwashing" in an interview with the Associated Press.
"Obama pretties up his own climate balance, but it doesn't help the global climate at all if Obama's carbon dioxide is coming out of chimneys in Germany."
Beyond Obama, though, it raises equally troubling questions about just how "clean" Germany's clean break will be when all is said and done.
You Might Also Like
Climate Denial Machine Fueled By Big Oil and Koch Brothers Impacts Congressional Races
10 Biggest Threats to Human Existence
EcoWatch Daily Newsletter
A Starbucks barista prepares a drink at a Starbucks Coffee Shop location in New York. Ramin Talaie / Corbis via Getty Images
By Cathy Cassata
Are you getting your fill of Starbucks' new Almondmilk Honey Flat White, Oatmilk Honey Latte, and Coconutmilk Latte, but wondering just how healthy they are?
By Sharon Kelly
Back in April last year, the Trump administration's Environmental Protection Agency decided it was "not necessary" to update the rules for toxic waste from oil and gas wells. Torrents of wastewater flow daily from the nation's 1.5 million active oil and gas wells and the agency's own research has warned it may pose risks to the country's drinking water supplies.
Swedish climate activist Greta Thunberg takes part in a "Friday for Future" youth demonstration in a street of Davos on Jan. 24, 2020 on the sideline of the World Economic Forum annual meeting. FABRICE COFFRINI / AFP via Getty Images
Treasury Secretary Steven Mnuchin pretended not to know who Greta Thunberg is, and then he told her to get a degree in economics before giving world leaders advice, as The Guardian reported.
The Visible Infrared Imaging Radiometer Suite on the Suomi NPP satellite acquired this image of forest fire smoke hovering over North America on Aug. 15, 2018. NASA Earth Observatory
New York City isn't known for having the cleanest air, but researchers traced recent air pollution spikes there to two surprising sources — fires hundreds of miles away in Canada and the southeastern U.S.
If temperatures continue to rise, the world is at risk from global
sea-level rise
, which will flood many coastal cities as seen above in Bangladesh. NurPhoto / Contributor / Getty Images
The mounting climate emergency may spur the next global financial crisis and the world's central banks are woefully ill equipped to handle the consequences, according to a new book-length report by the Bank for International Settlements (BIS), as S&P Global reported. Located in Basel, Switzerland, the BIS is an umbrella organization for the world's central banks.