This website uses cookies to ensure you get the best experience while browsing it. By clicking 'Got It' you're accepting these terms.
By Emily E. Adams
Carbon dioxide emissions from burning fossil fuels in the U.S. peaked at more than 1.6 billion tons of carbon in 2007. Since then they have fallen 11 percent, dropping to over 1.4 billion tons in 2013, according to estimates from the U.S. Energy Information Administration. Emissions shrank rapidly during the recession, then bounced back slightly as the economy recovered. But shifting market conditions, pollution regulations and changing behaviors are also behind the decline.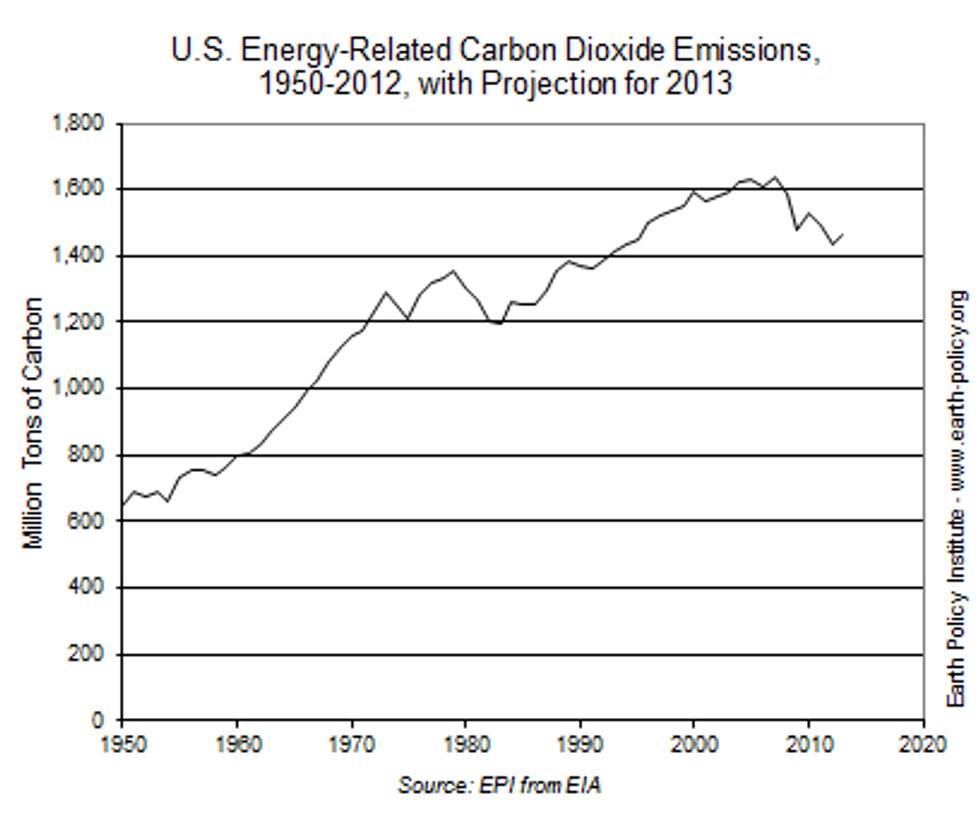 Oil is the largest source of carbon emissions in the U.S. After a steep drop following the 1979 oil crisis, emissions from oil climbed steadily until 2005, when they peaked at 715 million tons of carbon. Since then, these emissions have fallen by 14 percent, or 101 million tons of carbon—the equivalent of taking 77 million cars off the road. (See data.)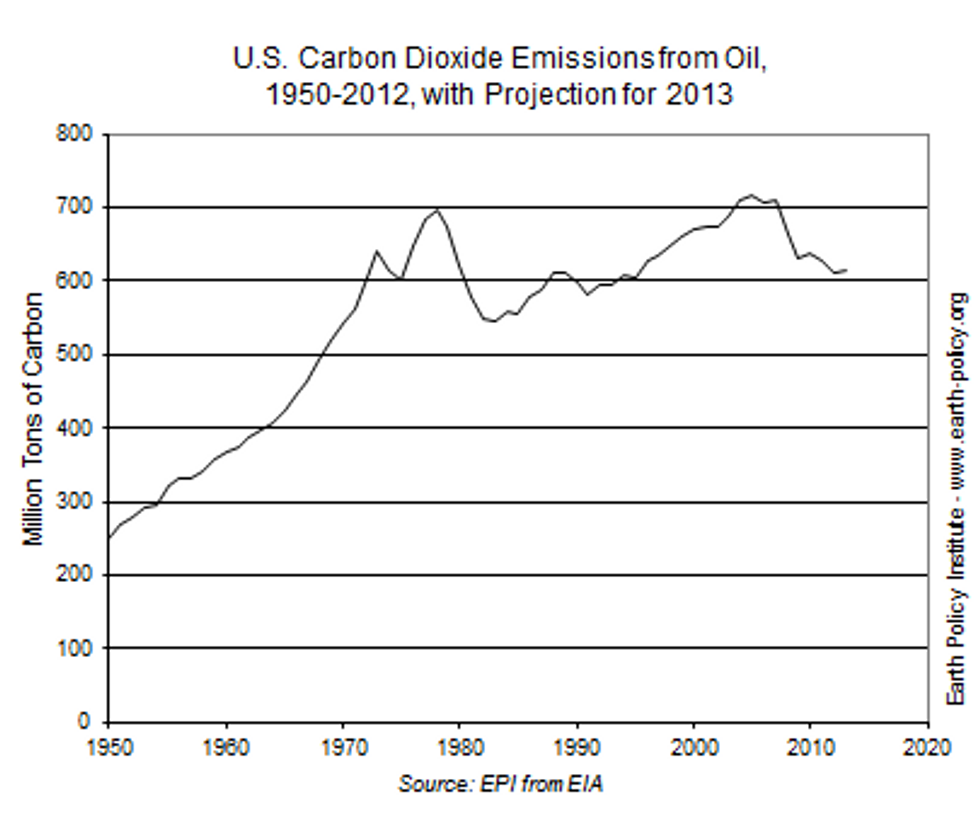 Oil is mostly used for transportation, so vehicle fuel efficiency and the number of miles driven determine the amount of emissions. On both fronts things are improving. Average fuel efficiency, which had been deteriorating for years in the U.S., started to increase in 2005 and keeps getting better. Americans are traveling farther on each gallon of gas than ever before.
Furthermore, people are driving less. For many years Americans as a group drove billions more miles each year than the previous one. But in 2007 this changed. Now more cars stay parked because more people live in urban areas, opt for public transit, work remotely or retire and thus no longer commute to work.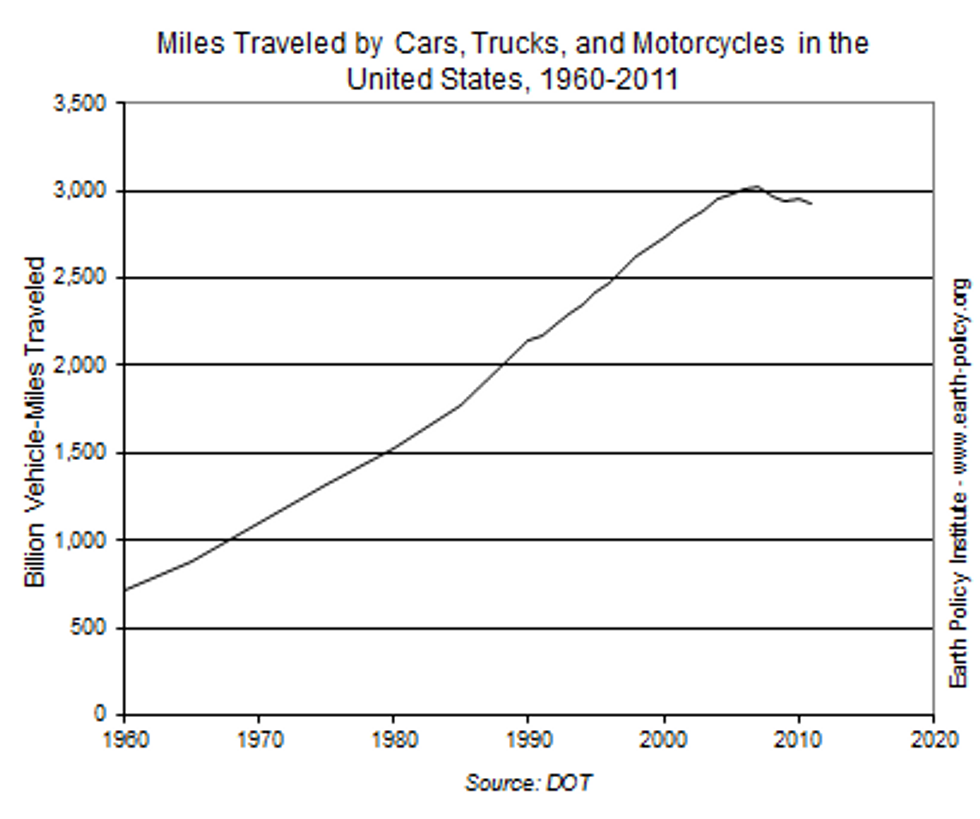 Coal—the dirtiest fossil fuel—has dominated the U.S. power grid, but its grip has weakened in recent years. As the price of natural gas has fallen, utilities are dropping coal. They are also deciding to retire old, inefficient coal plants and invest elsewhere rather than pay for retrofits in order to meet increasingly stringent pollution regulations.
Strong grassroots work, too, is helping to close the curtain on coal even faster. The Sierra Club's Beyond Coal campaign, which coordinates efforts across the country to retire old plants and prevent new ones from being built, tallies 149 coal plants that plan to retire or switch fuels out of more than 500. As falling natural gas prices, pollution regulations and shrinking electricity demand reduce coal use, U.S. carbon emissions from coal have fallen 20 percent from their peak in 2005.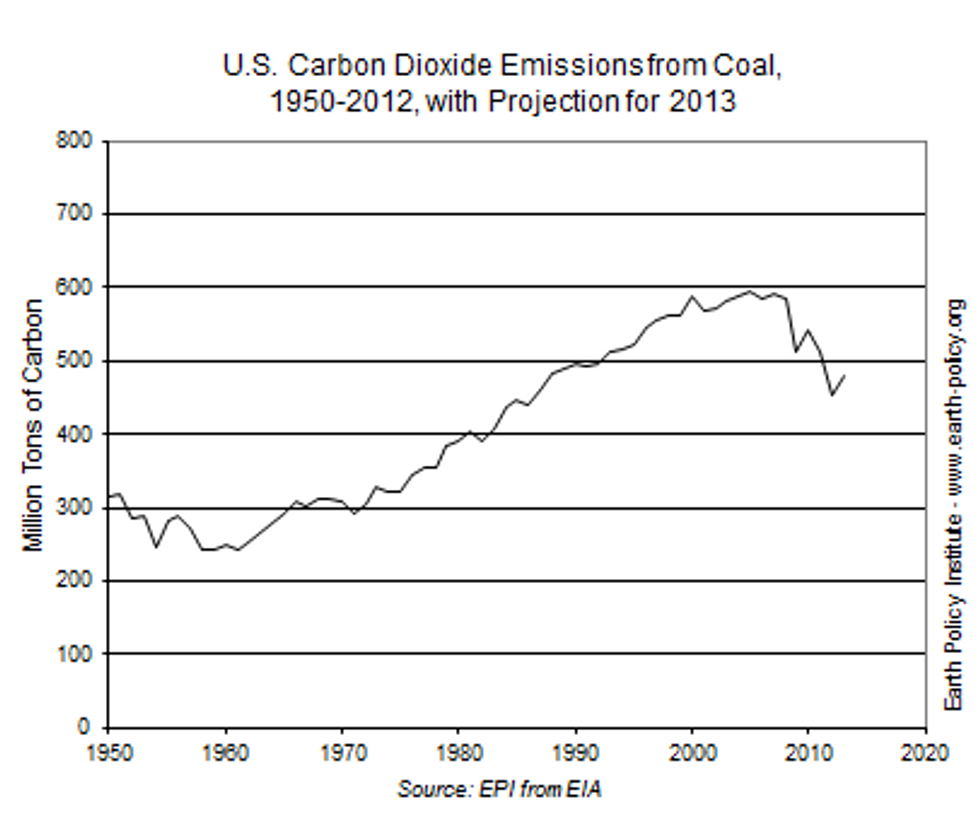 Meanwhile, natural gas consumption for electricity generation and heating has increased. Carbon dioxide emissions from burning natural gas hit an all-time high of 373 million tons of carbon in 2012, up 17 percent above 2006 levels. They are projected to remain at that level in 2013. Natural gas emits about half as much carbon dioxide per unit of energy as coal does. With domestic production on the rise, the share of carbon emissions from natural gas are likely to continue to increase.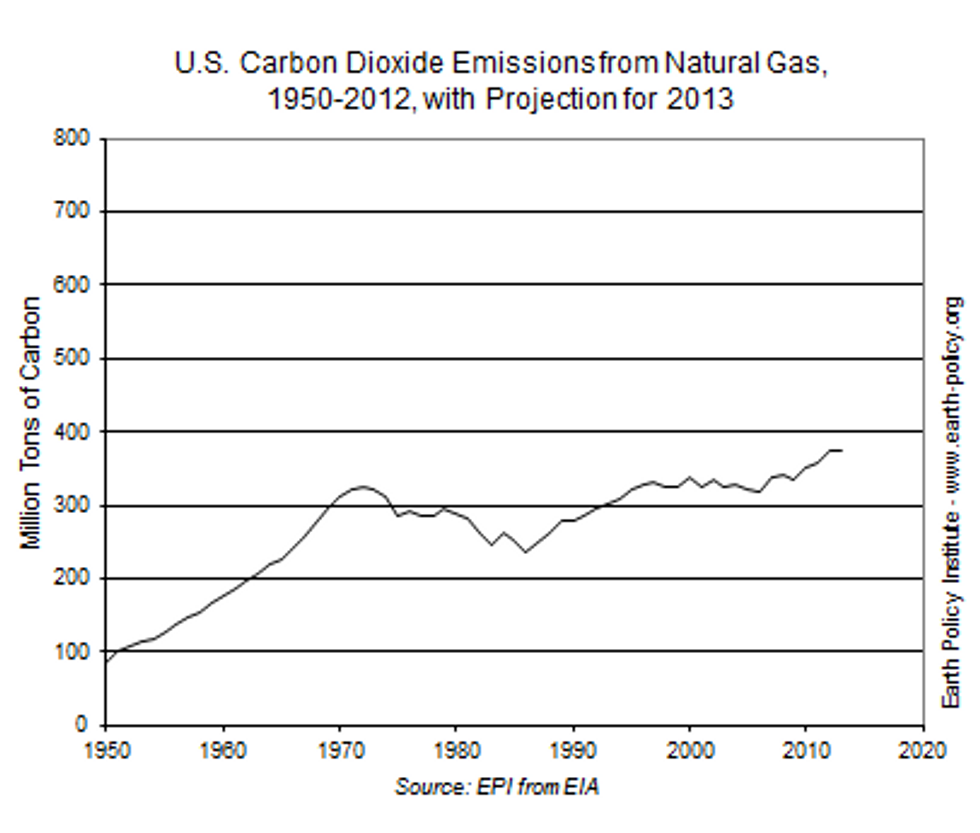 But electricity does not have to come with a huge carbon hangover. Wind and solar power—carbon-free energy sources with no fuel costs—have been taking off. U.S. wind power capacity has more than tripled since 2007 and now produces enough energy to power over 15 million homes in the U.S. Solar power capacity, starting from a smaller base, increased 14-fold in the same time period. Although wind and solar power currently account for only a small share of total energy production, their prices will continue to drop as deployment increases. In some areas wind is already cheaper than coal. This is just the beginning of reductions in carbon dioxide emissions as the explosive growth of wind and solar power cuts down the use of dirty fossil fuels.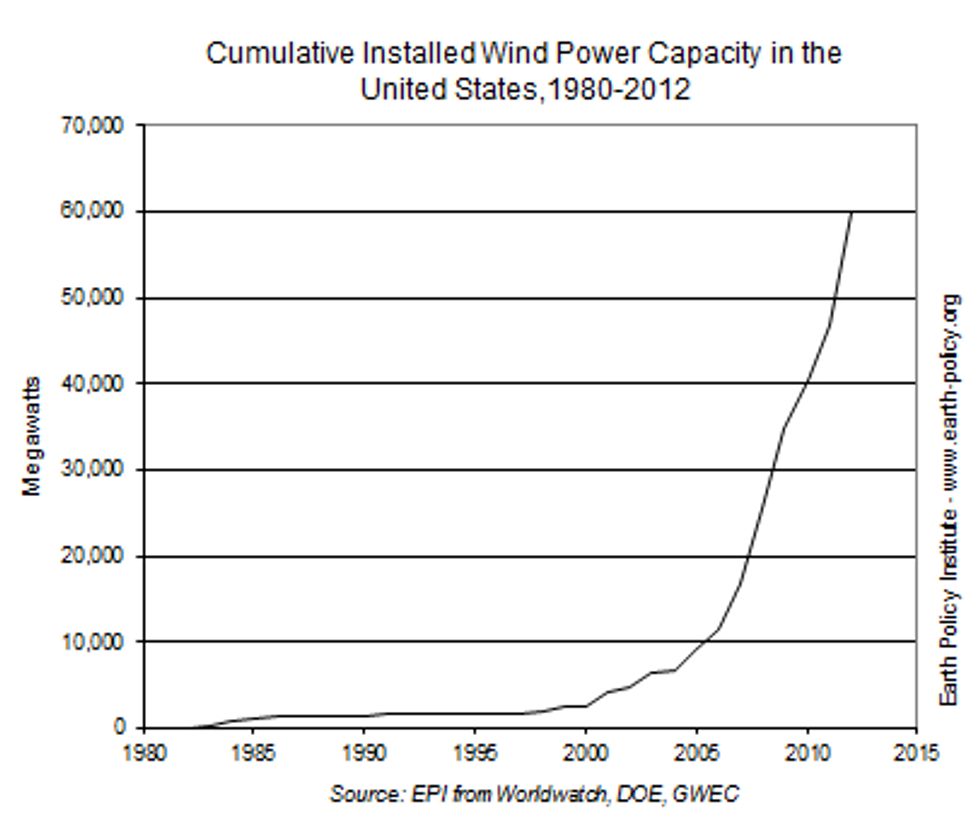 The switch to renewables cannot come soon enough. Accumulating greenhouse gas emissions from the U.S. and other countries have led to a global temperature increase of 1.4 degrees Fahrenheit (0.8 degrees Celsius) since the Industrial Revolution. Higher emissions will lead to higher temperatures that will bring more heat waves, melting glaciers and rising sea levels. In 2009, President Obama set a goal of cutting greenhouse gas emissions to 17 percent below 2005 levels by 2020. Putting a price on carbon would help accelerate the trends that are cutting the U.S.' carbon contribution and allow the country to exceed this goal.
Visit EcoWatch's ENERGY page for more related news on this topic.
——–

EcoWatch Daily Newsletter
U.S. President Donald Trump listens as Anthony Fauci, Director of the National Institute of Allergy and Infectious Diseases speaks in the Rose Garden for the daily coronavirus briefing at the White House on March 29 in Washington, DC. Tasos Katopodis / Getty Images
By Jake Johnson
Just over a month after proclaiming that the number of coronavirus cases in the U.S. would soon "be down to close to zero," President Donald Trump said during a press briefing on the White House lawn Sunday that limiting U.S. deaths from the pandemic to between 100,000 and 200,000 people would mean his administration and the country as a whole did "a very good job."
Dicamba is having a devastating impact in Arkansas and neighboring states. A farmer in Mississippi County, Arkansas looks at rows of soybean plants affected by dicamba. The Washington Post / Getty Images
Documents unearthed in a lawsuit brought by a Missouri farmer who claimed that Monsanto and German chemical maker BASF's dicamba herbicide ruined his peach orchard revealed that the two companies knew their new agricultural seed and chemical system would likely damage many U.S. farms, according to documents seen by The Guardian.
Washington State Governor Jay Inslee and other leaders speak to the press on March 28, 2020 in Seattle. Karen Ducey / Getty Images
A bushfire burns outside the Perth Cricket Stadium in Perth, Australia on Dec. 13, 2019. PETER PARKS / AFP via Getty Images

By Albert Van Dijk, Luigi Renzullo, Marta Yebra and Shoshana Rapley
2019 was the year Australians confronted the fact that a healthy environment is more than just a pretty waterfall in a national park; a nice extra we can do without. We do not survive without air to breathe, water to drink, soil to grow food and weather we can cope with.
By Fino Menezes
Everyone adores dolphins. Intelligent, inquisitive and playful, these special creatures have captivated humans since the dawn of time. But dolphins didn't get to where they are by accident — they needed to develop some pretty amazing superpowers to cope with their environment.