This website uses cookies to ensure you get the best experience while browsing it. By clicking 'Got It' you're accepting these terms.
U.S. Becomes Biggest Oil Producer After Overtaking Saudi Arabia
Jul. 20, 2014 08:44AM EST
Energy
Is President Obama's "all of the above" energy policy a success? Or a climate failure?
A report issued recently by Bank of America declared the U.S. has now surpassed Saudi Arabia as the world's largest oil producer. The daily output average for the first quarter of 2104 exceeded 11 million barrels, a significant increase from the previous quarters' (Sept-Dec 2013) average of 7 million barrels, according to the International Energy Agency.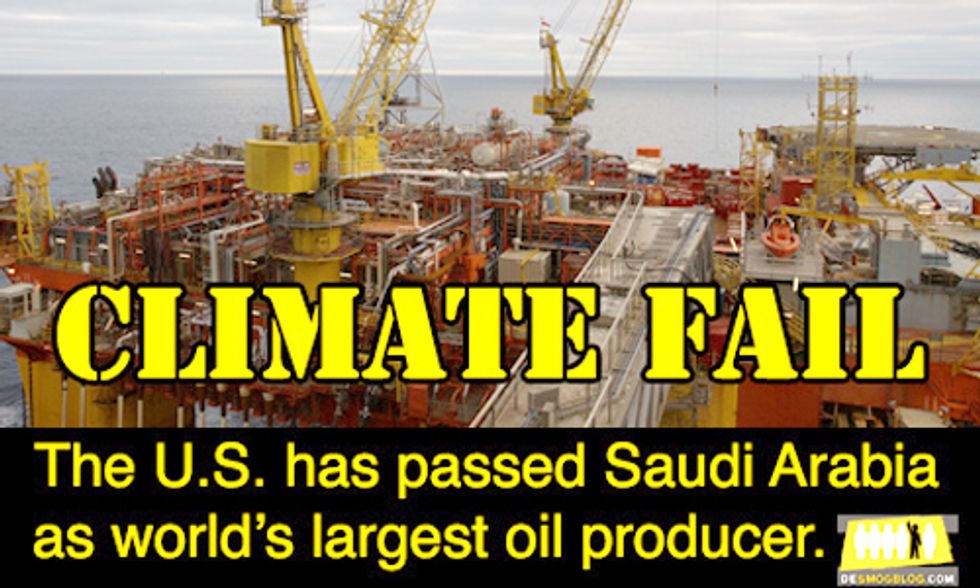 The expansion of domestic oil production in the U.S. has been significant under President Obama, supported by his "all of the above"—or rather the American Petroleum Institute's "all of the above"—energy strategy which has overseen a four-fold increase in drilling rigs under his administration.
News of the surge in U.S. oil production was reported almost concurrently with the release of another news item: global climate scientists have again reported historically high levels of atmospheric carbon. As reported by Climate Central, June 2014 was the third month in a row in which carbon dioxide levels in our atmosphere topped an average of 400 parts per million—a level not seen on Earth in at least 800,000 years.
Dr. Pieter Tans, a senior climate scientist with the National Oceanic and Atmospheric Administration, said, "As long as human society continues to emit CO2 from burning fossil fuels, CO2 in the atmosphere and oceans will continue to increase ... It is urgent that we find a way to transition to non-carbon fuels as our source of primary energy."
Despite these warnings, Obama's "all of the above" policies have in fact supported the increased development of key fossil fuel production sectors:
Obama has approved new offshore drilling permits for the Gulf of Mexico, the Arctic Ocean and (reversing a decades-long moratorium) off the East Coast.
Coal exports have risen to record levels under the Obama administration.
U.S. oil exports, banned for more than 40 years, are now being loosened by the Commerce Department, providing U.S. oil companies the opportunity to target lucrative markets in Europe and Asia, also spurring the economic incentive to increase production as well as consumption.
The increase in U.S. oil production also helps accommodate a surge of growth in U.S. oil consumption. In 2013, U.S. oil consumption rose by more than 390,000 barrels per day from its levels in 2012, up to more than 18 million bbd. For the first time since 1999, the use of oil in the U.S. rose more rapidly than in the rest of the world. These trends in both oil production and consumption stand in direct opposition to the warning calls from the scientific community about the consequences of increased burning of fossil fuels. This, from the most recent National Climate Assessment Report:
"The amount of (global) warming projected beyond the next few decades is directly linked to the cumulative global emissions of heat-trapping gases and particles. By the end of this century, a roughly 3°F to 5°F rise is projected under a lower emissions scenario, which would require substantial reductions in emissions and a 5°F to 10°F rise for a higher emissions scenario assuming continued increases in emissions predominantly from fossil fuel combustion."

"The amount of future climate change … will still largely be determined by choices society makes about emissions."
President Obama's "all of the above" energy strategy—in stark contrast both to his climate rhetoric and, more importantly, to the warnings of the world's leading climate scientists —indeed supports the continued production and consumption of the principal fossil fuel sources of man-made greenhouse gas emissions at a tragically wrong time in history.
Our nation's 'achievement' in becoming the world's #1 oil producer—at the very time atmospheric levels of carbon continue to rise at historic, dangerous levels—represents nothing less than the huge climate change failure of Obama's "All of the above" energy strategy.
Here are some of President Obama's quotes on climate change and the need to move beyond oil: 
"Someday, our children, and our children's children, will look at us in the eye and they'll ask us, did we do all that we could when we had the chance to deal with this problem and leave them a cleaner, safe, more stable world?" —President Barack Obama, June 25, 2013

"I refuse to condemn your generation and future generations to a planet that's beyond fixing." —President Barack Obama, June 25, 2013

"The next generation will not be held hostage to energy sources from the last century. We are not going to move backwards. We are going to move forward." —President Barack Obama, June 2, 2010
EcoWatch Daily Newsletter
A new report spotlights a U.N. estimate that at least 275 million people rely on healthy coral reefs. A sea turtle near the Heron Island in the Great Barrier Reef is seen above. THE OCEAN AGENCY / XL CATLIN SEAVIEW SURVEY
In a new report about how the world's coral reefs face "the combined threats of climate change, pollution, and overfishing" — endangering the future of marine biodiversity — a London-based nonprofit calls for greater global efforts to end the climate crisis and ensure the survival of these vital underwater ecosystems.
Half of the extracted resources used were sand, clay, gravel and cement, seen above, for building, along with the other minerals that produce fertilizer. Cavan Images / Cavan / Getty Images
The world is using up more and more resources and global recycling is falling. That's the grim takeaway from a new report by the Circle Economy think tank, which found that the world used up more than 110 billion tons, or 100.6 billion metric tons, of natural resources, as Agence France-Presse (AFP) reported.
By Gero Rueter
Heating with coal, oil and natural gas accounts for around a quarter of global greenhouse gas emissions. But that's something we can change, says Wolfgang Feist, founder of the Passive House Institute in the western German city of Darmstadt.

By George Citroner
Recent research finds that official government figures may be underestimating drug deaths by half.
Researchers estimate that 142,000 people died due to drug use in 2016.
Drug use decreases life expectancy after age 15 by 1.4 years for men and by just under 1 year for women, on average.
Government records may be severely underreporting how many Americans die from drug use, according to a new study by researchers from the University of Pennsylvania and Georgetown University.
Water coolers in front of shut-off water fountains at Center School in Stow, MA on Sept. 4, 2019 after elevated levels of PFAS were found in the water. David L. Ryan / The Boston Globe via Getty Images
In a new nationwide assessment of drinking water systems, the Environmental Working Group found that toxic fluorinated chemicals known as PFAS are far more prevalent than previously thought.