This website uses cookies to ensure you get the best experience while browsing it. By clicking 'Got It' you're accepting these terms.
U.S. Becomes Biggest Oil Producer After Overtaking Saudi Arabia
Jul. 20, 2014 09:44AM EST
Energy
Is President Obama's "all of the above" energy policy a success? Or a climate failure?
A report issued recently by Bank of America declared the U.S. has now surpassed Saudi Arabia as the world's largest oil producer. The daily output average for the first quarter of 2104 exceeded 11 million barrels, a significant increase from the previous quarters' (Sept-Dec 2013) average of 7 million barrels, according to the International Energy Agency.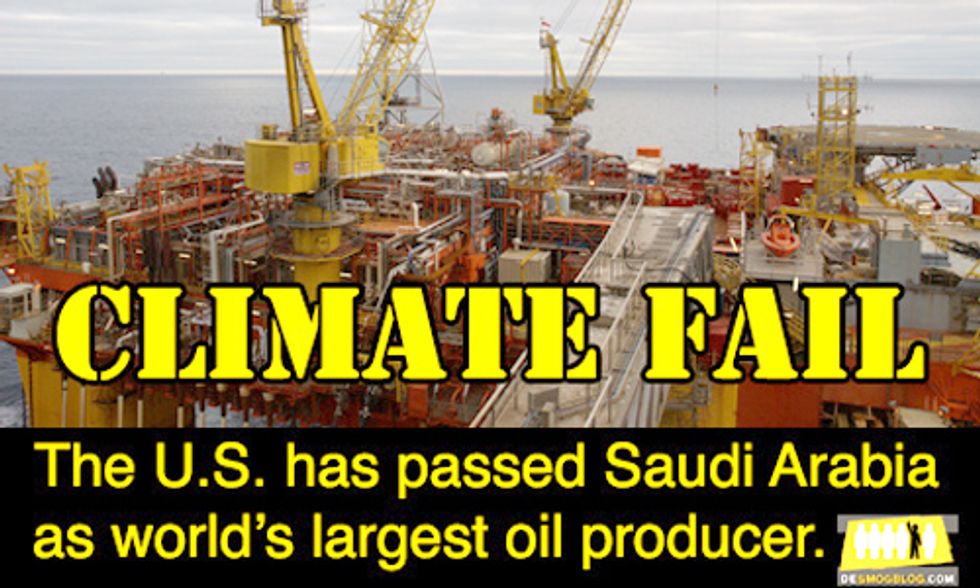 The expansion of domestic oil production in the U.S. has been significant under President Obama, supported by his "all of the above"—or rather the American Petroleum Institute's "all of the above"—energy strategy which has overseen a four-fold increase in drilling rigs under his administration.
News of the surge in U.S. oil production was reported almost concurrently with the release of another news item: global climate scientists have again reported historically high levels of atmospheric carbon. As reported by Climate Central, June 2014 was the third month in a row in which carbon dioxide levels in our atmosphere topped an average of 400 parts per million—a level not seen on Earth in at least 800,000 years.
Dr. Pieter Tans, a senior climate scientist with the National Oceanic and Atmospheric Administration, said, "As long as human society continues to emit CO2 from burning fossil fuels, CO2 in the atmosphere and oceans will continue to increase ... It is urgent that we find a way to transition to non-carbon fuels as our source of primary energy."
Despite these warnings, Obama's "all of the above" policies have in fact supported the increased development of key fossil fuel production sectors:
Obama has approved new offshore drilling permits for the Gulf of Mexico, the Arctic Ocean and (reversing a decades-long moratorium) off the East Coast.
Coal exports have risen to record levels under the Obama administration.
U.S. oil exports, banned for more than 40 years, are now being loosened by the Commerce Department, providing U.S. oil companies the opportunity to target lucrative markets in Europe and Asia, also spurring the economic incentive to increase production as well as consumption.
The increase in U.S. oil production also helps accommodate a surge of growth in U.S. oil consumption. In 2013, U.S. oil consumption rose by more than 390,000 barrels per day from its levels in 2012, up to more than 18 million bbd. For the first time since 1999, the use of oil in the U.S. rose more rapidly than in the rest of the world. These trends in both oil production and consumption stand in direct opposition to the warning calls from the scientific community about the consequences of increased burning of fossil fuels. This, from the most recent National Climate Assessment Report:
"The amount of (global) warming projected beyond the next few decades is directly linked to the cumulative global emissions of heat-trapping gases and particles. By the end of this century, a roughly 3°F to 5°F rise is projected under a lower emissions scenario, which would require substantial reductions in emissions and a 5°F to 10°F rise for a higher emissions scenario assuming continued increases in emissions predominantly from fossil fuel combustion."

"The amount of future climate change … will still largely be determined by choices society makes about emissions."
President Obama's "all of the above" energy strategy—in stark contrast both to his climate rhetoric and, more importantly, to the warnings of the world's leading climate scientists —indeed supports the continued production and consumption of the principal fossil fuel sources of man-made greenhouse gas emissions at a tragically wrong time in history.
Our nation's 'achievement' in becoming the world's #1 oil producer—at the very time atmospheric levels of carbon continue to rise at historic, dangerous levels—represents nothing less than the huge climate change failure of Obama's "All of the above" energy strategy.
Here are some of President Obama's quotes on climate change and the need to move beyond oil: 
"Someday, our children, and our children's children, will look at us in the eye and they'll ask us, did we do all that we could when we had the chance to deal with this problem and leave them a cleaner, safe, more stable world?" —President Barack Obama, June 25, 2013

"I refuse to condemn your generation and future generations to a planet that's beyond fixing." —President Barack Obama, June 25, 2013

"The next generation will not be held hostage to energy sources from the last century. We are not going to move backwards. We are going to move forward." —President Barack Obama, June 2, 2010
EcoWatch Daily Newsletter
ROBYN BECK / AFP / Getty Images
By Dave Cooke
So, they finally went and did it — the Trump administration just finalized a rule to undo requirements on manufacturers to improve fuel economy and reduce greenhouse gas emissions from new passenger cars and trucks. Even with the economy at the brink of a recession, they went forward with a policy they know is bad for consumers — their own analysis shows that American drivers are going to spend hundreds of dollars more in fuel as a result of this stupid policy — but they went ahead and did it anyway.
By Richard Connor
A blood test that screens for more than 50 types of cancer could help doctors treat patients at an earlier stage than previously possible, a new study shows. The method was used to screen for more than 50 types of cancer — including particularly deadly variants such as pancreatic, ovarian, bowel and brain.
By Raya A. Al-Masri
Different strategies for resisting the spread of the new coronavirus have emerged in different countries. But the one that has cut through everywhere is simple and, supposedly, can be done by anyone: "Wash your hands with water and soap for at least 20 seconds."
A USGS map showing the location of a 6.5 magnitude quake that shook Idaho Tuesday evening. USGS
Idaho residents were rattled Tuesday evening by the biggest earthquake to shake the state in almost 40 years.
A sign marks the ground covering TransCanada's Keystone I pipeline outside of Steele City, Nebraska on April 21, 2012. Lucas Oleniuk / Toronto Star via Getty Images

The company behind the controversial and long-delayed Keystone XL pipeline announced it would proceed with the project Tuesday, despite concerns about the climate impacts of the pipeline and the dangers of transporting construction crews during a pandemic.