U.S. and China to Sign Paris Climate Agreement on Earth Day
The U.S. and China will sign the Paris agreement on climate change on April 22, the first day they can do so, Presidents Obama and Xi announced Thursday.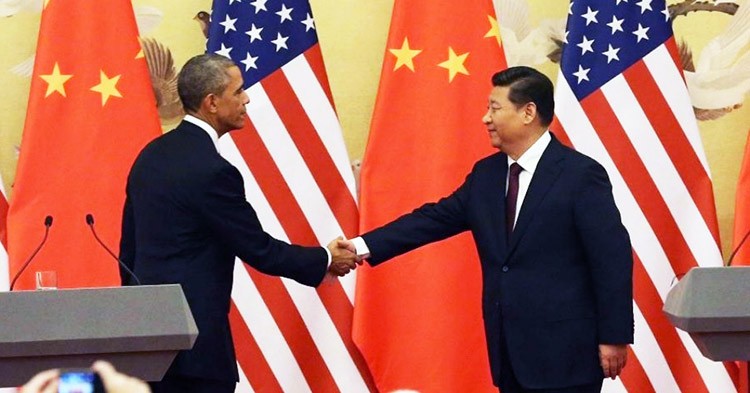 The two nations will also "take their respective domestic steps in order to join the agreement as early as possible this year" and urge other countries to do the same, "with a view to bringing the Paris agreement into force as early as possible."
The presidents also indicated that they are planning agreements to limit aviation emissions and the powerful greenhouses gases known as HFCs. Experts and environmental groups are heralding the announcement as a "significant" step, saying that the U.S.-China commitment sends a "strong signal" to other countries. 
Here's the U.S.-China joint presidential statement on climate change:
1. Over the past three years, climate change has become a pillar of the U.S.-China bilateral relationship. Both countries have taken strong measures at home to build green, low-carbon and climate-resilient economies, helping galvanize global action to combat climate change and culminating in the Paris Agreement reached last December. With their joint announcement of ambitious climate actions in November 2014, President Barack Obama and President Xi Jinping sought to lead by example, and by the time the Paris conference opened a year later, some 186 countries had put forward their own climate actions. In September 2015, the two leaders laid out a common vision for the Paris outcome during President Xi's State Visit to Washington and also announced major domestic policy measures and cooperative initiatives to combat climate change, as well as significant progress on climate finance. In Paris, the United States and China, working together and with others, played a critical role in crafting a historic, ambitious global climate change agreement.
2. Today, the two Presidents announce another significant step in their joint climate efforts. The United States and China will sign the Paris Agreement on April 22nd and take their respective domestic steps in order to join the Agreement as early as possible this year. They encourage other Parties to the United Nations Framework Convention on Climate Change to do the same, with a view to bringing the Paris Agreement into force as early as possible. The Presidents further express their commitment to work together and with others to promote the full implementation of the Paris Agreement to win the fight against the climate threat.
3. The Presidents recognize that the Paris Agreement marks a global commitment to tackling climate change and a strong signal of the need for a swift transition to low-carbon, climate-resilient economies. In this regard, the Presidents are also committed to working bilaterally and with other countries to achieve successful outcomes this year in related multilateral fora, including on an HFC amendment under the Montreal Protocol pursuant to the Dubai Pathway and on a global market-based measure for addressing greenhouse gas emissions from international aviation at the International Civil Aviation Organization Assembly. To accelerate clean energy innovation and deployment, they will work together to implement the goals of the Mission Innovation initiative announced at the Paris conference and carry forward the work of the Clean Energy Ministerial. They support a successful G-20 Summit in Hangzhou this year, including strong climate and clean energy outcomes, and call on the G-20 countries to engage constructively in international cooperation on energy and climate change. And they will continue to deepen and broaden bilateral cooperation through the U.S.-China Climate Change Working Group, the U.S.-China Clean Energy Research Center, and other efforts.
4. Finally, the Presidents commit to taking concrete steps to implement the commitments they made in their September 2015 Joint Statement to use public resources to finance and encourage the transition toward low carbon technologies as a priority. Since the Joint Statement, the United States led an effort in the OECD to successfully adopt the first-ever set of multilateral standards for support of coal-fired power plants using export credit, and China has been strengthening its green and low-carbon policies and regulations with a view to strictly controlling public investment flowing into projects with high pollution and carbon emissions both domestically and internationally.
5. The joint efforts by China and the United States on climate change will serve as an enduring legacy of the partnership between our two countries.
For a deeper dive: New York Times, Washington Post, AP, Wall Street Journal, Climate Home, Reuters, USA Today, The Hill, Bloomberg, Xinhua, Carbon Pulse, BBC, IB Times, Greenwire
For more climate change and clean energy news, you can follow Climate Nexus on Twitter and Facebook, and sign up for daily Hot News.
YOU MIGHT ALSO LIKE
Climate Model Predicts Melting of West Antarctic Ice Sheet Could Double Sea Level Rise
The Brave New World of Carbon Pricing
Symbolic Victory for Clean Energy as North America's Largest Coal-Fired Power Plant Will Soon Be Home to a Solar Farm
Jul. 21, 2017 01:50PM EST
Will Rose / Greenpeace
Eleven peaceful activists from the Greenpeace ship Arctic Sunrise have taken to the water in inflatable boats with handheld banners to oppose the Statoil Songa Enabler oil rig, 275 km North off the Norwegian coast, in the Arctic Barents sea.
The banners say: "People Vs. Arctic Oil" and are directed at Statoil and the Norwegian government, which has opened a new, aggressive search for oil in the waters of the Barents Sea.
Keep reading...
Show less
Jul. 21, 2017 10:34AM EST
Dominion Pipeline Monitoring Coalition
The Federal Energy Regulatory Commission (FERC) paved the way Friday for the 600-mile, 42-inch fracked gas Atlantic Coast Pipeline to proceed when it issued the final environmental impact statement (FEIS). A joint project of utility giants Duke Energy and Dominion Energy, the Atlantic Coast Pipeline would move fracked gas from West Virginia into Virginia and North Carolina.
In April, the Sierra Club submitted more than 500 pages of legal and technical comments on FERC's draft EIS, which were joined by more than 18,000 individual comments detailing opposition to the project. The pipeline has been met with widespread opposition, with more than 1,000 people participating in public hearings across the three affected states. The Sierra Club recently requested that FERC issue a new environmental review document analyzing information that came in after or late in, the public comment process.
Keep reading...
Show less
Jul. 21, 2017 08:25AM EST
Greenpeace / PolluterWatch
By Jessica Corbett
"It's time Rex Tillerson step down or be removed," said Gigi Kellett of Corporate Accountability International, following an announcement on Thursday that ExxonMobil will pay $2 million for violating U.S. sanctions against Russian officials while the now-secretary of state was the company's CEO.
"ExxonMobil demonstrated reckless disregard for U.S. sanction requirements," according to enforcement filing released by the Treasury Department's Office of Foreign Assets Control (OFAC), which issued the penalty. Though the fine is reportedly the maximum penalty allowed, it's pittance to one of the world's most profitable and powerful corporations, which last year reported a profit of $7.8 billion.
Keep reading...
Show less
Jul. 21, 2017 11:15AM EST
New analysis from Amory B. Lovins debunks the notion that highly unprofitable, economically distressed nuclear plants should be further subsi­dized to meet financial, security, reliability and climate goals. The analysis, which will appear shortly in The Electricity Journal, shows that closing costly-to-run nuclear plants and reinvesting their saved operating costs in energy efficiency provides cheaper elec­tricity, increases grid reliability and security, reduces more carbon, and preserves (not distorts) market integrity—all without subsidies.

Keep reading...
Show less
Jul. 21, 2017 08:44AM EST
Oil Change International / Twitter
By Christian Detisch and Seth Gladstone
In the wake of Senate Republicans' ever-deepening debacle over their flailing attempts to strip health insurance from 22 million people, Majority Leader Mitch McConnell is desperate to do something—anything—to show that he can get legislation passed. To this end, he's bypassing the standard committee review process to push a complex 850+ page energy bill straight to the full Senate floor. Perhaps not surprisingly, this legislation, the Energy and Natural Resources Act of 2017, would be a disaster for public health and our climate.
Keep reading...
Show less
Jul. 21, 2017 08:11AM EST
Rooftop solar panels on a beach house in southern Florida. TAI VIINIKKA / CC BY-NC-ND 2.0
A new law passed this week in South Miami will require all new homes built in the city to install solar panels. The measure, which was inspired by a proposal from a teenage climate activist, will go into effect in September.
The text of the ordinance details the climate impacts facing South Miami.
Keep reading...
Show less
Jul. 21, 2017 10:27AM EST
www.youtube.com
Keep reading...
Show less
Jul. 21, 2017 08:49AM EST
iStock
By Katherine Paul and Ronnie Cummins
A recent series of articles by a Washington Post reporter could have some consumers questioning the value of the U.S. Department of Agriculture's (USDA) organic seal. But are a few bad eggs representative of an entire industry?
Consumers are all for cracking down on the fraudulent few who, with the help of Big Food, big retail chains and questionable certifiers give organics a bad name. But they also want stronger standards, and better enforcement—not a plan to weaken standards to accommodate "Factory Farm Organic."
Keep reading...
Show less