This website uses cookies to ensure you get the best experience while browsing it. By clicking 'Got It' you're accepting these terms.
U.S. Agencies Plan to Eliminate True Organic Egg Production
Jul. 24, 2013 10:46AM EST
Yesterday, the Food and Drug Administration (FDA) released a draft guidance document to clarify how egg producers, including organic farmers with outdoor access, can comply with its 2009 egg safety rule aimed at reducing salmonella contamination in the nation's egg supply.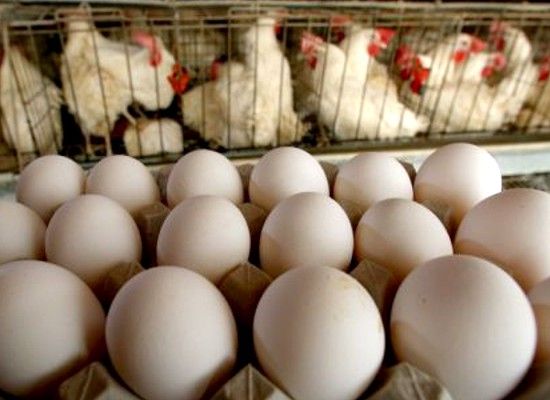 Since organic producers are required by federal standards to grant outdoor access to their laying hens, the guidance applies to all organic egg producers. The FDA, which collaborated with the U.S. Department of Agriculture's (USDA) National Organic Program in promulgating their guidance, recognizes minute covered porches—which do not afford true and meaningful outdoor access to laying hens—as one of four possible organic production systems and thereby legitimizes their use.
Already the focus of controversy and threatened lawsuits, the USDA has been widely criticized for allowing giant "organic" factory farms, confining as many as 100,000 birds to a building, to skirt the requirements for outdoor access by employing tiny screened porches, often with a capacity of only one-three percent of the confined birds. The USDA is currently allowing these giant poultry operations to claim these structures as the legally required "access to the outdoors."
"This is collusion between two Obama administration agencies to significantly and permanently weaken the integrity of the organic standards," says Mark Kastel, codirector of The Cornucopia Institute.
"By giving the OK to use covered porches as 'outdoor access,' and putting additional burdens on producers with legitimate outdoor runs or pasture, the recommendations in this food safety document decisively tilt the playing field to industrial-scale producers," added Kastel.
Some in the organic community had been concerned that the FDA would require impractical swabbing and disinfecting of the outdoor areas but the draft guidance puts these concerns to rest.
However, other prevention and control measures that are included in the guidance could force organic producers to devote significant additional resources, or may even make it impossible for pastured poultry operations to comply.
Stephanie Alexandre, a producer of certified organic, pastured eggs near Crescent City, CA, objects to the draft guidance.
"It's ironic that federal regulators would apply such scrutiny, and costly and labor-intensive requirements, to my farm when there is abundant published, peer-reviewed research indicating that the real danger to society, from salmonella contamination in eggs, comes from giant industrial operations, generally with caged birds, not with modest sized flocks of pastured poultry," said Alexandre.
For example, despite weak scientific evidence that contact with wild birds is a significant risk factor for salmonella contamination, the FDA requires organic producers to minimize contact with other birds. The agency recommends noise cannons, temporary confinement, netting, or even structures with roofs (porches) which would be cost prohibitive for most organic producers with meaningful outdoor access.
Some of the recommended measures would discourage chickens from using the outdoor space. For example, while noise cannons would be effective in scaring wild birds, they would also scare the laying hens and effectively make the outdoor area an inhospitable environment for the organic birds.
"In effect, the FDA's proposed recommendations would steer organic egg producers toward the use of porches, which would be the most effective and cost-efficient way to ensure complete compliance with the rule," Kastel explained. "Why would farm operators invest the extra labor and expense to meet the FDA requirements, and put their birds outside, when they can create a token structure, attached to their main building, and continue to confine their animals?"
"The recommendations in this draft guidance essentially give organic producers a textbook of excuses for why their birds can legally be confined in industrial settings," says Kastel. "To create the safest and most nutritious eggs, we should be encouraging more and better use of outdoor space for laying hens so that they can exhibit their true, native behavior. But this FDA document does just the opposite."
The Cornucopia Institute was already investigating a legal action against the USDA for its unwillingness to enforce the law requiring outdoor access for chickens. It is the farm policy organization's contention that confining birds to small adjacent structures on massive industrial-scale "farms," does not meet the federal legal mandate.
In what now appears to be a cynical ploy, the USDA had asked the National Organic Standards Board (NOSB)—the expert citizen panel that Congress created to advise the Secretary of Agriculture—to develop standards to help enforce the requirement for outdoor access.
The NOSB completed a years-long process of collaborating with industry representatives and forwarded a series of recommendations to USDA leadership that would have required a minimum amount of square footage, and other requirements, like the number and size of doors, that would have facilitated enforcement of the outdoor access provisions.
Recently, leadership at the USDA's National Organic Program informed organic stakeholders that they would not follow through with amending poultry/livestock regulations, incorporating the NOSB's recommendations, because it was currently "not a priority."
"The lack of enforcement action by the USDA has helped shift the lion's share of production of organic eggs to giant agribusinesses, which mostly produce conventional eggs, at the expense of family-scale farmers who are producing a superior product in an environmentally responsible manner and treating their livestock humanely," stated Cornucopia's Kastel.
"We will not stand by while the most dedicated and responsible, and law-abiding, organic producers are placed at a competitive disadvantage by the arbitrary and capricious behavior of the current administration's leadership at the USDA and FDA."
The FDA has opened a 60-day public comment period for input pursuant to their draft guidance on compliance with the salmonella safety rule for producers with outdoor access for laying hens.
The Cornucopia Institute will soon release an action alert and briefing paper so interested organic stakeholders can make informed comments on the draft guidance.
If organic farmers and consumers interested in protecting the integrity of the organic label, and possibly the country's safest agricultural producers, are not already Cornucopia members, they can either join by visiting the organization's website.
Visit EcoWatch's FACTORY FARMING page for more related news on this topic.
———
EcoWatch Daily Newsletter
The Democratic primary candidates take the stage during Tuesday's debate. SAUL LOEB / AFP via Getty Images
On Tuesday night, the Democratic presidential candidates gathered for what The Guardian said was the largest primary debate in U.S. history, and they weren't asked a single question about the climate crisis.
A. Battenburg / Technical University of Munich
By Sarah Kennedy
Algae in a pond may look flimsy. But scientists are using algae to develop industrial-strength material that's as hard as steel but only a fraction of the weight.
Variety of fermented food korean traditional kimchi cabbage and radish salad. white and red sauerkraut in ceramic plates over grey spotted background. Natasha Breen / REDA&CO / Universal Images Group / Getty Image
Even if you've never taken probiotics, you've probably heard of them.
These supplements provide numerous benefits because they contain live microorganisms, such as bacteria or yeast, which support the healthy bacteria in your gut (1, 2, 3, 4).
Pexels
Singapore will become the first country in the world to place a ban on advertisements for carbonated drinks and juices with high sugar contents, its health ministry announced last week. The law is intended to curb sugar consumption since the country has some of the world's highest diabetes rates per capita, as Reuters reported.
A typical adult takes around 20,000 breaths per day. If you live in a megacity like Beijing, with many of those lungfuls you're likely to inhale a noxious mixture of chemicals and pollutants.
Fred Stone holds his brown swiss cow Lida Rose at his Arundel dairy farm on March 18 after a press conference where he spoke about PFAS chemical contamination in his fields. Gregory Rec / Portland Portland Press Herald via Getty Images
By Susan Cosier
First there was Fred Stone, the third-generation dairy farmer in Maine who discovered that the milk from his cows contained harmful chemicals. Then came Art Schaap, a second-generation dairy farmer in New Mexico, who had to dump 15,000 gallons of contaminated milk a day.
Protesters attend the 32nd annual Fur-Free Friday demonstration on Nov. 23, 2018 in Beverly Hills, California. Ella DeGea / Getty Images
California Governor Gavin Newsom signed into law a bill that that bans the sale and manufacture of fur products in the state. The fur ban, which he signed into law on Saturday, prohibits Californians from selling or making clothing, shoes or handbags with fur starting in 2023, according to the AP.
By Simon Evans
During the three months of July, August and September, renewables generated an estimated total of 29.5 terawatt hours (TWh), compared with just 29.1TWh from fossil fuels, the analysis shows.