This website uses cookies to ensure you get the best experience while browsing it. By clicking 'Got It' you're accepting these terms.
U.N. Climate Meeting is a Fork in the Road
Nov. 29, 2011 02:29PM EST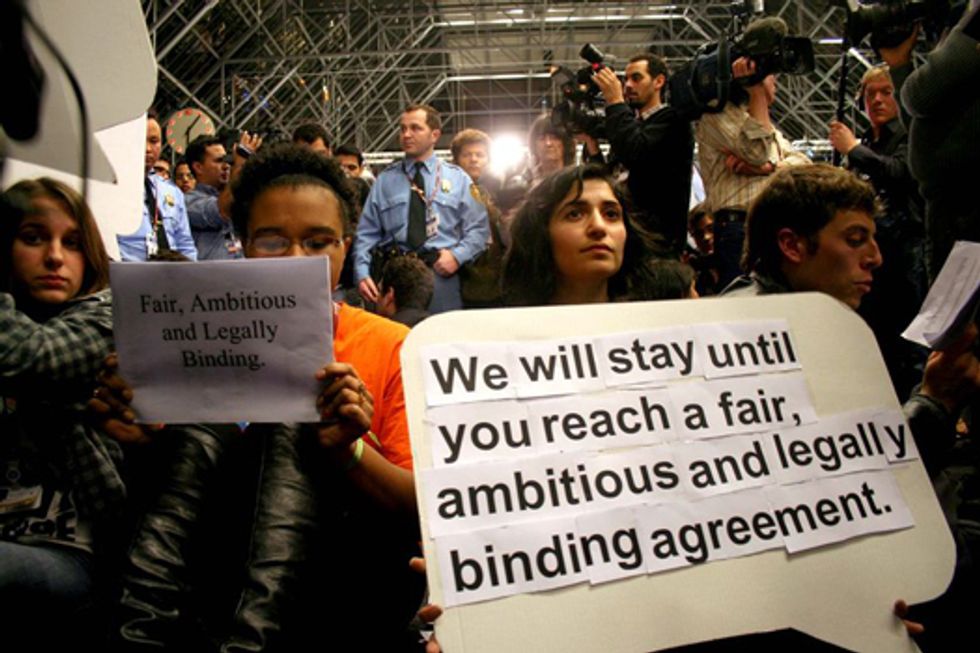 Annual United Nations (U.N.) climate treaty talks taking place between Nov. 28 and Dec. 9 in Durban, South Africa, represent "a crucial fork in the road" for negotiators, according to Alden Meyer, director of strategy and policy at the Union of Concerned Scientists (UCS), who has been attending these negotiations for more than 20 years.
"With the Kyoto Protocol's first emissions-reduction commitment period ending next year, countries face a stark choice," Meyer said. "They can preserve Kyoto's legally binding architecture and commit to build on it by negotiating a more comprehensive and ambitious treaty over the next few years that includes commitments for the U.S., China and other major emitting countries. Or they can fail to act, let countries make emissions cuts as they see fit, and just hope that those reductions will be enough to prevent the worst impacts of climate change."
A number of countries already have announced they will make specific emissions cuts under the Copenhagen Accord, which was established at the annual U.N. climate conference two years ago. Those promised reductions, however, would not be enough to prevent average world temperatures from rising more than 2 degrees Celsius above pre-industrial levels, an increase that many scientists say would ensure some of the worst consequences of climate change. Consequently, the 190 nations participating in the ongoing talks have made a commitment to avoid a 2-degree Celsius temperature increase.
"The world has the best chance of staying within that threshold by establishing a binding climate treaty," said Meyer. "There's always the chance that countries will make enough progress on some important issues—namely reducing deforestation and providing funds to help developing countries reduce their emissions and adapt to climate change—that it buys negotiators another year to continue talks. But even under that scenario, key sticking points likely would remain."
One of the primary hurdles is the United States' refusal to negotiate a new treaty unless major developing countries, such as China, India and Brazil, agree upfront that they will accept the same kind of legally binding commitments as the U.S.
"The U.S. position on developing countries and binding commitments is not realistic," said Meyer, "These countries may be willing to make binding commitments at the end of negotiations a few years from now, but only if their concerns about the level of industrialized country actions to cut emissions and ramp up financial and technology assistance to developing countries are meaningfully addressed.
The U.S. knows its preconditions for new negotiations are non-starters, and will serve only to block progress in Durban," he added. "We need more flexibility on this issue from the United States to get to 'yes' by the end of the talks."
Meanwhile, the European Union has agreed to abide by its Kyoto Protocol emission-reduction commitment beyond 2012 if other major carbon emitters, including the U.S., China, India and Brazil, agree to work toward a treaty. Japan, Russia and Canada have stated that they will not maintain commitments under Kyoto beyond next year under any circumstances, but there would be pressure on them to reconsider this stance if delegates reach an agreement on negotiating a broader treaty.
Climate Finance and the Green Climate Fund
The other big issue in Durban will be climate finance—how to ramp up financial assistance for a developing country to deploy clean technologies, reduce deforestation and adapt to the rapidly mounting impacts of climate change. Specifically, negotiators will try to make progress on establishing the Green Climate Fund that delegates supported at last year's climate talks in Cancun, Mexico, and will discuss options for meeting the commitment made by developed countries two years ago in Copenhagen to mobilize $100 billion a year by 2020 for developing country actions on climate.
The U.S. is an obstacle to progress on this front as well, joining Saudi Arabia in blocking consensus at a preparatory meeting in Cape Town, South Africa last month on recommendations for setting up the Green Climate Fund, and objecting to holding discussions on ways to meet the long-term climate finance goal.
"No one is expecting the United States to put specific pledges on the table in Durban," Meyer said. "But there needs to be progress on the finance issue, or developing countries will justifiably question whether the commitments made in Copenhagen and Cancun are real." He pointed out that other donor countries, such as the European Union, support starting a process in Durban to identify sources of long-term finance that can help meet the $100-billion goal.
Reducing Emissions from Deforestation
Treaty negotiators also will focus on producing a plan that would help developing countries reduce their emissions from tropical deforestation, which is responsible for about 15 percent of global warming pollution.
"Brazil has its own version of this plan and it's proven successful," said Doug Boucher, director of climate research and analysis at UCS. "With financial help from Norway, Brazil reduced tropical rainforest destruction by two-thirds between 2005 and 2010. This year's data, which will be released within the next few weeks, likely will show a slight increase but still at the same low levels.
"Thanks to the country's deforestation plan, since 2005, Brazil emitted about a billion tons less global warming pollution per year than what it emitted between 1996 and 2005," he added. "To put that into perspective, that's nearly the same amount of reductions that last year's U.S. Senate climate bill would have brought about between 2005 and 2020."
Negotiators in Durban will discuss the deforestation level each country should use to gauge its reductions. They also will consider ways to ensure indigenous communities and biodiversity are protected under a prospective deforestation plan.
"Also on the table is the question of who will provide funding to help developing countries reduce their deforestation rates and where the funding will come from," said Boucher. "It could come from governments, like Norway's multibillion-dollar funding that helped Brazil make such a huge dent in its deforestation rate, or from a carbon market, such as the one California is setting up."
Technology Sharing to Reduce Emissions and Enhance Adaptation
In Cancun, countries agreed to establish a "technology mechanism" to encourage countries to share technology and know-how to reduce emissions and help countries cope with the impacts of climate change.
"Negotiations at Durban should ensure that this technology mechanism becomes fully operational in 2012," said Rachel Cleetus, a senior climate economist at UCS. "A rapid global transition to clean, renewable energy sources is critical to addressing the challenge of climate change. Communities at risk from the impacts of climate change, some which are already happening, also need technologies that will help them build resilience and adapt.
"The big question is where the funding for the technology mechanism will come from, so we will be waiting to see what happens at Durban with the Green Climate Fund," she said. "That said, negotiators can make key decisions about the technology mechanism's governance, structure and work program independent of the fund, and they should push for the most ambitious outcome possible."
For more information, click here.
—————
The Union of Concerned Scientists is the leading U.S. science-based nonprofit organization working for a healthy environment and a safer world. Founded in 1969, UCS is headquartered in Cambridge, Massachusetts, and also has offices in Berkeley, Chicago and Washington, D.C.
EcoWatch Daily Newsletter
U.S. President Donald Trump listens as Anthony Fauci, Director of the National Institute of Allergy and Infectious Diseases speaks in the Rose Garden for the daily coronavirus briefing at the White House on March 29 in Washington, DC. Tasos Katopodis / Getty Images
By Jake Johnson
Just over a month after proclaiming that the number of coronavirus cases in the U.S. would soon "be down to close to zero," President Donald Trump said during a press briefing on the White House lawn Sunday that limiting U.S. deaths from the pandemic to between 100,000 and 200,000 people would mean his administration and the country as a whole did "a very good job."
Dicamba is having a devastating impact in Arkansas and neighboring states. A farmer in Mississippi County, Arkansas looks at rows of soybean plants affected by dicamba. The Washington Post / Getty Images
Documents unearthed in a lawsuit brought by a Missouri farmer who claimed that Monsanto and German chemical maker BASF's dicamba herbicide ruined his peach orchard revealed that the two companies knew their new agricultural seed and chemical system would likely damage many U.S. farms, according to documents seen by The Guardian.
Washington State Governor Jay Inslee and other leaders speak to the press on March 28, 2020 in Seattle. Karen Ducey / Getty Images
A bushfire burns outside the Perth Cricket Stadium in Perth, Australia on Dec. 13, 2019. PETER PARKS / AFP via Getty Images

By Albert Van Dijk, Luigi Renzullo, Marta Yebra and Shoshana Rapley
2019 was the year Australians confronted the fact that a healthy environment is more than just a pretty waterfall in a national park; a nice extra we can do without. We do not survive without air to breathe, water to drink, soil to grow food and weather we can cope with.
By Fino Menezes
Everyone adores dolphins. Intelligent, inquisitive and playful, these special creatures have captivated humans since the dawn of time. But dolphins didn't get to where they are by accident — they needed to develop some pretty amazing superpowers to cope with their environment.