Food
Feb. 18, 2015 12:42PM EST
Two Young Entrepreneurs Offer Way to Grow Food Even in the Dead of Winter
As the Eastern U.S. deals with sub-freezing temperatures and lots of snow (looking at you Boston), two young entrepreneurs, Jon Friedman and Brad McNamara, who happen to live in Boston, have a solution to produce food locally even in the middle of winter. Freight Farms, which Friedman and McNamara started in 2010, sells insulated shipping containers, which they've nicknamed Leafy Green Machines, as part of what they call "the next generation of food supply."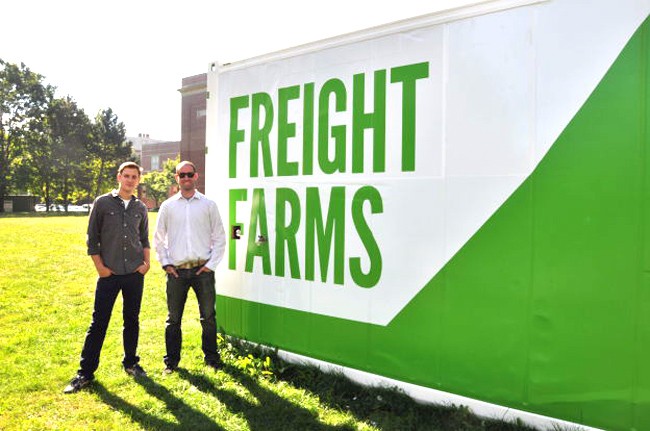 The converted shipping containers are "outfitted with vertical hydroponics, high efficiency LED lights and an automated climate control system," according to their website. The automated system allows users to easily produce "high volume, consistent harvests." Yesterday, Friedman and McNamara joined Jeremy Hobson of NPR's Here & Now to discuss their start up.
Friedman, McNamara and Hobson stood outside in sub-freezing temperatures next to four Leafy Green Machines. Inside these converted shipping containers are (you guessed it!) thousands of varieties of leafy greens including lettuces, herbs and brassicas.
"We can take this all over and to places that don't have access to food," says McNamara. Their idea has been met with skepticism from some, but everyone understands when you explain that "if you want lettuce in New England right now, it's coming from really far away," says Friedman.
Is this catching on? The two have sold 25 units so far, starting around $76,000 per unit. "Between 50 and 100 people a month come in and say I want to get involved with this," says McNamara. Growing food might be the world's oldest profession, but Friedman and McNamara are bringing food production into the 21st century.
"Each farm is a wifi-enabled hotspot, so your farm ... is immediately on the web and all of our farms are connected to our network," McNamara says. "All of our farmers use our farm hand mobile app to monitor their farms 24/7. They can set alerts. They can set alarms."
Sean and Connie Cooney are two happy Freight Farms customers. With their Leafy Green Machine, they can monitor temperature, nutrient and pH levels, and even watch live video of their plants from anywhere with the company's mobile app. "We like to think of it as farming by computer but we still get our hands in there," says Connie Cooney.
Sean Cooney said they chose to buy one because "it seemed like the only scalable way" to grow food in a city and make money doing it as opposed to needing "acres and acres of land further away from the city." They sell most of their greens, including cilantro, mustard green, wild mint, kale, purslane and sorrel, to restaurants. The plants grow more quickly and can grow all year long, and they taste as good or better than what you would buy from a "dirt farm," according to Sean Cooney.
Friedman and McNamara estimate the annual operating costs at $13,000 a year—for electricity, water, packaging and growing supplies—but with plans to incorporate renewable energy sources such as solar panels, that cost could drop significantly.
YOU MIGHT ALSO LIKE
10 Foods That Make You Smarter
Nestlé to Dump Artificial Colors and Flavors in U.S. Candy, Something It Did in Europe Years Ago
Move Over Food Trucks: Eco-Friendly Food Bikes Hit the Streets
Risa Scott / RF Scott Imagery
The Bioscience Resource Project and the Center for Media and Democracy released a trove of rediscovered and newly digitized chemical industry and regulatory agency documents Wednesday stretching back to the 1920s. The documents are available here.
Together, the papers show that both industry and regulators understood the extraordinary toxicity of many chemical products and worked together to conceal this information from the public and the press. These papers will transform our understanding of the hazards posed by certain chemicals on the market and the fraudulence of some of the regulatory processes relied upon to protect human health and the environment.
Keep reading...
Show less
Trevor Hall. PHOTO CREDIT: Emory Hall
I'm a huge Trevor Hall fan so when I saw he was playing in my hometown of Cleveland, I was stoked. I knew seeing the show would be fantastic, but I was also thinking an interview with Trevor would be something really cool to give EcoWatch readers. So, lucky enough, I was offered an interview and was able to hop on my paddleboard from Whiskey Island on the shore of Lake Erie, head up the Cuyahoga River and get to the Music Box Supper Club just in time to chat with Trevor before the show.
"My dad was a drummer, so most my musical influence comes from my dad," Trevor said during our nearly hour interview. "Growing up, my dad had this CD collection in the hallway and I was always fascinated by all the CDs. My hobby was pulling out a CD that looked cool and I'd put it on the stereo and pretend I was rocking out. My dad was really into The Doobie Brothers, Allman Brothers, Earth Wind & Fire, Simply Red, and Crosby, Stills, Nash & Young."
Keep reading...
Show less
The Arbuckle Mountain Wind Farm in southern Oklahoma. Brian Hardzinski / KGOU
American Electric Power (AEP) will invest $4.5 billion in a wind energy project in Oklahoma that could become the largest wind farm in the U.S., the utility announced Wednesday.
AEP will develop a 350-mile transmission line for the 2 GW farm.
Keep reading...
Show less
Environment America / Twitter
The sun is rising on a newer, cleaner era of American energy use.
The U.S. generates nearly eight times as much electricity from the sun and the wind than it did in 2007—enough to power more than 25 million homes—and the average American uses 10 percent less energy than he or she did 10 years ago, according to a new report by Environment America Research and Policy Center.
The report, Renewables on the Rise: A Decade of Progress Toward a Clean Energy Future, also cites a 20-fold increase in battery storage of electricity and the meteoric rise in sales of electric cars—from virtually none in 2007 to nearly 160,000 last year—as evidence that despite attempted rollbacks in Washington, a clean energy revolution is under way across the U.S.
Keep reading...
Show less
Cirrus clouds over Golden Gate Bridge. Brocken Inaglory / Wikimedia Commons
By Tim Radford
Geoengineering, the deliberate alteration of the planet to undo its inadvertent alteration by humans over the past 200 years, is back on the scientific agenda, with a climate compromise suggested as a possible solution.
One group wants to turn down the global thermostat and reverse the global warming trend set in train by greenhouse gases released by fossil fuel combustion, by thinning the almost invisible cirrus clouds that trap radiation and keep the planet warm.
Keep reading...
Show less
By Joe McCarthy
This past June was the third hottest June in recorded history—only 2016 and 2015 had hotter Junes.
The global average temperature has been surpassing the 20th century average for 41 straight years. "Record-breaking temperatures" has almost become a platitude since the turn of the century, yet the consequences of this shift are devastating communities and environments in new ways around the world.
Keep reading...
Show less
iStock
By Joe McCarthy
Tony Maphosa, a Zimbabwean poacher, is accused of putting cyanide in watering holes and salt pans used by elephants numerous times over several years.
All told, his poisoning spree is said to have killed more than 100 elephants, according to Zimbabwean authorities who have been searching for Maphosa for four years.
Keep reading...
Show less
iStock
By David Doniger
As the nation and the world swelter through another year of extraordinary heat, storms, drought and disrupted weather, Senators Sheldon Whitehouse and Brian Schatz introduced carbon fee legislation Wednesday to help curb the heat-trapping pollution that drives this dangerous climate disruption.
Representatives Earl Blumenauer and David Cicilline are introducing companion legislation in the House of Representatives.
Keep reading...
Show less