This website uses cookies to ensure you get the best experience while browsing it. By clicking 'Got It' you're accepting these terms.
Two Women Block Gate to Fracking Wastewater Transfer Station
Jun. 05, 2014 02:36PM EST
Energy
UPDATE: Crissa Cummings unlocked after her action stopped injection operations for much of the business day. Cummings was charged with trespassing and released on her own recognizance. Peggy Gish, who supported Cumming's action and stood with her in front of the gate, was released with no charges. Cummings is expected to be arraigned on June 6 at 9 a.m. at the Athens County Municipal Courthouse. Her supporters will attend and continue to call for an end to injection wells in Athens County.
In an attempt to block trucks from entering or leaving a fracking wastewater transfer station, an Athens County, Ohio resident has locked herself to the gate of the facility, effectively halting operations at the H&K injection well for the day.
Crissa Cummings, 42, of Millfield, OH, alleges that the recently drilled wastewater injection well is operating unsafely.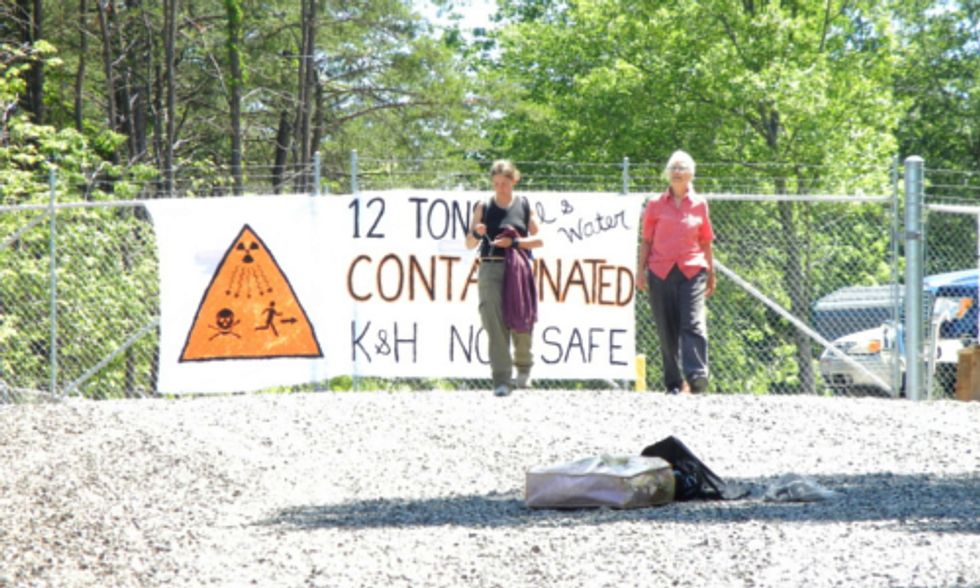 "In light of the recent studies that have linked fracking chemicals to birth defects, I feel sick when I think about all the babies and the pregnant friends that were protesting at this site in February, a couple of weeks after the brine spill," said Cummings while wearing a ventilator. She notes that at least four workers have died since 2010 from exposure to fracking waste—which contains high rates of benzene and other harmful chemicals.
Alongside Cummings sits Peggy Gish, 71, who has been an organic farmer in Athens County for more than 30 years and also opposes fracking and wastewater injection wells.  
"I do this because I care about the health and safety of the people living in this region and for future generations who also want clean water, air and land," said Gish. "Energy companies should not be allowed to make huge profits at the expense of the health and safety of the local people."
Through a records request, community members have found Ohio Department of Natural Resources (ODNR) reports show that in January 2014, the drill rig at the K&H 2 unexpectedly hit saltwater and gas. When the pit overflowed with the fluid, a nearby creek was contaminated, according to Appalachia Resist! After well operators attempted to build a containment wall with the soil they contaminated, the company was ordered to remove 20 tons of the contaminated soil and water.
ODNR reports also show that in January 2014 approximately 410 feet (or 200 bags) of cement disappeared down the well shaft during construction. Though this signifies a potentially dangerous situation—cracks and fissures could exist in the surrounding rock into which the cement may be leaking—neither K&H Partners nor the ODNR has completed an adequate follow up investigation, according to Appalachia Resist!
A banner that reads "12 TONS OF SOIL AND WATER CONTAMINATED. K&H2 NOT SAFE" is strung across the gates, and supporters wearing white hazmat-style suits protest in solidarity, holding signs and chanting.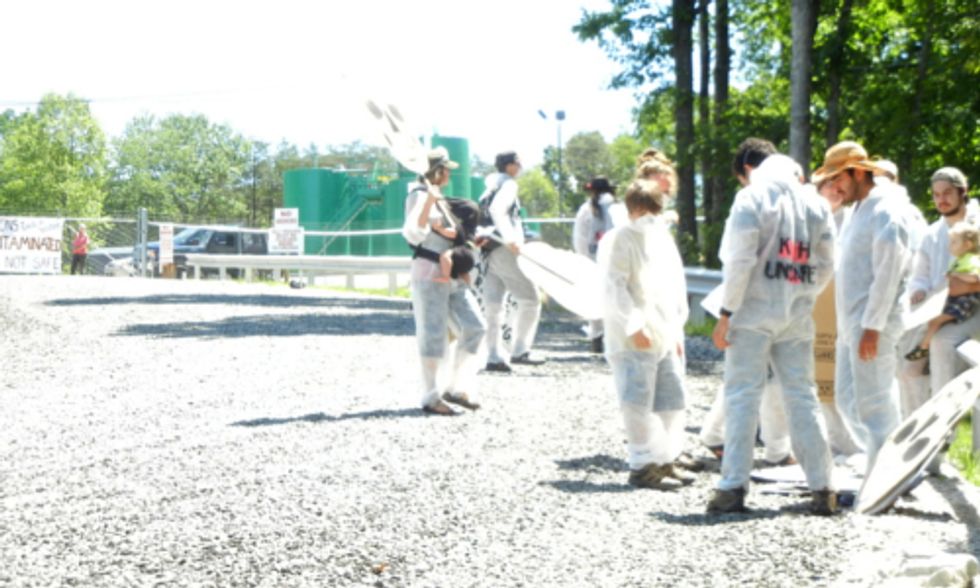 "When a community says it does not want injection wells because we don't believe they are safe, and our public servants ignore the desires of the public and our locally elected officials, the only recourse left to us is to use our bodies to stop the toxic frack waste from being injected into these dangerous wells," said Cummings. 
Earlier this year, eight people were arrested at the same site for protesting the injection of radioactive toxic fracking waste, after the ODNR ignored hundreds of public comments as well as the objections of the Athens County Commissioners.
Athens County Fracking Action Network and Appalachia Resist! have submitted a complaint about the K&H 2 injection well to the U.S. Environmental Protection Agency, charging that the site violates Ohio Revised Codes 1501:9-1-07 and 1501:9-1-08, which focus on prevention of contamination and safety of well construction, as well as violating the Federal Safe Drinking Water Act.
--------
YOU MIGHT ALSO LIKE
Ohio Town Votes Against Fracking Ban for Third Time in a Year
Did Fracking Cause Earthquakes in Ohio?
'Don't Waste Ohio' Coalition Says No to Fracking Wastewater Injection Wells
-------- 
EcoWatch Daily Newsletter
One of the 25 new Long Beach Transit hybrid gasoline-electric buses on April 23, 2009. Jeff Gritchen / Digital First Media / Orange County Register / Getty Images
In Long Beach, California, some electric buses can charge along their route without cords or wires.
When a bus reaches the Pine Avenue station, it parks over a special charging pad. While passengers get on and off, the charger transfers energy to a receiver on the bottom of the bus.
Semi trucks travel along I94 on June 21 near Lake forest, Illinois. Scott Olson / Getty Images
The Trump administration pushed through an exemption to clean air rules, effectively freeing heavy polluting, super-cargo trucks from following clean air rules. It rushed the rule without conducting a federally mandated study on how it would impact public health, especially children, said the Environmental Protection Agency (EPA) Inspector General Charles J. Sheehan in a report released yesterday, as the AP reported.

A time-restricted eating plan provides a new way to fight obesity and metabolic diseases that affect millions of people worldwide. RossHelen / iStock / Getty Images Plus
By Satchin Panda and Pam Taub
People with obesity, high blood sugar, high blood pressure or high cholesterol are often advised to eat less and move more, but our new research suggests there is now another simple tool to fight off these diseases: restricting your eating time to a daily 10-hour window.
Kunhui Chih / iStock / Getty Images Plus
A man and his dog walk past an H&M store in Stockholm, Sweden on March 11, 2014. Melanie Stetson Freeman / The Christian Science Monitor via Getty Images
By Ashutosh Pandey
H&M's flagship store at the Sergels Torg square in Stockholm is back in business after a months-long refurbishment. But it's not exactly business as usual here.