Two Women Block Gate to Fracking Wastewater Transfer Station
UPDATE: Crissa Cummings unlocked after her action stopped injection operations for much of the business day. Cummings was charged with trespassing and released on her own recognizance. Peggy Gish, who supported Cumming's action and stood with her in front of the gate, was released with no charges. Cummings is expected to be arraigned on June 6 at 9 a.m. at the Athens County Municipal Courthouse. Her supporters will attend and continue to call for an end to injection wells in Athens County.
In an attempt to block trucks from entering or leaving a fracking wastewater transfer station, an Athens County, Ohio resident has locked herself to the gate of the facility, effectively halting operations at the H&K injection well for the day.
Crissa Cummings, 42, of Millfield, OH, alleges that the recently drilled wastewater injection well is operating unsafely.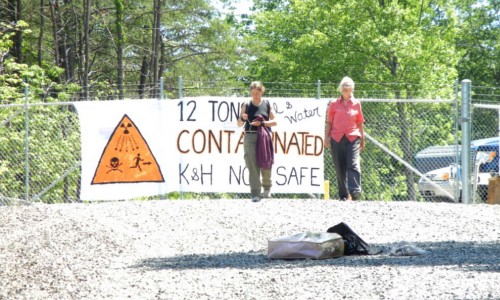 "In light of the recent studies that have linked fracking chemicals to birth defects, I feel sick when I think about all the babies and the pregnant friends that were protesting at this site in February, a couple of weeks after the brine spill," said Cummings while wearing a ventilator. She notes that at least four workers have died since 2010 from exposure to fracking waste—which contains high rates of benzene and other harmful chemicals.
Alongside Cummings sits Peggy Gish, 71, who has been an organic farmer in Athens County for more than 30 years and also opposes fracking and wastewater injection wells.  
"I do this because I care about the health and safety of the people living in this region and for future generations who also want clean water, air and land," said Gish. "Energy companies should not be allowed to make huge profits at the expense of the health and safety of the local people."
Through a records request, community members have found Ohio Department of Natural Resources (ODNR) reports show that in January 2014, the drill rig at the K&H 2 unexpectedly hit saltwater and gas. When the pit overflowed with the fluid, a nearby creek was contaminated, according to Appalachia Resist! After well operators attempted to build a containment wall with the soil they contaminated, the company was ordered to remove 20 tons of the contaminated soil and water.
ODNR reports also show that in January 2014 approximately 410 feet (or 200 bags) of cement disappeared down the well shaft during construction. Though this signifies a potentially dangerous situation—cracks and fissures could exist in the surrounding rock into which the cement may be leaking—neither K&H Partners nor the ODNR has completed an adequate follow up investigation, according to Appalachia Resist!
A banner that reads "12 TONS OF SOIL AND WATER CONTAMINATED. K&H2 NOT SAFE" is strung across the gates, and supporters wearing white hazmat-style suits protest in solidarity, holding signs and chanting.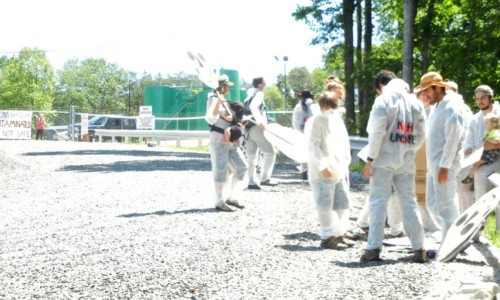 "When a community says it does not want injection wells because we don't believe they are safe, and our public servants ignore the desires of the public and our locally elected officials, the only recourse left to us is to use our bodies to stop the toxic frack waste from being injected into these dangerous wells," said Cummings. 
Earlier this year, eight people were arrested at the same site for protesting the injection of radioactive toxic fracking waste, after the ODNR ignored hundreds of public comments as well as the objections of the Athens County Commissioners.
Athens County Fracking Action Network and Appalachia Resist! have submitted a complaint about the K&H 2 injection well to the U.S. Environmental Protection Agency, charging that the site violates Ohio Revised Codes 1501:9-1-07 and 1501:9-1-08, which focus on prevention of contamination and safety of well construction, as well as violating the Federal Safe Drinking Water Act.
--------
YOU MIGHT ALSO LIKE
Ohio Town Votes Against Fracking Ban for Third Time in a Year
Did Fracking Cause Earthquakes in Ohio?
'Don't Waste Ohio' Coalition Says No to Fracking Wastewater Injection Wells
-------- 
By Itai Vardi
A recent intensification in protests against Williams Partners' planned Atlantic Sunrise pipeline in Pennsylvania prompted a state senator to propose legislation aimed at limiting demonstrations.
Last month, Pennsylvania Sen. Scott Martin (R-Norman) announced his intention to introduce legislation that would pass the costs of law enforcement responding to protests onto the demonstrators. Martin also helped introduce a different bill that would criminalize protests at natural gas facilities.
Keep reading...
Show less
Black Shogun / iStock
The Federal Energy Regulatory Commission (FERC) released its Final Environmental Impact Statement Friday for the Mountain Valley Pipeline, a controversial 303-mile pipeline that would carry two billion cubic feet of fracked gas per day from West Virginia through Virginia.
Keep reading...
Show less
Falcon PEV
The so-called "first and last mile" problem is one of the biggest hurdles with public transportation. How do you encourage more people to take Earth-friendlier commutes when their homes are miles away from the train or bus station?
One solution, as this Estonian electric scooter company proposes, is to simply take your commute with you—literally. Tallinn-based Stigo has developed a compact e-scooter that folds to the size of a rolling suitcase in about two seconds.
Keep reading...
Show less
Connect4Climate
[Editor's note: I'm still in shock after hearing the news that Lucia Grenna passed away in her sleep last week. When we first met in April of 2014 at a Copenhagen hotel, I was immediately taken by here powerful presence. We spent the next couple days participating in a Sustainia climate change event where Lucia presented her audacious plans to connect people to the climate issue. I had the chance to partner with Lucia on several other projects throughout the years and work with her incredible Connect4Climate team. I was always in awe of her ability to "make the impossible possible." Her spirit will live on forever. — Stefanie Spear]
It is with a heavy heart that Connect4Climate announces the passing of its founder and leading light, Lucia Grenna. Lucia passed peacefully in her sleep on June 15, well before her time. We remember her for her leadership and extraordinary ability to motivate people to take on some of the greatest challenges of our time, not least climate change.
Keep reading...
Show less
Jun. 23, 2017 07:29PM EST
Wikimedia Commons
By Stacy Malkan
Neil deGrasse Tyson has inspired millions of people to care about science and imagine themselves as participants in the scientific process. What a hopeful sign it is to see young girls wearing t-shirts emblazoned with the words, "Forget princess, I want to be an astrophysicist."
Keep reading...
Show less
Jun. 23, 2017 01:57PM EST
www.youtube.com
By Andy Rowell
Any day now we will truly witness climate change in action. Within days at worst, maybe weeks at best, scientists predict that a huge section of the Larsen C ice shelf in Antarctica will break off into the ocean, in what is called a major "carving" event.
Keep reading...
Show less
Jun. 23, 2017 02:27PM EST
www.youtube.com
President Trump visited Cedar Rapids, Iowa on June 21 to speak to a large crowd in the U.S. Cellular Center at a political rally organized by his campaign.
As Trevor Noah noted during The Daily Show episode last night (starts at 2:25), the real reason Trump has these rallies is to "get back in front of his loyal crowds and feed of their energy." Noah believes that "Trump supporters are so on board with their dude he can say anything and they'll come along for the ride."
Keep reading...
Show less
Jun. 23, 2017 07:50PM EST
The Kamuthi solar plant in the southern Indian state of Tamil Nadu.
The rapid growth in renewable energy continues to put a dent in the demand for coal.
Coal India, the world's biggest coal mining company and producer of 82 percent of the country's coal, announced the closure of 37 mines that are financially "unviable."
Keep reading...
Show less
Jun. 23, 2017 06:42PM EST
www.youtube.com
By Katie O'Reilly
Two years ago—long before coal became one of the most dominant and controversial symbols of the 2016 presidential election—Bloomberg Philanthropies approached production company RadicalMedia with the idea of creating a documentary exploring the U.S. coal mining industry. Last spring, they brought on Emmy-nominated director Michael Bonfiglio, tasked with forging a compelling story out of the multitudes of facts, statistics and narratives underlying the declining industry.
Keep reading...
Show less