This website uses cookies to ensure you get the best experience while browsing it. By clicking 'Got It' you're accepting these terms.
Two States Introduce Bills Requiring Genetically Engineered Food Labels
Feb. 14, 2013 02:11PM EST
GMO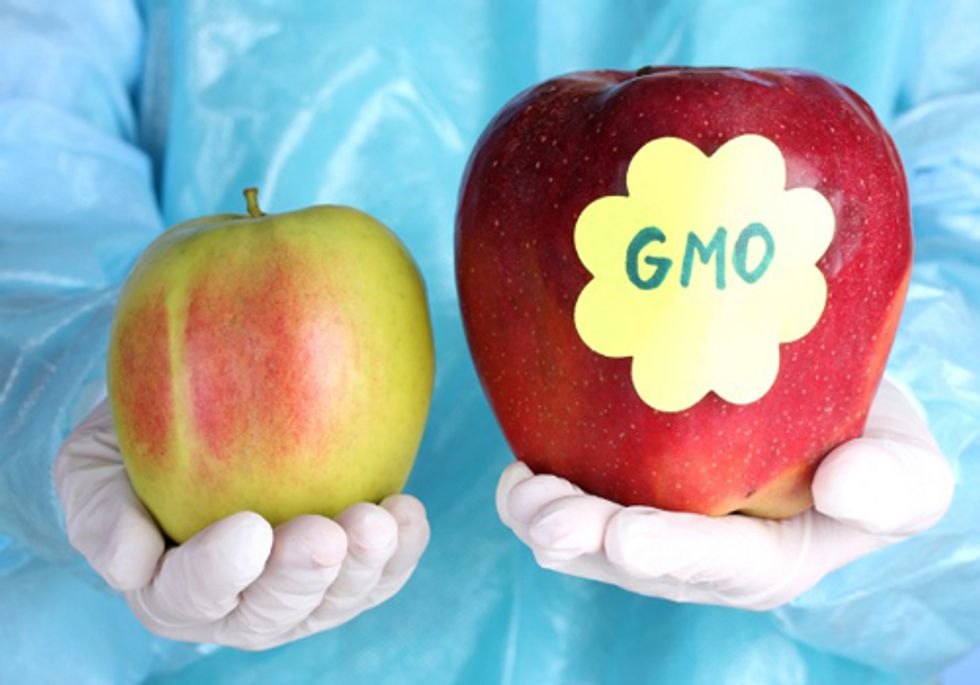 Today, Senator Joe Bolkcom introduced a bill, Senate File (SF) 194, that would require labeling of genetically engineered (GE) foods in Iowa. The legislation was drafted with the support of consumer advocacy group Food & Water Watch and is strongly supported by many national and local organizations and individuals including food cooperatives, organic farmers, environmentalists and food justice proponents.
"Consumers want to know what is in their food," said Sen. Bolkcom (D-Iowa City). "This is a simple bill that gives consumers information they want"
If passed, SF 194 would require labeling for all foods containing more than nine-tenths of one percent GE ingredients. This includes plants altered in a laboratory with foreign genetic material to create novel genetic combinations and exhibit traits that do not occur in nature. Since most processed foods contain some derivative of GE corn, soybean or cotton, they would need to be labeled under this law.
"Right now, consumers are in the dark about whether or not the food they buy and feed to their families is genetically engineered," said Matt Ohloff, Iowa Organizer for Food & Water Watch. "SF 194 would give Iowans the power to decide for themselves whether or not to buy and eat GE foods. This simple right to information about our foods is something everyone can support, which is why GE food labeling is on both the Iowa Republican and Democratic Party Platforms. We look forward to seeing legislators from both parties and the Governor represent their constituents, and their parties, and pass GE food labeling legislation in Iowa."
According to a Food & Water Watch press release, although health risks associated with eating GE products are not fully understood, these altered foods have become pervasive within our food system since they first became available in 1996. Companies submit their own safety testing data, and independent research is limited because biotechnology companies prohibit cultivation for research purposes.
Labeling GE foods is not a novel idea. The European Union specifically addresses the new properties and risks of biotech crops, requiring all food, animal feeds and processed products with GE content to bear labels. In fact, the EU is among nearly 50 developed countries that require the GE products they import from the U.S. to be labeled. Furthermore, a 2012 Mellman Group Study showed that 91 percent of U.S. voters favored having the Food and Drug Administration require labels on GE foods and ingredients.
Iowa isn't the only state working to enforce the labeling of GE foods. Last week, according to dcist, Maryland State Delegate Glen Glass introduced a bill that would require food manufacturers to include labels on products that have genetically engineered ingredients in them. Under the provisions of the bill, any food product that was genetically engineered would have to be labeled as such, either bearing a warning notifying that the product is "Genetically Engineered" or "Partially Produced with Genetic Engineering." Additionally, it would be unlawful for such products to advertise themselves as "natural," "naturally grown" or "all natural."
According to a New York Times article on the fight for the labeling of genetically engineered foods, at least 20 states across the country are considering labeling requirements. Voters in Washington state will soon be able to vote on a ballot initiative that would mandate labeling; a similar initiative failed in California last year after intense lobbying from the food industry. In November, the city of Cincinnati became the first in Ohio to pass a resolution to require the labeling of GE foods, citing that consumers should have the right to know what is in their food.
Last year the Maryland General Assembly approved a ban on the use of arsenic in chicken feed, and that ban went into effect last month.
Visit EcoWatch's GENETICALLY MODIFIED ORGANISM page for more related news on this topic.
——–
Tell the FDA to Deny Approval of GE Salmon:
EcoWatch Daily Newsletter
picture alliance / dpa / F. Rumpenhorst
By Arthur Sullivan
When was the last time you traveled by plane? Various researchers say as little as between 5 and 10 percent of the global population fly in a given year.
A Starbucks barista prepares a drink at a Starbucks Coffee Shop location in New York. Ramin Talaie / Corbis via Getty Images
By Cathy Cassata
Are you getting your fill of Starbucks' new Almondmilk Honey Flat White, Oatmilk Honey Latte, and Coconutmilk Latte, but wondering just how healthy they are?
By Sharon Kelly
Back in April last year, the Trump administration's Environmental Protection Agency decided it was "not necessary" to update the rules for toxic waste from oil and gas wells. Torrents of wastewater flow daily from the nation's 1.5 million active oil and gas wells and the agency's own research has warned it may pose risks to the country's drinking water supplies.
Swedish climate activist Greta Thunberg takes part in a "Friday for Future" youth demonstration in a street of Davos on Jan. 24, 2020 on the sideline of the World Economic Forum annual meeting. FABRICE COFFRINI / AFP via Getty Images
Treasury Secretary Steven Mnuchin pretended not to know who Greta Thunberg is, and then he told her to get a degree in economics before giving world leaders advice, as The Guardian reported.
The Visible Infrared Imaging Radiometer Suite on the Suomi NPP satellite acquired this image of forest fire smoke hovering over North America on Aug. 15, 2018. NASA Earth Observatory
New York City isn't known for having the cleanest air, but researchers traced recent air pollution spikes there to two surprising sources — fires hundreds of miles away in Canada and the southeastern U.S.