Two New Major Studies Link Pesticides to Decline of Honeybees
Neonicotinoids—a potent class of pesticides used on many crops in the U.S.—have long been blamed for the widespread decline of our pollinators. Now a major new study has found a direct correlation between the use of these "neonics" and honeybee colony losses across England and Wales.
Meanwhile, a report from the U.S. Geological Survey (USGS) revealed that the controversial insecticides were present in more than half of both urban and agricultural streams sampled across the U.S. and Puerto Rico.
Its confirmed, pesticides ARE killing our bees. http://t.co/D2v0HA6dOz #savebees

— 38 Degrees (@38_degrees) August 21, 2015
First, the UK-based study published in the scientific journal Nature, found that the increased use of  neonicotinoids as a seed treatment on oilseed rape (similar to canola) crops in England and Wales between 2000 to 2010 correlated with higher bee mortality during that time, The Guardian reported.
For the study, scientists led by Giles Budge at the Food and Environment Research Agency (a former UK government agency) and University of Georgia entomology professor Keith Delaplane, analyzed a large-scale cropped area that grew from 293,378 hectares to 602,270 hectares in this 11-year period. In this time, the number of seeds treated with the neonic "imidacloprid" grew from less than 1 percent of planted area in 2000 to more than 75 percent in 2010. In total, the researchers observed 126,220 colonies in that cropped area, of which 10,725 honeybee colonies, or 8.5 percent, were found to be dead.
Once the differences of honeybee colony loss by region were accounted for, the study's authors concluded that imidacloprid usage had a "positive relationship with honey bee colony losses such that increased regional usage was linked to higher honey bee colony losses."
Additionally, as The Guardian reported from the study, the authors also found that while farmers who used this neonicotinoid used fewer applications of other pesticides, the long-term benefits of treating oil seed rape seeds with imidacloprid on crop yields were negligible.
The authors acknowledged limits in their study, saying that since it wasn't a controlled experiment a "multitude of unaccounted variables that are known to impact honey bee colony mortality" could have affected their data.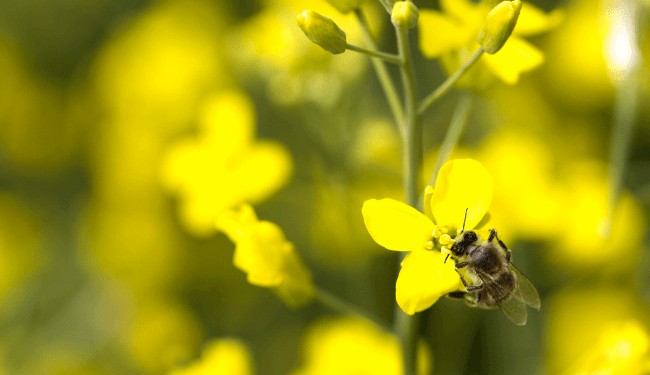 Photo credit: Shutterstock
Still, this latest study adds to an increasing body of scientific evidence that links the highly toxic nature of neonicotinoid insecticides on our pollinators. The study calls for further investigations into the relationships between imidacloprid usage at the landscape level and honeybee decline.
Incidentally, while Europe enacted a continent-wide two-year ban on neonics in 2013, last month the UK lifted the use of two neonicotinoid pesticides, which can be used for 120 days on about 5 percent of England's oilseed rape crop, The BBC reported.
Neonicotinoids are still used widely in the U.S. (despite many calls from environmentalists to stop usage), and not only are they found in our crop fields, they are also being detected in our waterways. Over on our shores, the USGS conducted its "first national-scale investigation" of the environmental occurrence of neonicotinoid insecticides in agricultural and urban settings, according to a press release.
In the study, conducted from 2011 to 2014 and spanning 24 states and Puerto Rico, at least one of the six neonicotinoids tested by USGS researchers was found in more than half of the sampled streams. Detections of the six neonicotinoids varied: imidicloprid was found in 37 percent of the samples in the national study, clothianidin in 24 percent, thiamethoxam in 21 percent, dinotefuran in 13 percent, acetamiprid in 3 percent and thiacloprid was not detected.
Study finds that the same pesticides killing #bees are now contaminating waterways http://t.co/XOWZQAm91m pic.twitter.com/a72PTnpQjE

— Greenpeace (@Greenpeace) August 20, 2015
"In the study, neonicotinoids occurred throughout the year in urban streams while pulses of neonicotinoids were typical in agricultural streams during crop planting season," said USGS research chemist Michelle Hladik, the report's lead author.
No concentrations exceeded the U.S. EPA's aquatic life criteria, and are unlikely to be carcinogenic to humans, the release said.
"The occurrence of low levels in streams throughout the year supports the need for future research on the potential impacts of neonicotinoids on aquatic life and terrestrial animals that rely on aquatic life," said USGS scientist Kathryn Kuivila, the research team leader. "These results will serve as an important baseline for that future work."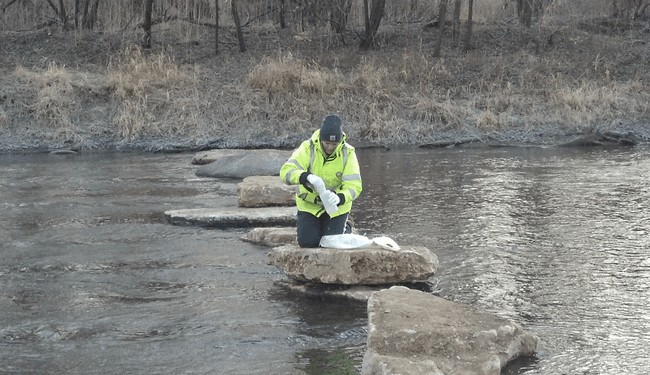 Saving our pollinators is crucial to humanity's survival. According to Greenpeace, wild and domestic honeybees perform about 80 percent of all pollination worldwide, and 70 out of the top 100 human food crops—which supply about 90 percent of the world's nutrition—are pollinated by bees.
Still, it appears that the worrisome decline in honeybees is getting even worse. A recent government study reported that the U.S. honeybee population has plummeted more than 40 percent from April 2014 through April 2015, much higher than the 34.2 percent from the year prior.
President Obama announced the creation of the Pollinator Health Task Force this past June and signed a Presidential Memorandum that recognizes the severe losses in the populations of the nation's pollinators, including honey bees, wild bees, monarch butterflies and others.
YOU MIGHT ALSO LIKE
Humans: The Worst Predators on the Planet
Earth Is Facing Most Severe Extinction Crisis in 65 Million Years
David Suzuki: How You Can Help Bring Monarch Butterflies Back from the Brink
By Itai Vardi
A recent intensification in protests against Williams Partners' planned Atlantic Sunrise pipeline in Pennsylvania prompted a state senator to propose legislation aimed at limiting demonstrations.
Last month, Pennsylvania Sen. Scott Martin (R-Norman) announced his intention to introduce legislation that would pass the costs of law enforcement responding to protests onto the demonstrators. Martin also helped introduce a different bill that would criminalize protests at natural gas facilities.
Keep reading...
Show less
Black Shogun / iStock
The Federal Energy Regulatory Commission (FERC) released its Final Environmental Impact Statement Friday for the Mountain Valley Pipeline, a controversial 303-mile pipeline that would carry two billion cubic feet of fracked gas per day from West Virginia through Virginia.
Keep reading...
Show less
Falcon PEV
The so-called "first and last mile" problem is one of the biggest hurdles with public transportation. How do you encourage more people to take Earth-friendlier commutes when their homes are miles away from the train or bus station?
One solution, as this Estonian electric scooter company proposes, is to simply take your commute with you—literally. Tallinn-based Stigo has developed a compact e-scooter that folds to the size of a rolling suitcase in about two seconds.
Keep reading...
Show less
Connect4Climate
[Editor's note: I'm still in shock after hearing the news that Lucia Grenna passed away in her sleep last week. When we first met in April of 2014 at a Copenhagen hotel, I was immediately taken by here powerful presence. We spent the next couple days participating in a Sustainia climate change event where Lucia presented her audacious plans to connect people to the climate issue. I had the chance to partner with Lucia on several other projects throughout the years and work with her incredible Connect4Climate team. I was always in awe of her ability to "make the impossible possible." Her spirit will live on forever. — Stefanie Spear]
It is with a heavy heart that Connect4Climate announces the passing of its founder and leading light, Lucia Grenna. Lucia passed peacefully in her sleep on June 15, well before her time. We remember her for her leadership and extraordinary ability to motivate people to take on some of the greatest challenges of our time, not least climate change.
Keep reading...
Show less
Jun. 23, 2017 07:29PM EST
Wikimedia Commons
By Stacy Malkan
Neil deGrasse Tyson has inspired millions of people to care about science and imagine themselves as participants in the scientific process. What a hopeful sign it is to see young girls wearing t-shirts emblazoned with the words, "Forget princess, I want to be an astrophysicist."
Keep reading...
Show less
Jun. 23, 2017 01:57PM EST
www.youtube.com
By Andy Rowell
Any day now we will truly witness climate change in action. Within days at worst, maybe weeks at best, scientists predict that a huge section of the Larsen C ice shelf in Antarctica will break off into the ocean, in what is called a major "carving" event.
Keep reading...
Show less
Jun. 23, 2017 02:27PM EST
www.youtube.com
President Trump visited Cedar Rapids, Iowa on June 21 to speak to a large crowd in the U.S. Cellular Center at a political rally organized by his campaign.
As Trevor Noah noted during The Daily Show episode last night (starts at 2:25), the real reason Trump has these rallies is to "get back in front of his loyal crowds and feed of their energy." Noah believes that "Trump supporters are so on board with their dude he can say anything and they'll come along for the ride."
Keep reading...
Show less
Jun. 23, 2017 07:50PM EST
The Kamuthi solar plant in the southern Indian state of Tamil Nadu.
The rapid growth in renewable energy continues to put a dent in the demand for coal.
Coal India, the world's biggest coal mining company and producer of 82 percent of the country's coal, announced the closure of 37 mines that are financially "unviable."
Keep reading...
Show less
Jun. 23, 2017 06:42PM EST
www.youtube.com
By Katie O'Reilly
Two years ago—long before coal became one of the most dominant and controversial symbols of the 2016 presidential election—Bloomberg Philanthropies approached production company RadicalMedia with the idea of creating a documentary exploring the U.S. coal mining industry. Last spring, they brought on Emmy-nominated director Michael Bonfiglio, tasked with forging a compelling story out of the multitudes of facts, statistics and narratives underlying the declining industry.
Keep reading...
Show less