This website uses cookies to ensure you get the best experience while browsing it. By clicking 'Got It' you're accepting these terms.
Two New Major Studies Link Pesticides to Decline of Honeybees
Aug. 22, 2015 09:08AM EST
Neonicotinoids—a potent class of pesticides used on many crops in the U.S.—have long been blamed for the widespread decline of our pollinators. Now a major new study has found a direct correlation between the use of these "neonics" and honeybee colony losses across England and Wales.
Meanwhile, a report from the U.S. Geological Survey (USGS) revealed that the controversial insecticides were present in more than half of both urban and agricultural streams sampled across the U.S. and Puerto Rico.
Its confirmed, pesticides ARE killing our bees. http://t.co/D2v0HA6dOz #savebees

— 38 Degrees (@38_degrees) August 21, 2015
First, the UK-based study published in the scientific journal Nature, found that the increased use of  neonicotinoids as a seed treatment on oilseed rape (similar to canola) crops in England and Wales between 2000 to 2010 correlated with higher bee mortality during that time, The Guardian reported.
For the study, scientists led by Giles Budge at the Food and Environment Research Agency (a former UK government agency) and University of Georgia entomology professor Keith Delaplane, analyzed a large-scale cropped area that grew from 293,378 hectares to 602,270 hectares in this 11-year period. In this time, the number of seeds treated with the neonic "imidacloprid" grew from less than 1 percent of planted area in 2000 to more than 75 percent in 2010. In total, the researchers observed 126,220 colonies in that cropped area, of which 10,725 honeybee colonies, or 8.5 percent, were found to be dead.
Once the differences of honeybee colony loss by region were accounted for, the study's authors concluded that imidacloprid usage had a "positive relationship with honey bee colony losses such that increased regional usage was linked to higher honey bee colony losses."
Additionally, as The Guardian reported from the study, the authors also found that while farmers who used this neonicotinoid used fewer applications of other pesticides, the long-term benefits of treating oil seed rape seeds with imidacloprid on crop yields were negligible.
The authors acknowledged limits in their study, saying that since it wasn't a controlled experiment a "multitude of unaccounted variables that are known to impact honey bee colony mortality" could have affected their data.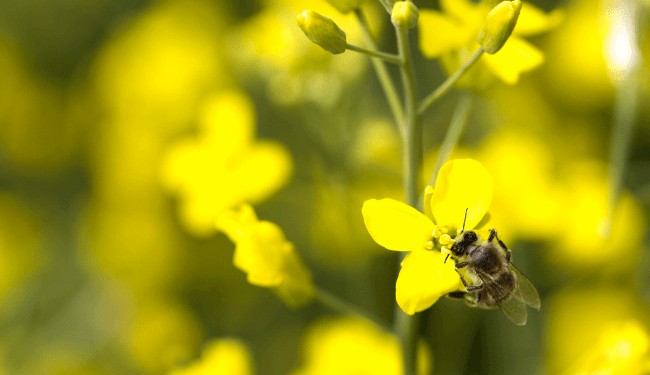 Photo credit: Shutterstock
Still, this latest study adds to an increasing body of scientific evidence that links the highly toxic nature of neonicotinoid insecticides on our pollinators. The study calls for further investigations into the relationships between imidacloprid usage at the landscape level and honeybee decline.
Incidentally, while Europe enacted a continent-wide two-year ban on neonics in 2013, last month the UK lifted the use of two neonicotinoid pesticides, which can be used for 120 days on about 5 percent of England's oilseed rape crop, The BBC reported.
Neonicotinoids are still used widely in the U.S. (despite many calls from environmentalists to stop usage), and not only are they found in our crop fields, they are also being detected in our waterways. Over on our shores, the USGS conducted its "first national-scale investigation" of the environmental occurrence of neonicotinoid insecticides in agricultural and urban settings, according to a press release.
In the study, conducted from 2011 to 2014 and spanning 24 states and Puerto Rico, at least one of the six neonicotinoids tested by USGS researchers was found in more than half of the sampled streams. Detections of the six neonicotinoids varied: imidicloprid was found in 37 percent of the samples in the national study, clothianidin in 24 percent, thiamethoxam in 21 percent, dinotefuran in 13 percent, acetamiprid in 3 percent and thiacloprid was not detected.
Study finds that the same pesticides killing #bees are now contaminating waterways http://t.co/XOWZQAm91m pic.twitter.com/a72PTnpQjE

— Greenpeace (@Greenpeace) August 20, 2015
"In the study, neonicotinoids occurred throughout the year in urban streams while pulses of neonicotinoids were typical in agricultural streams during crop planting season," said USGS research chemist Michelle Hladik, the report's lead author.
No concentrations exceeded the U.S. EPA's aquatic life criteria, and are unlikely to be carcinogenic to humans, the release said.
"The occurrence of low levels in streams throughout the year supports the need for future research on the potential impacts of neonicotinoids on aquatic life and terrestrial animals that rely on aquatic life," said USGS scientist Kathryn Kuivila, the research team leader. "These results will serve as an important baseline for that future work."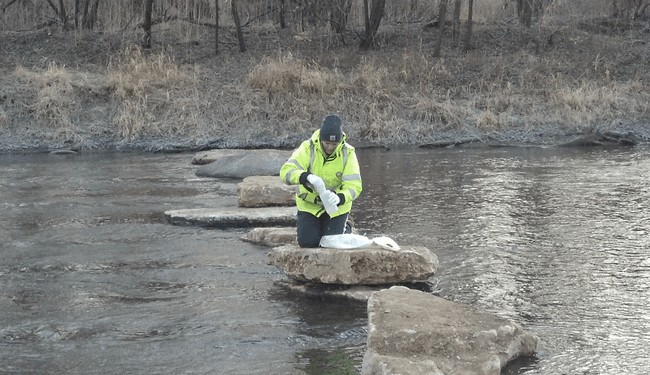 Saving our pollinators is crucial to humanity's survival. According to Greenpeace, wild and domestic honeybees perform about 80 percent of all pollination worldwide, and 70 out of the top 100 human food crops—which supply about 90 percent of the world's nutrition—are pollinated by bees.
Still, it appears that the worrisome decline in honeybees is getting even worse. A recent government study reported that the U.S. honeybee population has plummeted more than 40 percent from April 2014 through April 2015, much higher than the 34.2 percent from the year prior.
President Obama announced the creation of the Pollinator Health Task Force this past June and signed a Presidential Memorandum that recognizes the severe losses in the populations of the nation's pollinators, including honey bees, wild bees, monarch butterflies and others.
YOU MIGHT ALSO LIKE
Humans: The Worst Predators on the Planet
Earth Is Facing Most Severe Extinction Crisis in 65 Million Years
David Suzuki: How You Can Help Bring Monarch Butterflies Back from the Brink
EcoWatch Daily Newsletter
A drilling rig in a Wyoming natural gas field. William Campbell / Corbis via Getty Images
A U.S. federal judge temporarily blocked oil and gas drilling on 300,000 acres of federal leases in Wyoming Tuesday, arguing that the Bureau of Land Management (BLM) "did not sufficiently consider climate change" when auctioning off the land, The Washington Post reported.
Mizina / iStock / Getty Images
Oats are widely regarded as one of the healthiest grains you can eat, as they're packed with many important vitamins, minerals, and fiber.
JPMorgan Chase building in New York City. Ben Sutherland / CC BY 2.0
By Sharon Kelly
A report published Wednesday names the banks that have played the biggest recent role in funding fossil fuel projects, finding that since 2016, immediately following the Paris agreement's adoption, 33 global banks have poured $1.9 trillion into financing climate-changing projects worldwide.
Sriram Madhusoodanan of Corporate Accountability speaking on conflict of interest demand of the People's Demands at a defining action launching the Demands at COP24. Corporate Accountability
By Patti Lynn
2018 was a groundbreaking year in the public conversation about climate change. Last February, The New York Times reported that a record percentage of Americans now believe that climate change is caused by humans, and there was a 20 percentage point rise in "the number of Americans who say they worry 'a great deal' about climate change."
The head of England's Environment Agency has urged people to stop watering their lawns as a climate-induced water shortage looms. Pexels
England faces an "existential threat" if it does not change how it manages its water, the head of the country's Environment Agency warned Tuesday.
Pexels
By Jessica Corbett
A new analysis revealed Tuesday that over the past two decades heat records across the U.S. have been broken twice as often as cold ones—underscoring experts' warnings about the increasingly dangerous consequences of failing to dramatically curb planet-warming emissions.
A flock of parrots in Telegraph Hill, San Francisco.
~dgies / Flickr
By Madison Dapcevich
Ask any resident of San Francisco about the waterfront parrots, and they will surely tell you a story of red-faced conures squawking or dive-bombing between building peaks. Ask a team of researchers from the University of Georgia, however, and they will tell you of a mysterious string of neurological poisonings impacting the naturalized flock for decades.
Fire burns in the North Santiam State Recreational Area on March 19. Oregon Department of Forestry
An early-season wildfire near Lyons, Oregon burned 60 acres and forced dozens of homes to evacuate Tuesday evening, the Oregon Department of Forestry (ODF) said, as KTVZ reported.
The initial cause of the fire was not yet known, but it has been driven by the strong wind and jumped the North Santiam River, The Salem Statesman Journal reported. As of Tuesday night, it threatened around 35 homes and 30 buildings, and was 20 percent contained.