Two Months Later, Arkansas Residents Still Hurting From ExxonMobil Tar Sands Spill
Jun. 04, 2013 10:43AM EST
Energy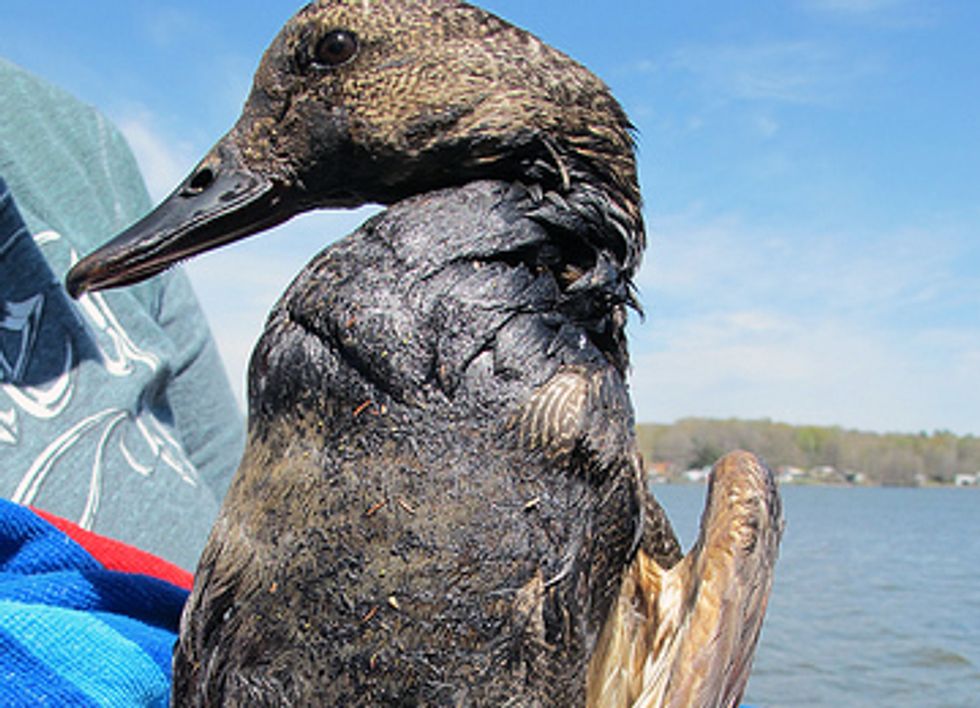 More than two months after ExxonMobil's 65-year-old Pegasus pipeline burst and spewed a gusher of thick Canadian tar sands oil through Mayflower, AR, and into a marsh on Lake Conway—the state's most popular fishing spot—residents are still complaining of health problems and are worried about poisonous impacts on wildlife and in the environment. Many locals and some scientists have little faith in the continuous rosy assurances from Exxon and the Unified Command that testing results show the environment is safe and that tar sands oil has not contaminated the lake.  
These include Mayflower residents Christina and Michael Seville, who were looking forward to visits this summer from grandkids at their modest home on Lake Conway. Their lives were suddenly turned upside down by the release of an estimated 200,000 gallons of noxious Canadian tar sands crude, much of which ended up in the marshy cove portion of Lake Conway near their home. They complain of constant headaches and coughs that have persisted since the spill occurred just before Easter, ailments they blame on the jet black tar sands crude that snaked through culverts past a shopping center and under the Interstate into the marsh on Lake Conway. 
"We can't have our grandkids over to visit anymore," Christina says. "They're covering up what's really going on. There are fewer squirrels, birds and ducks than we normally see around here. Fish are not jumping in the water and they're not catching anything around here. It's not like it used to be."
State officials insist air and water testing shows toxic contamination levels near the lake are safe and that most of the oil has been cleaned up. But that's cold comfort to many who live near there. Marianne Wyckoff, who lives on the lake near the crude-contaminated marsh, says many near her don't buy into official statements that everything is just fine. She doubts they can remove the tarry oil that is buried in the wetlands and has washed into the lake waters with every major rain.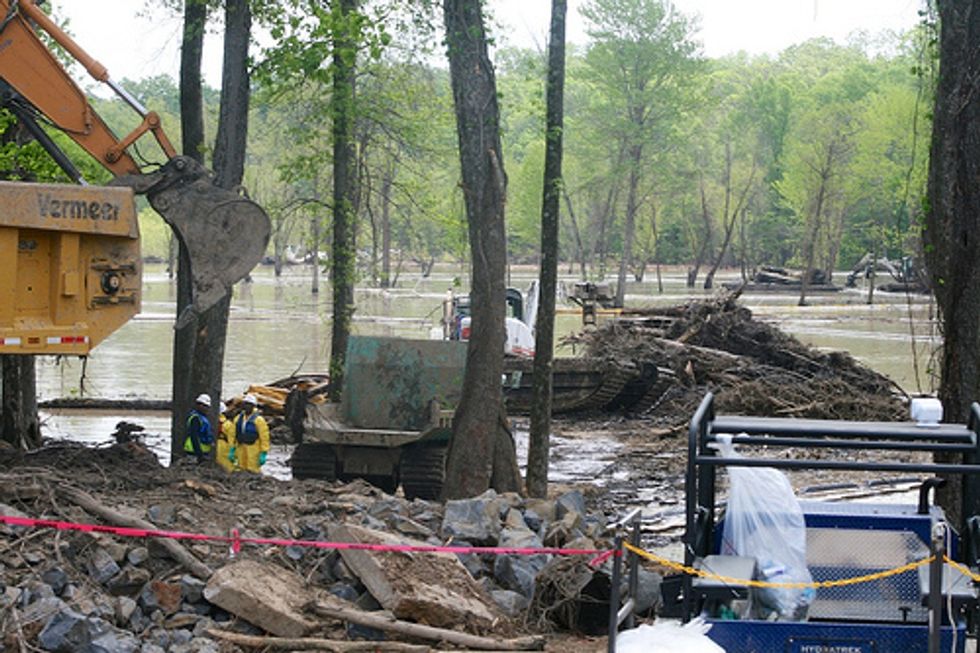 "It seems like a big cover-up and everyone is paid off," she says. "It's getting hot and the oil is bubbling up out of the cove after torrential rains. The smell seems to be getting worse at times when it gets hot. My headaches have been coming back."
Independent water and air tests also have shown elevated levels of contaminants. Scott Smith of Opflex Solutions, which provides oil cleanup services, says he has detected tar sands oil contaminants in extended tests in the water column of the lake, toxic chemicals like benzene and toluene he says match the fingerprint of the Canadian crude that poured out of the ExxonMobil pipeline.
"Our test results show the chemicals we are finding in the lake are exactly the same ones we tested for in the tar sands oil that flowed through town after the oil spill," Smith says. He also says his results match some of the internal documents that Greenpeace released last month that indicate elevated levels of chemicals were found in the lake.
Wilma Subra, a Louisiana chemist and toxic expert who has closely studied the health impacts of the BP gulf oil spill, has also visited Mayflower and studied air and water testing in the area. She's concerned about the long term impacts from chemicals that can persist and bioaccumulate in the environment. She's working with local groups like the Faulkner County Citizens Advisory Group that is following health problems of residents in the area.
"I'm concerned that people have continued to be exposed to the oil during the cleanup," Subra says. "We can't just let them say everything is OK. We've heard that story before."
The official story doesn't jibe with Mayflower residents like Genieve Long, who lives with her four kids near Lake Conway. Her family continues to complain about health problems and says she's seen oil sheen in the lake near her property. Lane traveled to Washington, DC, earlier in May to voice concerns about the Mayflower cleanup and to deliver a letter to the State Department opposing construction of the massive Keystone XL tar sands pipeline.
"It's devastating to see what they've done to the marsh here, they've completely raped it," she says. "It makes me sad and angry that the health of my family has been impacted … I'm not sure I want my children to live here anymore."
Others are also worried about lasting impacts to the wildlife in the area. Lynn Slater, executive director of the HAWK Center, a volunteer organization that rehabilitates Arkansas wildlife, helped clean oiled birds and wildlife in the initial days of the spill until Exxon contracted it to an out-of-state firm. According to official tallies, about 200 birds and animals died in cleanup operations connected to the oil spill.
But residents worry there are many more that were never found—and many more animals and migratory birds that have yet to be impacted as a result of extensive tar sands contamination in the marsh. Slater says she will never forget what it was like handling some of the oil soaked birds that were coated in the viscous, black foul-smelling petroleum, a form of oil she had never seen before. And she worries what this heavy crude will do to sensitive lakeshore environments over the long term.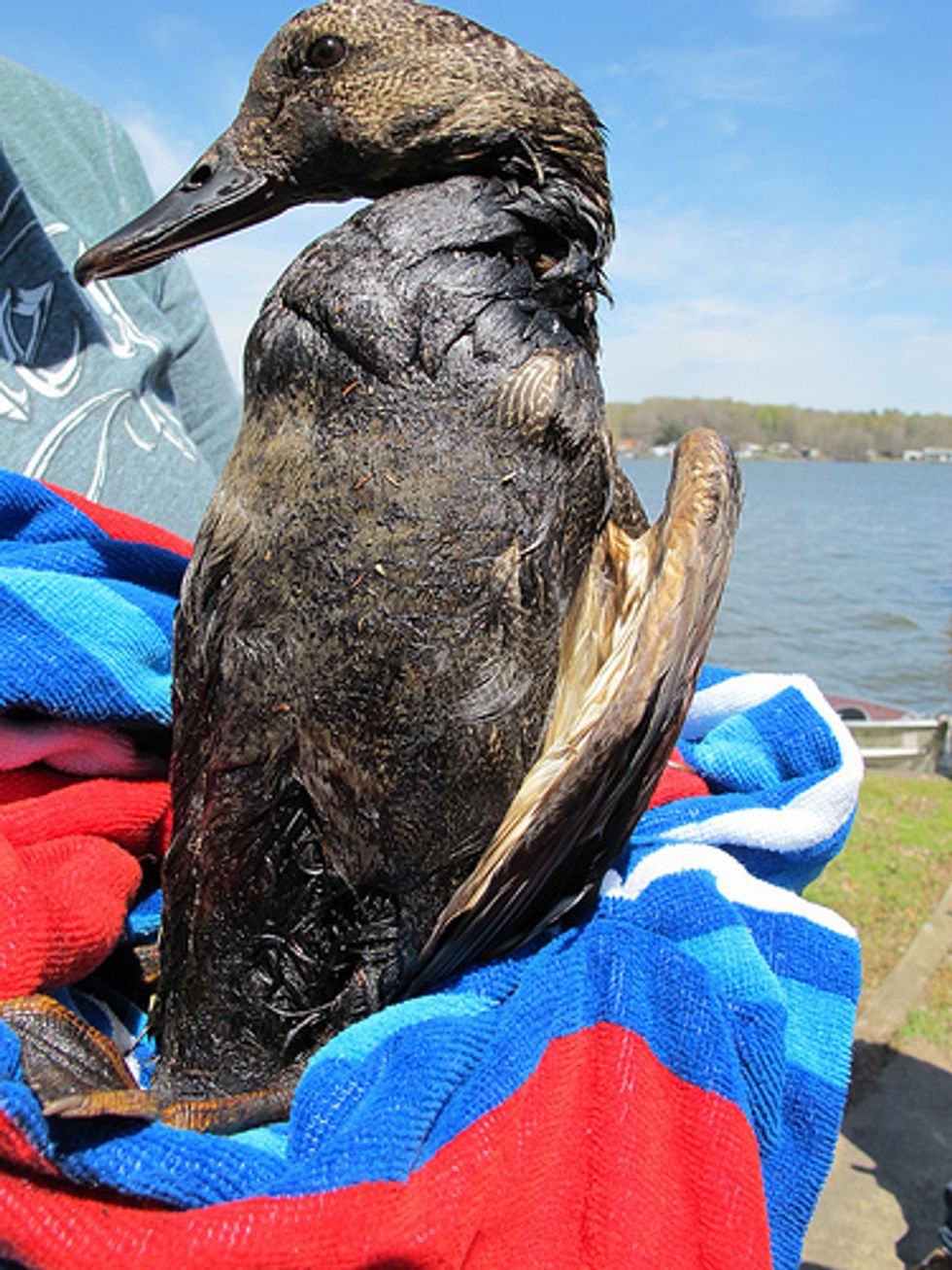 "In my 22 years as a wildlife rehabilitator, I have seen oiled animals, and this was not like any of those animals. This was tarry, it really felt like roofing tar… I have no doubt that this contamination will get into the environment fully. It takes a very long time for this kind of accident to heal itself."
Many locals who moved here because of Mayflowers' natural beauty agree. Now, more than two months after 5,000 barrels of toxic Canadian tar sands crude poured through this bucolic lakeshore community, the impacts are still being widely felt. Residents have not moved back into their homes in the Northwoods subdivision—ground zero for the flood of tar sands oil that poured into the community. At a recent community meeting in Mayflower this week, many residents expressed their frustration with the cleanup and worried about lingering health impacts many share in the area.  
As residents hire lawyers and discuss future legal action, the cause of the accident remains a mystery. The ExxonMobil Pegasus pipeline remains shut down, but the damage has been done. Chuck Johnson, who runs the Hi-Way Landing boathouse on Lake Conway near the oil contaminated marsh, says boat rentals are down this year after the spill because many people don't want to fish in this part of the lake anymore. And he says he can't in good conscience tell his customers it's completely safe. "The sad part of it is we've got a lot of kids here who go fishing around here… I tell everybody here that they just have to make up their own minds about fishing because we just don't really know."
For now, locals watch and wait as the cleanup in Mayflower continues. Authorities say they have removed most of the tar sands oil in the dozens of acres of marshland impacted by the spill, and they are moving into a remedial cleanup phase to restore the neighborhoods and marshy environment to their pre-spill state. But that seems like a tall order for those still complaining of health problems and contamination in the area more than two months later. They worry about the long term impacts of the toxic tar sands oil, a particularly toxic kind of crude that still plagues Michigan communities along the Kalamazoo River, site of the record-setting Enbridge tar sands pipeline spill nearly three years ago. 
Until recently, that was a world away for residents of this small Arkansas town. But it's up close and personal for them now. And it's raised new concerns about Canadian tar sands projects like the Keystone XL tar sands pipeline, a massive 800,000 barrel a day TransCanada proposal to pipe tar sands oil all the way through America's heartland to refineries in the Gulf of Mexico. For many Mayflower locals who just want to fish and enjoy the outdoors, it will be a long hot summer full of anxiety about the health of their treasured lakeside paradise, wondering if it will ever be the same.
Visit EcoWatch's KEYSTONE XL page for more related news on this topic.
——-
A recent study focused on regions in Ethiopia, Africa's largest coffee-producing nation. Edwin Remsberg / Getty Images
Climate change could make it harder to find a good cup of coffee, new research finds. A changing climate might shrink suitable areas for specialty coffee production without adaptation, making coffee taste blander and impacting the livelihoods of small farms in the Global South.
EcoWatch Daily Newsletter
In "Weather," Jenny Offill tells the story of a librarian named Lizzie who prepares for a climate apocalypse. Andrew Merry / Getty Images
By Suzanne Cords
One day Lizzie, the first-person narrator of the novel, receives an old book as a gift, with a dedication wishing the reader to be among the survivors. Like the preppers who build bunkers and stockpile supplies in remote areas to be ready for the end of the world, Lizzie is convinced that the end of the world is definitely near in times of a threatening climate disaster.
Lizzie, who lives in New York with her husband and son, is a university campus librarian. She worries about almost everything: her brother, an ex-junkie, or her dental insurance and the future in the face of the apocalypse. She is obsessed with reading reference books and articles about climate change.
She also devours words of wisdom, including about Buddhist spirituality: "A visitor once asked the old monks on Mount Athos what they did all day, and was told: We have died and we are in love with everything." But nothing can lift her spirits.
'Lizzie Is Just Like Us'
Lizzie observes rich New Yorkers plan their move to regions that are less threatened by climate change, something she simply cannot afford. Sometimes she watches disaster movies, which lead her to worry even more.
Above all, she is a gifted observer of her fellow human beings. "Young person worry: What if nothing I do matters? Old person worry: What if everything I do, does?"
Lizzie, the U.S. author told DW, is a bit like the rest of us — well aware of the climate crisis, but because she cares and worries about so many other things, that awareness falls by the wayside. That's how she felt herself, Jenny Offill said, but the more she looked into the issue, the more she saw a need for action on her part, too.

"I also was trying to see if there was a way to make it funny, because, you know, so much of the world of prepping and imagining disaster is actually sort of strangely funny."
The novel was shortlisted for the 2020 UK's Women's Prize for Fiction and has now been released in German translation.
Climate Activist With a Vision
But then, there is also this serious, scientifically based concern about what climate change means. In the past, says Offill, artists were the ones who would predict disasters; today it's the experts, as well as the students she teaches. In the end, their fears and their justified anger motivated her to take a closer look at the issue. Today, she is a climate activist herself, and is involved in initiatives along with many other artists.
Lizzie, the heroine of Weather, hasn't gotten that far. But she voices her fears, and that's a start. "Of course, the world continues to end," says Sylvia, a mentor of Lizzie's, at one point — and commences to water her garden. There is hope after all.
Reposted with permission from Deutsche Welle.
A Shell oil drilling rig off the coast of Alaska in the Chukchi Sea on May 21, 2015. Orjan F. Ellingvag / Corbis via Getty Images
By Jake Johnson
A federal appeals court on Tuesday dealt the final blow to former President Donald Trump's attempt to open nearly 130 million acres of territory in the Arctic and Atlantic Oceans to oil and gas drilling.
Electric vehicles are the cars of the future. sl-f / Getty Images
By 2035, every new car and truck sold in the U.S. could be an EV, a new report says.
Accelerations in technology and especially battery affordability, paired with new policy, mean the dramatic transition would save American drivers $2.7 trillion by 2050, an average savings of $1,000 per household per year.
The ramp up in EV production would also create 2 million new jobs by 2035. Battery prices have fallen 74% since 2014, and their unexpectedly rapid fall is a key driver of the cost savings.
EVs are far simpler mechanically, and more efficient, than internal combustion engine (ICE) vehicles, which translates to reduced climate pollution and lower costs for consumers.
Strengthened vehicle efficiency standards and investment in fast charging infrastructure are needed to accelerate the transition, which would prevent 150,000 premature deaths and save $1.3 trillion in health environmental costs by 2050.
For a deeper dive:

The Guardian, Fast Company, E&E, Morning Consult, Canary Media

For more climate change and clean energy news, you can follow Climate Nexus on Twitter and Facebook, sign up for daily Hot News, and visit their news site, Nexus Media News.
The Gowanus Canal in Brooklyn, New York, a polluted nearly 2 mile-long waterway that is an EPA Superfund site. Jonathan Macagba / Moment / Getty Images
Thousands of Superfund sites exist around the U.S., with toxic substances left open, mismanaged and dumped. Despite the high levels of toxicity at these sites, nearly 21 million people live within a mile of one of them, according to the U.S. Environmental Protection Agency (EPA).