This website uses cookies to ensure you get the best experience while browsing it. By clicking 'Got It' you're accepting these terms.
Two Freshwater Mussels Listed as Endangered Species
Feb. 13, 2012 09:54AM EST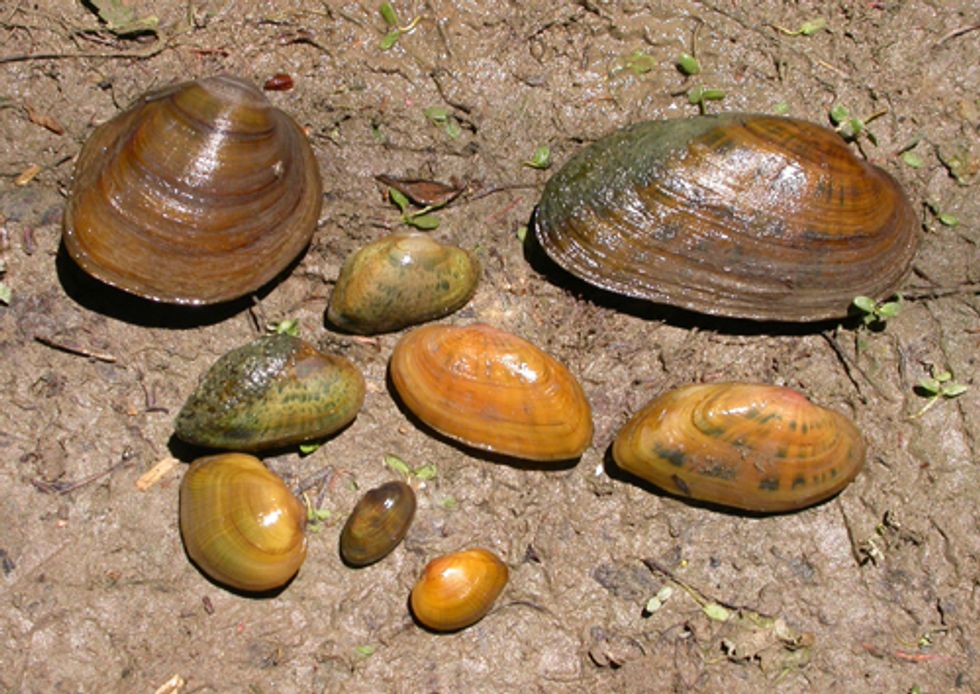 The U.S. Fish and Wildlife Service (FWS) has listed two freshwater mussels—the rayed bean and the snuffbox—as endangered under the federal Endangered Species Act (ESA). The two mussels are found in river systems in the eastern U.S.
The rayed bean is currently found in rivers in Indiana, Michigan, New York, Ohio, Pennsylvania, Tennessee and West Virginia, as well as Ontario, Canada. The snuffbox occurs in Alabama, Arkansas, Illinois, Indiana, Kentucky, Michigan, Minnesota, Missouri, Ohio, Pennsylvania, Tennessee, Virginia, West Virginia, Wisconsin and Ontario, Canada.
In its final rule listing the two species under the ESA, FWS pointed to dramatic declines in their populations. The rayed bean has been eliminated from 73 percent of its historical range, and the snuffbox has disappeared from 62 percent of the streams in which it was historically found. The final rule appears in the Feb. 14, 2012, Federal Register.
Threats to both the rayed bean and the snuffbox include loss and degradation of stream and river habitat due to impoundments, channelization, chemical contaminants, mining and sedimentation. Freshwater mussels require clean water—their decline often signals a decline in the water quality of the streams and rivers they inhabit.
FWS will now work cooperatively with partners to develop recovery plans for the two mussels and coordinate efforts to conserve their habitats.
Under the ESA, "endangered" means a species is in danger of becoming extinct throughout all or a significant portion of its range. It is illegal under the ESA to kill, harm or otherwise "take" a listed species, or to posses, import, export or conduct interstate or international commerce without authorization from FWS. The ESA also requires all federal agencies to ensure actions they authorize, fund or undertake do not jeopardize the existence of listed species.
More information on mussels and endangered wildlife can be found by clicking here.
For more information, click here.
—————
The mission of the U.S. Fish and Wildlife Service is working with others to conserve, protect and enhance fish, wildlife, plants and their habitats for the continuing benefit of the American people. We are both a leader and trusted partner in fish and wildlife conservation, known for our scientific excellence, stewardship of lands and natural resources, dedicated professionals and commitment to public service.
EcoWatch Daily Newsletter
A harbour seal on an ice floe in Glacier Bay, Alaska. A new study shows that the climate crisis has warmed waters, changing ecosystems and crippling sea ice growth. Janette Hill / robertharding / Getty Images Plus
Doctors report that only 1 in 4 children are getting the recommended 60 minutes of physical activity per day. Ronnie Kaufman / DigitalVision / Getty Images
By Dan Gray
Pediatricians are being urged to start writing "exercise prescriptions" for the children they see in their office.
A First Nations protester walks in front of a train blockade in Tyendinaga, near Belleville, Ontario, Canada on Feb. 21, 2020. LARS HAGBERG / AFP via Getty Images
An indigenous rail blockade that snarled train travel in Canada for more than two weeks came to an end Monday when police moved in to clear protesters acting in solidarity with another indigenous community in British Columbia (B.C.), which is fighting to keep a natural gas pipeline off its land.
A rainbow snake, a rare reptile spotted in a Florida county for the first time in more than 50 years, seen here on July 5, 2013.
Kevin Enge / FWC Fish and Wildlife Research Institute / Flickr
A Florida hiker recently stumbled across a slithering surprise — a rare snake that hadn't been spotted in the area for more than 50 years.
We need our government to do everything it can to stop PFAS contamination and exposure from wreaking havoc in communities across the country. LuAnn Hun /
Unsplash
By Genna Reed
The EPA announced last week that it is issuing a preliminary regulatory determination for public comment to set an enforceable drinking water standard to two of the most common and well-studied PFAS, PFOA and PFOS.
This decision is based on three criteria:
PFOA and PFOS have an adverse effect on public health
PFOA and PFOS occur in drinking water often enough and at levels of public health concern;
regulation of PFOA and PFOS is a meaningful opportunity for reducing the health risk to those served by public water systems.