Two Arrested at Private Meeting Between Gas Industry and Politicians in Trumbull County, OH
May. 31, 2012 05:20PM EST
Energy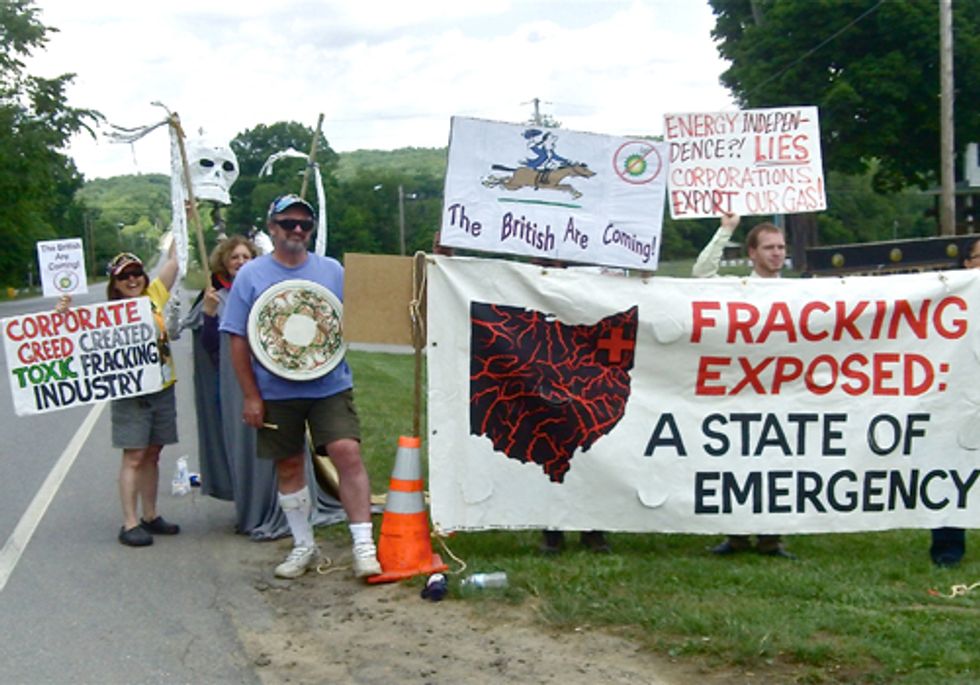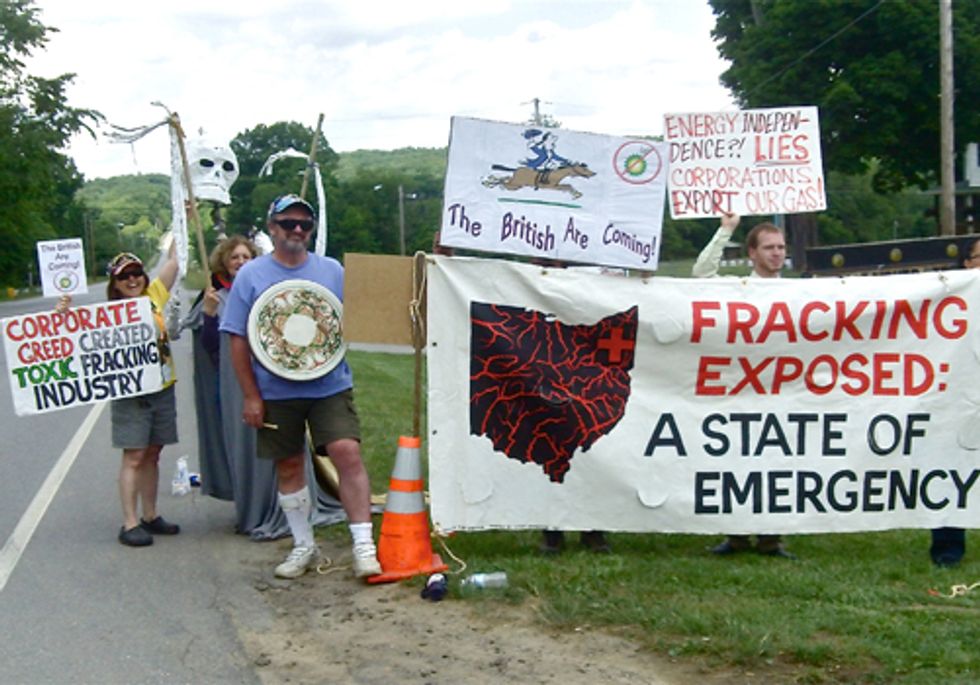 Two Trumbull County residents were arrested on May 31 outside the Ohio Shale Forum , another closed-to-the-public meeting on fracking, attended by Ohio Gov. Kasich, government officials, legislators and gas drilling representatives in Brookfield, OH.
John Williams and Jeremy Bingham of McDonald, OH were each charged with criminal trespassing. They have been released without bond and are scheduled to appear in Brookfield Township Court next Thursday. Williams, a 55-year-old Coast Guard veteran, was arrested for attempting to gain access to the meeting, citing concerns about the environmental and health impacts of increased drilling in his hometown.
"Anytime public officials convene with corporate executives without the public being invited to the table, it is plain wrong. If fracking is so safe, then why are they hiding from us? If our public officials are so intent on being legally right but morally wrong, then we have no problem being legally wrong but morally right," William said.
Before his arrest, Williams presented Rep. Tom Letson of Trumbull County with information regarding industry donations to Ohio state legislators and asked to be allowed inside the ballroom. Rep. Letson refused to assist Williams in gaining access to the meeting.
Bingham, 21-years-old, had left the property upon request of the police and returned in order to film Williams' arrest. He was then arrested without any opportunity to leave the premises. Police also confiscated literature from protesters who were attempting to voice their concerns at the entrance to the ballroom.
Fracking has been linked to cases of water contamination in towns across the country including Dimock, PA and Pavilion, WY, and methane emissions from drilling were the cause of a 2007 home explosion in Bainbridge, OH. The gas industry is exempted from the Clean Water Act and Safer Drinking Water Act and as a result, many of the chemicals used in drilling are unknown.
Recently, the Ohio state legislature approved industry-backed legislation that would gag doctors from sharing information about patients' exposure to hydrofracking chemicals. Anti-fracking groups across Ohio are working towards a massive takeover of the Ohio statehouse to pass people's legislation banning fracking, scheduled for June 17 in Columbus.
Earlier today, Frackfree Mahoning Valley, a Youngstown-based group of concerned residents, published a press release calling for public debates on fracking as an alternative to the frequent closed meetings between gas industry leaders and public officials.
"As the controversy surrounding risks of fracking and related processes accelerates nationwide, the public needs more openness, more transparency and more answers—not less. The general public, the very people and families whose health and safety are directly affected by official decisions regarding fracking, should have a say and an important seat at the table. They do not at this meeting. Officials are not getting the whole picture of the risks of fracking by refusing to allow public feedback in this setting," said geologist Susie Beiersdorfer of Frackfree Mahoning Valley.
Williams echoed the call for increased opportunities for public engagement with industry representatives and top state decision-makers. "The gas industry has given nearly $1 million to our current state legislature alone," said Williams. "We don't have that kind of money. All we have is our voice, and apparently our representatives don't want to hear it."
EcoWatch Daily Newsletter