This website uses cookies to ensure you get the best experience while browsing it. By clicking 'Got It' you're accepting these terms.


The best of EcoWatch, right in your inbox. Sign up for our email newsletter!
Turn Your Organic Waste Into Energy for Your Home
Nov. 27, 2015 09:29AM EST
Business
HomeBiogas, an Israel-based startup, has created an affordable and compact anaerobic digester that converts organic waste into cooking gas and liquid fertilizer. Home wastes like food scraps, kitchen trash and pet manure no longer have to go to waste.
Here's how it works: after the HomeBiogas system is fed organic matter, microorganisms break down the biodegradable material in the absence of oxygen. The end product is biogas and biofertilizer.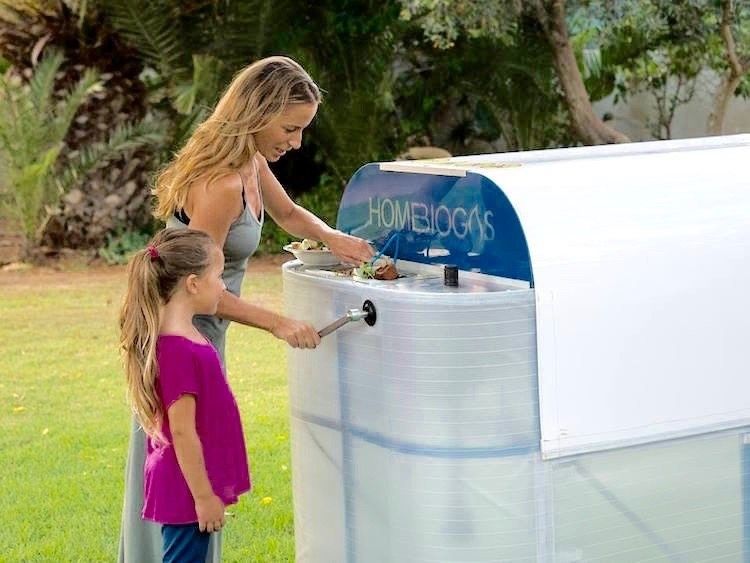 Photo credit: HomeBiogas
According to the company, you can input up to 6 liters (6 qt) of food waste or up to 15 liters (15 qt) of animal manure in HomeBiogas each day. Every liter of food waste produces about 200 liters of gas, or the amount needed to cooking over a high flame for one hour. On average, HomeBiogas produces 2-3 hours of cooking gas each day—enough for three meals.
The product's built-in tank stores 400 liters of gas. Additional gas generated by the system gets automatically released and dissipates into the atmosphere, the company says.
As for fertilizer, the HomeBiogas can produce between 5-10 liters a day.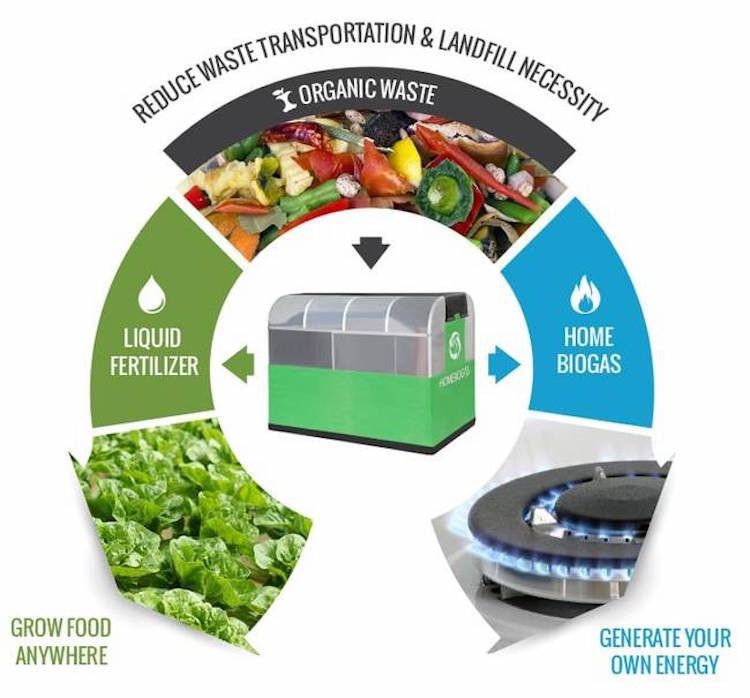 The HomeBiogas seems like an environmental no-brainer. Not only does it reduce landfill waste and pollution, it's a renewable and local energy source which can save money on fuel at the same time.
The company also estimates that each year, the device eliminates one ton of organic waste and reduces the equivalent of six tons of carbon dioxide per one household.
"One of the major issues today around the world is waste management," Erez Lancer, HomeBioGas co-founder and COO, says in the video below. "Imagine being able to treat your own waste [and consume] the gas it creates."
"The magic of this system is [how we] bring bio-gas technology into private houses, allowing the consumer to create a closed circle of energy in-house," he adds.
There are some caveats. Because it's an outdoor system, you'll need a yard or space outside to put it. It also requires an average outdoor temperature of 64 degrees Fahrenheit for optimal results. For those who live in temperatures below freezing, the HomeBiogas will work if it's installed in a well ventilated and warm space such as a greenhouse.
But for the 1.3 billion people around the world who live without affordable and reliable energy sources, the HomeBiogas is a promising solution.
Even United Nations Secretary General Ban Ki-moon and Israel President Reuven Rivlin have stopped by the company to check out the system to give their stamp of approval.
"4.3 million women and children die each year due to indoors smoke from open fires," Ki-Moon said. "This is just the thing they need. The UN should be purchasing these units! They can save lives."
In the video below, the company explains that 150 units have already been installed and have been running for over a year.
The company launched its Indiegogo campaign last Tuesday and reached its $100,000 fundraising goal in less than a day. The system costs roughly $995 through Indiegogo.
The first units will ship May 2016.
YOU MIGHT ALSO LIKE
World's Largest Organic Rooftop Farm Powered 100% by Renewables Opens in Chicago
100 City Solutions for Climate Action From the U.S. and Around the World
World's First Robotic Farm to Produce 30,000 Heads of Lettuce Per Day
Tesla's Massive Gigafactory Will Be Net Zero Energy, Powered by 100% Renewables
EcoWatch Daily Newsletter
jenifoto / iStock / Getty Images
Many people consider granola bars a convenient and healthy snack and enjoy their flavor and versatility.
A common green darners (Anax junius). Judy Gallagher / Flickr
By Jason Bittel
It's that time of year again: Right now, monarch butterflies are taking wing in the mountains of northwestern Mexico and starting to flap their way across the United States.
fstop123 / iStock / Getty Images Plus
At EcoWatch, our team knows that changing personal habits and taking actions that contribute to a better planet is an ongoing journey. Earth Day, happening on April 22, is a great reminder for all of us to learn more about the environmental costs of our behaviors like food waste or fast fashion.
To offer readers some inspiration this Earth Day, our team rounded up their top picks for films to watch. So, sit back and take in one of these documentary films this Earth Day. Maybe it will spark a small change you can make in your own life.
Denali national park. Domen Jakus / Flickr / CC BY-NC 2.0
By Stephanie Gagnon
Happy National Parks Week! This year, between April 20 and 28, escape to the beautiful national parks — either in person or in your imagination — and celebrate the amazing wildlife that calls these spaces home.
Sesame, three months old, at Seal Rescue Irleand.
Screenshot / Seal Rescue Ireland Instagram
On Friday, Seal Rescue Ireland released Sesame the seal into the ocean after five months of rehabilitation at the Seal Rescue Ireland facility. Watch the release on EcoWatch's Facebook.

Beer packs of Guinness will now come in a cardboard box. Diageo

By Jordan Davidson
Guinness is joining the fight against single use plastic. The brewer has seen enough hapless turtles and marine life suffering from the scourge of plastic.
Maskot / Getty Images
People of all ages are spending more of their day looking at their phones, computers and television screens, but parents now have another reason for limiting how much screen time their children get — it could lead to behavioral problems.