This website uses cookies to ensure you get the best experience while browsing it. By clicking 'Got It' you're accepting these terms.
Turn Your Organic Waste Into Energy for Your Home
Nov. 27, 2015 09:29AM EST
HomeBiogas, an Israel-based startup, has created an affordable and compact anaerobic digester that converts organic waste into cooking gas and liquid fertilizer. Home wastes like food scraps, kitchen trash and pet manure no longer have to go to waste.
Here's how it works: after the HomeBiogas system is fed organic matter, microorganisms break down the biodegradable material in the absence of oxygen. The end product is biogas and biofertilizer.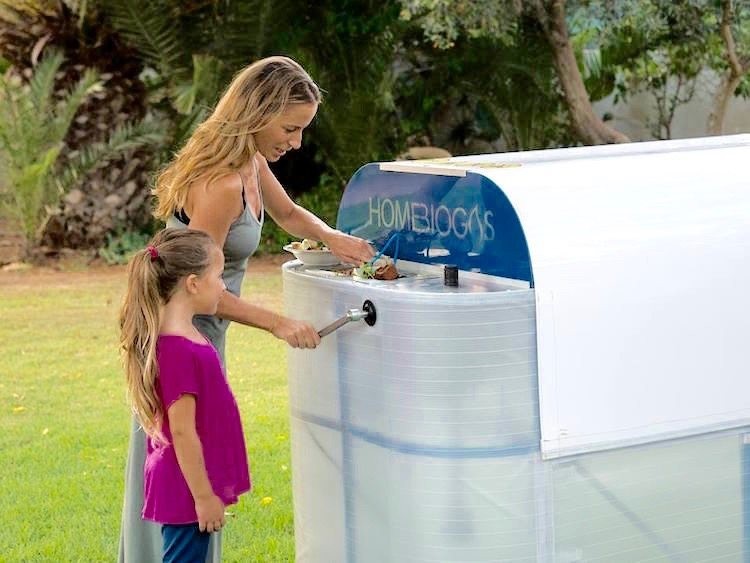 Photo credit: HomeBiogas
According to the company, you can input up to 6 liters (6 qt) of food waste or up to 15 liters (15 qt) of animal manure in HomeBiogas each day. Every liter of food waste produces about 200 liters of gas, or the amount needed to cooking over a high flame for one hour. On average, HomeBiogas produces 2-3 hours of cooking gas each day—enough for three meals.
The product's built-in tank stores 400 liters of gas. Additional gas generated by the system gets automatically released and dissipates into the atmosphere, the company says.
As for fertilizer, the HomeBiogas can produce between 5-10 liters a day.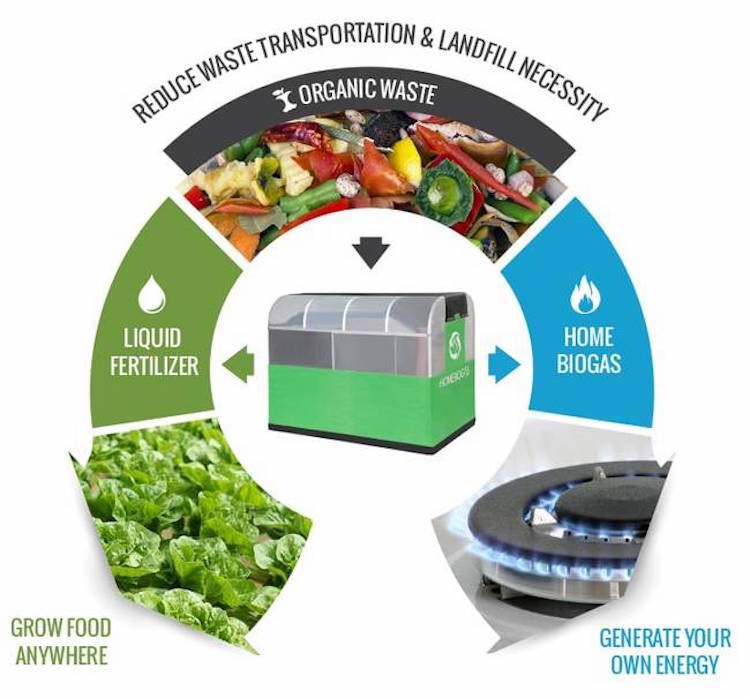 The HomeBiogas seems like an environmental no-brainer. Not only does it reduce landfill waste and pollution, it's a renewable and local energy source which can save money on fuel at the same time.
The company also estimates that each year, the device eliminates one ton of organic waste and reduces the equivalent of six tons of carbon dioxide per one household.
"One of the major issues today around the world is waste management," Erez Lancer, HomeBioGas co-founder and COO, says in the video below. "Imagine being able to treat your own waste [and consume] the gas it creates."
"The magic of this system is [how we] bring bio-gas technology into private houses, allowing the consumer to create a closed circle of energy in-house," he adds.
There are some caveats. Because it's an outdoor system, you'll need a yard or space outside to put it. It also requires an average outdoor temperature of 64 degrees Fahrenheit for optimal results. For those who live in temperatures below freezing, the HomeBiogas will work if it's installed in a well ventilated and warm space such as a greenhouse.
But for the 1.3 billion people around the world who live without affordable and reliable energy sources, the HomeBiogas is a promising solution.
Even United Nations Secretary General Ban Ki-moon and Israel President Reuven Rivlin have stopped by the company to check out the system to give their stamp of approval.
"4.3 million women and children die each year due to indoors smoke from open fires," Ki-Moon said. "This is just the thing they need. The UN should be purchasing these units! They can save lives."
In the video below, the company explains that 150 units have already been installed and have been running for over a year.
The company launched its Indiegogo campaign last Tuesday and reached its $100,000 fundraising goal in less than a day. The system costs roughly $995 through Indiegogo.
The first units will ship May 2016.
YOU MIGHT ALSO LIKE
World's Largest Organic Rooftop Farm Powered 100% by Renewables Opens in Chicago
100 City Solutions for Climate Action From the U.S. and Around the World
World's First Robotic Farm to Produce 30,000 Heads of Lettuce Per Day
Tesla's Massive Gigafactory Will Be Net Zero Energy, Powered by 100% Renewables
Plus, learn if there's one that's best for your health.
Catherine Falls Commercial / Moment / Getty Images
An invasive Amynthas worm, also known as a crazy snake worm, Asian jumping worm and Alabama jumper Tom Potterfield / Flickr
By Jason Bittel
My wife and I built a house two years ago on a few acres of woodland outside of Pittsburgh. The backyard is full of maples, poplars, briars and common spicebush. Two-lined salamanders and grumpy-looking crayfish wade among the rocks in the small stream that runs down the edge of the property. Deer, raccoon and opossum tracks appear regularly in the snow and mud. Sometimes, my trail-cam even catches a pair of gray foxes as they slink through the night.
AleksandarNakic / Getty Images
By Kate Murphy
No matter the time of year, there's always a point in each season when my skin decides to cause me issues. While these skin issues can vary, I find the most common issues to be dryness, acne and redness.

David Woodfall / The Image Bank / Getty Images
By Sam Nickerson
The U.S. Environmental Protection Agency (EPA) in April 2018 proposed relaxing standards related to how it assesses the effects of exposure to low levels of toxic chemicals on public health.
Now, correspondence obtained by the LA Times revealed just how deeply involved industry lobbyists and a controversial, industry-funded toxicologist were in drafting the federal agency's proposal to scrap its current, protective approach to regulating toxin exposure.
Steve Irwin poses with a three foot long alligator at the San Francisco Zoo on June 26, 2002. Justin Sullivan / Getty Images
February 22 is the birthday of conservationist and beloved TV personality "Crocodile Hunter" Steve Irwin, who would have been 57 years old today.
Irwin's life was tragically cut short when the barb from a stingray went through his chest while he was filming in 2006, but his legacy of loving and protecting wildlife lives on, most recently in a Google Doodle today honoring his birthday.