This website uses cookies to ensure you get the best experience while browsing it. By clicking 'Got It' you're accepting these terms.
Turn Your Organic Waste Into Energy for Your Home
Nov. 27, 2015 09:29AM EST
HomeBiogas, an Israel-based startup, has created an affordable and compact anaerobic digester that converts organic waste into cooking gas and liquid fertilizer. Home wastes like food scraps, kitchen trash and pet manure no longer have to go to waste.
Here's how it works: after the HomeBiogas system is fed organic matter, microorganisms break down the biodegradable material in the absence of oxygen. The end product is biogas and biofertilizer.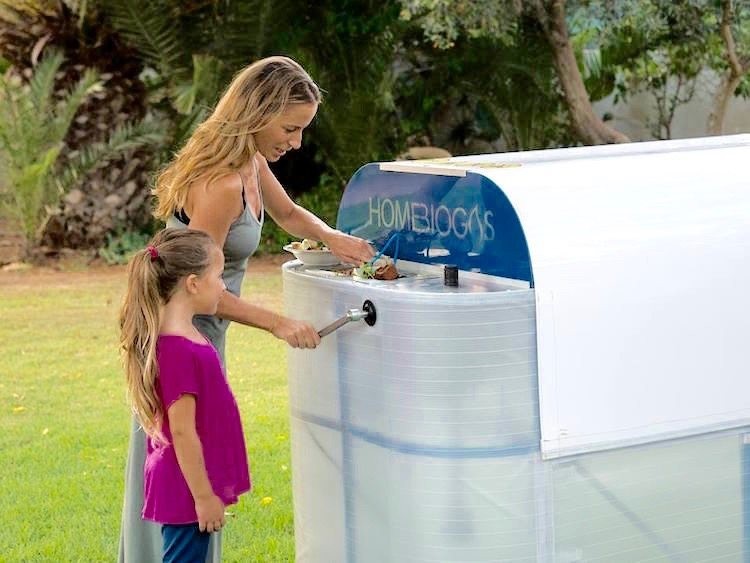 Photo credit: HomeBiogas
According to the company, you can input up to 6 liters (6 qt) of food waste or up to 15 liters (15 qt) of animal manure in HomeBiogas each day. Every liter of food waste produces about 200 liters of gas, or the amount needed to cooking over a high flame for one hour. On average, HomeBiogas produces 2-3 hours of cooking gas each day—enough for three meals.
The product's built-in tank stores 400 liters of gas. Additional gas generated by the system gets automatically released and dissipates into the atmosphere, the company says.
As for fertilizer, the HomeBiogas can produce between 5-10 liters a day.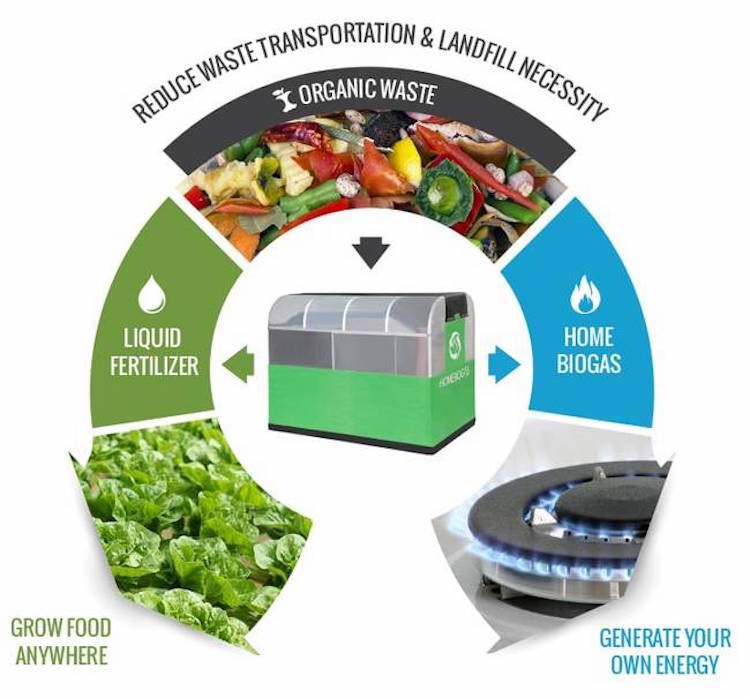 The HomeBiogas seems like an environmental no-brainer. Not only does it reduce landfill waste and pollution, it's a renewable and local energy source which can save money on fuel at the same time.
The company also estimates that each year, the device eliminates one ton of organic waste and reduces the equivalent of six tons of carbon dioxide per one household.
"One of the major issues today around the world is waste management," Erez Lancer, HomeBioGas co-founder and COO, says in the video below. "Imagine being able to treat your own waste [and consume] the gas it creates."
"The magic of this system is [how we] bring bio-gas technology into private houses, allowing the consumer to create a closed circle of energy in-house," he adds.
There are some caveats. Because it's an outdoor system, you'll need a yard or space outside to put it. It also requires an average outdoor temperature of 64 degrees Fahrenheit for optimal results. For those who live in temperatures below freezing, the HomeBiogas will work if it's installed in a well ventilated and warm space such as a greenhouse.
But for the 1.3 billion people around the world who live without affordable and reliable energy sources, the HomeBiogas is a promising solution.
Even United Nations Secretary General Ban Ki-moon and Israel President Reuven Rivlin have stopped by the company to check out the system to give their stamp of approval.
"4.3 million women and children die each year due to indoors smoke from open fires," Ki-Moon said. "This is just the thing they need. The UN should be purchasing these units! They can save lives."
In the video below, the company explains that 150 units have already been installed and have been running for over a year.
The company launched its Indiegogo campaign last Tuesday and reached its $100,000 fundraising goal in less than a day. The system costs roughly $995 through Indiegogo.
The first units will ship May 2016.
YOU MIGHT ALSO LIKE
World's Largest Organic Rooftop Farm Powered 100% by Renewables Opens in Chicago
100 City Solutions for Climate Action From the U.S. and Around the World
World's First Robotic Farm to Produce 30,000 Heads of Lettuce Per Day
Tesla's Massive Gigafactory Will Be Net Zero Energy, Powered by 100% Renewables
KarinaKnyspel / iStock / Getty Images
2018 saw a number of studies pointing to the outsized climate impact of meat consumption. Beef has long been singled out as particularly unsustainable: Cows both release the greenhouse gas methane into the atmosphere because of their digestive processes and require a lot of land area to raise. But for those unwilling to give up the taste and texture of a steak or burger, could lab-grown meat be a climate-friendly alternative? In a first-of-its-kind study, researchers from the Oxford Martin School set out to answer that question.
Three scissor-tailed flycatcher fledglings in a mesquite tree in Texas. Texas Eagle / CC BY-NC 2.0
By Gary Paul Nabhan
President Trump has declared a national emergency to fund a wall along our nation's southern border. The border wall issue has bitterly divided people across the U.S., becoming a vivid symbol of political deadlock.
PeopleImages / E+ / Getty Images
By Daniel Ross
Hurricane Florence, which battered the U.S. East Coast last September, left a trail of ruin and destruction estimated to cost between $17 billion and $22 billion. Some of the damage was all too visible—smashed homes and livelihoods. But other damage was less so, like the long-term environmental impacts in North Carolina from hog waste that spilled out over large open-air lagoons saturated in the rains.
Hog waste can contain potentially dangerous pathogens, pharmaceuticals and chemicals. According to the state's Department of Environmental Quality, as of early October nearly 100 such lagoons were damaged, breached or were very close to being so, the effluent from which can seep into waterways and drinking water supplies.
This picture taken on May 21, 2018 shows discarded climbing equipment and rubbish scattered around Camp 4 of Mount Everest. Decades of commercial mountaineering have turned Mount Everest into the world's highest rubbish dump as an increasing number of big-spending climbers pay little attention to the ugly footprint they leave behind. DOMA SHERPA / AFP / Getty Images
China has closed its Everest base camp to tourists because of a buildup of trash on the world's tallest mountain.