Trump's Website Hacked to Write a Thank You Note to Jon Stewart
Aug. 06, 2015 12:24PM EST
Politics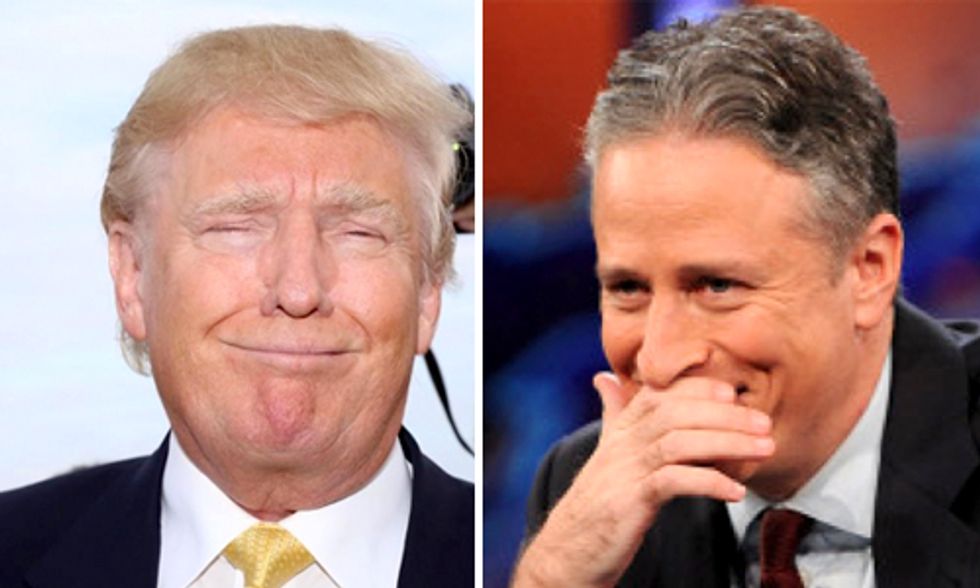 Donald Trump's campaign website was hacked earlier this week by the group Telecomix Canada. But rather than blasting Trump or compromising his personal information, the group explained in a press release they wanted to write a "thank you note" to Jon Stewart. Host of The Daily Show, Stewart will air his final episode tonight after a 16-year run. Since Donald Trump announced his presidential bid in June, Stewart has harped relentlessly on Trump for his views on everything from climate denial to President Obama's citizenship to John McCain's war record. Though, Stewart actually agreed with Trump earlier this week that GOP candidates are acting like "puppets" for the Koch brothers.
.@TelecomixCanada with an important message for Jon Stewart: http://t.co/XMwbUAyINW #MomentOfZen @TheDailyShow pic.twitter.com/ofoNkdtSsG

— Anonymous (@YourAnonNews) August 3, 2015
"We are writing you today via Mr Trump's website because, seeming, the only way to get anyone to pay attention any more is to grease a Presidential candidate's website," an archived version of Trump.com reads. Titled "Your Moment of Zen, Mr. Stewart," the letter thanked Stewart for "the many happy years of quality journalism and entertainment you and your team have undertaken at Comedy Central."  
Sir! We regret to inform you. Hax0red by Canuckers. cc @TelecomixCanada http://t.co/HHyhweHkQx pic.twitter.com/nRamNKCPAQ

— Hive Communications (@HiveComm) August 3, 2015
The hacktivists wanted Stewart to know what a profound impact he has had on American culture and media, stating, "Know, Sir, that your steadfast dedication to the irony and power of Truth has inspired a generation which we ourselves now serve." The letter is very satirical and very funny. It ends by saying, "Well that's about it, other than to join you all in celebrating America's first openly Asshole Presidential Candidate. Godspeed Mr. Trump." Stewart did a hilarious segment on The Donald being America's first "openly asshole presidential candidate" a few weeks ago.
According to CBC News, the letter was live since early Saturday, and as of Monday afternoon it could no longer be viewed (though it has been archived). The page was removed once news of its existence spread on Twitter. Donald Trump's attorney Michael Cohen dismissed the hacking, telling Vocativ, "[Hackers] hacked into the Pentagon, for God's sake."
TelecomixCanada made sure to stress in their press release "that no further action was taken against the server (i.e. data leaking or infection), nor have they shared access details with other hactivists or repaired the problems allowing access to trump.com in the first place."
YOU MIGHT ALSO LIKE
The Film Donald Trump Does Not Want You to See
Jon Stewart's Best Eco-Moments
Gov. Brown Asks GOP Presidential Candidates: What Are You Going to Do About Climate Change?
EcoWatch Daily Newsletter
Related Articles from EcoWatch