Trump Ties With Pope Francis for Second Place as 'Most Admired' Man of 2015
Dec. 29, 2015 12:00PM EST
Politics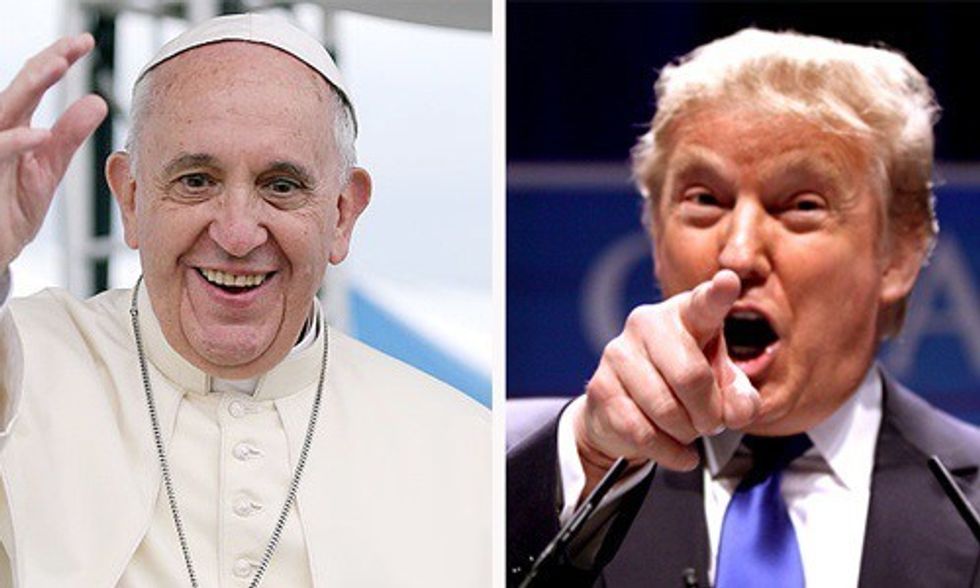 In Gallup's annual poll, Most Admired Woman and Man, 2015, President Obama was voted the most admired man of the year. While it's common for a sitting president to win this distinction, Donald Trump's second-place tie with Pope Francis peaks interest.
Trump has been an extremely divisive political figure since his bid for the presidency. His comments on women's rights, Mexican migrants and, most recently, his call for a temporary ban on Muslims entering the U.S., have sparked international controversy.
Clinton Most Admired Woman for Record 20th Time... https://t.co/5nqF5A2BWD https://t.co/h8ei31Pr5G

— GallupNews (@GallupNews)1451309683.0
In fact, the second most admired woman on this year's list, Malala Yousafzai, a Muslim, denounced his comments as being "full of hatred" and likely to only radicalize more terrorists. Despite all of this, Trump has maintained a solid lead in polls among likely Republican primary voters.
In contrast to Trump, Pope Francis is popular across a wide demographic range. "While it might not come as a shock that 87 percent of Catholics are fans of the pope, 61 percent of Protestants and 63 percent of people who follow 'no religion' count themselves as Francis fans," TIME reported, citing a September poll from Quinnipiac University. The poll found that 66 percent of Americans overall had a "favorable" or "very favorable" view of the pontiff.
Researchers have even noted a "Francis Effect:" the pope was cited in a poll by Yale and George Mason University as having changed Americans' views on climate change. The pope has been an outspoken advocate for climate action since his papacy began two years ago, but he ramped up his efforts this year ahead of the Paris climate talks.
Hillary Clinton was named the most admired woman yet again. She's held this title for the last 14 consecutive years and a record-breaking 20 times total. Clinton has topped the list far more times than any other woman or man since Gallup began the poll in 1948. Eleanor Roosevelt comes in second to Clinton with 13 first-place finishes.
Hillary Clinton most admired woman for record 20th time... https://t.co/5nqF5A2BWD #GallupDaily https://t.co/Bp0cBkUma0

— GallupNews (@GallupNews)1451343625.0
According to the poll, 17 percent of Americans named President Obama the man they admired most—a distinction he has now held eight times. He now ties Bill Clinton and Ronald Reagan for number of first-place finishes, but the title for most first-place finishes for men is still held by Dwight Eisenhower at 12.
Clinton (at 13 percent of votes) and Obama both won the title by a wide margin this year. The runners-up to Obama, Trump and Francis, both garnered 5 percent each. In second place among the women was Malala Yousafzai, also at 5 percent.
Bernie Sanders polled at 3 percent, followed by Bill Gates at 2 percent. Ben Carson, The Dalai Lama, George W. Bush, Bill Clinton and Rev. Billy Graham all received 1 percent of votes.
For the women, Oprah Winfrey and Michelle Obama both received 4 percent. Carly Fiorina, Queen Elizabeth II and Angela Merkel polled at 2 percent. And Elizabeth Warren, Aung San Suu Kyi, Condoleezza Rice, Sarah Palin and Ellen Degeneres all garnered 1 percent.
YOU MIGHT ALSO LIKE
Victory: Obama Signs Bill Banning Plastic Microbeads
EcoWatch Daily Newsletter
Related Articles from EcoWatch
Recent Stories from EcoWatch