This website uses cookies to ensure you get the best experience while browsing it. By clicking 'Got It' you're accepting these terms.
Trump Says EPA Regulations Are Ruining His Hair
Dec. 15, 2015 08:47AM EST
At an event in Aiken, South Carolina Saturday, Donald Trump spoke about how he has been personally impacted by the U.S. Environmental Protection Agency's (EPA) regulations. "I'll give you one regulation," Trump told TIME in response to a question about the EPA's regulation on U.S. waterways.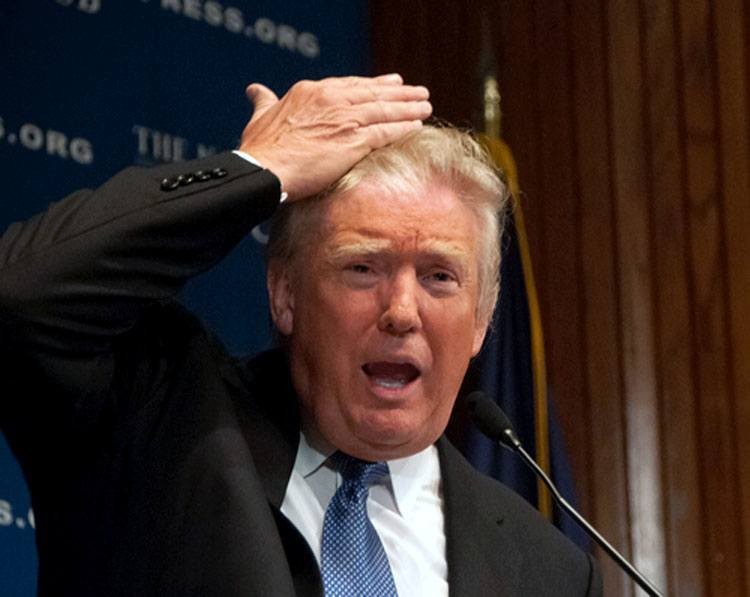 Albert H. Teich
/
Shutterstock.com
"So I build, and I build a lot of stuff. And I go into areas where they have tremendous water … And you have sinks where the water doesn't come out ... You have showers where I can't wash my hair properly, it's a disaster!" he said, to laughter from the crowd.
"It's true," Trump continued. "They [the showerheads] have restrictors put in. The problem is you stay under the shower for five times as long."
Trump is referring to low-flow showerheads, which along with low-flow faucets and toilets, save significant amounts of water while still providing adequate flow, according to the EPA, which developed the WaterSense label for shower heads, faucets and toilets.
The EPA wrote on its website:
Water-saving showerheads that earn the WaterSense label must demonstrate that they use no more than two [gallons per minute. Standard showerheads use 2.5]. The WaterSense label also ensures that these products provide a satisfactory shower that is equal to or better than conventional showerheads on the market. EPA worked with a variety of stakeholders—including consumers who tested various showerheads—to develop criteria for water coverage and spray intensity. All products bearing the WaterSense label—including water-efficient showerheads—must be independently certified to ensure they meet EPA water efficiency and performance criteria.
The EPA enumerated the economic and environmental savings of low flow devices:
The average family could save 2,900 gallons per year by installing WaterSense labeled showerheads. Since these water savings will reduce demands on water heaters, they will also save energy. In fact, the average family could save more than 370 kilowatt hours of electricity annually, enough to power a house for 13 days.
On a national scale, if every home in the United States installed WaterSense labeled showerheads, we could save more than $2.2 billion in water utility bills and more than 260 billion gallons of water annually. In addition, we could avoid about $2.6 billion in energy costs for heating water.
Trump's entire presidential campaign has been peppered with outrageous claims on environmental issues. On multiple occasions, he's called global warming "a hoax," going so far as to claim it's a concept "created by and for the Chinese in order to make U.S. manufacturing non-competitive." Among other comments, Trump has said the Keystone XL pipeline would have "no impact on the environment," and has cited unusually cold days in fall as evidence that climate change doesn't exist.
He's repeatedly bashed President Obama for his call to action on climate change, particularly during the COP21 Paris talks. President Obama called the UN talks "an act of defiance" in the wake of the terrorist attacks in Paris. In response, Trump said Obama's speech was "one of the dumbest things I've ever seen, or perhaps most naive."
"I think one of the dumbest statements I've ever heard in politics, in the history of politics as I know it, which is pretty good, was Obama's statement that our number one problem is global warming," said Trump.
He told The Hill, if he were president, he would have skipped the talks altogether. The talks have been generally hailed in the environmental community. Former CEO and Chairman of the Sierra Club Carl Pope called the Paris Agreement, which was finalized this weekend, the "greatest single victory since the emergence of the modern environmental movement."
Check out this hilarious segment on his hair from when The Donald hosted Saturday Night Live:
YOU MIGHT ALSO LIKE
Donald Trump Attacked by Eagle Named Uncle Sam, GIF Goes Viral
Neil Young, Willie Nelson, Dave Matthews, John Mellencamp: Help Us Stop the DARK Act
Climate activist Greta Thunberg addresses the European Commission on Feb. 21 in Brussels, Belgium. Sylvain Lefevre / Getty Images
By Julia Conley
Sixteen-year-old climate action leader Greta Thunberg stood alongside European Commission President Jean-Claude Juncker Thursday in Brussels as he indicated—after weeks of climate strikes around the world inspired by the Swedish teenager—that the European Union has heard the demands of young people and pledged more than $1 trillion over the next seven years to address the crisis of a rapidly heating planet.

In the financial period beginning in 2021, Juncker said, the EU will devote a quarter of its budget to solving the crisis.
A new study reveals the health risks posed by the making, use and disposal of plastics. Jeffrey Phelps / Getty Images
With eight million metric tons of plastic entering the world's oceans every year, there is growing concern about the proliferation of plastics in the environment. Despite this, surprisingly little is known about the full impact of plastic pollution on human health.
But a first-of-its-kind study released Tuesday sets out to change that. The study, Plastic & Health: The Hidden Costs of a Plastic Planet, is especially groundbreaking because it looks at the health impacts of every stage in the life cycle of plastics, from the extraction of the fossil fuels that make them to their permanence in the environment. While previous studies have focused on particular products, manufacturing processes or moments in the creation and use of plastics, this study shows that plastics pose serious health risks at every stage in their production, use and disposal.
IKEA is working on a specially-designed, air-purifying curtain called the GUNRID. IKEA
Air pollution within the home causes 3.8 million deaths a year, according to the World Health Organization. A recent University of Colorado in Boulder study reported by The Guardian found that cooking a full Thanksgiving meal could raise levels of particulate matter 2.5 in the house higher than the levels averaged in New Delhi, the world's sixth most polluted city.
But soon, you will be able to shop for a solution in the same place you buy your budget roasting pans. IKEA is working on a specially-designed, air-purifying curtain called the GUNRID.
The first member of the giant tortoise species Chelonoidis phantasticus to be seen in more than 100 years. RODRIGO BUENDIA / AFP / Getty Images
A rare species of giant tortoise, feared extinct for more than 100 years, was sighted on the Galápagos island of Fernandina Sunday, the Ecuadorian government announced.