This website uses cookies to ensure you get the best experience while browsing it. By clicking 'Got It' you're accepting these terms.
Trump Building Wall in Ireland to Keep Climate Change Out
May. 24, 2016 09:10AM EST
Climate
Donald Trump has said numerous times in various places that he does not consider climate change to be a significant problem warranting corrective action. From calling it pseudoscience to a Chinese conspiracy to an elaborate hoax, he's made it a point to take the Koch-approved stance, even as he disavows such big-money influence in politics. But as Politico's Ben Schreckinger has uncovered, when it comes to his business and not campaign rhetoric, Trump apparently takes climate change seriously.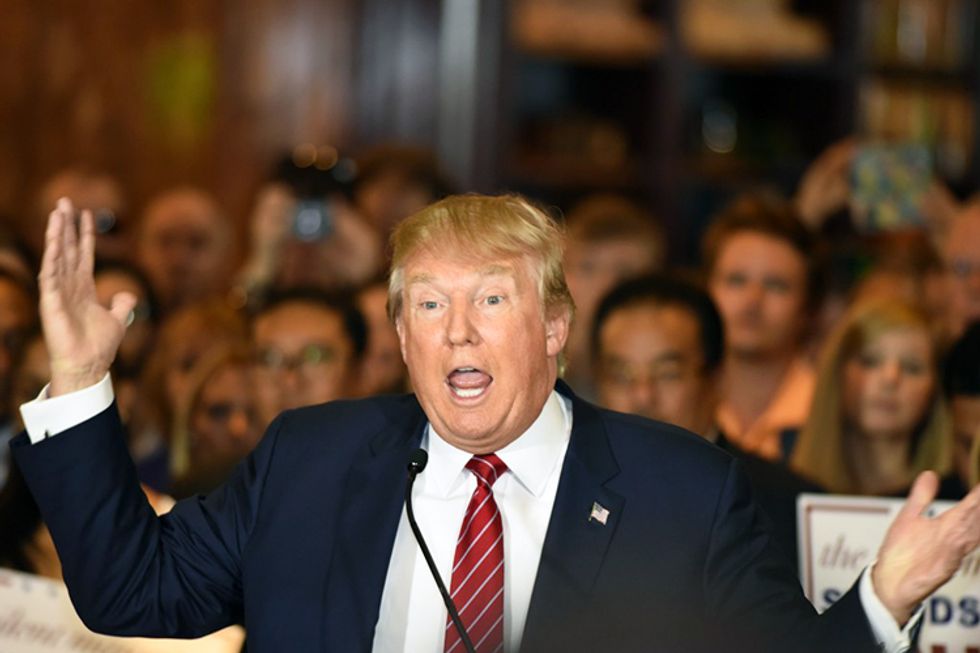 At a minimum, those in charge of running one of Trump's golf courses in Ireland seem to be climate conscious. In a planning application, Trump asked for permission to construct a two-mile sea wall to keep the rising sea levels from eroding the golf course. The impact statement refers not only to the coastal erosion from rising seas, but also the even larger risk from storm systems amplified by global warming.
The company made this a public issue as well, distributing a brochure to locals to gain their support for coastal protection, which specifically mentions the sea level rise and storms that will increase coastal erosion. So while Trump's political rhetoric is full-on conspiracy theory denial, this business move shows a rational reaction to a known risk. As such, we can probably expect him to disavow this move to go green so he can keep making the greenbacks from his golf greens. Though the plan is to build a wall and we all know how he feels about that.
News that the Donald's businesses take climate change seriously comes just after he's made some unsurprising remarks about climate, specifically about how he would renegotiate the Paris climate agreement. Chris Mooney explained why those comments were "so bizarre" on a few different levels. Short version: Trump's statement suggests he doesn't have the foggiest idea what the Paris agreement accomplished, how it's structured or what it represents.
Ever the optimists, though, we'd like to think that Trump's insistence that he will hire the best people would mean that he would pick climate advisors from the 97 percent and not the frequently-wrong and less-expert deniers. And his adaptation plan in Ireland suggests that on some level, this is true. So perhaps if elected he would hire the best, heed their advice and acknowledge the reality of man-made climate change. And to prevent being a flip-flopper, he can use this Irish golf course as a way to tee up the pivot from far-right primary to moderate general election campaigning.
Unfortunately, at the campaign level this optimism seems as outlandish as Trump's conspiracies since Donald is seeking energy advice from a pro-fossil fuel congressman from North Dakota. And even more unfortunately, when it comes to the high-profile issue of healthcare, even conservatives have lambasted his plan as being so bad that "to suggest it was pulled together by an unpaid campaign intern would be an insult to the capabilities of unpaid interns." Someone from the free-market focused Cato institute called it "a series of ignorant, incoherent and self-contradictory verbal spasms."
Which some might think suggests that it wasn't an unpaid intern that wrote it, but Donald himself.
YOU MIGHT ALSO LIKE
Trump Cannot Derail Paris Climate Deal
If President, Trump Would 'Renegotiate' Climate Deal
Trump Chooses Climate Skeptic as New Energy Adviser
With Clean Energy Jobs Booming in Republican Districts, It's Time to Recalibrate Climate Politics
EcoWatch Daily Newsletter
Deserted view of NH24 near Akshardham Temple on day nine of the 21-day nationwide lockdown to curb the spread of coronavirus on April 2, 2020 in New Delhi, India. Raj K Raj / Hindustan Times via Getty Images
A Unicef social mobilizer uses a speaker as she carries out public health awareness to prevent the spread and detect the symptoms of the COVID-19 coronavirus by UNICEF at Mangateen IDP camp in Juba, South Sudan on April 2. ALEX MCBRIDE / AFP / Getty Images
By Eddie Ndopu
South Africa is ground zero for the coronavirus pandemic in Africa.
Its townships are typical of high-density neighbourhoods across the continent where self-isolation will be extremely challenging.
The failure to eradicate extreme poverty is a threat beyond the countries in question.
The outside of the Food and Drug Administration headquarters in White Oak, Md. on Nov. 9, 2015. Al Drago / CQ Roll Call
The U.S. Food and Drug Administration has approved the use of two malarial drugs to treat and prevent COVID-19, the respiratory infection caused by the SARS-CoV-2 coronavirus, despite only anecdotal evidence that either is proven effective in treating or slowing the progression of the disease in seriously ill patients.

Some
speculate
that the dissemination of the Antarctic beeches or Nothofagus moorei (seen above in Australia) dates to the time when
Antarctica
, Australia and
South America
were connected. Auscape / Universal Images Group / Getty Images
A team of scientists drilled into the ground near the South Pole to discover forest and fossils from the Cretaceous nearly 90 million years ago, which is the time when dinosaurs roamed the Earth, as the BBC reported.
The recovery of elephant seals is one of the "signs of hope" that scientists say show the oceans can recover swiftly if we let them. NOAA /
CC BY 2.0