This website uses cookies to ensure you get the best experience while browsing it. By clicking 'Got It' you're accepting these terms.
True Blood and 30 Rock Actors Sail to Greenland to Film Funny or Die Series to 'Save the Arctic'
Sep. 17, 2015 08:41AM EST
Climate
It seems like everybody is going to the Arctic these days to talk about climate change. First, President Obama a few weeks ago. Now, True Blood star Alexander Skarsgard and 30 Rock's Jack McBrayer. And it makes sense.
The Arctic has warmed twice as fast as the rest of the globe in the last 50 years. And the signs of that warming are everywhere. Just yesterday, it was announced that Arctic sea ice was at its fourth lowest level on record. And last week, NASA put out a video explaining why we should all be concerned about Greenland's melting ice sheet. Rapidly melting glaciers, an insane fire season and increasing swarms of caribou-killing mosquitos all show that Alaska and the rest of the Arctic are, in the President's words, "On the frontlines in the fight against climate change."
While Obama chose to visit Alaska, Skarsgard and McBrayer along with Andy Bichlbaum from the activist duo The Yes Men are currently sailing around Greenland. They are hoping to bring awareness about the urgent need to act on climate change. They're aboard the Greenpeace ship Arctic Sunrise with a team from the comedy video website Funny or Die to make the first comedy series in the world that's shot on location in the Arctic Ocean.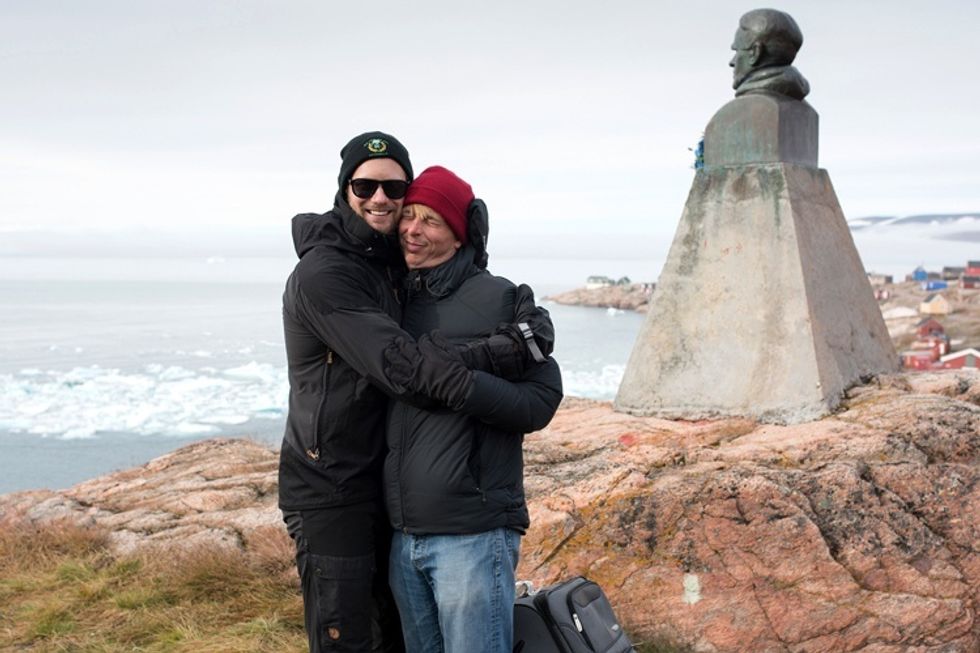 The project is designed to "increase public awareness of the costs of global warming and build support for Greenpeace's global 'Save the Arctic' campaign," according to Greenpeace. The campaign, backed by more than 7 million people, hopes to create a wildlife sanctuary in international waters around the North Pole and to bring about an end to drilling for oil in the Arctic. Greenpeace is releasing daily posts about the expedition, "which show Alex, Jack and Andy discovering the spectacular landscapes and wildlife of the region."
"We're very happy to welcome this team aboard our ship to experience the beauty of the Arctic, and hopefully make some great comedy at the same time," said Greenpeace Arctic campaigner Sune Scheller. "If we want to protect this amazing place we'll need millions more people alongside us, and Alex and Jack can help explain things like oil drilling and global warming in a really accessible way. We have no idea how this is going to turn out, but we're excited to see what happens next."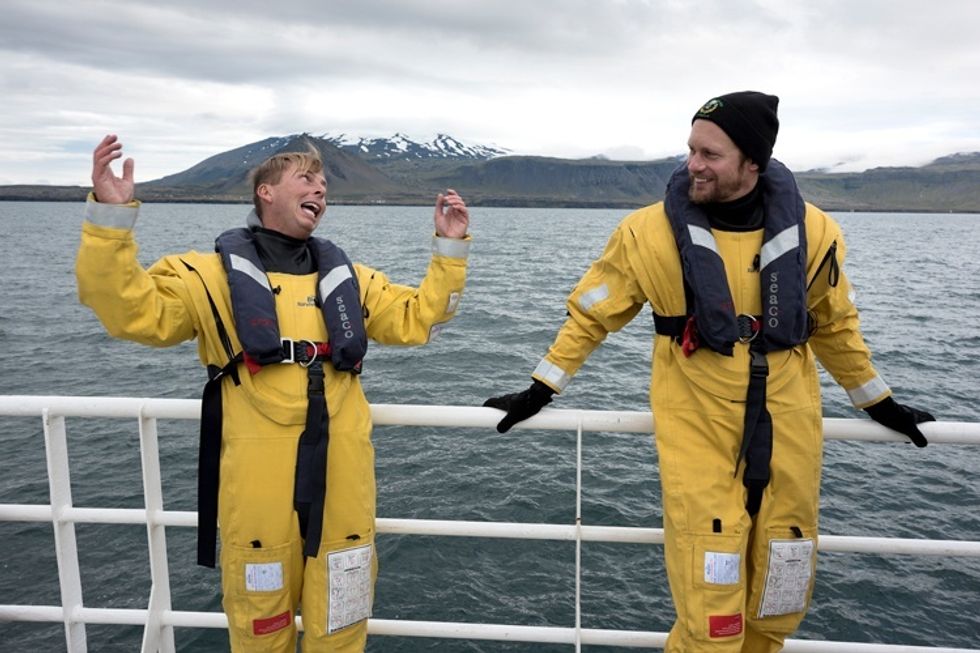 The pair seems like an unlikely duo. McBrayer with his Southern twang is known for "his absurdly cheerful, overtly polite and almost childlike persona" as Kenneth Parcell on the Emmy award-winning show 30 Rock. While Swedish-born Skarsgard has been voted the sexiest man in Sweden five times and plays a 1,000-year-old Viking vampire in the highly sexualized series True Blood. Still, they both care deeply about the environment.
"Frankly, I do not like cold weather, so for me to place value on cold weather and ice, that is something," said McBrayer. "If I am fighting to keep them around, then I think that should carry some weight."
"This Arctic project is about raising awareness and about getting some important messages out there," said Skarsgard. "But we're trying to do it in a way where we kind of make fun of ourselves, Jack and I. So we're trying to do a slightly comedic spin on something that is very serious - a comedic take on a life-and-death question."
Bichlbaum's The Yes Men is known as a "culture-jamming activist group." They've been behind a number of well-publicized pranks to raise awareness about important under-reported social issues. The group has even produced three movies. A few months ago, they came up with a comical solution to California's epic drought.
"When Greenpeace suggested we come up with a campaign to draw attention to the loss of Arctic ice and what that can mean for the planet, I immediately thought it worth seeing if we could reach some really big audiences," said Bichlbaum. "We're doing a couple of classic stealth actions here too, but I'm thrilled that this bigger collaboration is happening."
YOU MIGHT ALSO LIKE
Watch NASA Explain Why We Should All Be Worried About Greenland's Melting Ice Sheet
Arctic Warming Produces Mosquito Swarms Large Enough to Kill Baby Caribou
EcoWatch Daily Newsletter
A Starbucks barista prepares a drink at a Starbucks Coffee Shop location in New York. Ramin Talaie / Corbis via Getty Images
By Cathy Cassata
Are you getting your fill of Starbucks' new Almondmilk Honey Flat White, Oatmilk Honey Latte, and Coconutmilk Latte, but wondering just how healthy they are?
By Sharon Kelly
Back in April last year, the Trump administration's Environmental Protection Agency decided it was "not necessary" to update the rules for toxic waste from oil and gas wells. Torrents of wastewater flow daily from the nation's 1.5 million active oil and gas wells and the agency's own research has warned it may pose risks to the country's drinking water supplies.
Swedish climate activist Greta Thunberg takes part in a "Friday for Future" youth demonstration in a street of Davos on Jan. 24, 2020 on the sideline of the World Economic Forum annual meeting. FABRICE COFFRINI / AFP via Getty Images
Treasury Secretary Steven Mnuchin pretended not to know who Greta Thunberg is, and then he told her to get a degree in economics before giving world leaders advice, as The Guardian reported.
The Visible Infrared Imaging Radiometer Suite on the Suomi NPP satellite acquired this image of forest fire smoke hovering over North America on Aug. 15, 2018. NASA Earth Observatory
New York City isn't known for having the cleanest air, but researchers traced recent air pollution spikes there to two surprising sources — fires hundreds of miles away in Canada and the southeastern U.S.
If temperatures continue to rise, the world is at risk from global
sea-level rise
, which will flood many coastal cities as seen above in Bangladesh. NurPhoto / Contributor / Getty Images
The mounting climate emergency may spur the next global financial crisis and the world's central banks are woefully ill equipped to handle the consequences, according to a new book-length report by the Bank for International Settlements (BIS), as S&P Global reported. Located in Basel, Switzerland, the BIS is an umbrella organization for the world's central banks.