This website uses cookies to ensure you get the best experience while browsing it. By clicking 'Got It' you're accepting these terms.
Transporting Fossil Fuels: Rail vs. Pipeline is the Wrong Question
Jan. 21, 2014 10:16PM EST
Energy

Debating the best way to do something we shouldn't be doing in the first place is a sure way to end up in the wrong place. That's what's happening with the "rail versus pipeline" discussion. Some say recent rail accidents mean we should build more pipelines to transport fossil fuels. Others argue that leaks, high construction costs, opposition and red tape surrounding pipelines are arguments in favour of using trains.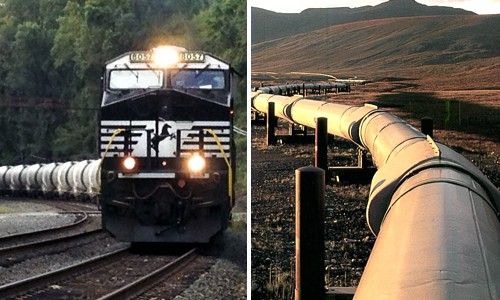 But the recent spate of rail accidents and pipeline leaks and spills doesn't provide arguments for one or the other; instead, it indicates that rapidly increasing oil and gas development and shipping ever greater amounts, by any method, will mean more accidents, spills, environmental damage—even death. The answer is to step back from this reckless plunder and consider ways to reduce our fossil fuel use.
If we were to slow down oil sands development, encourage conservation and invest in clean energy technology, we could save money, ecosystems and lives—and we'd still have valuable fossil fuel resources long into the future, perhaps until we've figured out ways to use them that aren't so wasteful. We wouldn't need to build more pipelines just to sell oil and gas as quickly as possible, mostly to foreign markets. We wouldn't have to send so many unsafe rail tankers through wilderness areas and places people live.
We may forgo some of the short-term jobs and economic opportunities the fossil fuel industry provides, but surely we can find better ways to keep people employed and the economy humming. Gambling, selling guns and drugs and encouraging people to smoke all create jobs and economic benefits, to0—but we rightly try to limit those activities when the harms outweigh the benefits.
Both transportation methods come with significant risks. Shipping by rail leads to more accidents and spills, but pipeline leaks usually involve much larger volumes. One of the reasons we're seeing more train accidents involving fossil fuels is the incredible boom in moving these products by rail. According to the American Association of Railroads, train shipment of crude oil in the U.S. grew from 9,500 carloads in 2008 to 234,000 in 2012—almost 25 times as many in only four years! That's expected to rise to 400,000 this year.
As with pipelines, risks are increased because many rail cars are older and not built to standards that would reduce the chances of leaks and explosions when accidents occur. Some in the rail industry argue it would cost too much to replace all the tank cars as quickly as is needed to move the ever-increasing volumes of oil. We must improve rail safety and pipeline infrastructure for the oil and gas that we'll continue to ship for the foreseeable future, but we must also find ways to transport less.
The economic arguments for massive oil sands and liquefied natural gas development and expansion aren't great to begin with—at least with the way our federal and provincial governments are going about it. Despite a boom in oil sands growth and production, "Alberta has run consecutive budget deficits since 2008 and since then has burned through $15 billion of its sustainability fund," according to an article on the Tyee website. The Canadian Taxpayers Federation says Alberta's debt is now $7 billion and growing by $11 million daily. 
As for jobs, a 2012 report by the Canadian Centre for Policy Alternatives shows less than one percent of Canadian workers are employed in extraction and production of oil, coal and natural gas. Pipelines and fossil fuel development are not great long-term job creators, and pale in comparison to employment generated by the renewable energy sector.
Beyond the danger to the environment and human health, the worst risk from rapid expansion of oil sands, coal mines and gas fields and the infrastructure needed to transport the fuels is the carbon emissions from burning their products—regardless of whether that happens here, in China or elsewhere. Many climate scientists and energy experts, including the International Energy Agency, agree that to have any chance of avoiding catastrophic climate change, we must leave at least two-thirds of our remaining fossil fuels in the ground.
The question isn't about whether to use rail or pipelines. It's about how to reduce our need for both.
Visit EcoWatch's PIPELINES  page for more related news on this topic.

EcoWatch Daily Newsletter
A vegan diet can improve your health, but experts say it's important to keep track of nutrients and protein. Getty Images
By Dan Gray
Research shows that 16 weeks of a vegan diet can boost the gut microbiome, helping with weight loss and overall health.
A healthy microbiome is a diverse microbiome. A plant-based diet is the best way to achieve this.
It isn't necessary to opt for a strictly vegan diet, but it's beneficial to limit meat intake.
New research shows that following a vegan diet for about 4 months can boost your gut microbiome. In turn, that can lead to improvements in body weight and blood sugar management.
Students gathered at the National Mall in Washington DC, Sept. 20. NRDC
By Jeff Turrentine
Nearly 20 years have passed since the journalist Malcolm Gladwell popularized the term tipping point, in his best-selling book of the same name. The phrase denotes the moment that a certain idea, behavior, or practice catches on exponentially and gains widespread currency throughout a culture. Having transcended its roots in sociological theory, the tipping point is now part of our everyday vernacular. We use it in scientific contexts to describe, for instance, the climatological point of no return that we'll hit if we allow average global temperatures to rise more than 2 degrees Celsius above preindustrial levels. But we also use it to describe everything from resistance movements to the disenchantment of hockey fans when their team is on a losing streak.
samael334 / iStock / Getty Images
Berries are small, soft, round fruit of various colors — mainly blue, red, or purple.
A glacier is seen in the Kenai Mountains on Sept. 6, near Primrose, Alaska. Scientists from the U.S. Geological Survey have been studying the glaciers in the area since 1966 and their studies show that the warming climate has resulted in sustained glacial mass loss as melting outpaced the accumulation of new snow and ice. Joe Raedle / Getty Images
By Mark Mancini
On Aug. 18, Iceland held a funeral for the first glacier lost to climate change. The deceased party was Okjökull, a historic body of ice that covered 14.6 square miles (38 square kilometers) in the Icelandic Highlands at the turn of the 20th century. But its glory days are long gone. In 2014, having dwindled to less than 1/15 its former size, Okjökull lost its status as an official glacier.
Members of Chicago Democratic Socialists of America table at the Logan Square Farmers Market on Aug. 18. Alex Schwartz
By Alex Schwartz
Among the many vendors at the Logan Square Farmers Market on Aug. 18 sat three young people peddling neither organic vegetables, gourmet cheese nor handmade crafts. Instead, they offered liberation from capitalism.
Hackney primary school students went to the Town Hall on May 24 in London after school to protest about the climate emergency. Jenny Matthews / In Pictures / Getty Images
Bird watching in the U.S. may be a lot harder than it once was, since bird populations are dropping off in droves, according to a new study.