This website uses cookies to ensure you get the best experience while browsing it. By clicking 'Got It' you're accepting these terms.
Transitioning to a Green Economy Holds the Answers to Today's Critical Challenges
May. 18, 2012 09:59PM EST
Energy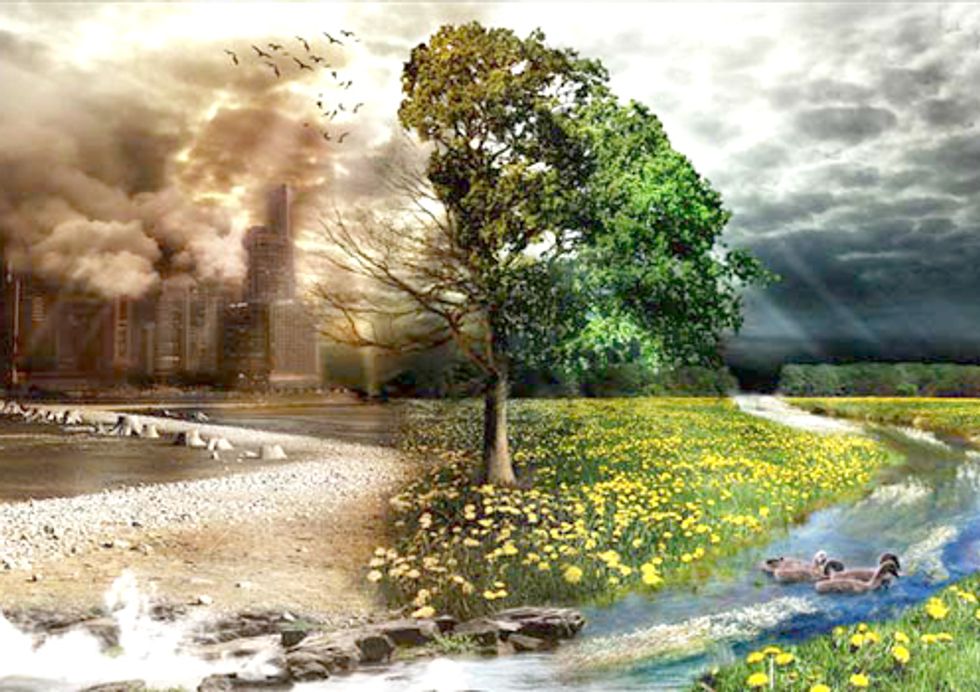 As global unemployment continues to rise and job opportunities remain scarce, especially for youth, the creation of a green economy might hold the answers to addressing some of today's most critical challenges. Global unemployment reached an estimated 205 million in 2010, up from 177 million in 2007, according to the Worldwatch Institute's recently released report, State of the World 2012: Moving Toward Sustainable Prosperity. The report highlights the need for a green economy to address current social and economic woes.
The Earth's ability to absorb waste and pollution is increasingly challenged by the rise in resource consumption and the corresponding throughput of energy and materials. Stress on ecosystems is evident in many ways, from species loss and deforestation to the overuse and pollution of critical resources like water. A study published in Nature estimates that, by 2009, nine critical environmental thresholds either had already been crossed or were on track to be, pushing beyond the planetary boundaries upon which all life depends.
Critical environmental issues are too often pushed aside in pursuit of short-sighted economic goals. But to effectively address the ongoing economic crisis, environmental concerns must take center stage. By transitioning to a green economy that values both development and sustainability, societies can work to simultaneously alleviate the economic, environmental and social concerns that threaten stability. Both industrialized and developing countries must play a role in—and benefit from—the move toward a green economy and toward sustainable prosperity that meets the needs of all people, present and future.
Unlike the conventional pattern of economic competition that produces winner and losers, the quest for a green economy needs to focus on win-win outcomes that render economic activities sustainable everywhere. In relative terms, the poor have to win more in a green economy than the rich do, so as to reduce and eventually overcome the stark differences in claims to the planet's remaining resources. Environmental sustainability is ultimately impossible without social equity.
Creating stable livelihoods is one of the most important tasks for a sustainable economic system. "Green jobs provide immense opportunity—but unfortunately, jobs that are in accord with environmental needs remain limited," said Michael Renner, State of the World 2012 project co-director and a senior researcher at Worldwatch. "We need a 'green for all' strategy that combines technical and structural change with social empowerment, with new approaches to everything from energy provision and transportation to housing and waste management."
In Chapter 1 of State of the World 2012, "Making the Green Economy Work for Everybody," Renner discusses four proposals to achieve sustainability with equity:
Green Innovation Centers: New cooperative models should be developed for green research and development, so that green innovations can be spread as widely and quickly as possible. When it comes to technologies that can help save the planet, competitive advantage is of limited value if others continue to rely on unsustainable ways of producing and consuming.
Global Top Runner Program: For a range of consumer products, Japan's Top Runner program makes the most efficient model the standard that every manufacturer has to match. Adopting such an approach on a global level would promote sustainability. Paired with a social top runner policy for wages, it could also promote greater equity.
Green Financing: An important undertaking in transitioning to a green economy is to make green products more affordable. A green financing program could offer preferential interest rates and loan terms for green products.
Economic Democracy: Irrespective of how countries are governed, their economic spheres often function in an undemocratic manner. In the U.S., corporations are now entitled to the same free-speech rights as individuals, while the majority of the population has no say in how such corporations operate. A more participatory model, where each worker has greater involvement in corporate decision making and day-to-day processes, could help better align corporate actions with urgent social and environmental needs.
For more information, click here.
EcoWatch Daily Newsletter
Pro-environment demonstrators on the streets of Washington, DC during the Jan. 20, 2017 Trump inauguration.
Mobilus In Mobili
/ Flickr /
CC BY-SA 2.0
By Dr. Brian R. Shmaefsky
One year after the Flint Water Crisis I was invited to participate in a water rights session at a conference hosted by the US Human Rights Network in Austin, Texas in 2015. The reason I was at the conference was to promote efforts by the American Association for the Advancement of Science (AAAS) to encourage scientists to shine a light on how science intersects with human rights, in the U.S. as well as in the context of international development. My plan was to sit at an information booth and share my stories about water quality projects I spearheaded in communities in Bangladesh, Colombia, and the Philippines. I did not expect to be thrown into conversations that made me reexamine how scientists use their knowledge as a public good.
Mt. Rainier and Reflection Lake on Sept. 10, 2015. Crystal Geyser planned to open a bottling plant near Mt. Rainier, emails show.
louelke - on and off / Flickr
Bottled water manufacturers looking to capture cool, mountain water from Washington's Cascade Mountains may have to look elsewhere after the state senate passed a bill banning new water permits, as The Guardian reported.
Large storage tank of Ammonia at a fertilizer plant in Cubatão, Sao Paulo State, Brazil. Luis Veiga / The Image Bank / Getty Images
The shipping industry is coming to grips with its egregious carbon footprint, as it has an outsized contribution to greenhouse gas emissions and to the dumping of chemicals into open seas. Already, the global shipping industry contributes about 2 percent of global carbon emissions, about the same as Germany, as the BBC reported.
At high tide, people are forced off parts of the pathway surrounding DC's Tidal Basin. Andrew Bossi /
Wikimedia
The Jefferson Memorial in Washington, DC overlooks the Tidal Basin, a man-made body of water surrounded by cherry trees. Visitors can stroll along the water's edge, gazing up at the stately monument.
But at high tide, people are forced off parts of the path. Twice a day, the Tidal Basin floods and water spills onto the walkway.
Lioness displays teeth during light rainstorm in Kruger National Park, South Africa. johan63 / iStock / Getty Images
Ahead of government negotiations scheduled for next week on a global plan to address the biodiversity crisis, 23 former foreign ministers from various countries released a statement on Tuesday urging world leaders to act "boldly" to protect nature.