TransCanada Starts Construction on Southern Keystone XL Pipeline Route
Aug. 16, 2012 06:33AM EST
Energy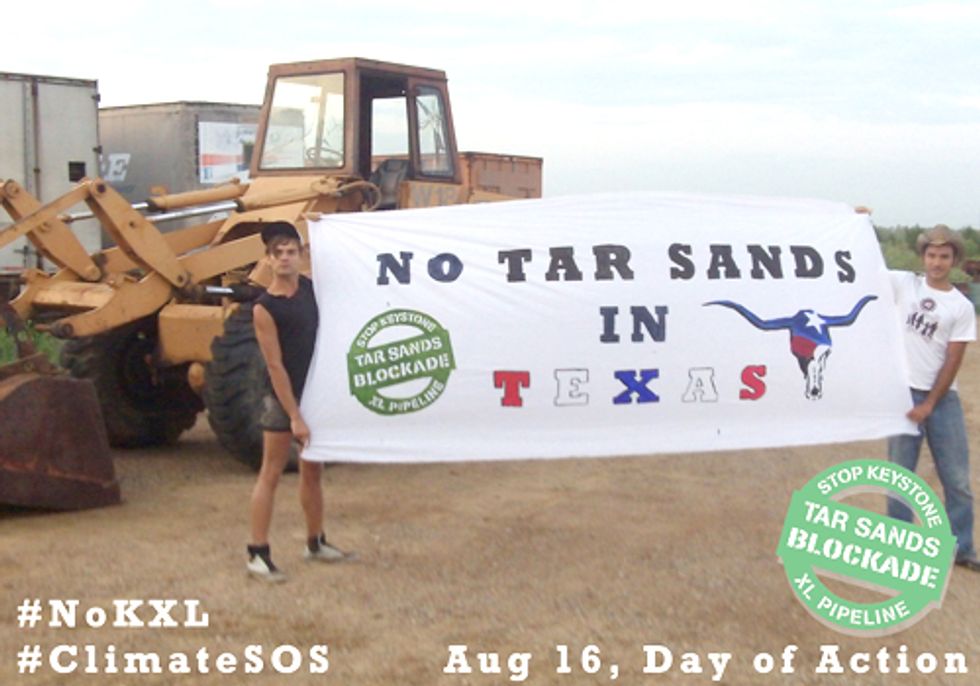 by Carol Geiger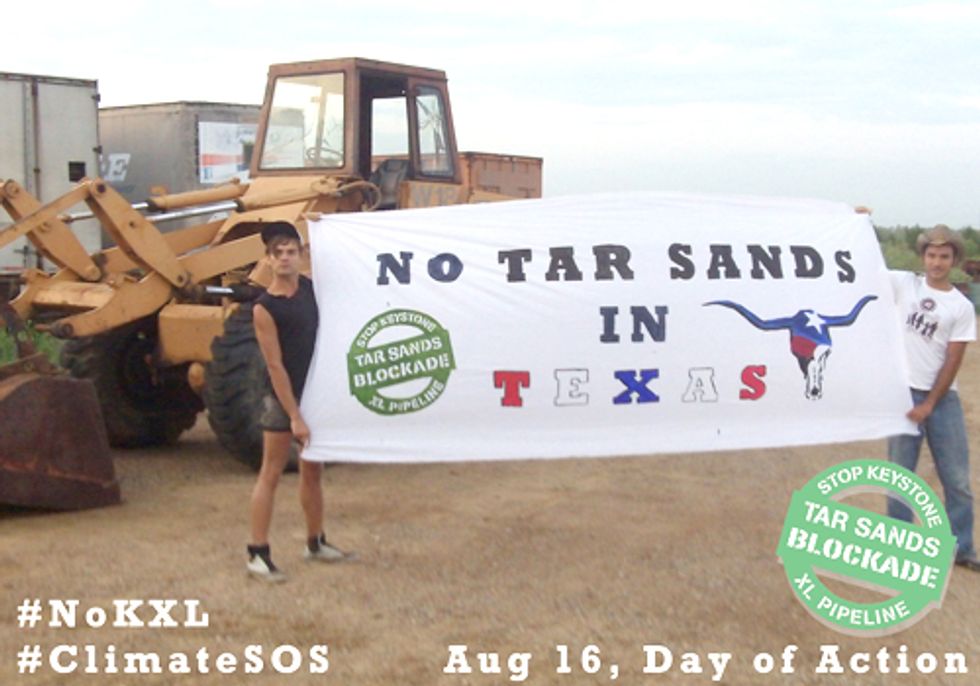 TransCanada has begun construction of the southern Keystone XL in Oklahoma and Texas. While they tried to keep it quiet, the Tar Sands Blockade is there to greet them.
TransCanada is carelessly moving forward with construction and trying to keep it quiet. Important legal cases are still pending regarding their use of eminent domain, and they have failed to conduct environmental review of the southern Keystone XL pipeline route.
TransCanada plans to clear-cut countless acres of East Texas forest in order to pipe tar sands oil across rivers, streams and land that many landowners are claiming was seized via an abuse of eminent domain and contract fraud—all to export oil overseas.
TransCanada's last pipeline spilled 12 times in its first 12 months of operation. During a summer of record heat, and an unprecedented drought, the last thing Texas needs is a tar sands pipeline that could ruin valuable water supplies with toxic oil spills.
In order to halt the onslaught of this international company's plans to pillage their way across the landscape of the great state of Texas, we have learned that the Tar Sands Blockade, a grassroots-led campaign using non-violent civil disobedience, has initiated a plan to stop construction of the southern leg of the Keystone XL pipeline. They have organized landowners, environmentalists, tea partiers, occupiers and more to stop this disaster-in-the-making in imaginative ways.
Here's Tar Sands Blockage live blog post: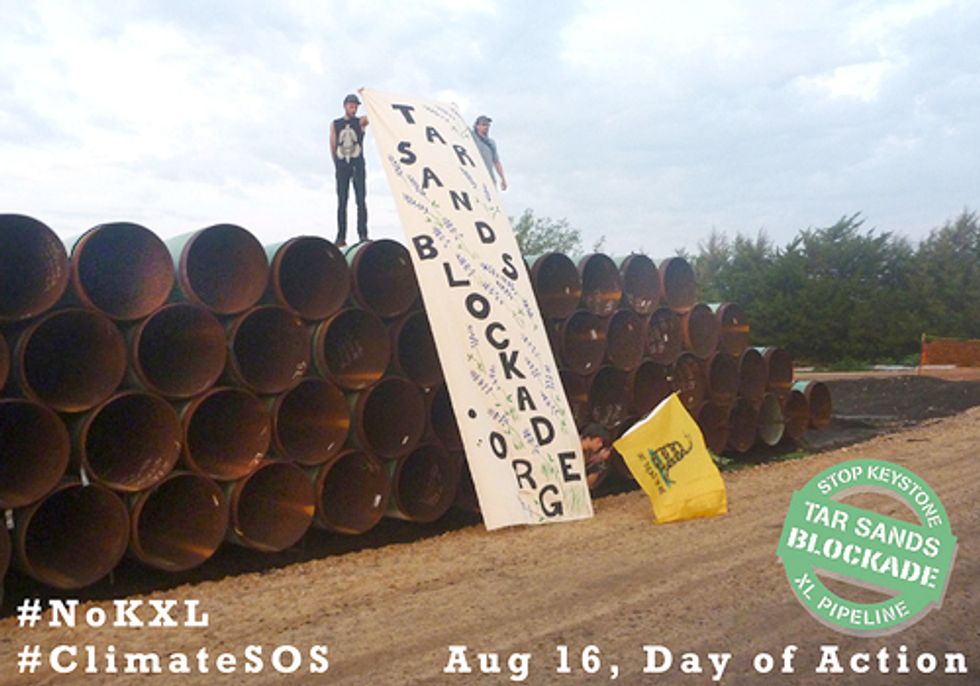 "TransCanada is putting families that wanted nothing to do with this pipeline in harm's way," said Ron Seifert, Tar Sands Blockade spokesperson. "Since our leaders and representatives will do nothing to protect our friends and neighbors, the Tar Sands Blockade is calling for people everywhere to join us and defend our local communities from a multinational bully."
The message remains clear, people across the political spectrum, from Tea Partiers to environmentalists are uniting to TransCanada that while this project has started, we will not allow it to be finished.
"In the midst of record heat and drought, this just adds insult to injury," says Bill McKibben, founder of 350.org. "More risk, more carbon, more heat—all the things farmers and ranchers don't need." This is a risk we can't afford to take.
Planned events today include actions in Dallas and Houston, Texas, and Cushing, Oklahoma, in solidarity with landowners who say TransCanada has bullied and manipulated them through the use of eminent domain for private gain. Stay tuned for more breaking updates as this story unfolds.
"TransCanada lied to me from day one," says Susan Scott, a local landowner in East Texas whose land was expropriated. "I worked 37 years for my farm, and TransCanada believes it is entitled to a piece of my home."
Organizers with the Tar Sands Blockade are taking a stand, demonstrating their commitment to protect the public's health, safety and constitutional rights, and to preserve the integrity of the environment that supports local communities across the region.
Plans to integrate the proposed southern segment the existing Keystone system would allow extractors in Canada to transfer a toxic tar sands slurry directly to the export market in the Gulf Coast. This expansion of the petrochemical industry will pad the pockets of Gulf Coast refineries–operating in a foreign trade zone to escape state and federal taxes–while endangering hundreds of communities between Cushing, OK and Port Arthur, TX.
The Blockade is proud to be a part of the burgeoning Summer of Solidarity direct actions against fossil fuel extraction across the nation. Residents defending against mountaintop removal coal strip-mining in West Virginia, hydraulic fracturing (fracking) in Ohio, Pennsylvania, and New York, as well as coal exportation from Montana are confronting abuse and contamination on the part of dirty energy industries operating in their communities.
Watch this video of a Texas Landowner halting TransCanada surveyors in their tracks:


Visit EcoWatch's KEYSTONE XL page for more related news on this topic.
EcoWatch Daily Newsletter