This website uses cookies to ensure you get the best experience while browsing it. By clicking 'Got It' you're accepting these terms.
TransCanada Plots Dirty PR Campaign to Push New Pipeline
Nov. 18, 2014 10:09AM EST
Energy
Burned by the public opposition to its Keystone XL pipeline, which has held up the project for six years, Alberta tar sands company TransCanada has laid out plans to prevent the same thing from happening as it clears the way to build its even longer and larger capacity cross-continental Energy East pipeline.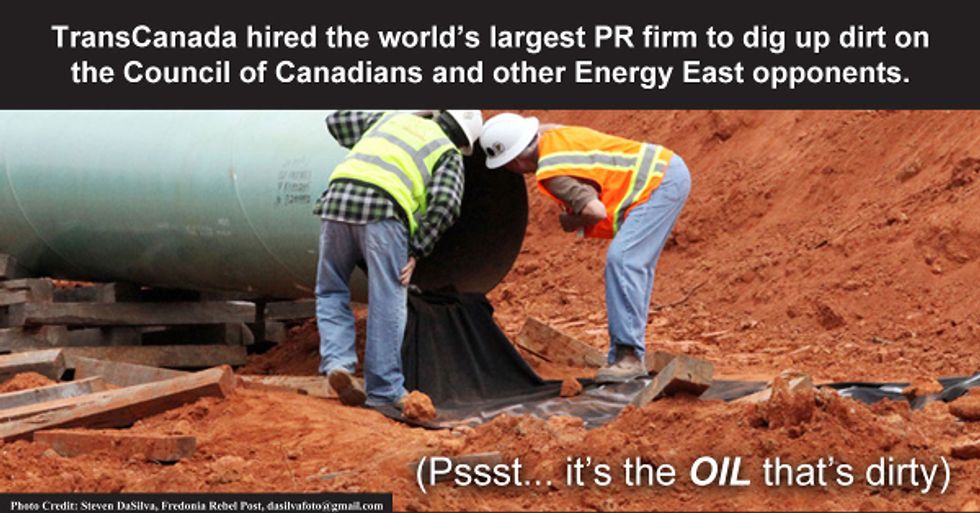 Greenpeace has leaked documents which reveal the company's secret strategy, much of which hinges on the same astroturf and dirty tricks tactics used by Rick Berman, whose smear campaign against environmentalists was exposed a few weeks ago  by the New York Times. And the firm that prepared the strategy was Edelman, the world's largest public relations company, which earned itself a blizzard of unfavorable publicity last summer, both for its work for big-time climate deniers and its inept damage control. Edelman's clients included the American Petroleum Institute and the American Legislative Exchange Counsel (ALEC) and its previous work included an ad campaign for Keystone XL.
The documents, written between May and August 2014, don't merely suggest promoting the benefits of shipping tar sands oil from Alberta to eastern Canada for export to other countries. They also advocate for the company to "Add layers of difficulty for our opponents, distracting them from their mission and causing them to redirect their resources." More than 50 Edelman and TransCanada staff would be devoted to the Washington D.C.-based campaign, some of which—primarily the positive PR part—has already been launched.
The plan hinges both on mobilizing public support for Energy East and discrediting opponents of the pipeline according to the leaked documents, which say "It is critical to play offence." The company would recruit 35,000 activists to carry their message to the public, claiming it recruited over a million in support of Keystone XL.
"It's not just associations or advocacy groups building these programs in support of the industry," asserts Edelman in the documents. "Companies like ExxonMobil, Chevron, Shell and Halliburton (and many more) have all made key investments in building permanent advocacy assets and programs to support their lobbying, outreach and policy efforts. TransCanada will be in good company." Edelman refers to these third parties as "an echo chamber of aligned voices."
In addition, the documents suggest that the company "apply pressure—intelligently—on opponents, as appropriate," and to "add layers of difficulty for our opponents, distracting them from their mission and causing them to redirect their resources," using primarily outside parties to keep their fingerprints off the dirty tricks. They propose using public records, social media, and financial and legal databases to do detailed opposition research on environmental and citizen advocacy groups such as Ecology Ottawa, Avaaz, Equiterre, Council of Canadians and the David Suzuki Foundation.
"One of the lessons that we have learned on Keystone XL is the importance of holding opponents accountable for the claims they make," TransCanada spokesperson Shawn Howard told The Guardian of London. "Just as our shareholders and the business community hold our organization accountable for our actions, we too feel a duty to ensure that well-organized global opponents are held to the standard of accountability and transparency. We will not apologize for promoting the value of the industry. We are proud of this project."
"They have hired the world's largest PR firm because opposition to Energy East is growing," responded Andrea Harden, the Council of Canadians' Energy and Climate Justice Campaigner. "From overflowing town halls to provincial reviews and increasingly critical municipal and First Nation leaders, TransCanada is losing public support despite their heavy-handed advertising and desperate tactics."
The Council of Canadians points out that Edelman's Mike Krempasky is listed as the senior counsel for the project "responsible for the overall strategic direction and directly responsible for the success of the campaign." Krempasky previously apologized when it was revealed he has used fake grassroots bloggers in a Walmart campaign. He was also one of the co-founders of the far-right Tea Party-aligned website Redsdtate.com.
Greenpeace condemned the tactics exposed in the documents it leaked.
"When oil companies create front groups to smear their opponents, they degrade democratic debate.," said Keith Stewart, Greenpeace Canada's climate and energy campaign coordinator. "Greenpeace may be fierce in the defense of our environment, but we put our names to our statements and publish the research to back them up. We expect oil companies to do the same."
"TransCanada is a multibillion-dollar corporation with the backing of the Canadian government, yet with all that in its favor, they still need Daniel Edelman's campaign of distraction, disruption and dirty tricks to go forward with this pipeline." said Greenpeace USA research director Mark Floegel. "Clearly, TransCanada and Edelman both know there's no good economic or social reason to build new infrastructure for dirty fossil fuels."
As The Guardian points out, "The documents contain only a fleeting reference to climate change—even though the world's top scientists have found that most of the world's fossil fuels must stay in the ground to avoid catastrophic global warming." Energy East would pump nearly 1.1 million barrels a day of the dirty tar sands bitumen oil, compared to Keystone XL's 850,000 barrels.
YOU MIGHT ALSO LIKE:
Edelman PR Firm Scurries to Fix Climate Change Denial Debacle
Secret Tape Exposes Fracking Industry Playing Dirty
EcoWatch Daily Newsletter
The CDC has emphasized that washing hands with soap and water is one of the most effective ways to prevent the spread of COVID-19. Guido Mieth / Moment / Getty Images
The Centers for Disease Control has emphasized that washing hands with soap and water is one of the most effective measures we can take in preventing the spread of COVID-19. However, millions of Americans in some of the most vulnerable communities face the prospect of having their water shut off during the lockdowns, according to The Guardian.
A California newt (Taricha torosa) from Napa County, California, USA. Connor Long /
CC BY-SA 3.0
Aerial photos of the Sierra Nevada — the long mountain range stretching down the spine of California — showed rust-colored swathes following the state's record-breaking five-year drought that ended in 2016. The 100 million dead trees were one of the most visible examples of the ecological toll the drought had wrought.
Now, a few years later, we're starting to learn about how smaller, less noticeable species were affected.
Disinfectants and cleaners claiming to sanitize against the novel coronavirus have started to flood the market.
Natthawat / Moment / Getty Images
Disinfectants and cleaners claiming to sanitize against the novel coronavirus have started to flood the market, raising concerns for the U.S. Environmental Protection Agency (EPA), which threatened legal recourse against retailers selling unregistered products, according to The New York Times.
A customer packs groceries in reusable bags at a NYC supermarket on March 1, 2020. Eduardo Munoz Alvarez/Getty Images
The global coronavirus pandemic has thrown our daily routine into disarray. Billions are housebound, social contact is off-limits and an invisible virus makes up look at the outside world with suspicion. No surprise, then, that sustainability and the climate movement aren't exactly a priority for many these days.
Ingredients are displayed for the Old School Pinto Beans from the Decolonize Your Diet cookbook by Luz Calvo and Catriona Rueda Esquibel. Melissa Renwick / Toronto Star via Getty Images
By Molly Matthews Multedo
Livestock farming contributes to global warming, so eating less meat can be better for the climate.