TransCanada Asks State Department to 'Pause' Review on Keystone XL Pipeline
Nov. 03, 2015 09:15AM EST
Energy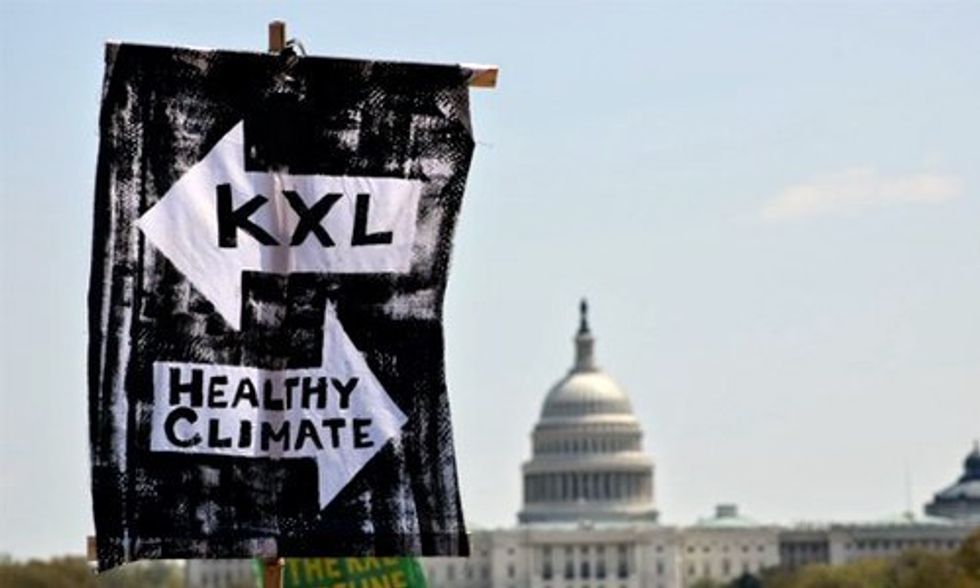 In a letter to Sec. John Kerry yesterday, Canadian oil company TransCanada asked the State Department to "pause" its review of the Presidential Permit application for the Keystone XL pipeline.
Our response to TransCanada's request to pause Keystone XL review: https://t.co/4ORmbLHWhS #NoKXL @billmckibben https://t.co/yz6e7on9mU

— 350 dot org (@350 dot org)1446512006.0
"We are asking State to pause its review of Keystone XL based on the fact that we have applied to the Nebraska Public Service Commission for approval of its preferred route in the state," Russ Girling, TransCanada's president and CEO, said in a statement. "I note that when the status of the Nebraska pipeline route was challenged last year, the State Department found it appropriate to suspend its review until that dispute was resolved. We feel under the current circumstances a similar suspension would be appropriate."
In the letter, TransCanada writes:
In order to allow time for certainty regarding the Nebraska route, TransCanada requests that the State Department pause in its review of the Presidential Permit application for Keystone XL. This will allow a decision on the permit to be made later based on certainty with respect to the route of the pipeline.
For nearly seven years, tens of thousands of people have been demanding that President Obama reject the Keystone XL, a proposed tar sands pipeline connecting Alberta, Canada with Gulf Coast refineries that would carry 800,000 barrels per day across the breadbasket of America to be refined, exported and burned.
In response to TransCanada's announcement, Michael Brune, executive director of the Sierra Club said, "TransCanada sees the writing on the wall, and is trying to run out the clock in hopes that the next president will not weigh climate science in his or her decision about the dirty Keystone XL tar sands pipeline."
"Today, tomorrow or next year, the answer will be the same: Keystone XL is a bad deal for America, our climate and our economy," said NextGen Climate President Tom Steyer. "Secretary Kerry should reject TransCanada's request for delay, and President Obama should immediately reject the Keystone XL pipeline once and for all."
The fight against Keystone XL has seen an unprecedented wave of grassroots actions in every state in the U.S. This map from 350.org shows more than 750 #NoKXL actions, big and small, that have taken place to stop the pipeline since 2011. They range from impromptu events when President Obama was in town, to days of action with hundreds of participants, to tens of thousands of people gathering in Washington, DC.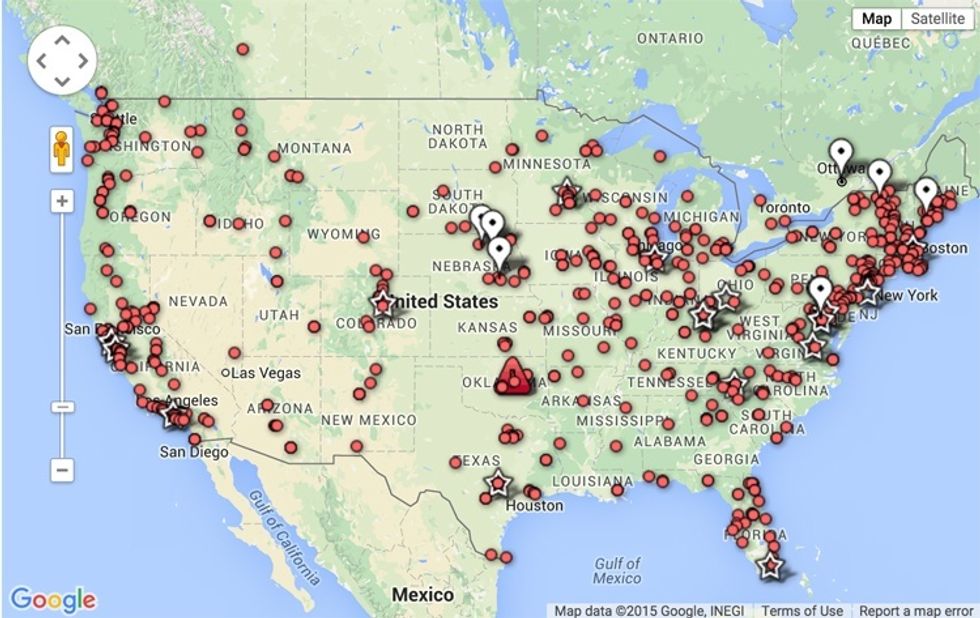 "The Keystone XL pipeline has been defeated by the movement with an assist from the markets," said Stephen Kretzmann, executive director of Oil Change International.
Lindsey Allen, executive director of Rainforest Action Network agrees. "Sustained grassroots opposition to the Keystone XL pipeline has put TransCanada on the run. It is urgently important that President Obama reject Keystone XL without further delay. KXL isn't about TransCanada. It's about the president's climate legacy."
As TckTckTck puts it:
Construction of the controversial pipeline became less and less likely this year following the Obama administration's veto of a bill that demanded the president approve the project.
Meanwhile with evidence showing the pipeline would produce just 35 permanent jobs in the U.S. while putting a large swath of the country at risk of a catastrophic oil spill and that over reliance on the volatile tar sands market fueled an economic recession in Canada, any dubious economic claims for pushing the project through have proven to be false.
In Canada, projects connected to the tar sands lost political momentum first when Alberta voted out their provincial conservative government after 44 years of rule, and again when Canada elected Justin Trudeau as Prime Minister to replace climate laggard Stephen Harper.
Bill McKibben says this latest tactic by TransCanada is "one of the great victories for this movement in decades."
YOU MIGHT ALSO LIKE
Fracking Companies Warned to Scale Back Operations Linked to Earthquakes or Get Sued
Hydropower Will Undermine COP21 as 'False Solution' to Climate Change
Hidden Camera Prank Exposes Absurdity of Climate Deniers' Arguments
EcoWatch Daily Newsletter