This website uses cookies to ensure you get the best experience while browsing it. By clicking 'Got It' you're accepting these terms.
Trans Mountain Tar Sands Pipeline 'Final Harpoon' for Endangered Killer Whales
Apr. 26, 2016 09:31AM EST
Energy
At the beginning of last week, environmentalists celebrated when the largest energy infrastructure company in North America, Kinder Morgan, pulled the plug on its controversial natural gas pipeline which had been proposed through parts of Massachusetts and Southern New Hampshire, called NorthEast Energy Direct.
But the energy giant is pushing ahead with other contentious pipelines, not least its Trans Mountain pipeline that connects the dirty tar sands in Alberta to an oil terminal in Burnaby, in British Colombia.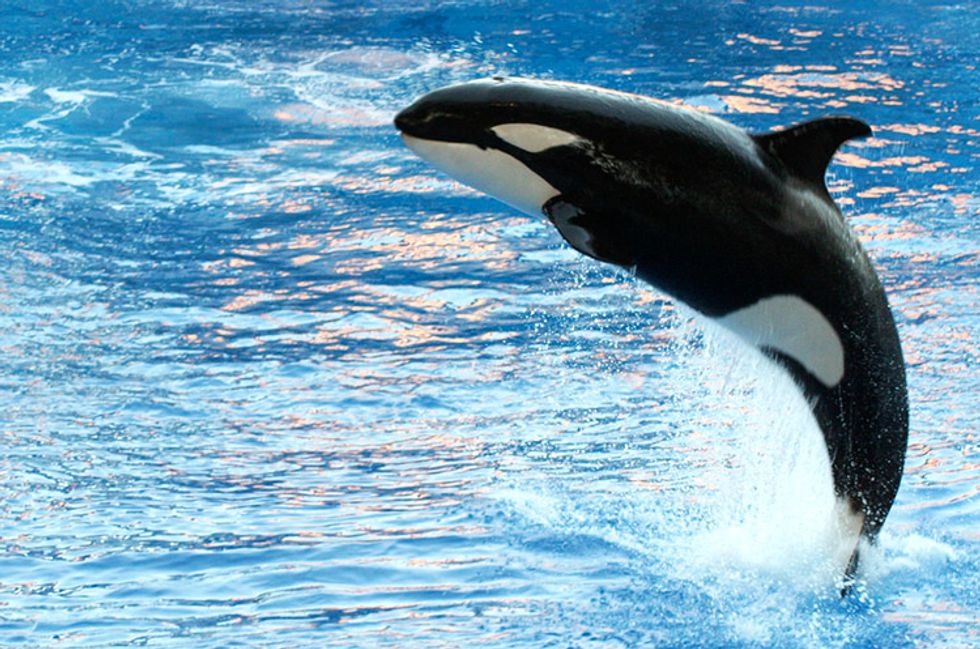 From here the tar sands is transported by tanker via the ecologically sensitive Salish Sea, which is a crucial habitat for endangered killer whales.
And now a new report by Friends of the Earth, Tar Sands/Dilbit Crude Oil Movements Within the Salish Sea, focuses on these movements of tar sands, which have been diluted with lighter volatile products to enable it to be shipped as "dilbit" or diluted bitumen.
The report focuses on the poorly publicized proposal to triple the Trans Mountain pipeline, which would result in an increased capacity to ship dilbit crude from Burnaby in British Colombia via the Salish Sea from 300,000 bbls/day to 890,000 bbls/day.
In turn this would result in a 7-fold increase in tanker traffic transiting through the Salish Sea, which is not just an important habitat for endangered killer whales, but is also home to 37 species of mammals, 172 species of birds, 247 species of fish and more than 3,000 species of invertebrates—approximately 113 of which are either listed as threatened or endangered in Canada and the U.S.
The report concludes the number of dilbit carrying oil tankers would increase from approximately one per week to one per day, significantly increasing the amount of oil being transported through the sea.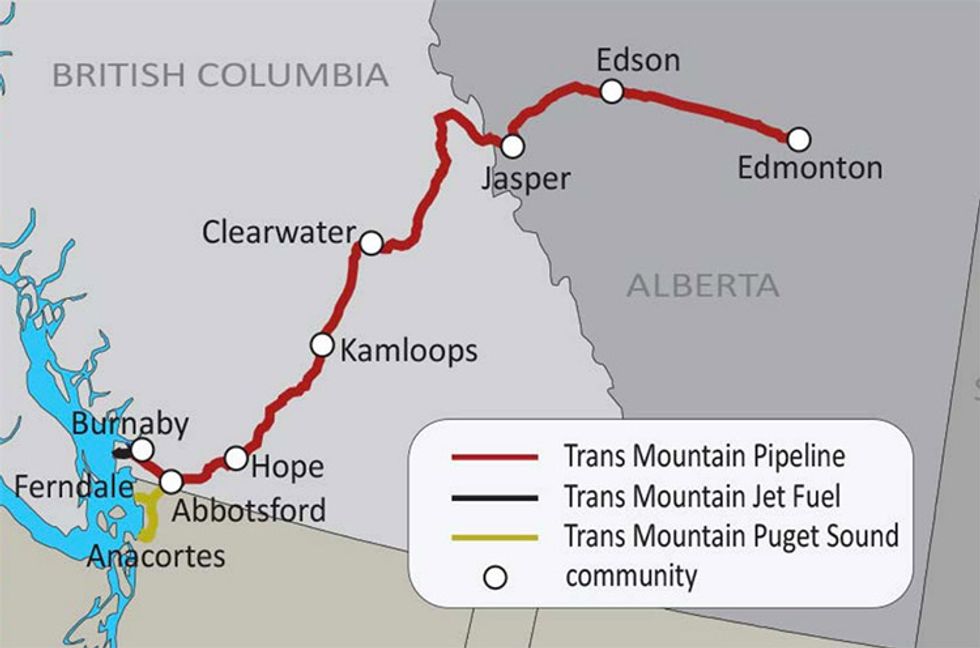 Friends of the Earth northwest consultant Fred Felleman said: "Trans Mountain is the one of the biggest threats to U.S. waters that few people have ever heard of."
He says the proposed dilbit shipments are "a recipe for disaster."
Friends of the Earth is now calling for improvements to the region's oil spill response regulations, warning against "the biggest underlying threat of an oil spill—complacency."
According to Felleman: "The expansion of the Trans Mountain pipeline poses the greatest risk of a catastrophic oil spill in the Salish Sea," before adding: "This project would be the final harpoon in the population of endangered southern resident killer whales."
And that is before you factor in how the dirty tar sands flowing down Trans Mountain will undermine Canada's climate goals.
With the signing of the historic Paris agreement, Canada has committed to limit global warming to less than 2 degrees C and aspire to keep it to less than 1.5 degrees C.
In either scenario, there is simply no room for tar sands expansion.
Alberta's Premier Notley's most recent plea for new pipelines to access more markets has been thoroughly debunked in a recent Oil Change International briefing note here.
New pipelines are about one thing only: locking in dangerous expansion of the world's third largest oil reserve. This would also mean harnessing a fragile economy to decades' more worth of boom and bust.
Alberta has massive potential to become a renewable energy superpower and new pipelines would do nothing but undermine this opportunity.
The Trans Mountain pipeline has also been resoundingly rejected by First Nations, municipalities along the route (including the city of Vancouver) and British Columbians alike.
It looks like the opposition to this pipeline will only grow.
YOU MIGHT ALSO LIKE
Solar Impulse Pilot: 'I Flew Over Plastic Waste As Big As a Continent'
Massive Coral Reef Discovered at Mouth of Amazon, But It's Already Threatened by Oil Drilling
Gov. Cuomo Rejects the Constitution Pipeline, Huge Win for the Anti-Fracking Movement
Watch: River Explodes Into Flames From Methane Coming From Nearby Fracking Sites
EcoWatch Daily Newsletter
Aerial view of Ruropolis, Para state, northen Brazil, on Sept. 6, 2019. Tthe world's biggest rainforest is under threat from wildfires and rampant deforestation. JOHANNES MYBURGH / AFP via Getty Images
By Kate Martyr
Deforestation in Brazil's Amazon rainforest last month jumped to the highest level since records began in 2015, according to government data.
A total of 563 square kilometers (217.38 square miles) of the world's largest rainforest was destroyed in November, 103% more than in the same month last year, according to Brazil's space research agency.
From January to November this year an area almost the size of the Caribbean island of Puerto Rico was destroyed — an 83% overall increase in destruction when compared with the same period last year.
The figures were released on Friday by the National Institute for Space Research (INPE), and collected through the DETER database, which uses satellite images to monitor forest fires, forest destruction and other developments affecting the rainforest.
What's Behind the Rise?
Overall, deforestation in 2019 has jumped 30% compared to last year — 9,762 square kilometers (approximately 3769 square miles) have been destroyed, despite deforestation usually slowing during November and December.
Environmental groups, researchers and activists blamed the policies of Brazil's president Jair Bolsonaro for the increase.
They say that Bolosonaro's calls for the Amazon to be developed and his weakening support for Ibama, the government's environmental agency, have led to loggers and ranchers feeling safer and braver in destroying the expansive rainforest.
His government hit back at these claims, pointing out that previous governments also cut budgets to environment agencies such as Ibama.
The report comes as Brazil came to loggerheads with the Association of Small Island States (AOSIS) over climate goals during the UN climate conference in Madrid.
AOSIS blasted Brazil, among other nations, for "a lack of ambition that also undermines ours."
Last month, a group of Brazilian lawyers called for Bolsonaro to be investigated by the International Criminal Court over his environmental policies.
Reposted with permission from DW.
The Carolina parakeet went extinct in 1918. James St. John /
CC BY 2.0
The Carolina parakeet, the only parrot species native to the U.S., went extinct in 1918 when the last bird died at the Cincinnati Zoo. Now, a little more than 100 years later, researchers have determined that humans were entirely to blame.
Pexels
Vitamin C is a very important nutrient that's abundant in many fruits and vegetables.
BLM drill seeders work to restore native grasses after wildfire on the Bowden Hills Wilderness Study Area in southeast Oregon, Dec. 14, 2018. Marcus Johnson / BLM / CC BY 2.0
By Tara Lohan
In 2017 the Thomas fire raged through 281,893 acres in Ventura and Santa Barbara counties, California, leaving in its wake a blackened expanse of land, burned vegetation, and more than 1,000 destroyed buildings.