Trade Rules Trump Climate Action: U.S. Blocks India's Ambitious Solar Plans
India has been told that it cannot go ahead as planned with its ambitious plan for a huge expansion of its renewable energy sector, because it seeks to provide work for Indian people. The case against India was brought by the U.S.
The ruling, by the World Trade Organization, says India's National Solar Mission—which would create local jobs, while bringing electricity to millions of people—must be changed because it includes a domestic content clause requiring part of the solar cells to be produced nationally.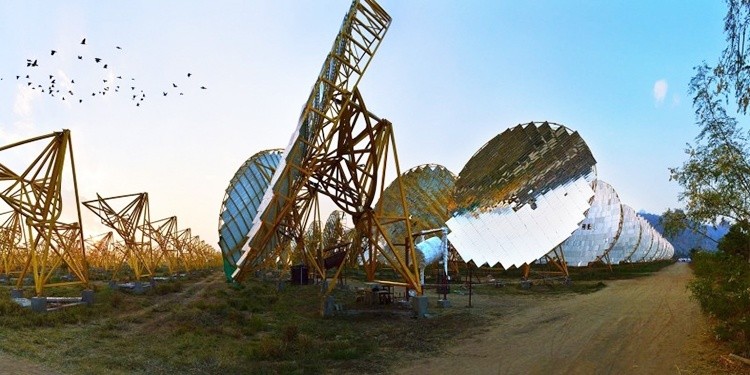 What a difference two months make. On Dec. 12 last year, U.S. President Barack Obama praised the Paris agreement on tackling climate change, just hours after it was finally concluded. "We've shown what's possible when the world stands as one," he said, adding that the agreement "represents the best chance we have to save the one planet that we've got."
Clear-Cut Victory
The World Trade Organization says that its dispute settlement panel "handed the U.S. a clear-cut victory ... when it found that local content requirements India imposed on private solar power producers in a massive solar project violated trade rules, although the two sides are still discussing a potential settlement to the dispute."
One official of India's Ministry of New and Renewable Energy told India Climate Dialogue that the ruling might make the country's solar plan more expensive and would definitely hit domestic manufacturing and, consequently, the possibility of creating jobs in the sector.
The government-funded program aims to generate 100 gigawatts of solar energy annually by 2022. One gigawatt is enough, for example, to supply the needs of 750,000 typical U.S. homes.
Sam Cossar-Gilbert, economic justice and resisting neoliberalism program co-ordinator at Friends of the Earth International, said the ruling "shows how arcane trade rules can be used to undermine governments that support clean energy and local jobs. The ink is barely dry on the UN Paris agreement, but clearly trade still trumps real action on climate change."
Stumbling Blocks
"Trade agreements are often stumbling blocks for action on climate change. Current trade rules limit governments' capacity to support local renewable energy, undermine clean technology transfer and empower fossil fuel companies to attack climate protection in secret courts. Trade policies are preventing a sustainable future, " said Cossar-Gilbert.
"In the last three months alone, Ecuador was ordered to pay $1 billion for cancelling a petrol contract under a Bilateral Investment Treaty ... Governments must be free to implement sound climate policy," he continued.
"This ruling shows the dangers posed by more wide-ranging trade agreements such as the Trans-Pacific Partnership, Trade in Services Agreement and Transatlantic Trade and Investment Partnership, which will liberalize trade in dirty fossil fuels and restrict government options even further," concluded Cossar-Gilbert.
YOU MIGHT ALSO LIKE
Robert F. Kennedy, Jr.: Syria, Another Pipeline War
Al Gore: 3 Questions We Have to Answer About Climate Change
The Biggest Oil Leak You've Never Heard Of, Still Leaking After 12 Years
Climate Experts to American Geophysical Union: Reject Exxon Sponsorship
A coalition of conservation groups and others announced Thursday that a historic number of comments and petitions of support have been submitted to the U.S. Department of the Interior in support of Bears Ears National Monument. Despite the entirely inadequate 15-day comment period ending on May 26, more than 685,000 comments in support of Bears Ears National Monument have been collected.
Keep reading...
Show less
Rink Glacier in western Greenland, with a meltwater lake visible center. NASA/OIB
Scientists have had their eyes on Greenland as its iconic glaciers have begun disappearing due to a warming climate. But, what they didn't expect to see was a whole new type of melting.
Keep reading...
Show less
Mountain View Fire
By Lena Moffitt
An oil tanker in Mead, Colorado exploded, killing one and injuring three on Thursday. Authorities are continuing to investigate the cause of the explosion.
Keep reading...
Show less
Banner created by Alliance for Climate Education
Keep reading...
Show less
Twenty-two GOP senators sent a letter Thursday urging Donald Trump to pull out of the Paris agreement. They argued remaining in the deal could "upend" the administration's ability "to fulfill its goal of rescinding the Clean Power Plan."
Keep reading...
Show less
By Cheryl Johncox
The Federal Energy Regulatory Commission (FERC) rejected on Thursday Energy Transfer Partners' request to resume horizontal directional drilling at two sites for its Rover fracked gas pipeline. This rejection comes after numerous leaks into Ohio's wetlands, and Clean Air and Clean Water act violations. FERC has halted the process at only eight locations of the 32 where drilling is taking place under Ohio's wetlands and streams.
Keep reading...
Show less
By Nadia Prupis
A majority of people in eight countries say they are ready to change their lifestyles if it would prevent climate catastrophe, a survey on global threats released Wednesday found.
Keep reading...
Show less
May. 25, 2017 01:55PM EST
Bill Maher is sick of billionaires' obsession with Mars, more like "Mars-a-Lago," he said.
In a new animation produced by ATTN:, the popular talk show host of Real Time, discusses the perils of our planet, including how "climate change is killing us."
Keep reading...
Show less