Tracking Fracking: The Sky's the Limit
Jun. 15, 2012 01:40PM EST
Energy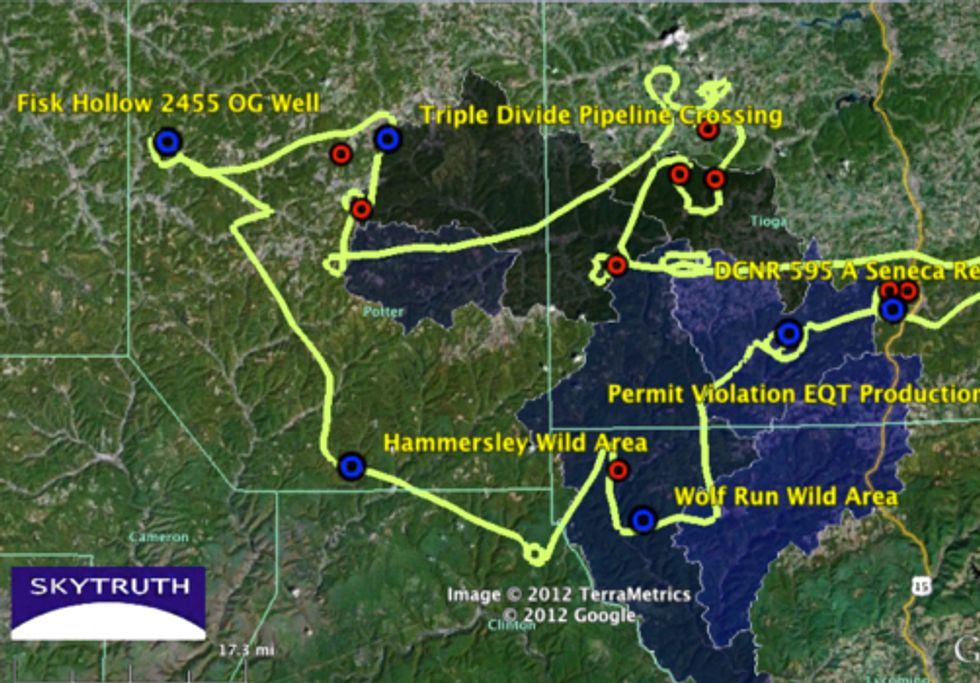 by Amy Mathews Amos
The Cessna single engine plane could seat only four people, but LightHawk pilot Jamie Gamble, Tioga County Planner Jim Weaver, chief photographer George Patterson of The Downstream Project and Downstream's Director Bill Howard were serving as the eyes for thousands of concerned citizens on the ground. In a first time ever collaborative effort on May 31, they took grass roots monitoring of Marcellus shale gas activity in north central Pennsylvania to the sky, combining cutting edge technologies with the expertise of at least nine different nonprofit organizations and government partners. As they looked down at the landscape below, dotted with farms, forests and small towns, the guys in the cockpit realized this was a game changer: Even in the remote forests of Pennsylvania, the impacts of hydraulic fracturing or "fracking" for natural gas would no longer be hidden.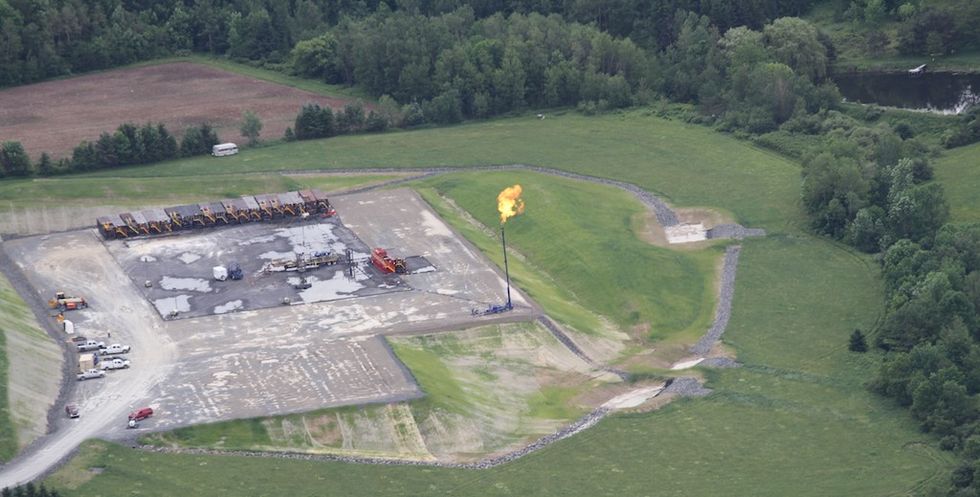 Getting to this point had taken a lot of coordination and it showed. To plan for the flight, the remote sensing organization SkyTruth had created a flight map of about 20 permitted gas drilling sites using satellite imagery, state records and Google Earth. The Downstream Project preloaded that flight map, along with GPS capabilities, onto an iPad provided to Weaver. In this way the iPad automatically tracked the plane's location on the map with an icon. As Weaver watched the miniature plane migrate across his screen, he directed pilot Jamie Gamble to the next drilling location and provided running commentary on the activities going on below. Howard snapped more than 700 aerial photos, each automatically sourced to the plane's location through the camera's own GPS capabilities. Patterson filmed the view from the sky, but also the activity in the cockpit. "Blending those GPS tracking photos, the GPS following along the map data on an iPad, and all the collaboration on the inside, we were all flying that plane together," he told me afterward.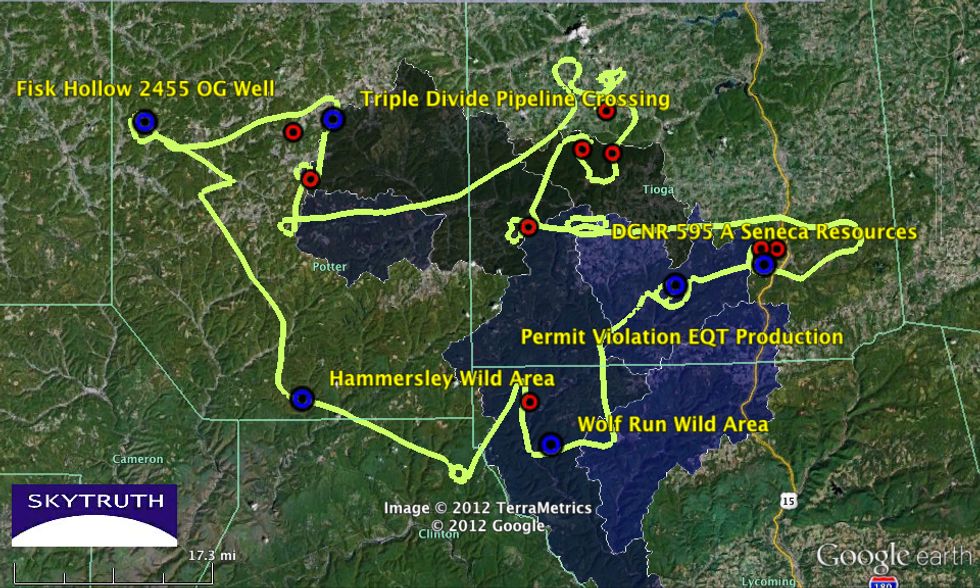 I know Patterson from my work as a sometime consultant for The Downstream Project. And I know the SkyTruth crew even better—I'm an officer of that organization and the wife of founder John Amos. Even so, I found the cockpit collaboration impressive. And as I learned more about the project, I became equally impressed with their partners in Pennsylvania. Because this bird's eye view adds a new dimension to the hands-on monitoring already being done by local grassroots programs such as the God's Country Waterdogs, Pine Creek Waterdogs and local Trout Unlimited chapters. Groups such as these in Tioga, Potter and other counties have recruited their neighbors, friends and anyone else interested to get their feet wet and measure water quality in areas experiencing—or expected to experience—heavy fracking activity. No one claims volunteer monitoring captures all the potential impacts, but as volunteer and retired U.S. Geological Survey ecologist Bob Ross notes, "it's a red flag" for when something has gone seriously wrong.
With roughly 2,000 sites permitted across a five county region that includes remote state forest land—and more than 10,000 sites permitted statewide since 2008—information gaps are inevitable. Questions remain about what people are finding in their watersheds and just what everyone should be looking for in the first place.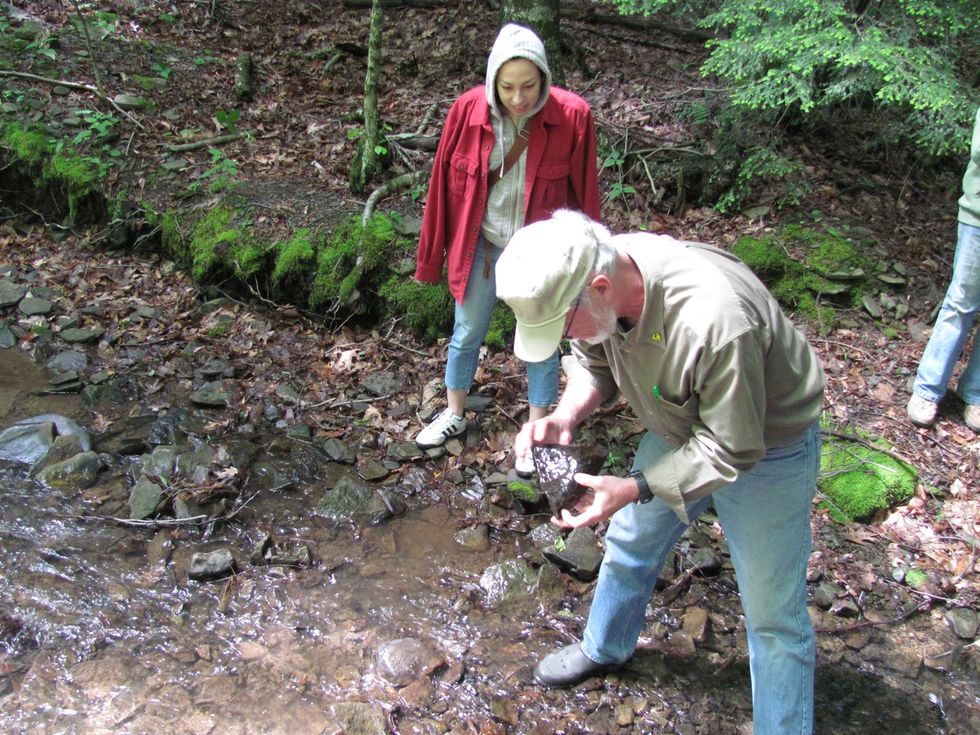 "The science isn't here now to really understand the impacts of fracking on the environment for the long term," according to Julie Vastine, Director of the Alliance for Aquatic Resource Monitoring (ALLARM). ALLARM developed the scientific protocol used by many local groups to measure changes in water quality, and over the past two years has trained more than 750 people in Pennsylvania, New York and West Virginia to monitor their water for fracking impacts. But they want to do more.
"We had this really big aha moment about six months into our program," says Vastine, when they realized that combining data across the state was critical. "Because we have so many streams—83,000 miles of streams and rivers in the state—as many volunteer sites that we can add to a central repository will add to our knowledge of what's happening."
SkyTruth, based in neighboring West Virginia, can help. SkyTruth's Alerts System already maps sites permitted for fracking activity by state agencies in Pennsylvania and West Virginia, making basic information about drilling activity accessible to the public. The next step is helping citizens and scientists share their data to study impacts as gas sites morph over time from pristine forest land to active drilling sites to spent wells. The Shale Network, a collaborative effort involving Penn State University, ALLARM and the University of Pittsburgh, is working to make those data available to government and academic scientists around the world for in depth studies. High on the list of priorities: creating an interactive, user-friendly portal that will give the Waterdogs and other citizen's groups an easy way to connect with the universities' networks and share their information with scientists.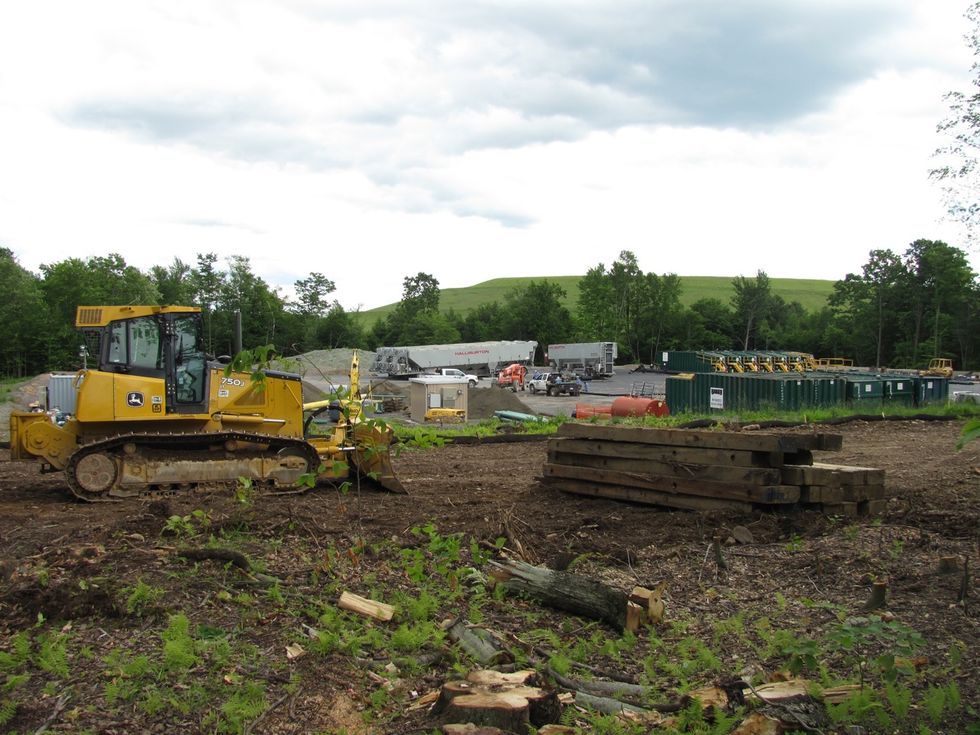 None of this can happen without close collaboration among like-minded players. As my friend Patterson noted, "That's kind of the new way to get things done these days… You've got to pool your resources and everybody work together and do things that the other guy can't do to really paint an accurate picture of what's going on." 
Organized citizens have always been the only truly effective antidote to concentrated money or power. And in the 21st century, it's clear that new technologies and capabilities can play to our advantage, if we know how to use them.
"Everybody up there had their different frameworks that they're good at," says Patterson of that groundbreaking LightHawk flight. "When you put it all together, the sky's the limit."
Visit EcoWatch's FRACKING page for more related news on this topic.
EcoWatch Daily Newsletter
Related Articles from EcoWatch
Recent Stories from EcoWatch