This website uses cookies to ensure you get the best experience while browsing it. By clicking 'Got It' you're accepting these terms.
Toxic Threads—Greenpeace Exposes Hazardous Chemicals in High Street Fashion Brands
Nov. 20, 2012 09:56AM EST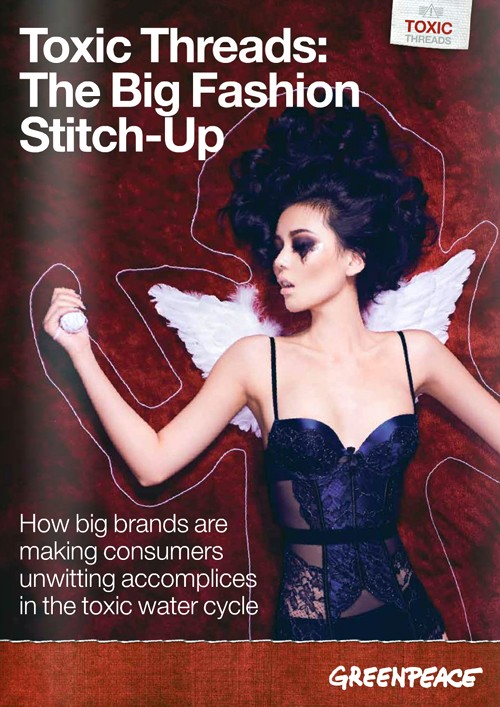 Greenpeace investigations found hazardous chemicals in clothing from 20 leading fashion brands1, while fashion retailer Zara is alone in the study for having clothes that can give rise to both chemicals that are hormone-disrupting or cancer causing.2
Greenpeace International's investigatory report, Toxic Threads: The Big Fashion Stitch-Up, covers tests on 141 clothing items and exposes the links between textile manufacturing facilities using hazardous chemicals and the presence of chemicals in final products.
"Major fashion brands are turning us all into fashion victims by selling us clothes that contain hazardous chemicals that contribute to toxic water pollution around the world, both when they are made and washed," said Yifang Li, senior toxics campaigner at Greenpeace East Asia.
One of the key findings is that all tested brands had at least several items containing NPEs, which break down into hormone disrupting chemicals, with the highest concentrations—above 1,000 ppm—in clothing items from Zara, Metersbonwe, Levi's, C&A, Mango, Calvin Klein, Jack & Jones and Marks & Spencer (M&S). Other chemicals identified included high levels of toxic phthalates in four of the products, and traces of a cancer-causing amine from the use of cert ain azo dyes3 in two products from Zara. The presence many other types of potentially hazardous industrial chemicals were found across many of the items tested. 
"Some of the Zara items tested came out positive for substances that break down to form cancer-causing or hormone-disrupting chemicals which is unacceptable for both consumers and the people living near the factories where these clothes are made. How can Zara be sure that more of its clothing lines are not contaminated with these hazardous chemicals?" said Martin Hojsik, detox campaign coordinator at Greenpeace International.
"As the world's largest clothing retailer, Zara needs to take the lead and take urgent, ambitious and transparent action to Detox their clothes and supply chains," Hojsik said.
The items tested were manufactured mainly in the Global South, and included jeans, trousers, t-shirts, dresses and underwear designed for men, women and children and made from both artificial and natural fibres. Hazardous chemicals are both incorporated deliberately within the materials or left as unwanted residues remaining from their use during the manufacturing process.
"The textile industry continues to treat public waterways as little more than their private sewers. But our fashion doesn't have to cost the earth: Our clothes don't have to be manufactured with hazardous chemicals," said Yifang Li, Detox campaigner at Greenpeace East Asia.
Greenpeace demands fashion brands commit to zero discharge of all hazardous chemicals by 2020—as brands including H&M and M&S have already done—and require their suppliers to disclose all releases of toxic chemicals from their facilities to communities at the site of water pollution.
--------
1The clothes were sold by the leading fashion companies Benetton, Jack & Jones, Only, Vero Moda, Blažek, C&A, Diesel, Esprit, Gap, Armani, H&M, Zara, Levi's, Victoria's Secret, Mango, Marks & Spencer, Metersbonwe, Calvin Klein, Tommy Hilfiger and Vancl.
2Amines are used in the manufacture of azo dyes and can be released when the dyes are chemically broken down. Some amines (that come from the breakdown of certain dyes) are carcinogenic. Phthalates were found in all 31 items that were tested: high levels in 4, and traces in the other 27. Nonylphenol ethoxylates (NPEs) were identified across all brands. Some phthalates, and chemicals released when nonylphenol ethoxylates (NPEs) break down (in water treatment plants or in rivers), are hormone-disrupting chemicals. Some phthalates are toxic to the reproductive system.
3The release of amines were detected in two of the articles, above the detection limit of 5 ppm; both products were manufactured in Pakistan for Zara and sold in either Lebanon or Hungary.
Prince William and British naturalist David Attenborough attend converse during the World Economic Forum annual meeting, on January 22 in Davos, Switzerland. Fabrice Cofferini /AFP / Getty Images
Britain's Prince William interviewed famed broadcaster David Attenborough on Tuesday at the World Economic Forum's annual meeting in Switzerland.
During the sit-down, the 92-year-old naturalist advised the world leaders and business elite gathered in Davos this week that we must respect and protect the natural world, adding that the future of its survival—as well as humanity's survival—is in our hands.
Electric vehicle sales took off in 2018, with a record two million units sold around the world, according to a new Deloitte analysis.
What's more, the accounting firm predicts that another 21 million electric cars will be on the road globally over the next decade due to growing market demand for clean transportation, government subsidies, as well as bans on fossil fuel cars.
Teenager Alex Weber and friends collected nearly 40,000 golf balls hit into the ocean from a handful of California golf courses.
Alex Weber /
CC BY-ND
Southwest Greenland had the most consistent ice loss from 2003 to 2012. Eqalugaarsuit, Ostgronland, Greenland on Aug. 1, 2018.
Rob Oo / CC BY 2.0
Greenland is melting about four times faster than it was in 2003, a new study published Monday in the Proceedings of the National Academy of Sciences found, a discovery with frightening implications for the pace and extent of future sea level rise.
"We're going to see faster and faster sea level rise for the foreseeable future," study lead author and Ohio State University geodynamics professor Dr. Michael Bevis said in a press release. "Once you hit that tipping point, the only question is: How severe does it get?"
Finally, some good news about the otherwise terrible partial government shutdown. A federal judge ruled that the Trump administration cannot issue permits to conduct seismic testing during the government impasse.
The Justice Department sought to delay—or stay—a motion filed by a range of coastal cities, businesses and conservation organizations that are suing the Trump administration over offshore oil drilling, Reuters reported. The department argued that it did not have the resources it needed to work on the case due to the shutdown.
Most people have heard of the Amazon, South America's famed rainforest and hub of biological diversity. Less well known, though no less critical, is the Pantanal, the world's largest tropical wetland.
Like the Amazon, the Pantanal is ecologically important and imperiled. Located primarily in Brazil, it also stretches into neighboring Bolivia and Paraguay. Covering an area larger than England at more than 70,000 square miles, the massive wetland provides irreplaceable ecosystem services that include the regulation of floodwaters, nutrient renewal, river flow for navigability, groundwater recharge and carbon sequestration. The wetland also supports the economies of the four South American states it covers.
Demonstrators participate in a protest march over agricultural policy on Jan. 19 in Berlin, Germany. Carsten Koall / Getty Images Europe
By Andrea Germanos
Organizers said 35,000 people marched through the streets of the German capital on Saturday to say they're "fed up" with industrial agriculture and call for a transformation to a system that instead supports the welfare of the environment, animals and rural farmers.

The fire that erupted after a pipeline explosion in Mexico Friday. FRANCISCO VILLEDA / AFP / Getty Images
By Patrick Rogers
If you have ever considered making the switch to an environmentally friendly electric vehicle, don't drag your feet. Though EV prices are falling, and states are unveiling more and more public charging stations and plug-in-ready parking spots, the federal government is doing everything it can to slam the brakes on our progress away from gas-burning internal combustion engines. President Trump, likely pressured by his allies in the fossil fuel industry, has threatened to end the federal tax credits that have already helped put hundreds of thousands of EVs on the road—a move bound to harm not only our environment but our economy, too. After all, the manufacturing and sale of EVs, hybrids, and plug-in hybrids supported 197,000 jobs in 2017, according to the most recent U.S. Energy and Employment Report.