This website uses cookies to ensure you get the best experience while browsing it. By clicking 'Got It' you're accepting these terms.
Toxic Heavy Metals Found in Children's Products on the Chinese Market
Mar. 12, 2012 06:12AM EST
Insights + Opinion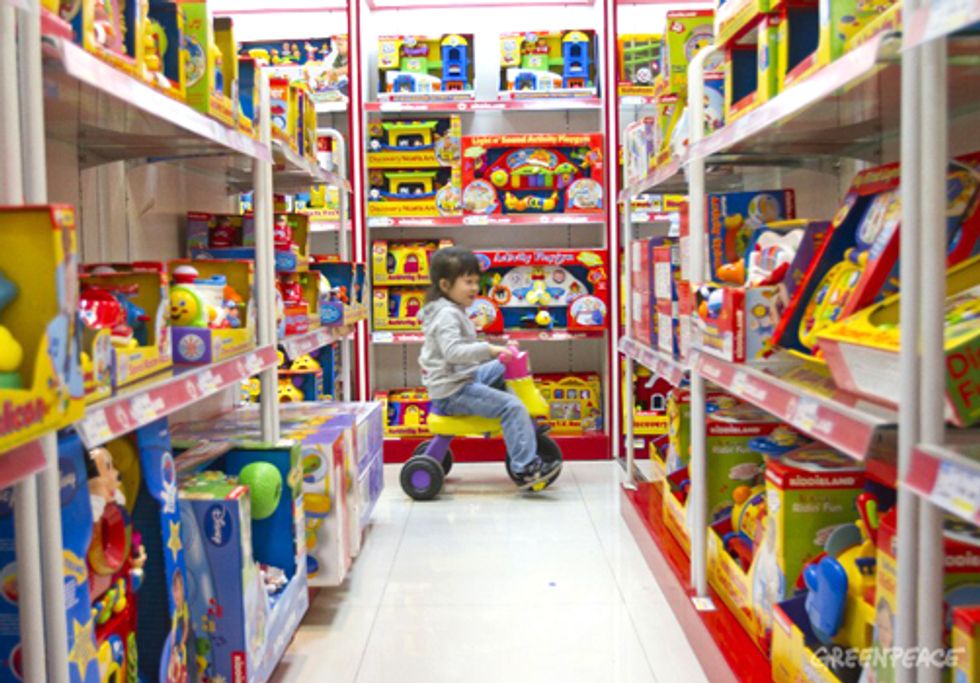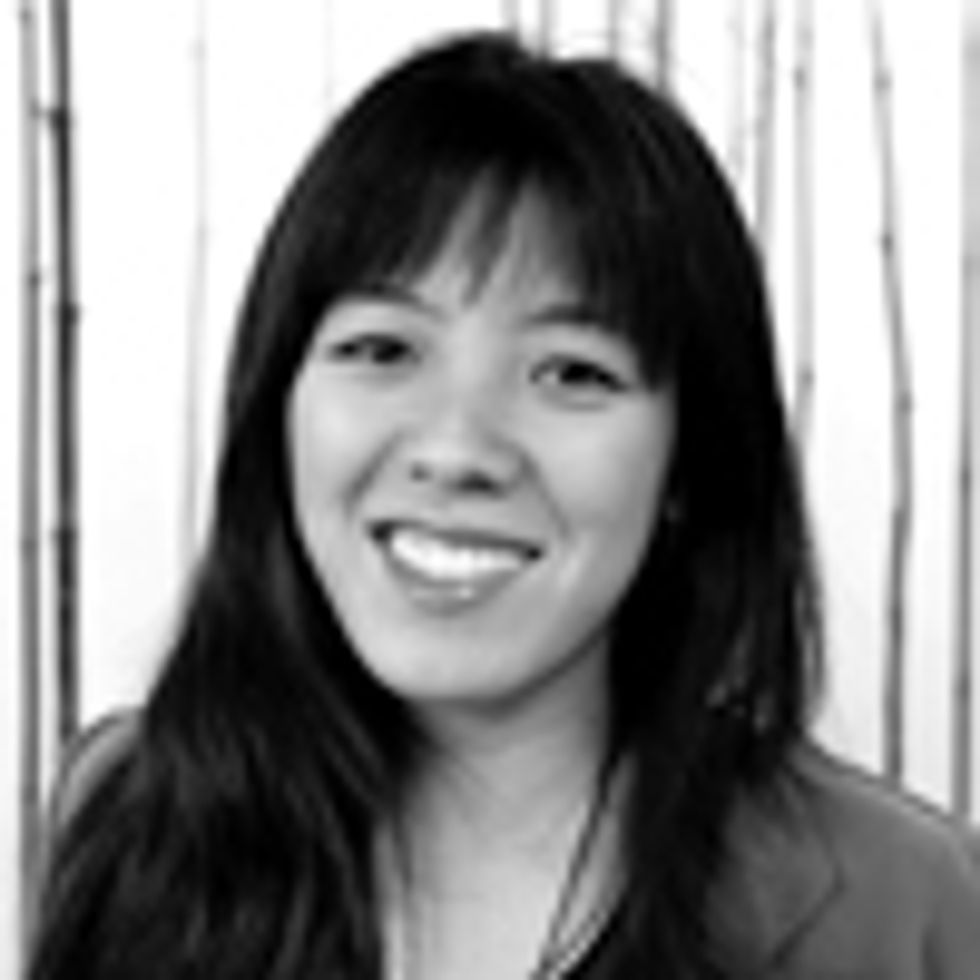 A recent Greenpeace-IPEN study measured toxic metals in 500 children's products purchased in five Chinese cities showed that one-third of tested products contained at least one toxic metal at levels of concern.
The products came from shopping trips to more than 40 retailers including shopping malls, street markets, and chain stores across Beijing, Guangzhou, Hong Kong, Shanghai and Wuhan. Shoppers purchased a wide variety of products, ranging from school supplies to clothing to popular products for young children. Some were plastic, some were made of wood, and others included metal parts and jewelry. (Click here to read full test results). As far as we know this was the first publically available large-scale investigation of toxic metals in children's products in China.
To measure the metals, investigators used a portable X-ray fluorescence analyzer (XRF), testing for six toxic metals—antimony, arsenic, cadmium, chromium, lead and mercury. All six metals are well-known to cause serious harms to human health, especially in children.
The results showed that forty-eight samples (9.6 percent of the products) contained more than one toxic metal, increasing the possibility of harm. None of the tainted products contained warning labels to inform consumers about their toxic ingredients. The toys that tested positive for heavy metals, including lead, were found in every category of product, no matter whether it was branded or non-branded, cheap or expensive. In short, no matter who or where you buy your toy from in China, there is a possibility that a toxic metal is present.
Lead is extremely harmful to children, and yet we easily found products available for sale that tested positive for lead. In China, the regulatory limit for lead in consumer products is 600 ppm. However the study turned up 48 store-bought products with levels exceeding this level. These included dolls, balls, pencil boxes, toy cars, and backpacks. The top five lead-contaminated products contained truly shocking levels ranging from 12,467-120,960 ppm. These included a boy's ring, children's glassware and a doll. A total of 82 products (16 percent of the products) violated a more protective lead standard of 90 ppm used in the US and Canada.
The study found other well-known toxic metals available in popular children's products including arsenic and mercury. Five children's products contained mercury at levels ranging from 39-78 times higher than the regulatory limit for mercury in cosmetics in China. Fifty-two products (10 percent of the products) contained significant levels of arsenic. These included dolls, toy cars, shoes and school supplies.
The Greenpeace-IPEN findings raises safety concerns for children. The metals measured in this study can have a variety of harmful impacts. Infants and children have disproportionately heavy exposure to many environmental agents because they drink more water, eat more food and breathe more air per unit body weight compared to adults; children's metabolic pathways especially in fetal life and in the first months after birth, are immature; developmental processes are easily disrupted during rapid growth and development before and after birth; and children have more years of future life and thus more time to develop diseases initiated by early exposures.
Children's developing bodies are especially vulnerable to damage from heavy metals. Not to mention kids are more likely to chew objects and put their hands in their mouth thereby increasing their expose to any substances in these products. Put simply, toxic substances should not be present in children's products.
The primary responsibility for safe products lies with manufacturers who should ensure that toxic substances are not present. Fortunately, the high percentage of products (67 percent) with no, or low levels of metals indicates that elimination of metals in children's products is technically and economically feasible. The data in the Greenpeace-IPEN study shows that many companies are already paying attention to the toxic metal content in their products. But now it's time for all companies to eliminate them.
EcoWatch Daily Newsletter
A view of a washed out road near Utuado, Puerto Rico, after a Coast Guard Air Station Borinquen MH-65 Dolphin helicopter crew dropped relief supplies to residents Tuesday, Oct. 3, 2017. The locals were stranded after Hurricane Maria by washed out roads and mudslides. U.S. Coast Guard photo by Petty Officer 3rd Class Eric D. Woodall /
CC BY-NC-ND 2.0
By Coral Natalie Negrón Almodóvar
The Earth began to shake as Tamar Hernández drove to visit her mother in Yauco, Puerto Rico, on Dec. 28, 2019. She did not feel that first tremor — she felt only the ensuing aftershocks — but she worried because her mother had an ankle injury and could not walk. Then Hernández thought, "What if something worse is coming our way?"
Flooded battery park tunnel is seen after Hurricane Sandy in 2012.
CC BY 2.0
President Trump has long touted the efficacy of walls, funneling billions of Defense Department dollars to build a wall on the southern border. However, when the U.S. Army Corps of Engineers (USACE) released a study that included plans for a sea wall to protect New Yorkers from sea-level rise and catastrophic storms like Hurricane Sandy, Trump mocked it as ineffective and unsightly.
A general view of fire damaged country in the The Greater Blue Mountains World Heritage Area near the town of Blackheath on Feb. 21, 2020 in Blackheath, Australia. Brook Mitchell / Getty Images
In a post-mortem of the Australian bushfires, which raged for five months, scientists have concluded that their intensity and duration far surpassed what climate models had predicted, according to a study published yesterday in Nature Climate Change.
Sea level rise causes water to spill over from the Lafayette River onto Llewellyn Ave in Norfolk, Virginia just after high tide on Aug. 5, 2017. This road floods often, even when there is no rain.
Skyler Ballard / Chesapeake Bay Program
By Tim Radford
The Texan city of Houston is about to grow in unexpected ways, thanks to the rising tides. So will Dallas. Real estate agents in Atlanta, Georgia; Denver, Colorado; and Las Vegas, Nevada could expect to do roaring business.
Malala Yousafzai (left) and Greta Thunberg (right) met in Oxford University Tuesday. Wikimedia Commons /
CC BY 2.0
What happens when a famous school striker meets a renowned campaigner for education rights?