This website uses cookies to ensure you get the best experience while browsing it. By clicking 'Got It' you're accepting these terms.
Toxic Fracking Wastewater Dumped into Sewer, Why No Arrest?
Feb. 11, 2013 01:16PM EST
Energy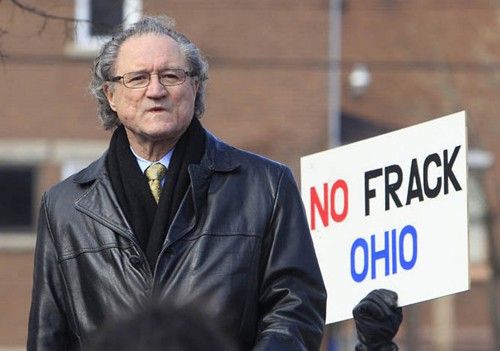 Do we have two different systems of justice—one for the wealthy businessperson and another for the common folk?
Well it sure seems so, as the Ohio governor and business interests joined hands in the latest incident where at least 20,000 gallons of toxic and potentially radioactive fracking wastewater was dumped into a storm drain that empties into a tributary of the Mahoning River in Youngstown, Ohio. The governor got his enforcers to overlook the violations as the poisonous brine seeped into our valley and flowed to other communities downstream.
Under Ohio law, the businessman had committed a felony. This incident recalls to my mind an arrest of six students and one Vietnam veteran in November 2011. They were protesting the delivery of toxic fracking wastewater at another place owned by the same businessman. Their concern focused on the injection well that they believed was causing earthquakes in their hometown of Youngstown, Ohio. The earthquake took place a mere one and a half miles from my home. The governor, who has taken a sizable amount of money from the gas and oil lobby, was ignoring calls from the community to shut the wells down until more environmental studies could take place.
No matter, these "outlaws" who protested the toxic fracking wastewater injection wells were arrested, thrown into jail overnight, booked for disorderly conduct and fined. Fast forward to now and you will see what I am seeing and what most of those good people in my town are seeing: a justice system skewed for the corporations and the apparently invisible person who did the crime. The college kids and Vietnam vet were thrown in jail for a misdemeanor while the businessman has not even been arrested. Hey, we know he certainly has the money to post bond and not suffer the fate of jail, but why has he not been arrested?
Here in the much exploited, underpaid and heavily abused valley (once dubbed "Steel Valley"), our old town of Youngstown, sitting in the middle of the rust belt, watches history repeat itself. We have watched it first-hand: arrogant corporations turning their backs on us and rolling their eyes. For 150 years the steel magnates socked it to us and our environment, treating the Mahoning River and the citizens of our community with contempt. Their money-making operations spewed toxic wastes, slag and chemicals from blast furnaces, open hearths, coke plants and finishing mills to pollute and poison water that once supported wildlife, fishing, boating and swimming.
Then they left town.
Today, the gas and oil industry have ambitiously stepped in to fill the vacuum and carry on the abusive tradition established by their industrialist forefathers.
On Feb. 5, I learned from the front page of the Youngstown Vindicator that a businessman, who calls gas and oil drilling his occupation, found a "better" way to dispose of the byproduct of his business—toxic brine. He simply found an open storm sewer on his property and reasoned, what the heck, it drains into the Mahoning River and once there it's not my problem.
This same businessman, who had been cited 120 times by the executive branch of our state government, had finally maxed out on the Ignore Button by dumping over 40 thousand gallons of toxic brine waste right into the river! This precious stream was beginning to repair itself after so many years of abusive treatment. Citizens in our community have spoken hopefully of our once-declared-dead river returning to its original luster when wildlife, fishing, boating and swimming were common fare.
The businessman in question first distanced himself from any involvement, but after a whistle blower came forward, he admitted that he indeed had ordered his employees to dump the poison.
I am an elected official representing this district and as a member of the Ohio House of Representatives, I can tell you that I and many of my colleagues take seriously the responsibility of providing important checks and balances of government. In this case we are alarmed and angry.
My visit to the dumping area coincided with the state's on-site inspection where the violations would be reviewed and covered by Ohio Department of Natural Resource's (ODNR) employees. By covered I really mean covered-up. This injection well owner, brine hauler and horizontal drilling person had been dumping for so long that no one knew exactly how to answer my questions.
I've been asking these questions since I learned about the incident: How were they protecting themselves at the site? How many thousands of gallons had been released into the Mahoning River? What kind of chemicals have been identified?
As I write this firsthand account, I am still waiting for the answers. Are the governor and his administration more concerned with protecting his ODNR employees and the gas and oil industry than he is with protecting the health and well-being of our citizens in Youngstown?
Visit EcoWatch's FRACKING page for more related news on this topic.
——–
Sign the petition today, telling President Obama to enact an immediate fracking moratorium:

EcoWatch Daily Newsletter
Ryan Hagerty / USFWS
It's become a familiar story with the Trump administration: Scientists write a report that shows the administration's policies will cause environmental damage, then the administration buries the report and fires the scientists.
A coalition of some of the largest environmental groups in the country joined forces to file a lawsuit in federal court challenging the Trump administration's maneuver to weaken the Endangered Species Act.
beyond foto / Getty Images
By Kimberly Holland
Children who eat a lot of gluten in their earliest years may have an increased risk of developing celiac disease and gluten intolerance, according to a new study published in JAMATrusted Source.
Joe Raedle / Getty Images
By Jake Johnson
Calling the global climate crisis both the greatest threat facing the U.S. and the greatest opportunity for transformative change, Sen. Bernie Sanders unveiled today a comprehensive Green New Deal proposal that would transition the U.S. economy to 100 percent renewable energy and create 20 million well-paying union jobs over a decade.
The Parties to CITES agreed to list giraffes on Appendix II of the Convention on International Trade in Endangered Species (CITES) today at the World Wildlife Conference or CoP18 in Geneva. Such protections will ensure that all giraffe parts trade were legally acquired and not sourced from the poached giraffes trade and will require countries to make non-detriment findings before allowing giraffe exports. The listing will also enable the collection of international trade data for giraffes that might justify greater protections at both CITES and other venues in the future.

The WHO stressed that more research is needed on the potential health risks of microplastic ingestion. luchschen / iStock / Getty Images Plus
The UN's health agency on Thursday said that microplastics contained in drinking water posed a "low" risk at their current levels.
However, the World Health Organization (WHO) — in its first report on the potential health risks of microplastic ingestion — also stressed more research was needed to reassure consumers.
Brazil's right-wing President Jair Bolsonaro is giving President Trump a run for his money in the alternative facts department.
Washington Gov. Jay Inslee, who made solving the climate crisis the center of his presidential campaign, is dropping out of the 2020 Democratic primary race.