This website uses cookies to ensure you get the best experience while browsing it. By clicking 'Got It' you're accepting these terms.
Toxic Floods From Coal Mines and Power Plants Hit Vietnam's Ha Long Bay World Heritage Site
Jul. 31, 2015 08:30PM EST
Ongoing downpours in northeastern Vietnam have resulted in toxic spills and flooding from multiple coal mine and power plant sites in the province surrounding the Ha Long Bay World Heritage Site.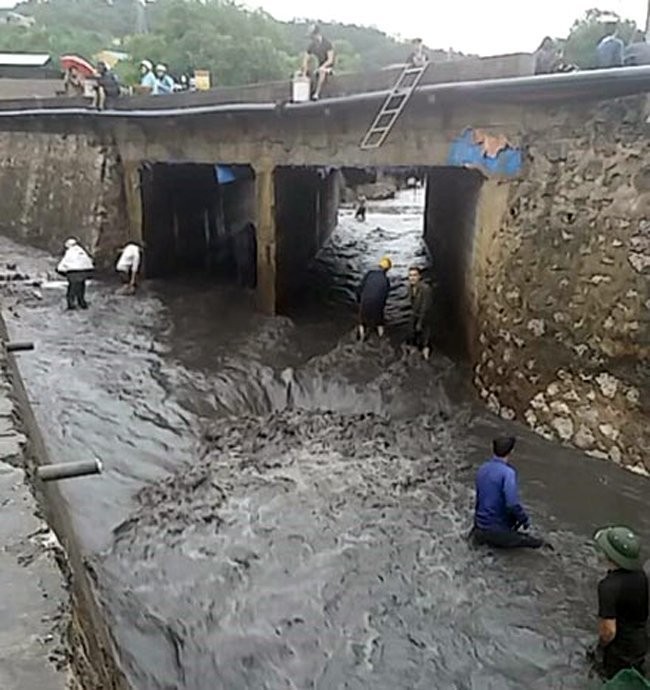 "The likelihood of both immediate and ongoing health and environmental hazards for locals and the rare environment are clearly increasing by the hour and the scale of this event cannot be understated," said Donna Lisenby, Clean and Safe Energy campaign manager for Waterkeeper Alliance.
The events of the last few days appear to be getting worse with news reports of severe flooding inundating the Lang Khanh harbor area and Dien Vong river with fresh leakages from the Quang Ninh coal-fired power plant. This coal plant is located on the waterfront that connects directly to world renowned Ha Long Bay world heritage site (see this map).
"A disaster response team from the government has been deployed which is encouraging but we are deeply concerned by the pace of this unfolding disaster and its sheer scale," said Robert F. Kennedy, Jr., president of Waterkeeper Alliance.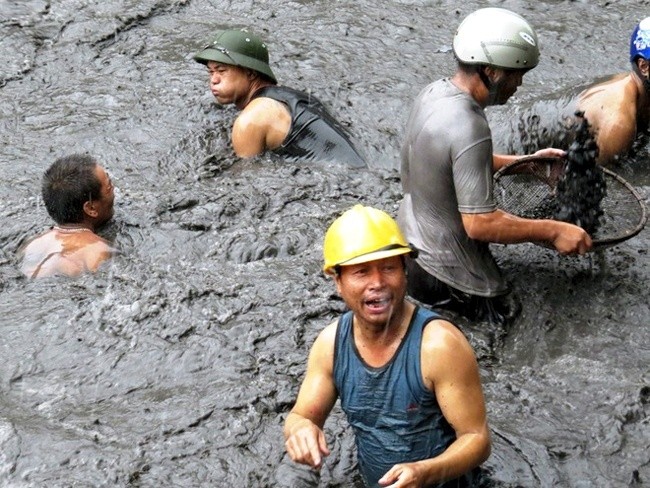 Ha Long Bay is surrounded by 5,736 hectares of open pit coal mines and three coal-fired power plants. They are already flooded with more rain predicted for the next seven days.
"We again urge the Government and encourage UNESCO, and the international community to get involved and protect Ha Long Bay from further pollution by coal mines and coal-fired power plants," said Kennedy. "We need to see all parties acting decisively to protect the growing number of local communities and this pristine World Heritage Site that are facing clear and present danger."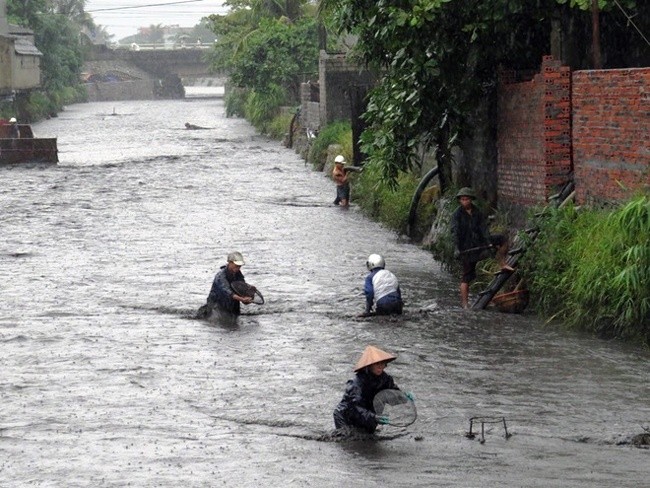 "Waterkeeper Alliance knows from firsthand experience around the world that coal mining and generation sites are 'monster waste generators' of the worst kind," said Lisenby. "These coal waste facilities are ticking time bombs if they are not properly constructed to withstand large rainfall events, which are already increasing in frequency, duration and intensity in line with climate science predictions."
The coal industry generates massive amounts of waste that can contain a wide array of materials dangerous to human health and the environment including heavy metals like arsenic, boron, barium, cadmium, chromium, lead, manganese, selenium and thallium.
Dr. Aaron Bernstein, instructor in pediatrics at Harvard University Medical School said:
"Floodwaters flowing from open pit coal mines likely contain a slurry of toxic heavy metals, including arsenic, cadmium and lead, as well as other harmful substances. We also know from past research that the soils in this region of Vietnam may be contaminated with these same pollutants, which may be mobilized by floods as we saw in New Orleans after Hurricane Katrina. So, in addition to the usual harms that may immediately follow severe flooding such as traumatic injuries, outbreaks of waterborne disease, or death, the floods around Quang Ninh carry the potential to exact permanent damage to the developing nervous systems of children which are uniquely vulnerable to these toxic elements."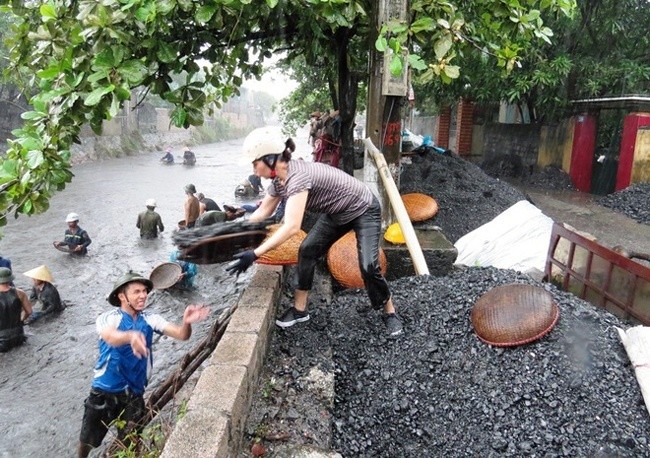 Cam Pha City has already been flooded with an avalanche of coal mining waste and a second community is being evacuated (see map here). News photos and video footage from Cam Pha show men, women and children wading through thick mud contaminated with coal waste as they flee their homes.
Waterkeeper Alliance has experienced a dramatic rise in the number of coal-related water spill disasters we have responded to since 2008. These include:
YOU MIGHT ALSO LIKE
AP Investigation Reveals Olympic Athletes Will Swim in 'Raw Sewage' in Rio Waterways
High Levels of Radium Found in PA Stream Near Drinking Water Supply
Prince William and British naturalist David Attenborough attend converse during the World Economic Forum annual meeting, on January 22 in Davos, Switzerland. Fabrice Cofferini /AFP / Getty Images
Britain's Prince William interviewed famed broadcaster David Attenborough on Tuesday at the World Economic Forum's annual meeting in Switzerland.
During the sit-down, the 92-year-old naturalist advised the world leaders and business elite gathered in Davos this week that we must respect and protect the natural world, adding that the future of its survival—as well as humanity's survival—is in our hands.
Electric vehicle sales took off in 2018, with a record two million units sold around the world, according to a new Deloitte analysis.
What's more, the accounting firm predicts that another 21 million electric cars will be on the road globally over the next decade due to growing market demand for clean transportation, government subsidies, as well as bans on fossil fuel cars.
Teenager Alex Weber and friends collected nearly 40,000 golf balls hit into the ocean from a handful of California golf courses.
Alex Weber /
CC BY-ND
Southwest Greenland had the most consistent ice loss from 2003 to 2012. Eqalugaarsuit, Ostgronland, Greenland on Aug. 1, 2018.
Rob Oo / CC BY 2.0
Greenland is melting about four times faster than it was in 2003, a new study published Monday in the Proceedings of the National Academy of Sciences found, a discovery with frightening implications for the pace and extent of future sea level rise.
"We're going to see faster and faster sea level rise for the foreseeable future," study lead author and Ohio State University geodynamics professor Dr. Michael Bevis said in a press release. "Once you hit that tipping point, the only question is: How severe does it get?"
Finally, some good news about the otherwise terrible partial government shutdown. A federal judge ruled that the Trump administration cannot issue permits to conduct seismic testing during the government impasse.
The Justice Department sought to delay—or stay—a motion filed by a range of coastal cities, businesses and conservation organizations that are suing the Trump administration over offshore oil drilling, Reuters reported. The department argued that it did not have the resources it needed to work on the case due to the shutdown.
Most people have heard of the Amazon, South America's famed rainforest and hub of biological diversity. Less well known, though no less critical, is the Pantanal, the world's largest tropical wetland.
Like the Amazon, the Pantanal is ecologically important and imperiled. Located primarily in Brazil, it also stretches into neighboring Bolivia and Paraguay. Covering an area larger than England at more than 70,000 square miles, the massive wetland provides irreplaceable ecosystem services that include the regulation of floodwaters, nutrient renewal, river flow for navigability, groundwater recharge and carbon sequestration. The wetland also supports the economies of the four South American states it covers.
Demonstrators participate in a protest march over agricultural policy on Jan. 19 in Berlin, Germany. Carsten Koall / Getty Images Europe
By Andrea Germanos
Organizers said 35,000 people marched through the streets of the German capital on Saturday to say they're "fed up" with industrial agriculture and call for a transformation to a system that instead supports the welfare of the environment, animals and rural farmers.

The fire that erupted after a pipeline explosion in Mexico Friday. FRANCISCO VILLEDA / AFP / Getty Images
By Patrick Rogers
If you have ever considered making the switch to an environmentally friendly electric vehicle, don't drag your feet. Though EV prices are falling, and states are unveiling more and more public charging stations and plug-in-ready parking spots, the federal government is doing everything it can to slam the brakes on our progress away from gas-burning internal combustion engines. President Trump, likely pressured by his allies in the fossil fuel industry, has threatened to end the federal tax credits that have already helped put hundreds of thousands of EVs on the road—a move bound to harm not only our environment but our economy, too. After all, the manufacturing and sale of EVs, hybrids, and plug-in hybrids supported 197,000 jobs in 2017, according to the most recent U.S. Energy and Employment Report.