This website uses cookies to ensure you get the best experience while browsing it. By clicking 'Got It' you're accepting these terms.
Toxic Floods From Coal Mines and Power Plants Hit Vietnam's Ha Long Bay World Heritage Site
Jul. 31, 2015 08:30PM EST
Energy
Ongoing downpours in northeastern Vietnam have resulted in toxic spills and flooding from multiple coal mine and power plant sites in the province surrounding the Ha Long Bay World Heritage Site.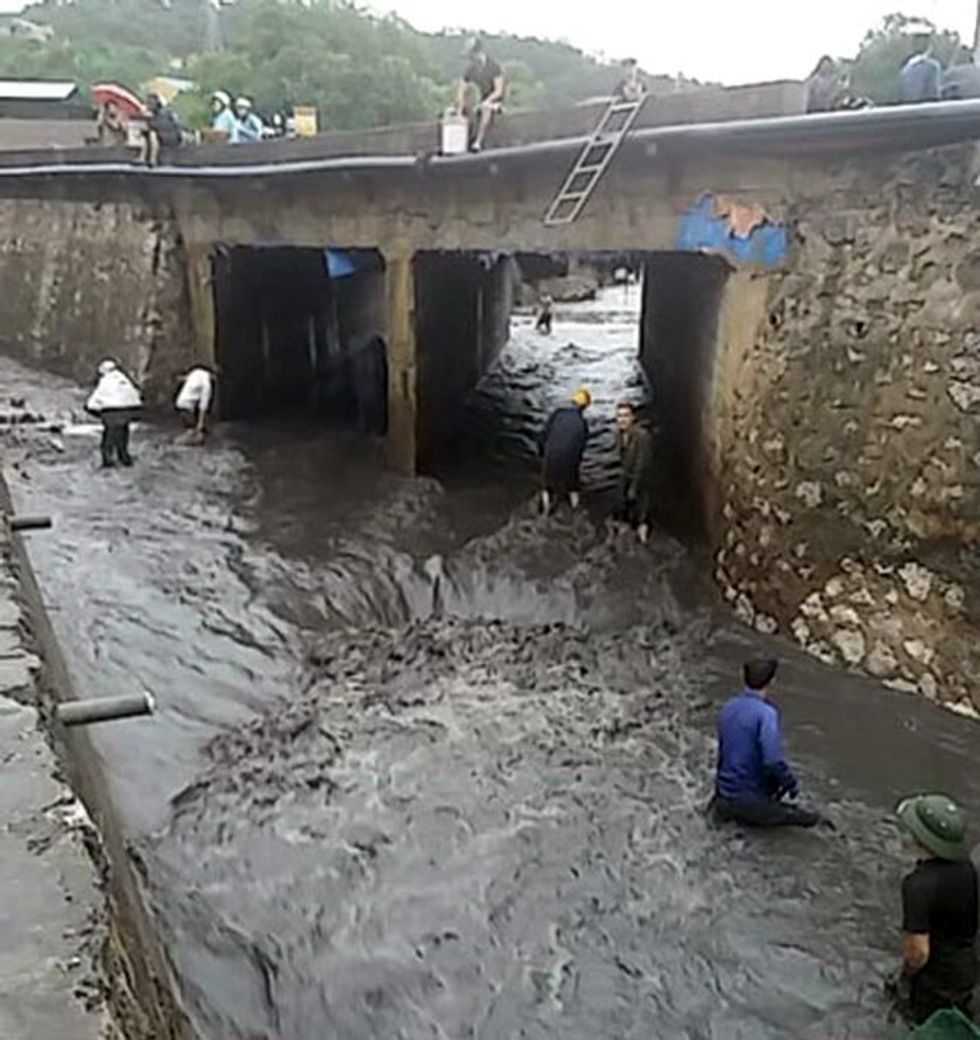 "The likelihood of both immediate and ongoing health and environmental hazards for locals and the rare environment are clearly increasing by the hour and the scale of this event cannot be understated," said Donna Lisenby, Clean and Safe Energy campaign manager for Waterkeeper Alliance.
The events of the last few days appear to be getting worse with news reports of severe flooding inundating the Lang Khanh harbor area and Dien Vong river with fresh leakages from the Quang Ninh coal-fired power plant. This coal plant is located on the waterfront that connects directly to world renowned Ha Long Bay world heritage site (see this map).
"A disaster response team from the government has been deployed which is encouraging but we are deeply concerned by the pace of this unfolding disaster and its sheer scale," said Robert F. Kennedy, Jr., president of Waterkeeper Alliance.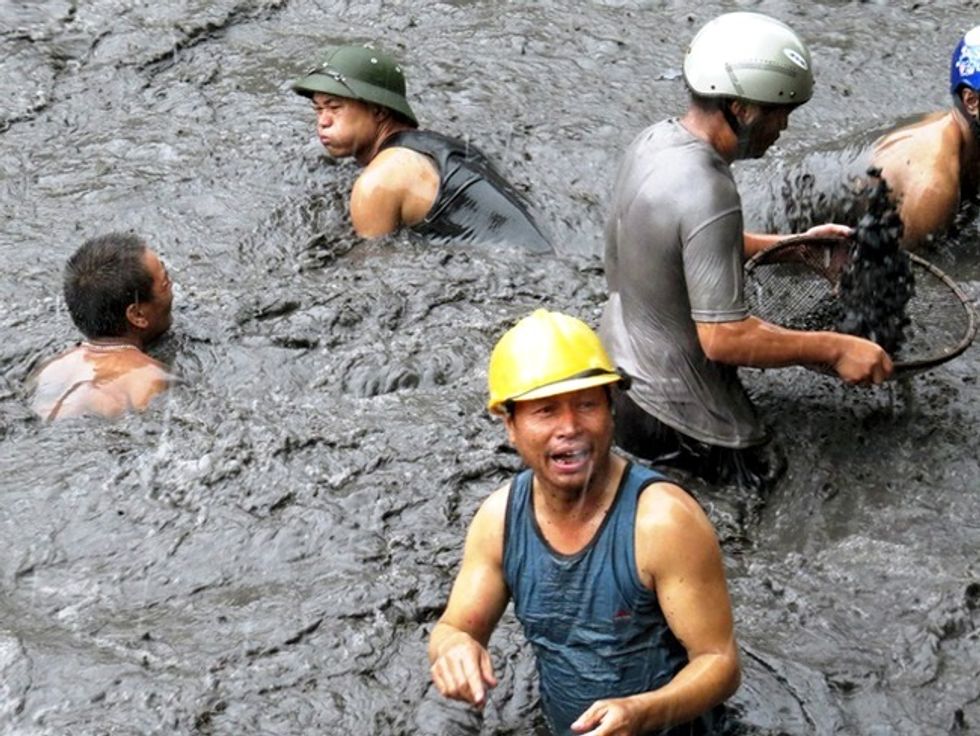 Ha Long Bay is surrounded by 5,736 hectares of open pit coal mines and three coal-fired power plants. They are already flooded with more rain predicted for the next seven days.
"We again urge the Government and encourage UNESCO, and the international community to get involved and protect Ha Long Bay from further pollution by coal mines and coal-fired power plants," said Kennedy. "We need to see all parties acting decisively to protect the growing number of local communities and this pristine World Heritage Site that are facing clear and present danger."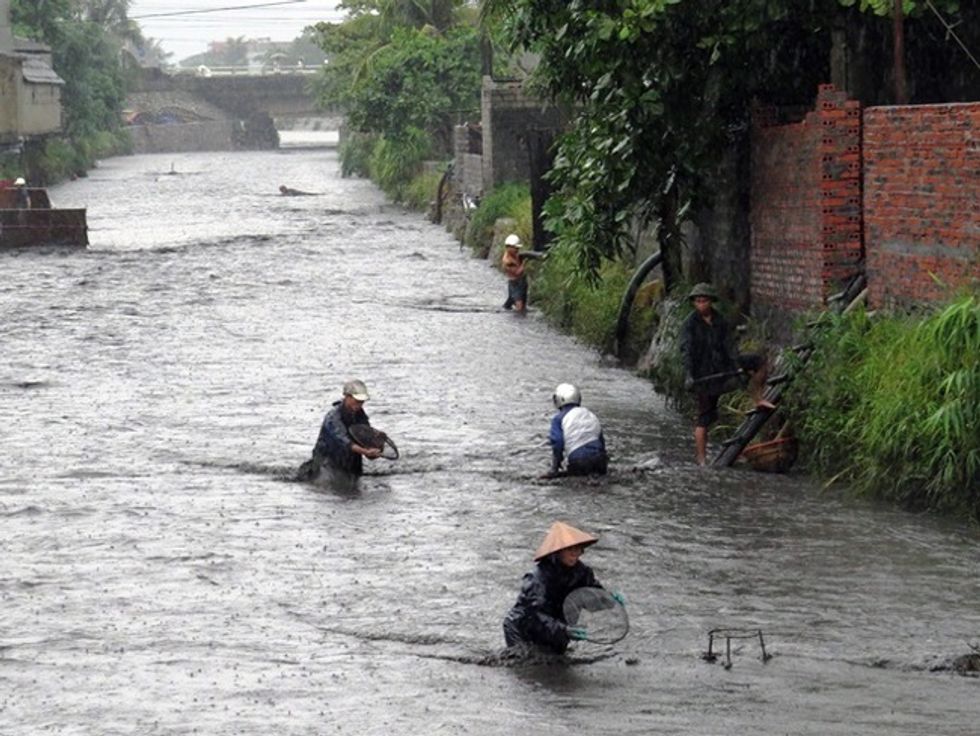 "Waterkeeper Alliance knows from firsthand experience around the world that coal mining and generation sites are 'monster waste generators' of the worst kind," said Lisenby. "These coal waste facilities are ticking time bombs if they are not properly constructed to withstand large rainfall events, which are already increasing in frequency, duration and intensity in line with climate science predictions."
The coal industry generates massive amounts of waste that can contain a wide array of materials dangerous to human health and the environment including heavy metals like arsenic, boron, barium, cadmium, chromium, lead, manganese, selenium and thallium.
Dr. Aaron Bernstein, instructor in pediatrics at Harvard University Medical School said:
"Floodwaters flowing from open pit coal mines likely contain a slurry of toxic heavy metals, including arsenic, cadmium and lead, as well as other harmful substances. We also know from past research that the soils in this region of Vietnam may be contaminated with these same pollutants, which may be mobilized by floods as we saw in New Orleans after Hurricane Katrina. So, in addition to the usual harms that may immediately follow severe flooding such as traumatic injuries, outbreaks of waterborne disease, or death, the floods around Quang Ninh carry the potential to exact permanent damage to the developing nervous systems of children which are uniquely vulnerable to these toxic elements."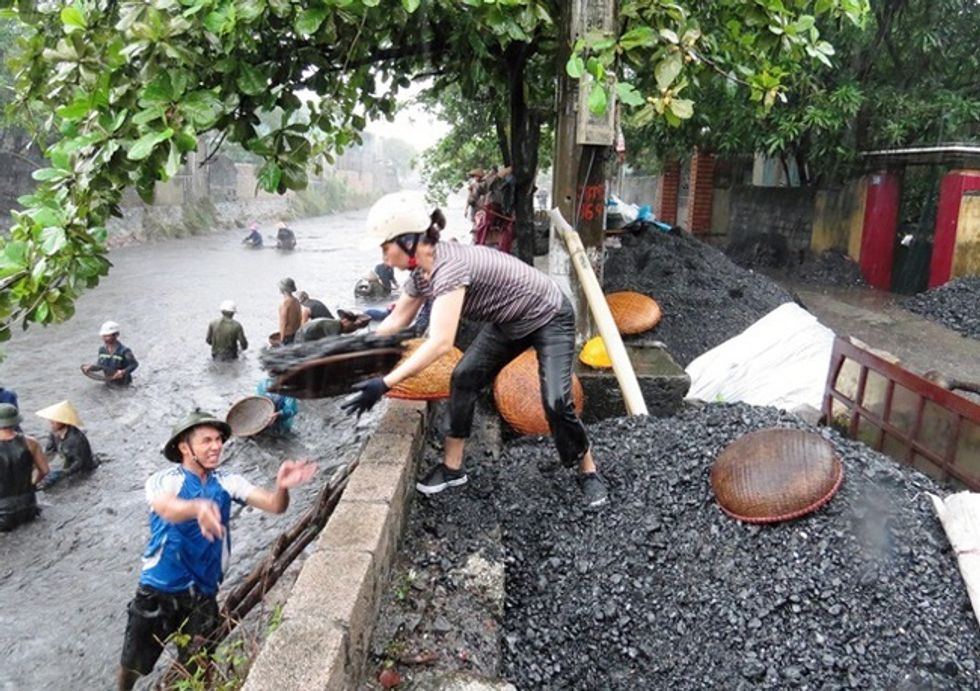 Cam Pha City has already been flooded with an avalanche of coal mining waste and a second community is being evacuated (see map here). News photos and video footage from Cam Pha show men, women and children wading through thick mud contaminated with coal waste as they flee their homes.
Waterkeeper Alliance has experienced a dramatic rise in the number of coal-related water spill disasters we have responded to since 2008. These include:
YOU MIGHT ALSO LIKE
AP Investigation Reveals Olympic Athletes Will Swim in 'Raw Sewage' in Rio Waterways
High Levels of Radium Found in PA Stream Near Drinking Water Supply
EcoWatch Daily Newsletter
A harbour seal on an ice floe in Glacier Bay, Alaska. A new study shows that the climate crisis has warmed waters, changing ecosystems and crippling sea ice growth. Janette Hill / robertharding / Getty Images Plus
Doctors report that only 1 in 4 children are getting the recommended 60 minutes of physical activity per day. Ronnie Kaufman / DigitalVision / Getty Images
By Dan Gray
Pediatricians are being urged to start writing "exercise prescriptions" for the children they see in their office.
A First Nations protester walks in front of a train blockade in Tyendinaga, near Belleville, Ontario, Canada on Feb. 21, 2020. LARS HAGBERG / AFP via Getty Images
An indigenous rail blockade that snarled train travel in Canada for more than two weeks came to an end Monday when police moved in to clear protesters acting in solidarity with another indigenous community in British Columbia (B.C.), which is fighting to keep a natural gas pipeline off its land.
A rainbow snake, a rare reptile spotted in a Florida county for the first time in more than 50 years, seen here on July 5, 2013.
Kevin Enge / FWC Fish and Wildlife Research Institute / Flickr
A Florida hiker recently stumbled across a slithering surprise — a rare snake that hadn't been spotted in the area for more than 50 years.
We need our government to do everything it can to stop PFAS contamination and exposure from wreaking havoc in communities across the country. LuAnn Hun /
Unsplash
By Genna Reed
The EPA announced last week that it is issuing a preliminary regulatory determination for public comment to set an enforceable drinking water standard to two of the most common and well-studied PFAS, PFOA and PFOS.
This decision is based on three criteria:
PFOA and PFOS have an adverse effect on public health
PFOA and PFOS occur in drinking water often enough and at levels of public health concern;
regulation of PFOA and PFOS is a meaningful opportunity for reducing the health risk to those served by public water systems.