This website uses cookies to ensure you get the best experience while browsing it. By clicking 'Got It' you're accepting these terms.
Toxic Coal Ash Pours into Lake Michigan
Nov. 01, 2011 09:59AM EST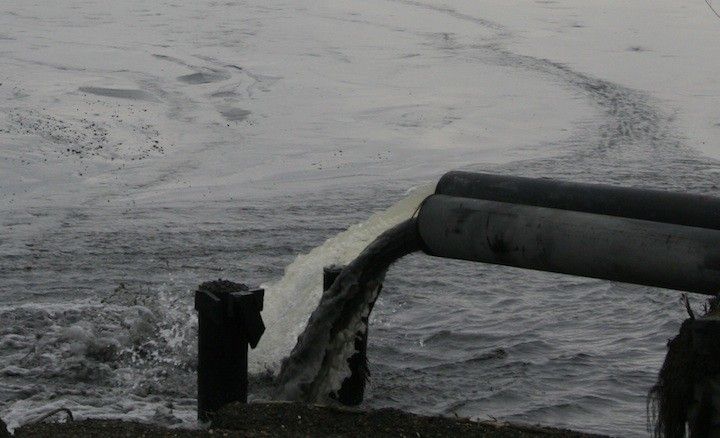 A partial retaining bluff collapse Oct. 31 at the We Energies Oak Creek Power Plant in Wisconsin sent toxic coal ash spewing into Lake Michigan. This collapse comes just weeks after the U.S. House voted to prevent the U.S. Environmental Protection Agency (EPA) from protecting Americans from coal ash.
In response, Mary Anne Hitt, director of the Sierra Club's Beyond Coal Campaign issued the following statement:
"The EPA has been trying to enact national protections to stop this kind of disastrous spill from happening again, ever since the TVA disaster in 2008, and our Congress has been blocking them every step of the way. As a result, communities across the nation remain at risk and unprotected. This spill in the Great Lakes is a tragic reminder of why the status quo is not good enough. As long as Congress interferes, spills like this are going to happen, and dozens of communities are at risk. Congress needs to back off and allow the EPA to finalize strong protections.
"In 2008 we witnessed first-hand how a lack of strong national protections leaves the job in the hands of state regulators that lack the will and ability to protect communities from coal ash incidents. Since the TVA disaster, industry groups have been lobbying hard to block the EPA from establishing strong federal protections, arguing, they say, that states are doing a fine job regulating coal ash. Just weeks ago, at the urging of We Energies and others in the coal industry, the U.S. House of Representatives voted to block the EPA from enacting strong national protections, thereby allowing states to continue the status quo that led to this disastrous collapse. This bill, called the Coal Residuals Reuse and Management Act (S.1751) is now before the Senate for consideration.
"This spill shows that states are not protecting our health and our environment from cancer-causing coal ash, and as long as the EPA fails to act there will be more coal ash spills. "This collapse is particularly troublesome because We Energies has known for years that its management of coal ash was a threat to human health. They have even been providing bottled water to neighbors who have contaminated wells.
"The Senate should immediately stop work on its bill to block the EPA from protecting Americans from toxic coal ash, and our Senators should urge the EPA to finalize its rulemaking process that began in 2009, received hundreds of thousands of comments in support, and has still not been finalized because of industry pressure.
"We want to thank the first responders, cleanup and safety workers for their courage in helping to clean up this mess. We are very grateful that no one appears to have been injured. Unfortunately, residents of Southeast Wisconsin have been victims of We Energies negligence for years. The burning of coal is a public health menace. This incident underscores that as long as we are still mining and burning coal someone somewhere is paying the price."
For more information, click here.
EcoWatch Daily Newsletter
Last week, the Peruvian Palm Oil Producers' Association (JUNPALMA) promised to enter into an agreement for sustainable and deforestation-free palm oil production. The promise was secured by the U.S. based National Wildlife Federation (NWF) in collaboration with the local government, growers and the independent conservation organization Sociedad Peruana de Ecodesarrollo.
Pixabay
Leaked documents show that Jair Bolsonaro's government intends to use the Brazilian president's hate speech to isolate minorities living in the Amazon region. The PowerPoint slides, which democraciaAbierta has seen, also reveal plans to implement predatory projects that could have a devastating environmental impact.
XL CATLIN SEAVIEW SURVEY / THE OCEAN AGENCY
Hope may be on the horizon for the world's depleted coral reefs thanks to scientists who successfully reproduced endangered corals in a laboratory setting for the first time, according to Reuters.
Last week we received positive news on the border wall's imminent construction in an Arizona wildlife refuge. The Trump administration delayed construction of the wall through about 60 miles of federal wildlife preserves.
PhotoAlto / Frederic Cirou / Getty Images
Drinking water treated with fluoride during pregnancy may lead to lower IQs in children, a controversial new study has found.
National Institude of Allergy and Infectious Disease
A Greenpeace rally calls for a presidential campaign climate debate on June 12 in Washington, DC. Sarah Silbiger / Getty Images